Trek through the enchanted forest to find Snow White, Dopey, and Grumpy at Storybook Dining at Disney's Artist Point in the Wilderness Lodge.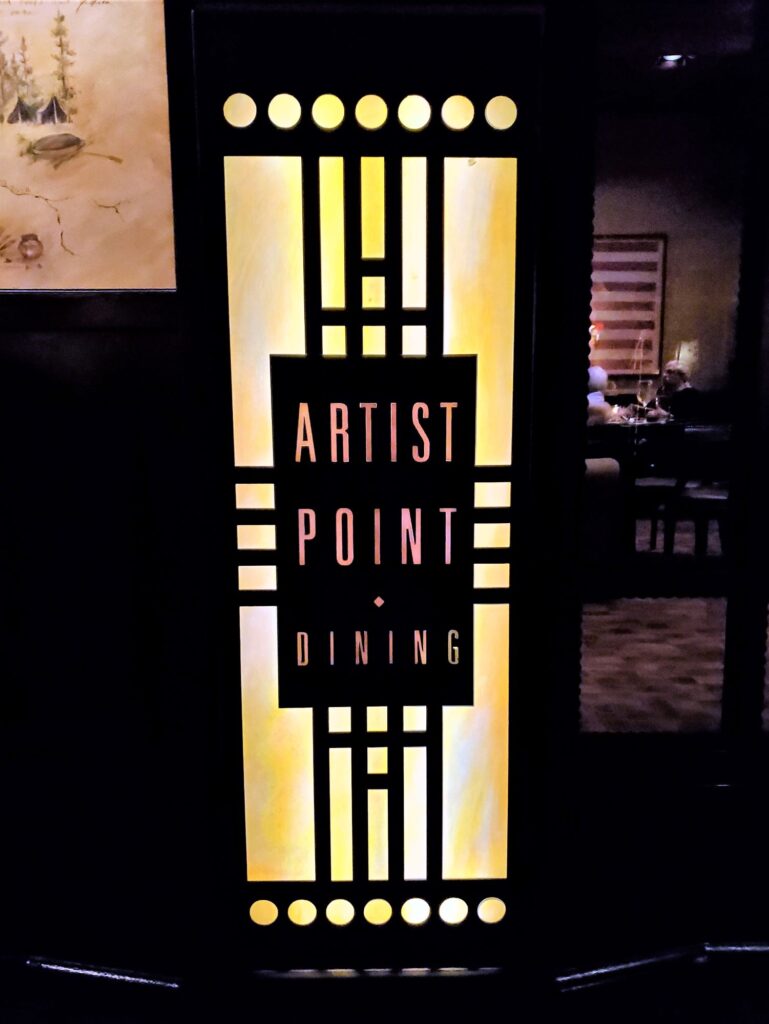 To book your next trip to Disney, contact Magical Vacation Dreams by Pam Pine here. It won't cost you a DIME to book your trip through Pam and she'll do everything for you. All you need to do is have fun!!
I thought it'd be a good time to release some more of my reviews now that Disney has reopened. We went to Disney World in February of this year, right before the whole country closed down (we really lucked out). We were there for 13 days, so there were LOTS of places we ate along the way.
I decided to hold off on the rest of my reviews while Disney was closed for an extended period of time. With the reopening there are still some places that aren't yet available for dining, but eventually everything will be back to normal (praying for that).
What is Storybook Dining?
Storybook Dining is a character dining experience at Disney World's Wilderness Lodge. It's located in the resort's main dining restaurant, Artist Point. We had been to Artist Point before it switched to Storybook Dining and loved it, so we were excited to go back and check it out.
Snow White, Dopey, and Grumpy are there to greet everyone, and the Evil Queen is, dare I say, "pleased" to take pictures with your group, haha! She's everything you'd expect her to be, a little eery even.
Storybook Dining's Allergy Menu
Storybook Dining has a prix fixe menu with shared appetizers and desserts. Of course with an allergy there is no sharing and you get your very own!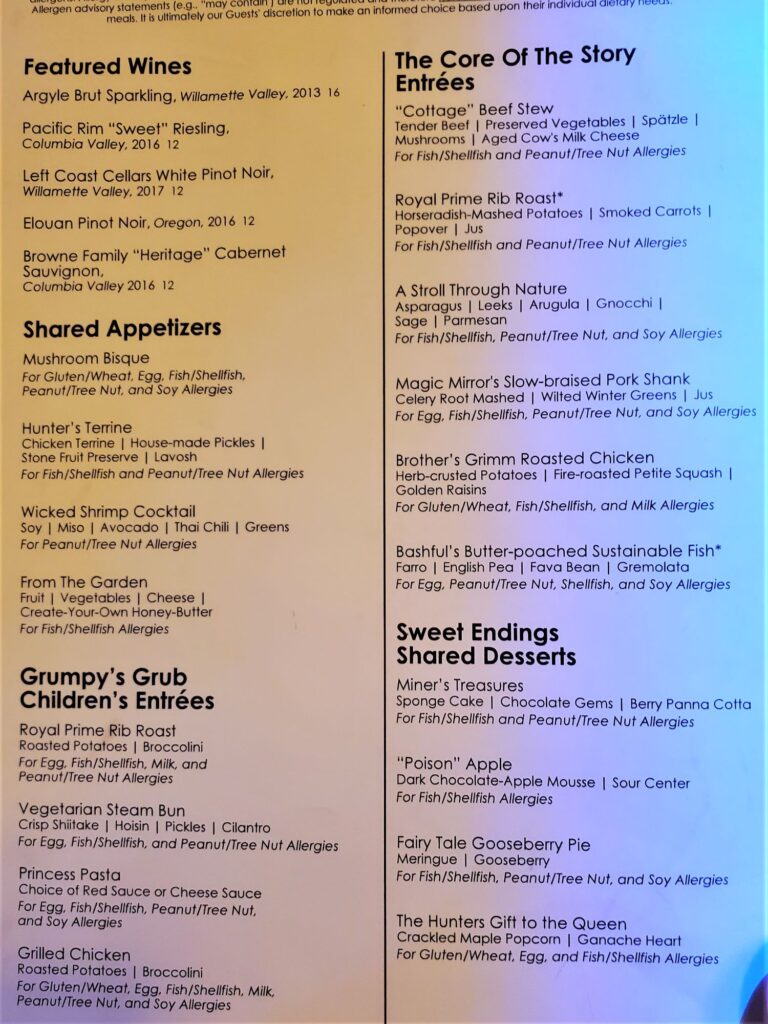 For the appetizer part of the dinner, they brought myself and my daughter roughly the same things. My daughter is vegan so she had something different than the mushroom bisque. But otherwise, we both got a piece of shrimp with a little jar of cocktail sauce and a veggie burger on some lettuce with loads of onions.
We had eaten at Artist Point before so I was very excited to have the mushroom bisque again. And it did not disappoint. It is one of my favorite soups of all time! The bisque is silky smooth and has a smoky flavor that makes it irresistible.
I ate the one piece of shrimp dipped in the cocktail sauce, which was nothing special. Then I took a tiny bite of the veggie burger, after I brushed off the tons of onion slices on top (I can't stand onions). It was very dry. I would have gladly traded the shrimp and burger for two more little cauldrons of mushroom bisque.
The Entree
The Brothers' Grimm Roasted Chicken was the only gluten free option, which sounded okay. But I really had a craving for prime rib, so I asked our waitress if the prime rib could be made gluten free. After checking with the chef, she said yes, without the popover.
The prime rib was perfectly cooked to medium rare. It was flavorful and juicy. I would have loved it even more without the jus on top, but it was still very good! The best horseradish potatoes ever were hiding underneath the beef and I ate every bite of their creamy goodness.
Sweet Endings Gluten Free Desserts
The only thing that's gluten free on the dessert menu is the Hunter's Gift to the Queen. However, they brought my daughter and myself each a little platter of tiny desserts that they assured us were gluten free and vegan.
On the right is the gooseberry pie. I think everyone else's had a different topping and meringue. Mine had a crumb topping and was filled with gooseberry filling. I'd never had gooseberries before, but was pleasantly surprised by their taste and texture. They were almost like a sour grape. It was a nice sweet and tart balanced dessert.
Next up was the chia pudding (in the middle). This to me was just okay. My daughter loved it, but she loves anything with chia seeds. Me, not so much. I can't get past their texture.
The third and final dessert in our little dessert trio was a weird little chocolate truffle thingy. I say "thingy" because it definitely didn't have the texture of a real chocolate truffle. It was incredibly dry and not at all flavorful. I took one little nibble and that was it.
At the end of our meal, the waitress delivered little treasure chests filled with the Hunter's Gift to the Queen. This consisted of crackled maple popcorn and ganache hearts. She brought the same for us on separate plates, my daughter's without the hearts. The popcorn was really crunchy and maple-y sweet. The ganache hearts were creamy and smooth, just what a real truffle should be!
Overall, Storybook Dining was a special and memorable dining option for us at Disney. Though I wouldn't consider the food to be some of the best, the atmosphere and ambiance shined through and the whole family had a blast!