Penne and broccoli is a quick, easy meatless meal made in minutes that's delicious and healthy and packed with flavor.
Every time I make this pasta, I declare it the best pasta I've ever had! I am a HUGE broccoli fan and love it in so many ways (steamed, roasted, even on pizza), but my absolute favorite way to eat broccoli is in this pasta. It's loaded with flavor!! What I love so much about it is how the broccoli gets almost charred, as if it were roasted in the oven.
My family has been making this pasta for years. My mom started making it when I was a teenager, I think. But I have to be honest, we always called it ziti and broccoli. However, being gluten free I can't always find ziti, so I decided to rename it Penne and Broccoli because that's the popular short pasta that can be found gluten free. No matter what you call it, it's delicious!!
The List of Ingredients
You don't need much to make this delicious pasta:
Broccoli–fresh broccoli only for this recipe. Frozen just won't cut it. Too watery.
Gluten free pasta–I'm currently loving Banza chickpea pasta (affiliate link), but use whatever is your favorite short pasta. Rotini also works great if you can't find penne.
Olive oil–my favorite olive oil is California Olive Ranch (affiliate link)
Garlic–one of the most essential ingredients in this pasta dish
White wine–any chardonnay will do
Crushed red pepper flakes–for a little bit of heat
Parmesan cheese–freshly grated Parmigiano Reggiano is my preference
Sometimes the simplest of ingredients (that you probably already have on hand) come together to create such a flavorful and healthy dish.
It Takes Less Than 30 Minutes!
Yes!! This is one of those meals that you'll have on the dinner table in under 30 minutes! And if you're a broccoli lover like I am, you'll be making this on repeat all.the.time.
Put a pot of water on to boil the pasta.
Chop broccoli and remove peel from garlic cloves.
In a large skillet, heat olive oil over medium heat. Add garlic cloves and broccoli, as well as salt, pepper, and crushed red pepper. Put a lid on skillet and cook for about 5 minutes.
Remove lid and stir broccoli.
Replace lid and continue to cook for another 5 minutes. Meanwhile, drop pasta into boiling salted water.
Remove lid from broccoli, add wine and stir. Cook broccoli until tender.
Add cooked pasta to skillet and stir. Finish with freshly grated Parmigiano Reggiano and a swirl of olive oil.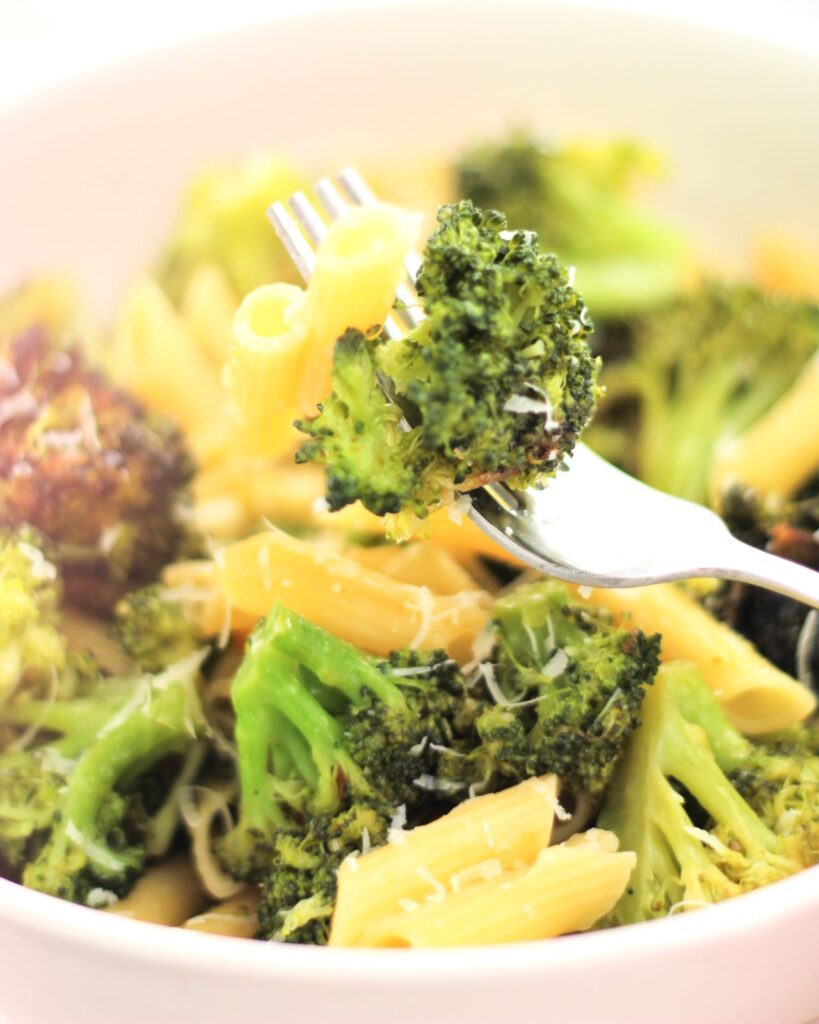 Penne and Broccoli FAQs
I'm Vegetarian/Vegan. How Can I Make it to Suit My Needs?
Penne and broccoli is already vegetarian, so no need to change a thing. For vegan, make sure your pasta is vegan (Banza pasta is both gluten free and vegan) and leave out the Parmigiano Reggiano (or sub nutritional yeast).
Can I Add Protein?
Sure can! Sliced grilled chicken breasts? Absolutely! Sausage perhaps? Italian would be great! Grilled shrimp? That would be outstanding!
I Don't Cook with Wine. What Can I Use Instead?
If you'd rather leave out the white wine, chicken or vegetable stock can be used as a substitute.
What are you waiting for? You've GOTTA try penne and broccoli this week! Once you try it, it's bound to end up in your weekly meal rotation.
Penne and Broccoli
Penne and broccoli is a quick, easy meatless meal made in minutes that's delicious and healthy and packed with flavor.
Ingredients
3-4

heads

broccoli, stems removed and cut into small florets

12

oz

gluten free penne pasta

(or your favorite short pasta)

⅓

cup (80ml)

extra virgin olive oil

5-6

cloves

garlic, smashed slightly and skins removed

½

tsp

crushed red pepper flakes

(or more to taste)

½

cup (120ml)

white wine

(chardonnay is what I use, but sauvignon blanc or pinot grigio would also work well)

½

cup (60ml)

freshly grated Parmigiano Reggiano
Instructions
Chop the broccoli into small florets.  Bring water to a boil for pasta and heat a large skillet over medium heat and add olive oil.

Add garlic cloves and broccoli to olive oil in skillet. Season with salt, pepper, and crushed red pepper. Place a lid on skillet and allow to saute for 10 minutes, stirring at the halfway mark. When water is boiling, salt water and add pasta and boil per package instructions.

Remove lid from skillet and stir broccoli and garlic. Add white wine.  Cover and saute for another 5 minutes or so, until fork tender.  Smash garlic into broccoli, if desired.  

When pasta is done, drain and add to broccoli.  Grate fresh Parmigiano Reggiano over pasta and toss to coat.  Finish with a swirl of olive oil and serve.