I call this the hangover breakfast, which is perfect for New Year's Day. Simple breakfast potatoes, eggs, and bacon are just what the doctor ordered!
I hope you all had a fabulous Christmas (or whichever holiday you celebrate around this time of year)! We had a really amazing one. Most Christmases are spent with just my family and my mom and dad, so it wasn't much different than any other year. The only thing we did differently is sat at separate tables and moved furniture around to accommodate social distancing. Other than that, it was the same wonderful breakfast and Christmas camaraderie!
Can you believe we're finally getting over this DOOZY of a year in just a few short days? I'm so ready for this year to be over, as I'm sure we ALL are! I can't wait to say good riddance to 2020 and usher in a (hopefully) healthy and happy new year!
New Year's Eve has never been one of my favorite holidays. Sure, I used to enjoy ringing in the New Year at my mom and dad's old bar. But that was pretty much pre kids and it was so long ago I can hardly remember, haha! Over the last several years, New Year's for us has been pretty much low key. If we can even stay up until midnight it's a miracle!
Whether you're a fuddy duffy like we are, or you ring in the New Year with a little too much imbibing, these simple breakfast potatoes are the perfect thing for the morning after. They're crunchy on the outside with just a little kick of spice, and soft and fluffy on the inside. And they're made in one pan with NO PARBOILING!!
A Trick for Making Simple Breakfast Potatoes
There are dozens of recipes for breakfast potatoes out there that call for parboiling the potatoes first. Sure, it makes sense because raw potatoes won't fully cook before getting too brown in a skillet. Seriously, who has time to be not only parboiling their potatoes, but also washing the dishes, too? And if you're hung over? Forgedaboutit!! Haha!
Here's my little secret: Cover the skillet when the potatoes are first frying. And fry them on medium low. It sounds a little strange, but what happens is the potatoes steam a little while they're also browning. And when they're steaming, the insides are cooking completely.
Halfway through the cooking, remove the lid, turn up the heat, and finish browning the potatoes. Done in half the time as parboiling, you can't beat it!
Whether you've overindulged on New Year's Eve or not, try these simple breakfast potatoes. They're crisp and crunchy and are the perfect accompaniment to bacon and eggs!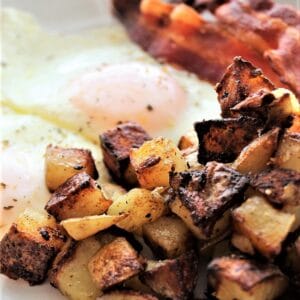 Simple Breakfast Potatoes
I call this the hangover breakfast, which is perfect for New Year's Day. Simple breakfast potatoes, eggs, and bacon are just what the doctor ordered 🙂
Ingredients
3-4

medium

russet potatoes, skins scrubbed, cut into cubes

¼

cup (56 g)

butter

½

teaspoon

Montreal Steak Seasoning

½

teaspoon

garlic salt

¼

teaspoon

paprika

⅛

tsp (or more to taste)

cayenne pepper
Instructions
Melt butter in a skillet (preferably cast iron) over medium low heat.  Add the cubed potatoes and seasonings and cover the skillet with a lid.

Fry for about 7-10 minutes and then remove the lid.    Use a spatula to flip the potatoes over.  Turn the heat up to medium high and continue cooking until the potatoes are evenly browned, flipping as necessary for even browning. This will take about 5-7 minutes more.

Serve with eggs and bacon or sausage, if desired.