Sci-Fi Dine-In Theater in Hollywood Studios is a drive-in style restaurant with car-shaped booths and tables and a big screen playing old thriller movies. It's style of food is casual American fare.
During our recent trip to Disney World, we ate dinner at Sci-Fi Dine-In Theater in Hollywood Studios. Some of us were seated in booth cars and others in table cars, but we were all seated under a starry, starry night.
We hadn't been to Sci-Fi in a while so it was nice to go back. The food is exactly what you'd think coming from a drive-in theater–cheeseburgers, subs, wraps, french fries–but it's the experience that makes it so memorable. The cars that are like booths have a "front seat" and a "back seat" and tables in between. The kids really got a kick out of sitting in an old car.
Where I was seated was also a car, but it was more of a table stretched out sideways to make up the car. I liked this better because I could talk to not just the person beside me, but also the people across from me (which were my nephew, daughter, and her boyfriend) instead of seeing the backs of their heads. Either way, though, it's always a fun time at Sci-Fi!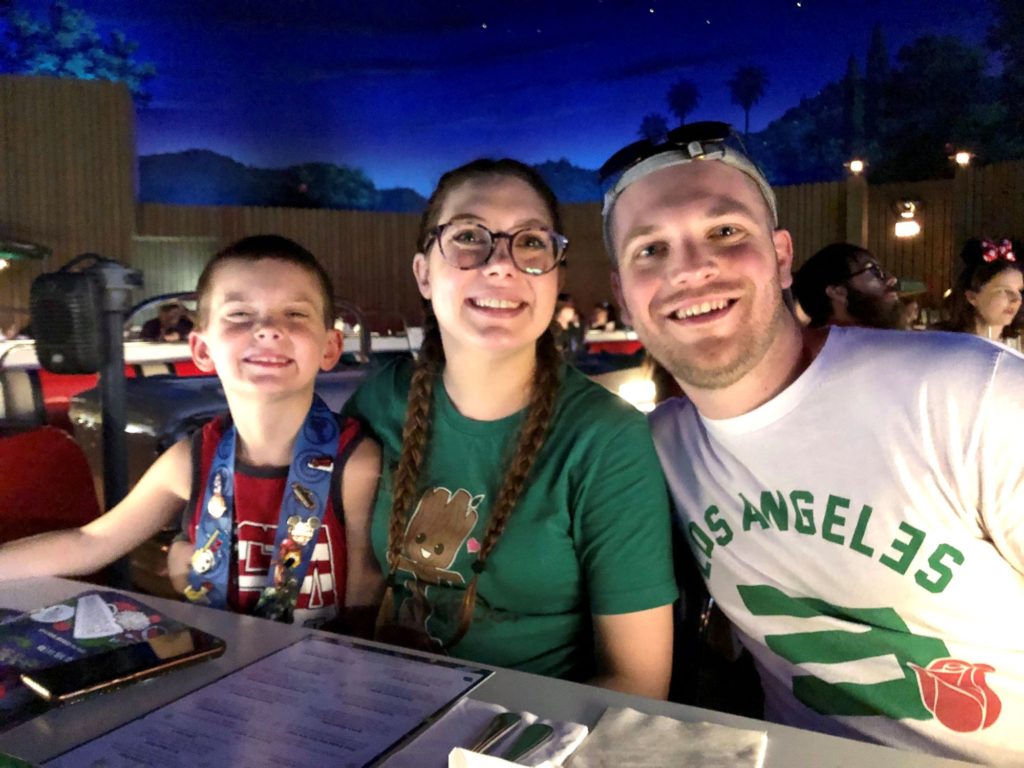 Sci-Fi Dine-In's Allergy Menu
There are several gluten free options on the allergy menu at Sci-Fi. I apologize for some of the pictures being a little blurry and/or dark. It's so dark in Sci-Fi and I was trying to mess with my settings on my brand new phone. I didn't realize they weren't the best shots until I got home and it was too late.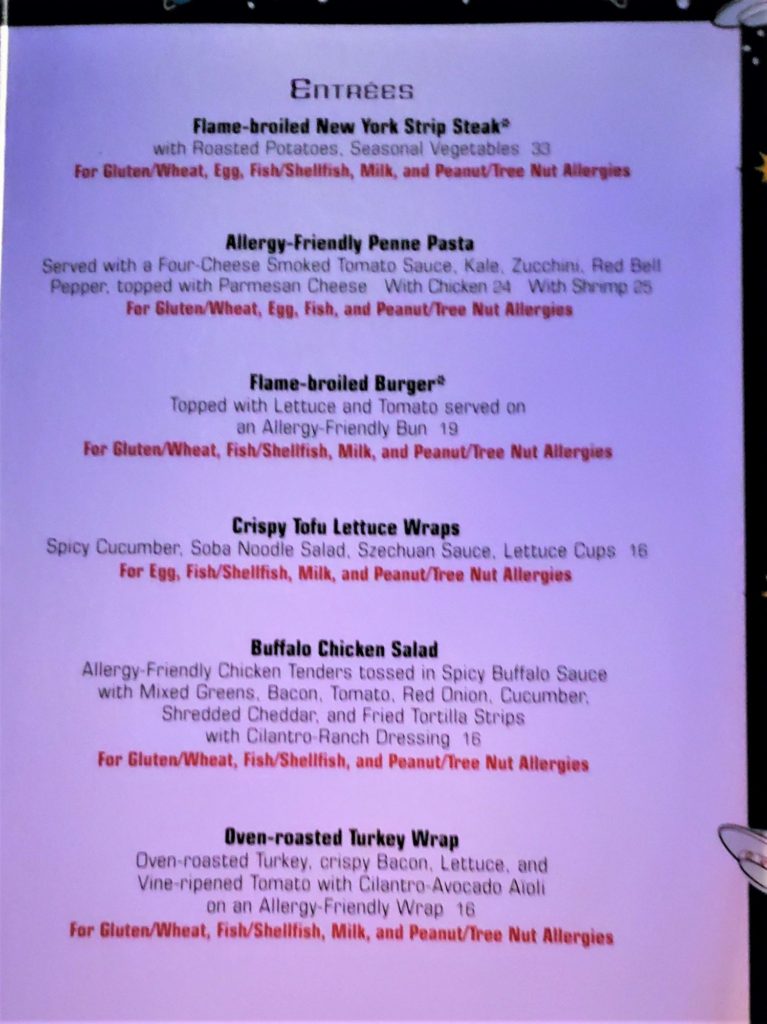 We ordered the shrimp and crab fondue as an appetizer, but true to my nature (haha!) I forgot to get a picture of it. It was pretty good, though I would have liked it more with no roasted red peppers.
I ordered the oven-roasted turkey wrap for my entree and it was very good!! I don't know what brand of gluten free wraps they use here, but they were decent (not as good as my own gluten free flour tortillas 😉).
My wrap was filled with turkey, bacon, and lettuce. The turkey seemed like it was sliced right off the bone. It was delicious! I asked for a side of the cilantro-avocado aioli so I could dip my wrap in it. The aioli was creamy and smooth and full of flavor.
I asked if I could order a side of fries as the waitress told me they were fried in a dedicated fryer. The fries were perfectly crisp and golden and I dipped some of them in my bowl of cilantro-avocado aioli. Yum!!
The options for dessert are a brownie sundae or a hot fudge sundae, and of course milkshakes. I had no room for dessert this time around. I've had the brownie sundae in the past, however, and it was good. You can't really go wrong with a brownie sundae, right?
Give Sci-Fi Dine-In Theater a shot for a fun and flavorful lunch or casual dinner. The atmosphere is just like a classic drive-in and the kids (and kids at heart) will enjoy it! Check out Disney's website here for more information so when they open up again, you'll be ready to go!!