Soft and full of vanilla flavor, these simple, but perfect gluten free vanilla cupcakes are just what we need in our baking arsenal.
I love cake. And when I say that, I mean I love ALL cake. I seriously cannot think of a flavor of cake or cupcakes I don't love. Chocolate is probably my absolute favorite, which is surprising because as a kid I didn't like chocolate cake. But as an adult, I grew into so many flavors of cake–carrot, pistachio, spice, pumpkin, caramel, etc, etc.
But whomever says vanilla is boring hasn't had a truly perfect vanilla cupcake. And these cupcakes here are the ultimate perfect vanilla cupcakes, gluten free or not! They're pillowy soft and FULL of vanilla bean flavor in both the cake and the buttercream. And what's great about these cupcakes is they can be a blank canvas for any combination of flavors and textures you can dream up!
UPDATE: When I first wrote and shared this post, I thought I had the best gluten free vanilla cupcakes out there. They were pretty special, at least to me and my family. But then I started getting comments from readers stating they were having some trouble with these cupcakes sinking. So I made another batch and I had the same exact problem and I couldn't figure out why. I had tested this recipe several times before posting it the first time and it worked beautifully. So the only thing I could think of was I must have put the wrong measurements down on the blog post, or I goofed up somehow in listing out the correct ingredients.
Either way, I couldn't leave the recipe as is. So I searched and searched and tried dozens of concoctions (again) for the best vanilla cupcakes, and I believe I finally have it right. These cupcakes have stood three trials without any problems, and I made sure I got the ingredients and measurements exactly as I made them each time. So I'm crossing my fingers no one will have any problems with this new recipe and will just be able to enjoy the fruit of their labors! Because we all need a little vanilla cake every now and then.
Ingredients for Perfect Gluten Free Vanilla Cupcakes
These cupcakes are so soft and moist, you'd never know they're gluten free. My family has been loving my cupcakes for years (before celiac) and when I had to change everything to gluten free, I really thought things were gonna go downhill. But I found a great recipe that I adapted to fit my gluten free needs, using my own gf flour blend and my own special touches.
Cake Ingredients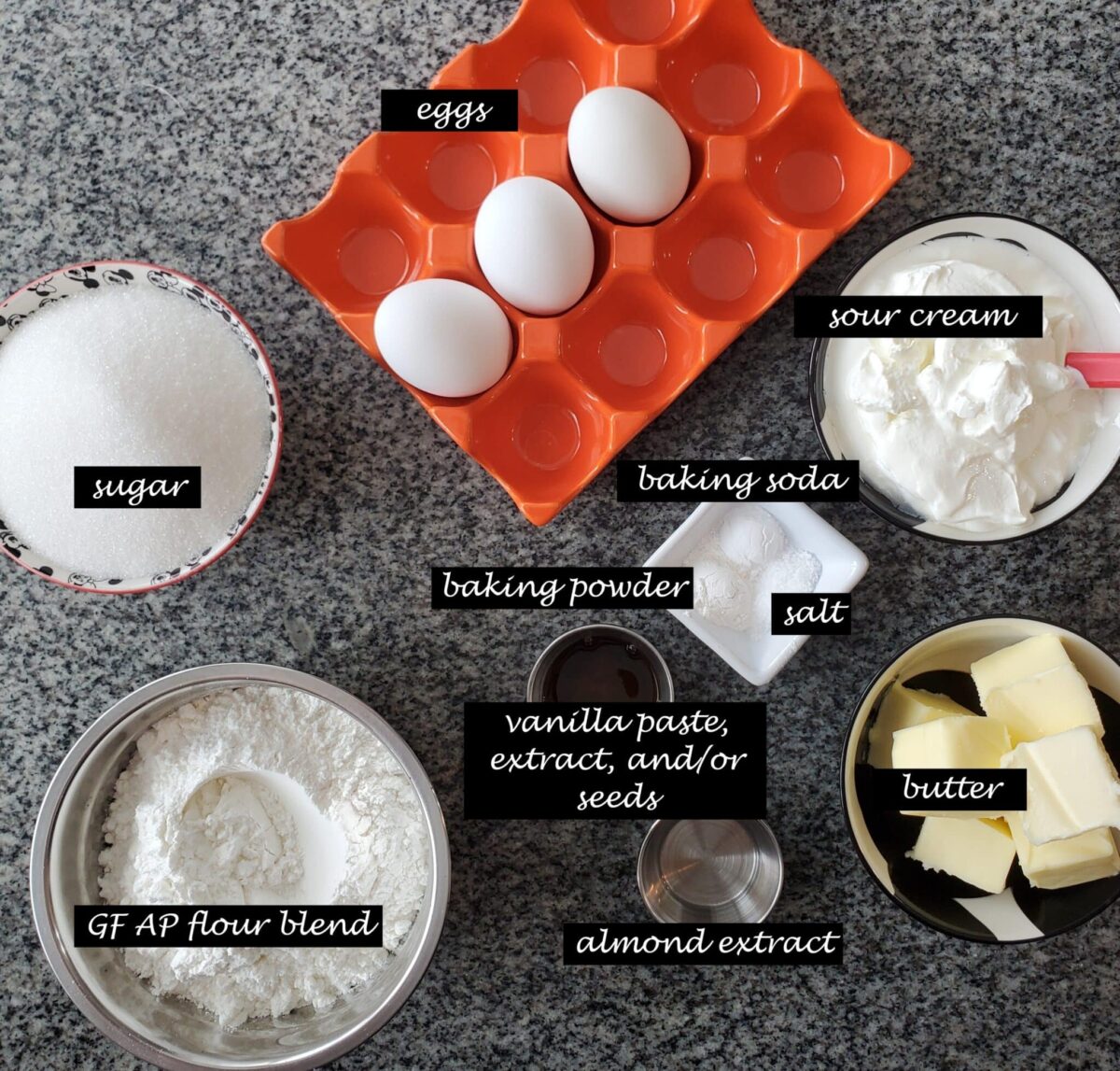 Kim's all purpose gluten free flour blend–a store bought blend may be substituted (although the recipe hasn't been tested with anything other than my blend).
Sour cream — it's amazing what sour cream does to cake. It makes it so tender and soft.
Vanilla bean seeds and extract–for maximum vanilla flavor, I use both the seeds from a vanilla bean AND extract.
Almond extract — just a very small amount of almond extract seems to enhance the vanilla flavor.
The Buttercream
You can play around with many different vanilla frosting ideas for these cupcakes. I've got plenty of options here on the blog (my signature French buttercream or a Swiss meringue buttercream to name a couple). But I thought for these cupcakes, because they're "simple and perfect," American buttercream all the way. Here's what you'll need for my American buttercream (3 simple ingredients):
Butter
Powdered sugar
Vanilla–because we're going with the whole "perfect vanilla" theme, of course I'm gonna use vanilla bean seeds AND extract for maximum vanilla flavor.
People often ask why there is no liquid in this recipe. I explain that it isn't necessary because of the amount of butter compared to the amount of powdered sugar. Most American buttercream recipes require a little milk or cream to thin them due to the heavy amount of powdered sugar, which makes them really thick. And really sweet. But not this American buttercream.
Vanilla Cupcakes Frosting and Decorating Ideas
These perfect gluten free vanilla cupcakes are just that–perfect as they are. But, if you want to use these as a stepping off point to something else, here are some ideas:
Plain–plain is sometimes anything but. The simplicity of a vanilla cupcake with vanilla buttercream can be so satisfying.
Chocolate–one of my favorites–vanilla cake with chocolate frosting. Try this fudge frosting.
French buttercream–my signature frosting, French buttercream is the be all end all to buttercream frostings, in my opinion. And it can be flavored a million different ways.
Coconut–use this recipe for a flour-based frosting (ermine), and then add shredded coconut.
Sprinkles–I love sprinkles and there are so many kinds of sprinkles for every holiday you could ever want.
Whipped cream and raspberry jam–or strawberry. Or fresh fruit.
gluten free vanilla cupcakes frequently asked questions
Can this recipe be baked into a cake instead of cupcakes?
Yes, it should bake up just fine in cake pans, but of course you'll need to adjust the baking time accordingly, depending on the size of your cake pans.
How long do vanilla cupcakes last?
They will stay fresh in a sealed container at room temperature for 3-4 days. They can also be frozen if wrapped well in plastic wrap.
Can vanilla cupcakes be made dairy free?
You can try a dairy-free sour cream or yogurt in place of the sour cream and a dairy-free butter alternative in place of the butter.
more gluten free cupcake recipes
These perfect gluten free vanilla cupcakes are the ultimate in real vanilla flavor and will put store bought cupcakes to shame!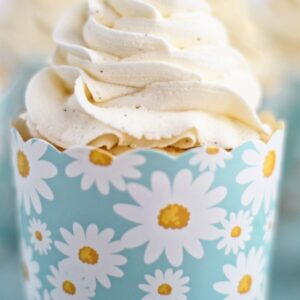 Perfect Gluten Free Vanilla Cupcakes
Soft and full of vanilla flavor, these simple, but perfect gluten free vanilla cupcakes are just what we need in our baking arsenal.
Ingredients
¾

cup (170g)

butter, at room temperature

1½

cups (300g)

granulated sugar

3

large

eggs, at room temperature

1

tbsp

vanilla bean paste, vanilla extract, or the seeds from one vanilla bean

½

tsp

almond extract

1¼

cups (300g)

sour cream

2

cups (280g)

Kim's all purpose gluten free flour blend (a store bought blend may be substituted, but hasn't been tested)

1

tsp

baking powder

½

tsp

baking soda

½

tsp

kosher salt
Vanilla Buttercream
3

cups (6 sticks or 680 g)

butter, at room temperature

6

cups (680 g)

powdered sugar, sifted

1

tbsp

vanilla bean paste, vanilla extract, or the seeds from one vanilla bean
Instructions
Preheat the oven to 350° F. Line muffin tins with paper liners. The recipe makes about 20 cupcakes, depending on how full you fill the liners.

In a medium bowl, whisk together the flour, baking powder, baking soda, and salt and set aside.

Cream the butter and sugar until light and fluffy.

Add the eggs, one at a time, beating well after each addition. Scrape down the sides and bottom of the bowl. Add the sour cream, vanilla, and almond extract, beating just until combined.

Reduce the speed to low and mix in the dry ingredients, a little at a time, until all of it has been added, stopping the mixer right after adding the last amount. Fold in any unmixed flour by hand.

Scoop the batter into cupcake liners and bake for 20-22 minutes, or until a toothpick inserted into the center comes out clean.

Cool in the pans for 5 minutes before turning out onto a wire rack to cool completely.
For the Buttercream
In the bowl of a stand mixer (or with a handheld mixer), beat butter until smooth and creamy. Add powdered sugar in increments with the mixer on low (so it doesn't fly out of the mixer). Add the vanilla. Turn the mixer up to medium and beat for about 5-6 minutes, or until lighter in color and texture (this extra mixing is crucial to the texture of the buttercream).

Frost cupcakes as desired.
Notes
Cupcakes will keep in an airtight container at room temperature for 3-4 days.  For longer storage, freeze them on a baking sheet until firm enough (about 30 minutes to an hour) and then carefully wrap individually in plastic wrap.   
Adapted from Chef Lindsey Farr's Sprinkles Copycat Vanilla Cupcakes