These Perfect Gluten Free Chocolate Chip Cookies are soft, thick, chewy, bakery-style cookies that are one of my most requested recipes ever!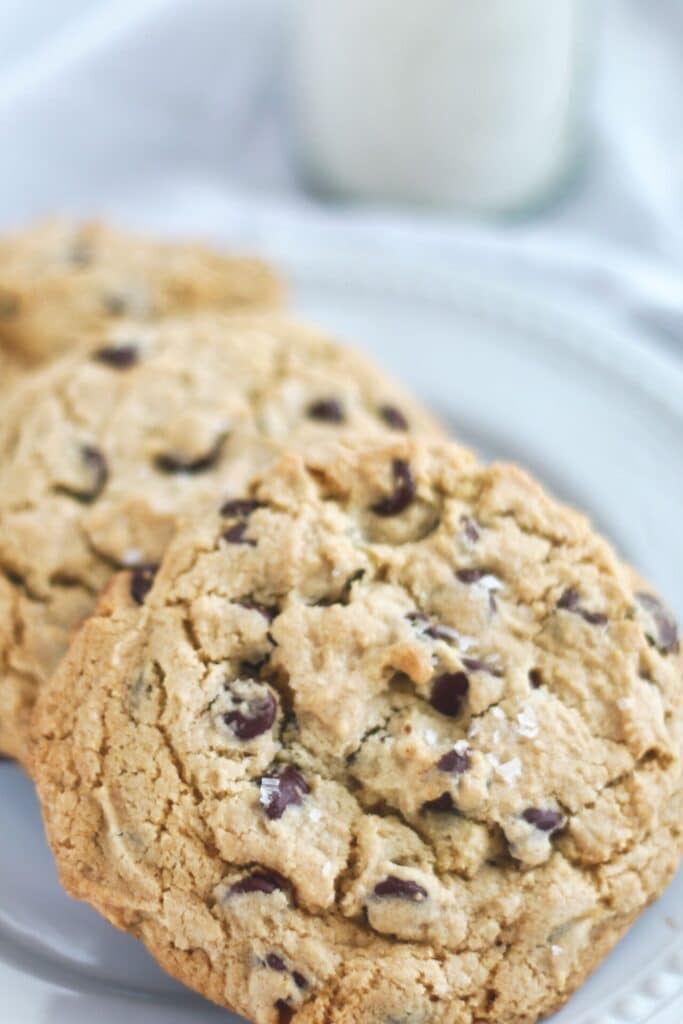 Some of the items linked in this post are affiliate links, meaning, at no additional cost to you, if you click through and make a purchase, I will earn a small commission.
I was always on the side of cookie dough versus baked cookie, especially when it came to chocolate chip cookies. We used to eat cookie dough by the spoonful when I was a kid (I know, I know, you shouldn't eat raw cookie dough). But back then, no one really knew the dangers of salmonella like they do now. I always thought the actual dough was better than the baked cookie.
When I first made this recipe years ago when I was still able to eat gluten, it was the absolute best chocolate chip cookie I'd ever had. Yes, I did taste the dough (who can resist?), but surprisingly I loved the baked cookie even more than the dough. Everyone LOVED these cookies when I'd bring them to my kids' schools, or give them as gifts for teachers, or just share them with friends and family. There was no need for another CCC recipe again once I made them.
Marcel Desaulniers has written several chocolate cookbooks and I have all of them. He's the master of all things chocolate and so many of his recipes have become family favorites. If you've never tried my Gluten Free Chocolate Chunk Cookie Cakes, you must try them soon! They are originally his recipe, made gluten free, and they are beyond anything you've ever had before. It's like a cross between a chocolate chip cookie and a cupcake!!
What Makes Perfect Gluten Free Chocolate Chip Cookies?
In my opinion, what makes a perfect chocolate chip cookie is a really thick cookie, kind of cake-like, or bakery style. But, it has to also be really soft. Think Levain Bakery style cookies.
And unlike most chocolate chip cookie recipes, I don't load up on the chocolate chips (or chunks). I actually like a little less chocolate in my CCC's, I think because I like to taste the brown sugary goodness of the cookie itself with a hit of chocolate every now and then. But if you're all about the chocolate in a chocolate chip cookie, by all means add more!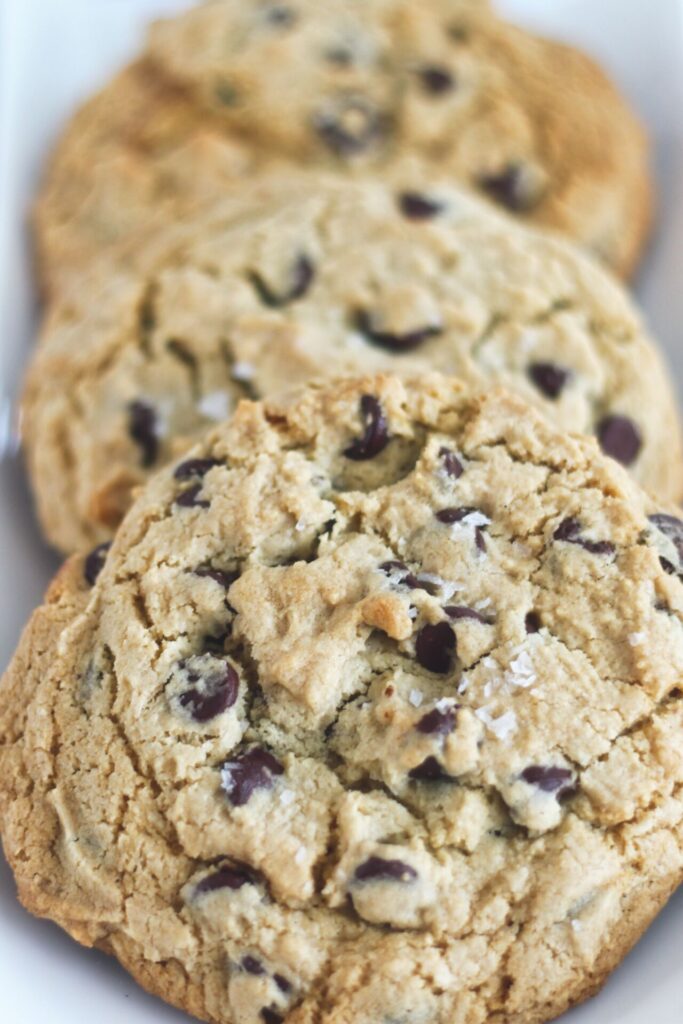 the ingredients needed to make perfect chocolate chip cookies
Butter
Brown sugar
Kim's all purpose gluten free flour blend -- a store bought blend may be substituted, but hasn't been tested
Baking soda
Salt
Eggs
Vanilla
Dark rum (totally optional)
Semi-sweet or dark chocolate chips or chunks
Tips for making Chocolate Chip Cookies
There's more gluten free flour in these cookies than most recipes. That makes for a more cake-like texture and a nice and thick, sturdy cookie (but still soft and gooey).
Beat the butter and brown sugar very well (at least 4-5 minutes) at medium high to really cream them together and get a nice fluffy texture.
Make sure to scrape the bowl often when mixing. This should be a rule of thumb in ALL baking.
If I don't have, or don't want to use dark rum, I like to double the vanilla to 2 tbsp. I know it sounds like a lot of vanilla, but is there ever too much vanilla?
Use a cookie scoop to get large uniform-sized cookies and only put 4-5 cookies on one baking sheet at a time. These are very large cookies.
For smaller cookies, use a smaller scoop and bake them for a little less time, anywhere from 10-15 minutes (depending on your scoop size). Start checking at 10 minutes.
The normal bake time for chocolate chip cookies is 350 degrees F. Baking these cookies at 325 degrees for a longer time makes for a less crunchy and softer cookie. Take them out of the oven right at 20 minutes and no longer. They'll look like they're not done. Trust me, they'll be perfect!
For best results, use my all-purpose flour blend. I haven't tried these with any other flour blend so I can't speak for how perfect they'll be with another blend.
gluten free ccc's frequently asked questions
What Kind of Chocolate Should I Use?
You can't go wrong with the type of chocolate you choose. Semi-sweet is traditional, but be your own chef and change it up a bit of you'd like. Milk chocolate is perfection! Dark chocolate chunks? Heck yes!
How Do I Make the Cookies More Crisp?
Easy peasy! Increase the temperature to 350 degrees F and bake them for 12-15 minutes. The higher temp will make the butter melt faster and create a crisper cookie!
Can This Recipe be Made Into Smaller Cookies?
Yes! Use a small cookie scoop (2 tbsp) to scoop cookies onto baking sheet and bake for about 10-12 minutes.
Can I Freeze Chocolate Chip Cookie Dough?
Absolutely! Scoop into balls and place on parchment-lined baking sheet. Freeze until solid and then place them in a ziptop freezer bag. Bake them from frozen, although they'll need a few more minutes in the oven.
How Should I Store the Cookies Once Baked?
The cookies can be kept in an airtight container or ziptop bag at room temperature for 4-5 days.
more chocolate chip and chunk recipes
Bake up these perfect gluten free chocolate chip cookies in no time at all and grab a glass of milk. Your kids will BEG you to make them all the time, just like mine have done for years!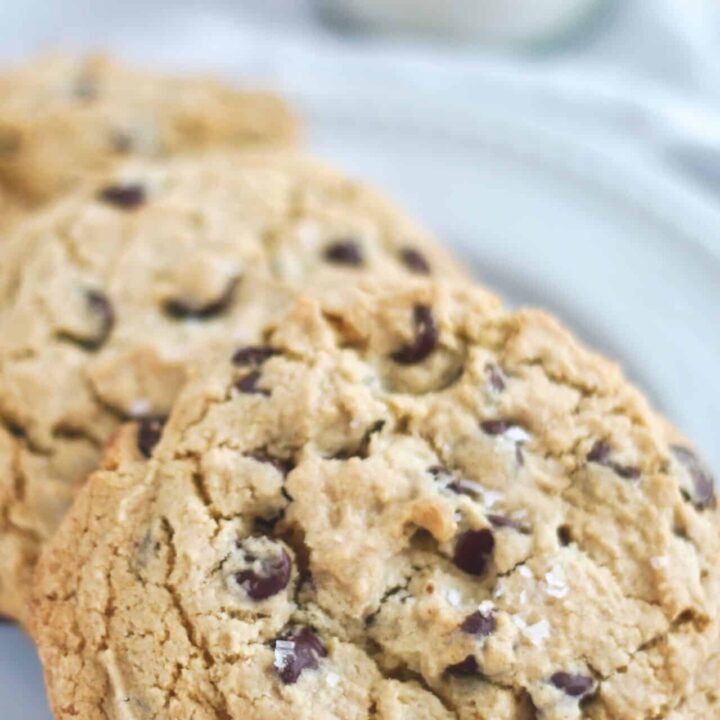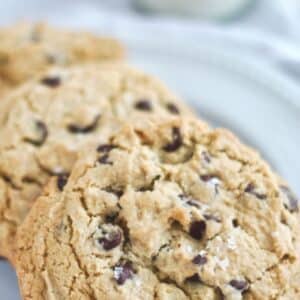 Perfect Gluten Free Chocolate Chip Cookies
This will be your go-to recipe for perfect gluten free chocolate chip cookies every time!  Thick and chewy, ooey, gooey, these cookies will quickly become your favorite 🙂
Ingredients
½

lb (2 sticks or 1 cup, 226 g)

butter, softened

2

cups (454 g)

tightly packed brown sugar

4

cups (560 g)

Kim's gluten free flour blend

1½

teaspoon

baking soda

½

teaspoon

kosher salt

2

large

eggs, at room temperature

1

teaspoon

vanilla

2

tablespoon

dark rum, optional

12

ounces (340 g)

milk, semi-sweet or dark chocolate chips or chunks
Instructions
Preheat oven to 325 degrees.  Line 2 baking sheets with parchment paper.

Cream butter and brown sugar on low speed in mixer bowl (stand or handheld) until combined.  Increase speed to medium to medium-high and beat for about 4-5 minutes, until very fluffy and light in color. Scrape down sides and bottom of bowl.

On low speed, add eggs, vanilla, and rum (if using) and mix to combine.  Scrape down sides and bottom of bowl and blend for about 1 minute on medium speed.

In another bowl, whisk together flour, baking soda, and salt.  With mixer on low speed, slowly add flour mixture to butter and egg mixture until combined.  

Stir in chocolate chips or chunks by hand or on low speed just until incorporated.

Using a large scoop, scoop dough and place on parchment-lined sheet pans, only 5-6 per pan (these are very large cookies).

Bake one sheet at a time at 325 for 18-20 minutes and no longer.  Remove sheet pans from oven, but leave cookies on pans for about 3 minutes before transferring to a cooling rack to finish cooling.  

Makes about 15-18 large cookies, depending on the size of your scoop. Serve warm or at room temperature. To serve warm, fresh-baked cookies the next day, place cookie on microwavable plate and microwave for about 20 seconds until chocolate is slightly melted and cookie is warm.
Notes
Don't overbake.  At 18-20 minutes, they will look like they aren't completely baked, but there will be some carry over cooking when they're taken out of the oven.  This ensures a soft cookie.
These can be frozen, either baked or unbaked.  To freeze unbaked cookies, scoop dough onto cookie sheets and place in freezer until solid.  Remove balls of dough and put into gallon-sized zip top freezer bag.  When you want fresh-baked cookies, proceed with recipe as per instructions with frozen cookie dough balls, adding about 5 minutes to baking time.  
I prefer a more balanced cookie to chip ratio, but if you'd like more chips, add up to an additional 12 ounces.
For the greatest sweet/salty experience, sprinkle tops of scoops of dough with Maldon flake salt before baking.  
Adapted from Death By Chocolate Cookies by Marcel Desaulniers
This recipe was originally posted in September 2018 and has been updated with new pictures, copy, and tips, as well as a video.