Pavlova is a meringue dessert that's crunchy on the outside, marshmallow-y on the inside, and as heavenly as it is beautiful!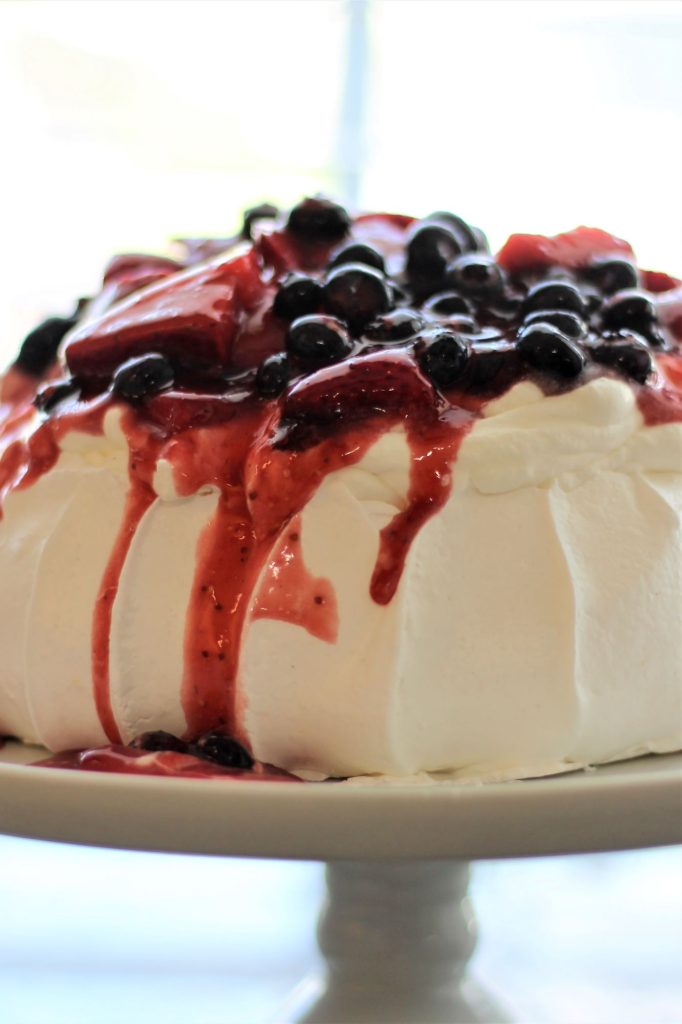 Oh, man!!!! I gotta tell ya. This pavlova is like nothing I've ever had before and maybe like nothing you've ever had before! And even though it looks daunting, it's so much easier to make than you think. It might just be my new FAVORITE dessert ever!
I've been testing so many recipes lately that require egg yolks, so I've accumulated several egg whites. I could make the usual Swiss meringue buttercream. Or another angel food cake (I just made a gf strawberry one). But I wanted something different. And pavlova is just that something! It's not only a flavor explosion in your mouth, the contrasting textures make it next level. Not to mention that it's a showstopper of a dessert that really impresses.
What is Pavlova?
Pavlova is a dessert that's named after a Russian ballerina, Anna Pavlova. Apparently it was created after she toured Australia and New Zealand about 100 years ago.
The two countries of Australia and New Zealand constantly argue over where it originated first. At this point I don't think it matters. The only thing that matters is that it was created and the dessert world is forever thankful!
Pavlova consists of a meringue base that is crunchy on the outside, but almost a marshmallow-like texture on the inside. It's usually topped with sweetened whipped cream and berries. But I've seen all kinds of variations that look so good, too (lemon curd, pastry cream, nectarines, kiwi, cherries, etc).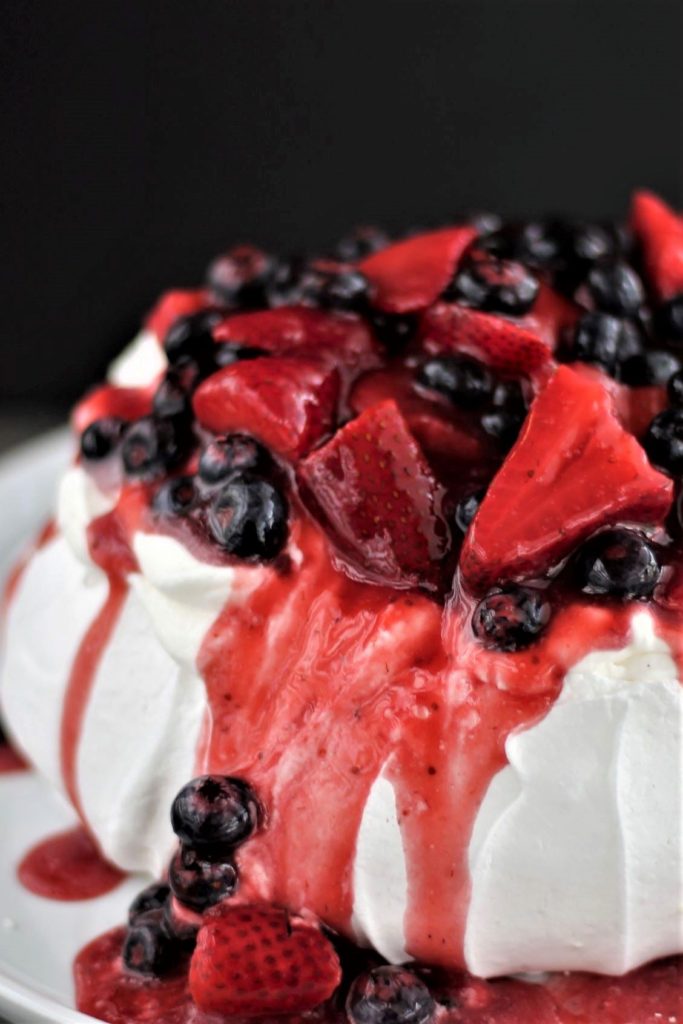 Making the Meringue Base
It might look daunting to make this meringue base, but if you can whip egg whites, you can do this. I promise!! Check out Cupcake Jemma's YouTube channel on how to shape the meringue base as theirs looks stunning and they're WAY better at it than I am!
Make sure your mixing bowl and utensils are clean. I like to wipe mine down with a little lemon juice or vinegar. Also, cold egg whites don't whip up as well and may be the difference between success and failure.
Begin whisking the egg whites on a rather low speed just to loosen them up and get them all frothy. Continue whipping until soft peaks form. The egg whites will create a slight "peak" but that peak quickly falls over.
At that point begin slowly adding your sugar, about a tablespoon at a time. You want the sugar to dissolve into the egg whites so they aren't grainy in the least bit. Allow about 30 seconds between each spoonful before adding the next.
Finally, add vanilla and lemon juice (or vinegar or cream of tartar) and whisk until combined. Remove the bowl from the mixer and sift in a little bit of cornstarch. What the cornstarch does is helps to create that marshmallow-y texture on the inside. You can leave it out, but if you live in a humid climate like I do, your meringue might weep.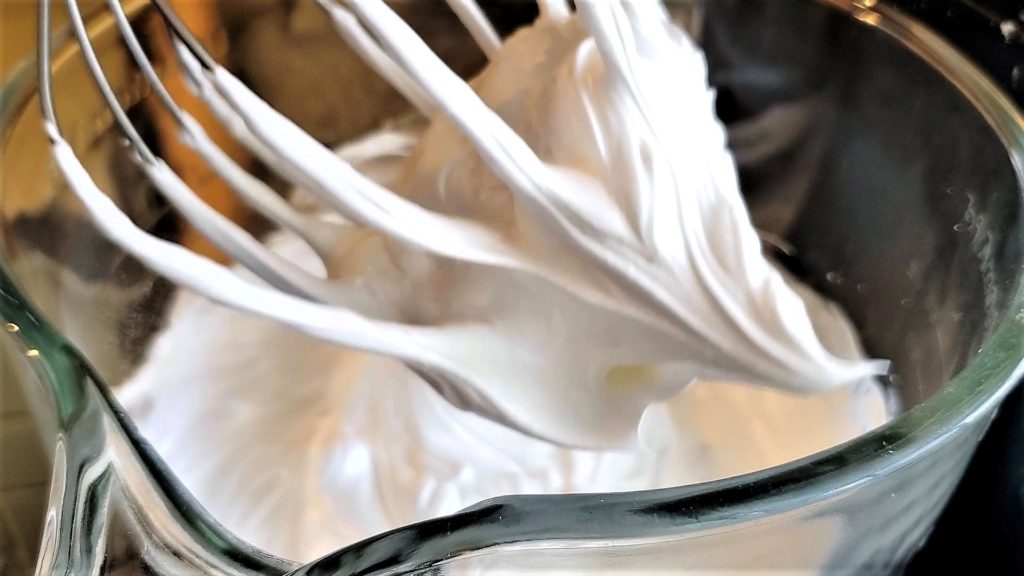 It's All About That Bake
Well, not all about the bake, but that went with a song in my head, haha! But really, the method in which it's baked (and cooled) is just as important as the consistency of the meringue.
The meringue needs to bake at a rather low temperature for a long time, 100 minutes total! Then shut off the oven but leave the meringue right where it is and allow it to cool down completely. This will ensure your meringue stays nice and crisp on the outside, while maintaining the billowy softness on the inside.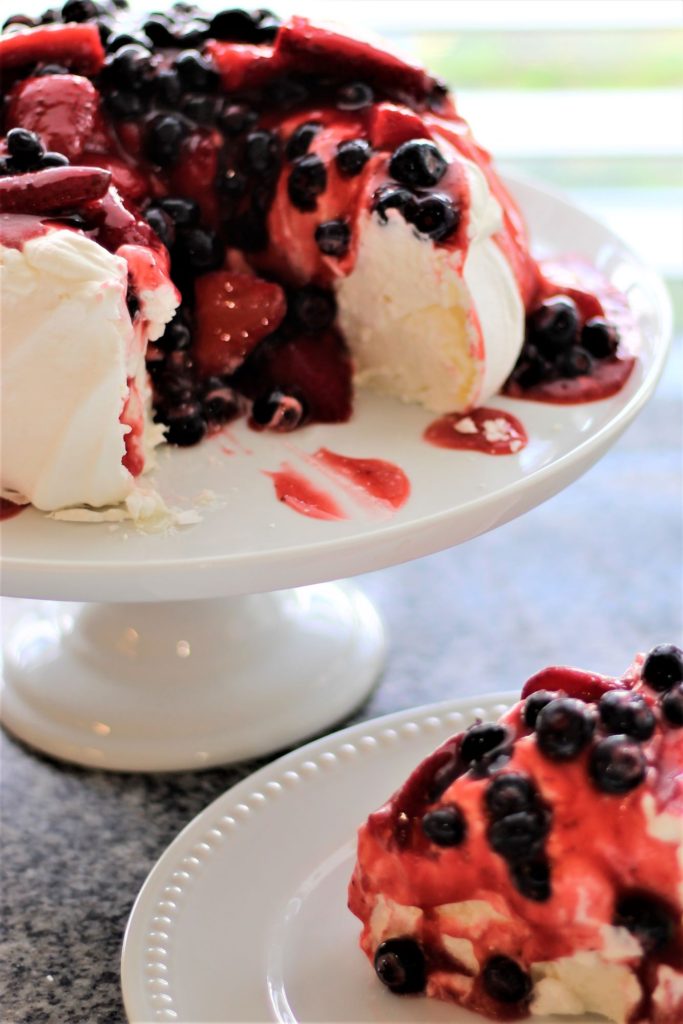 The Cream and Fruit for your Pavlova
I really wanted to keep things simple for this pavlova since it was my first time making one. Well, that's kind of a lie. I did try to make a vegan pavlova using aquafaba (the liquid from a can of chickpeas) for my daughter. But that totally bombed so I don't count that one, haha!
While the meringue is cooling, get your fruit ready. I used berries that I had on hand (strawberries and blueberries). But feel free to use whatever favorite berries (or other fruit) you want. Be creative and also be mindful of the season. If it's the middle of the winter, you can still make pavlova. Some ideas are oranges, clementines, poached pears, pomegranate seeds, kiwi, etc.
I made a strawberry sauce and added the fresh sliced strawberries and blueberries to the sauce, mainly because I like the way the sauce drips down the sides of the pavlova. Plus, the sauce is crazy good and goes very well with the fresh fruit!
When ready to serve the pavlova, whip the heavy cream, powdered sugar, and vanilla to soft peaks. Dollop the cream onto the middle crater of the meringue and then add the saucy fruit. You can even do two layers of cream and fruit each for even more impressive height to this dessert!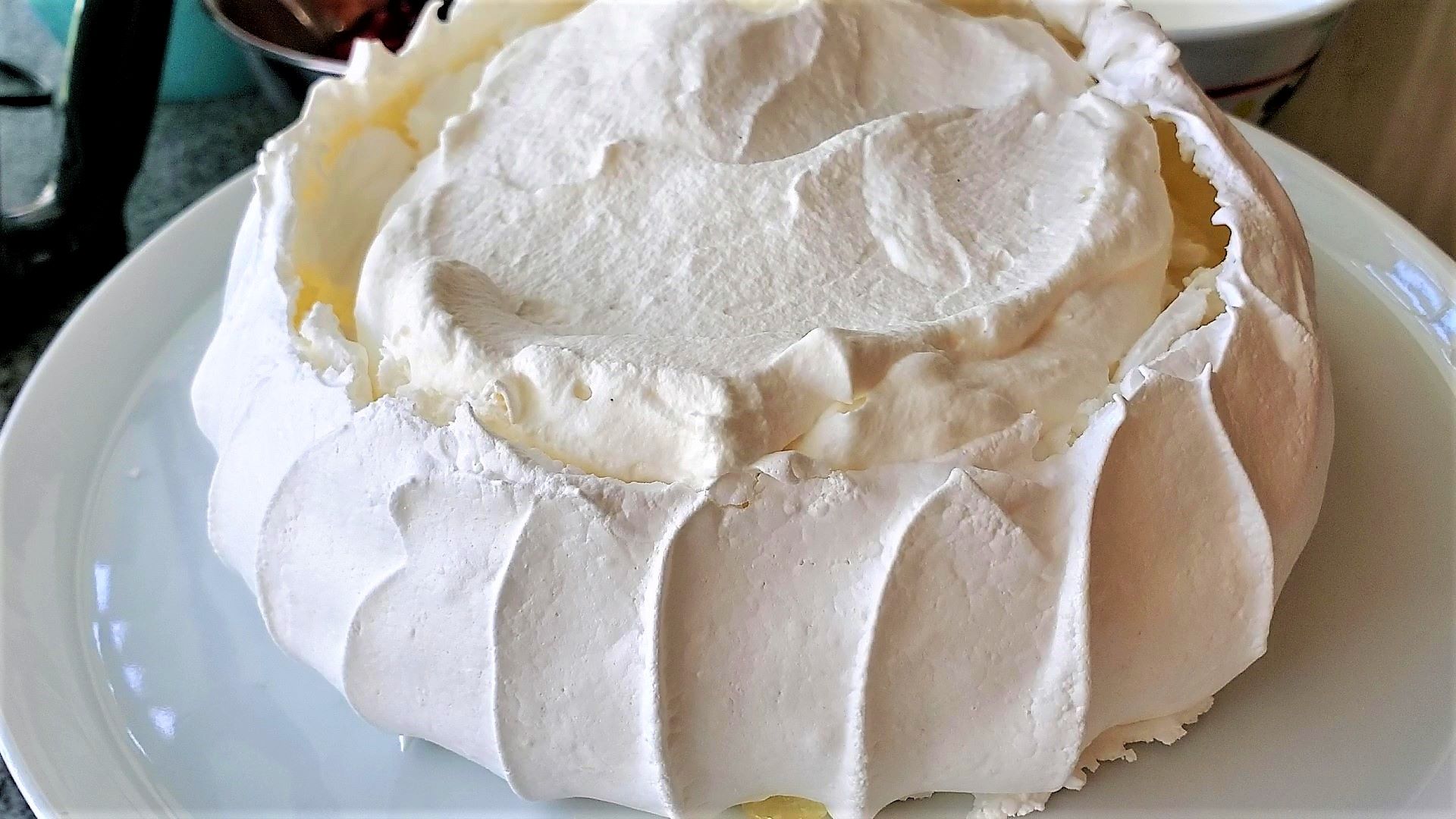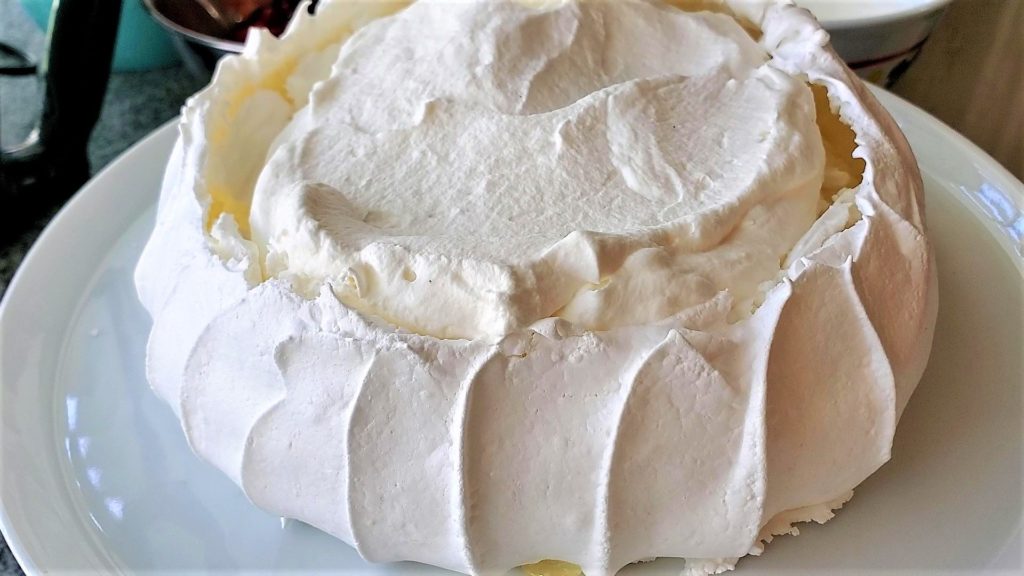 Other Berry Desserts
If you've never had pavlova before, try this berries and cream pavlova that's as easy as it is delicious and beautiful!!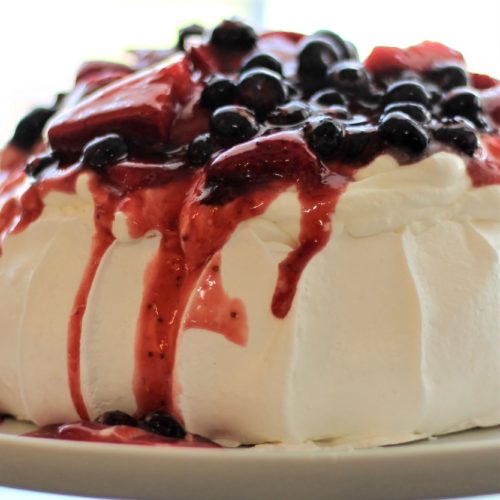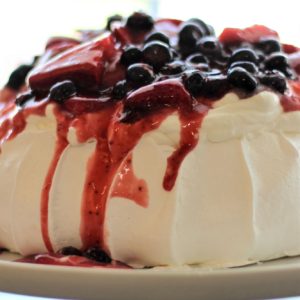 Pavlova (A Naturally Gluten Free Dessert)
Pavlova is a meringue dessert that's crunchy on the outside, marshmallow-y on the inside, and as heavenly as it is beautiful!
Ingredients
Meringue
4

large

egg whites, at room temperature

220 g or 1 cup plus 2

tbsp

superfine (caster) sugar*

(see notes)

2

tsp

lemon juice, vinegar, or cream of tartar

2

tsp

cornstarch

1

tsp

vanilla extract or the seeds from one vanilla bean
Whipped Cream
480 ml or 2

cups

heavy cream

31 g or ¼

cup

powdered sugar

1

tsp

vanilla extract or the seeds from one vanilla bean
Strawberry Sauce and Fresh Berries
300 ml or 1¼

cups

water

454 g or 16

ounces

frozen strawberries

100 g or ½

cup

granulated sugar

1½

tsp

unflavored gelatin

1

tsp

vanilla extract

3

cups

fresh berries (I used strawberries and blueberries)
Instructions
Make the Meringue:
Preheat the oven to 265° F. Clean your utensils and bowl with a paper towel dipped in lemon juice or vinegar to remove any greasy residue.

Pour egg whites into the mixing bowl of a stand mixer and fit the mixer with the whisk attachment. Begin whisking on medium low speed, just to break them up. Continue whisking until soft peaks form.

Begin slowly adding the sugar, one tablespoon at a time, until all the sugar has been added. Allow about 20-30 seconds between each addition of the sugar before adding the next. Increased the speed and whisk until stiff peaks form, and you can no longer feel sugar crystals when you rub a little bit of the meringue between your fingers. Add the lemon juice (or vinegar or cream of tartar) and vanilla and whisk to combine.

Remove from the mixer and sift the cornstarch over the meringue and fold throughout. Dump onto a parchment-lined baking sheet and shape into a round that's about 4-6 inches high, using a large spatula. Create a crater in the middle and then use a smaller angled spatula to create texture along the sides.

Bake the pavlova for 10 minutes. Reduce the temperature to 210° F and continue to bake for 90 minutes. Turn the oven off and leave the meringue in the oven until the oven is fully cooled, at least one hour (you can also leave it in the oven overnight).
Make the Strawberry Sauce
In a small bowl, add 2 tbsp cold water. Sprinkle gelatin over the cold water and let sit while you simmer the strawberries.

In a small saucepan, combine the frozen strawberries (no need to thaw), sugar, and water over medium heat. Bring to a boil and reduce to a simmer. Cook until strawberries are soft and broken down somewhat, 5-7 minutes.

Remove from the heat and add the gelatin mixture to the hot berries. Stir to melt completely. Blend, using a hand blender or a regular blender, until smooth. Strain sauce through sieve into another bowl. Pour the still hot sauce into the berries and stir. Refrigerate until ready to serve.
Whip the Cream
In a medium bowl with a handheld mixer (or in a stand mixer), whisk the heavy cream, powdered sugar, and vanilla extract until firm peaks are achieved (when the cream holds its shape and creates "peaks" when the beaters are lifted).
Assemble the Pavlova and Serve
Pavlova needs to be assembled right before serving, within a maximum of only a couple of hours. My suggestion is to bake the meringue the night before, or at least early in the morning of serving. The fruit and sauce can be combined and stored in the fridge for up to one day. Whip the cream right before assembling. Assembled pavlova cannot be refrigerated because the meringue will soften and the cream will not hold up.

Serve by cutting into triangular slices like you would a layer cake.
Notes
*you can make your own caster (superfine) sugar by whirling regular granulated sugar in a food processor for about 30 seconds.  
Adapted from Cupcake Jemma