This gluten free white chocolate raspberry cheesecake has been in my family for years for a reason. It's smooth and creamy and you'll wish you've had it all your life.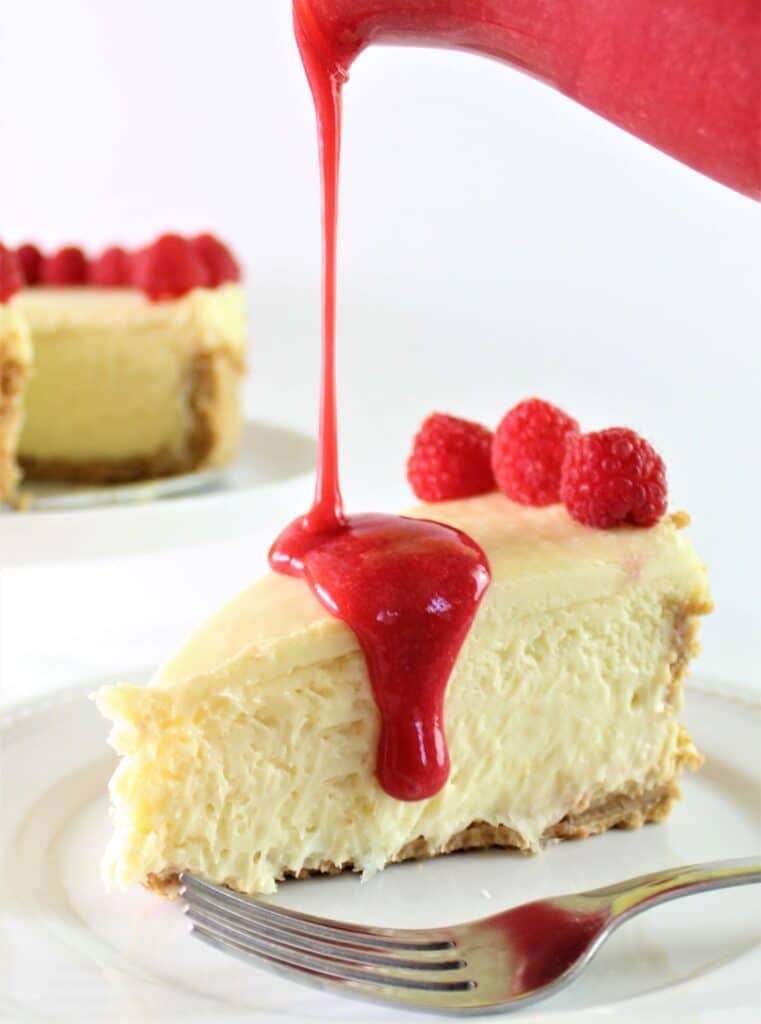 Years ago, my sister made this cheesecake from Mrs. Field's I Love Chocolate Cookbook. It was an unassuming paperback cookbook that I think she bought at a discount store. After tasting it for the first time, we were all hooked on this glorious cheesecake and all its white chocolate wonderfulness. It was, and still is, one of the best cheesecakes I've ever had!
Everyone things it even beats the Cheesecake Factory's White Chocolate Raspberry Truffle Cheesecake by a landslide. It's marvelously smooth, has a serious white chocolate presence, and the raspberry sauce takes it over the top!! I've made dozens of cheesecakes throughout my baking days, and this is the one that everyone wants and refers to as "THE" cheesecake, meaning "THE" best!!
Ingredients in Gluten Free White Chocolate Raspberry Cheesecake
Making this cheesecake has a few steps, but they're not complicated and the reward is so great that it's all worth it in the end. You can span it out over two days, unless you start early in the morning the day you're planning on serving it. Most of the time involved in the recipe is completely hands off.
This cheesecake has a triple dose of white chocolate, not only in the filling, but also in the crust AND the ganache topping. It's an explosion of white chocolate! Here are the list of ingredients:
Gluten free graham crackers or cookies–you can buy them or make your own. To make your own, check out this recipe here for making one large cookie to pulverize (so easy and so yummy!)
Butter
Cream cheese
Sugar
Sour cream
White chocolate–you'll need a whopping 30 ounces (2 lbs 6 oz) total (I told you this cheesecake has serious white chocolate presence!)
Eggs
Heavy cream
Vanilla extract
Frozen raspberries
Freshly squeezed orange juice
Making the Crust
There are a few different ways to make the crust, either of which are both easy and produce a great crust for this cheesecake.
If you happen to have a package of store bought gluten free vanilla cookies in your pantry or kitchen, use those. When I first made this cheesecake gluten free, I substituted the crust from the original recipe with a package of Walmart's brand (Great Value) vanilla sandwich creme cookies with the creme removed. It worked great! If you go the store bought cookie route, be sure to use only 3 tablespoons of butter.
The second crust option is my favorite because I don't have to hunt for gluten free cookies at a store, which can sometimes be hard around here. Virginia Beach isn't down with the times on all things gluten free (they're slowing getting there) so I often find that I have to drive around town looking for pre-packaged gluten free items. That's why I tend to make everything myself.
My recipe for bananas foster pudding makes one giant vanilla wafer cookie (the size of a baking sheet). It's so easy to do, and for this cheesecake all you need to do is break up the large cookie and put it in a food processor, just like you would if using store bought cookies. The only difference is these homemade cookies get a little bit more butter because there's more of the cookie crumbs than in a package and, therefore, they need that extra moisture to come together.
Either way you go, whirl the cookie crumbs with chopped white chocolate and butter in a food processor until they resemble wet sand. Then press them on the bottom and about one inch up the sides of a 9-inch springform pan. Place this in the refrigerator to chill while making the filling.
Mixing the Filling and Baking the Cheesecake
Melt 18 oz of chopped white chocolate with heavy cream and set aside to cool slightly while you make the rest of the filling. This mixture will look curdled and separate. Don't worry. That's how it's supposed to look. (Sorry for my bright blue bowl–it was the only microwave-safe one I could find at the moment!).
Beat the cream cheese with sugar until smooth. Scrape the sides and bottom of the bowl and then add the eggs, one at a time, followed by the sour cream and vanilla. Then add the white chocolate mixture. Take care not to overmix. Cheesecakes that are overmixed often crack.
This cheesecake is NOT baked in a water bath. A water bath helps keep the oven moist enough so the cheesecake doesn't crack and dry out. To get the same effect, place a shallow pan on the bottom rack and fill it with water while preheating the oven to 275 degrees F. Now there's no worry that water will leak into your cheesecake!
Pour the mixture into the crust and bake the cheesecake for 1 hour at 275 degrees F. After that, turn the oven temperature down to 250 degrees F and continue to bake the cheesecake for another hour and 10 minutes (70 minutes).
Without opening the oven door, turn the oven off but leave the cheesecake in the oven for yet another 70 minutes. Remove the cheesecake from the oven and let it cool on a wire rack for 30 minutes. This slow baking and resting in a turned off oven ensures the creamiest, dreamiest cheesecake ever!!
White Chocolate Ganache Topping
Because this is an over-the-top cheesecake, it has yet another glorious layer of white chocolate in the form of a ganache. To make this truffle-like topping, heat heavy cream in a small container in the microwave until just under boiling, about one minute. our white chocolate ganache over the cheesecake and spread to the edges.
Now, this is the hardest part of all. Refrigerate the cheesecake, uncovered, for roughly 8 hours or overnight. It's a crucial step in making this the silkiest cheesecake you'll ever have!
The Final Step–the Raspberry Sauce
While you're waiting to take a big ole' honkin piece of that marvelous cheesecake, make the sauce. Empty two bags of thawed raspberries, juice and all, into a small saucepan with sugar and freshly squeezed orange juice.
Bring the mixture to a boil, and then reduce the heat and let it simmer for about 15 minutes, or until the raspberries have broken down and the sugar has dissolved.
Allow the sauce to cool before pureeing in a blender. For extra smoothness, push through a fine mesh sieve into a container to remove all the seeds. Refrigerate the sauce until ready to serve the cheesecake.
If you're like me and Scott, you won't have any of the sauce leftover. If you're a normal person (light on the sauce), you'll have probably half of the sauce leftover. Haha! You can use this sauce on ice cream, on other cheesecakes, pancakes, waffles, you name it!!
If you want pure cheesecake love, you have to make this gluten free white chocolate raspberry cheesecake. You will certainly fall in love with the very first bite 🙂
Gluten Free White Chocolate Raspberry Cheesecake
This gluten free white chocolate raspberry cheesecake has been in my family for years for a reason. It will wow any time you want to impress. It's creamy and dreamy and INSANELY good!!
Print Recipe
Ingredients
CRUST:
1

entire recipe

gluten free vanilla wafer cookie (one giant cookie broken into smaller pieces)

(OR one package (about 1 ¾ cups) gluten free vanilla sandwich cookies, filling removed, gluten free graham crackers, or gluten free vanilla wafers or cookie of choice)

4

oz (113 g)

white chocolate, coarsely chopped

3-4

tbsp

butter, melted (for store bought cookies, use 3 tbsp. For homemade cookies, use 4 tbsp).
FILLING:
18

oz (508 g)

white chocolate

¼

cup

heavy cream

1½

pounds (3 8-ounce packages or 678 g)

cream cheese, softened

½

cup (100 g)

granulated sugar

½

cup (115 g)

sour cream, at room temperature

4

large

eggs, at room temperature

1

tbsp

vanilla extract
WHITE CHOCOLATE GANACHE:
8

ounces

white chocolate, finely chopped

⅓

cup (80 g)

heavy cream
RASPBERRY SAUCE:
2

12-oz pkgs (680 g)

unsweetened frozen raspberries, thawed but not drained

1

cup (200 g)

granulated sugar

2

tbsp

freshly squeezed orange juice (from about one medium orange)
Instructions
MAKE THE CRUST:
In a food processor, add the cookies and pulse into crumbs. Then add the white chocolate and process and until finely chopped. Blend in the butter. Wrap the outside of a 9-inch springform pan in aluminum foil. Press the crust into the bottom and about one-inch up the sides of the pan. Chill the crust.

Set a shallow pan filled with hot water on the bottom rack of the oven. Preheat the oven to 275 degrees.
PREPARE THE FILLING:
In a heat proof bowl over simmering water (or in a microwave safe bowl) melt the white chocolate and cream. If using the microwave, melt in 30-second intervals at half power. Mixture will look curdled. Set aside to cool slightly.

In the bowl of a stand mixer, beat the cream cheese and sugar until smooth. Beat in the sour cream, eggs (one at a time), and vanilla. Scrape down the sides of the bowl. Blend in the white chocolate mixture. Pour into prepared pan.

Set the cheesecake on the center rack of the oven and bake for one hour. Reduce heat to 250 degrees and bake for one hour and 10 minutes longer. Without opening the oven door, turn off the oven and leave the cheesecake in the oven for another one hour and 10 minutes. Cool the cheesecake on a rack for 30 minutes. Refrigerate for at least an hour before adding ganache.
MAKE THE GANACHE:
Place the finely chopped white chocolate in microwave safe bowl. Place cream in microwave safe measuring cup and heat until just starting to boil. Pour the hot cream over the chocolate and cover with plastic wrap. Let stand, covered, for about 5 minutes and then whisk until smooth. If flecks of chocolate are still not melted, place bowl in microwave for a few seconds and whisk again.

Remove cheesecake from refrigerator and pour ganache over cheesecake. Refrigerate the cheesecake, uncovered, for at least 8 hours, or overnight.
FOR THE RASPBERRY SAUCE:
Place raspberries (along with juice from bag), sugar, and orange juice into small saucepan over medium-high heat. Bring to boil and reduce to simmer. Simmer for about 15 minutes. Let cool. Blend in blender and then pour through sieve into bowl to remove seeds.
TO SERVE:
Place fresh raspberries on cheesecake. To unmold, run knife around outer edge of cheesecake to loosen.  Then remove the sides of the springform pan.  Slice pieces and pour sauce over pieces individually. Cheesecake will keep in refrigerator for one week, but freezes well (see notes).
Notes
To freeze individual slices, wrap each slice in plastic wrap and place on tray until solid.  Place slices in ziptop bag and freeze for up to four months.  Thaw overnight in refrigerator or for several hours on counter (at room temperature).
Adapted from Mrs. Field's I Love Chocolate! Cookbook
This cheesecake was originally posted on December 31, 2018 and has been updated with new pictures and new text.