Never thought you'd have these peanut butter and chocolate cookies again? Think again! My Gluten Free Tagalongs are just like what you remember!
It's Girl Scout cookie season, y'all!! I'm so old that I remember actually going door-to-door selling Girl Scout cookies back in the day, haha! They would NEVER recommend that nowadays. Too many crazy people in this world. Anyway, when was the last time you had a Girl Scout cookie? They actually DO have some really good gluten free ones. Toffee-tastics are buttery little cookies full of bits of melted toffee that's crunchy and sweet and so good! I could eat a whole sleeve of them at once.
But we all know that the best Girl Scout cookies are Tagalongs, right? Sure, Thin Mints are good, as are the Samoas, but Tagalongs are peanut butter and chocolate and how can anything else trump that? So when I decided I wanted to try recreating one of my favorite childhood cookies, there was no question Gluten Free Tagalongs would be the ones I'd try first. And I'm so very glad I did because these cookies are SPOT ON!!! Although they have a few steps, each step is very easy.
What You'll Need to Make Tagalongs
The Cookies
Butter
Powdered sugar
Egg white
Vanilla extract
Kim's gluten free flour — a store bought blend may be substituted, but hasn't been tested
Cornstarch
Kosher salt
Baking powder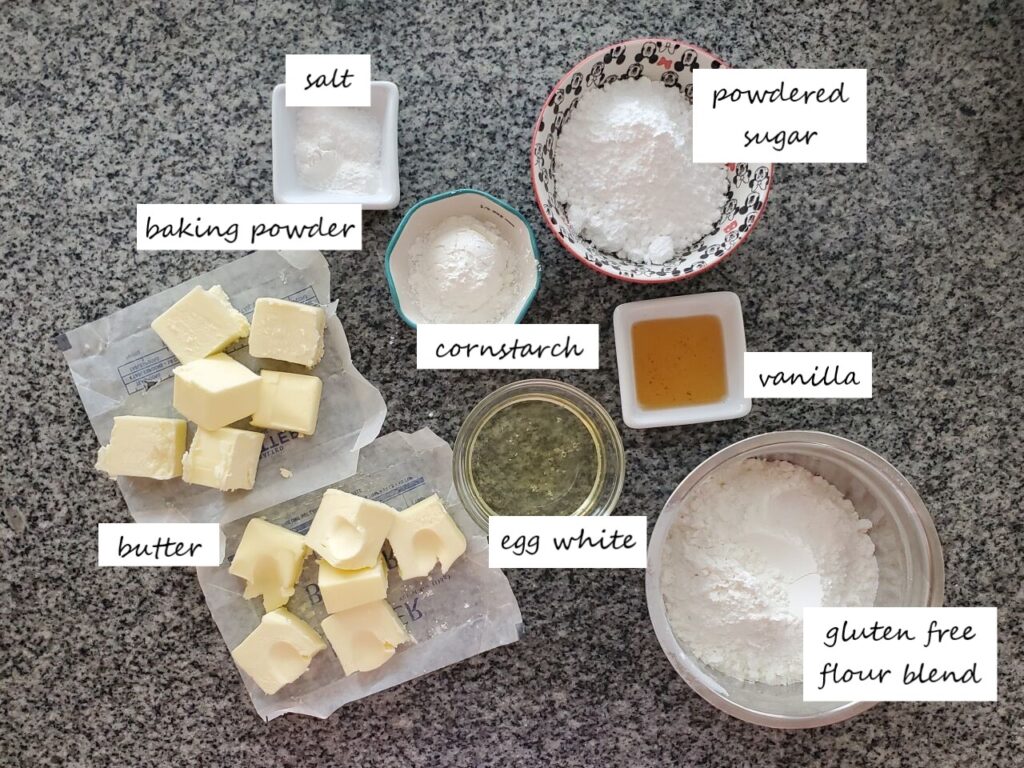 The Peanut Butter Filling
Butter
Peanut butter — I use a smooth peanut butter for these cookies because I feel that produces results closest to the texture of the original cookie filling.
Powdered sugar
Vanilla extract
Salt — optional, but really brings out the peanut butter flavor and balances the sweetness.
Chocolate Coating
There isn't really a "list" per se of chocolate coating ingredients. It's just two ingredients. But there's a couple of different options.
Chocolate — I personally think peanut butter and milk chocolate are the best pair (Reese's cups are made with milk chocolate). BUT, if you prefer dark chocolate, by all means use what you prefer. I even like a mixture of the two sometimes!
Fat — to avoid tempering the chocolate, you can add a fat to help it set up (kinda like magic shell chocolate sauce). You can use either vegetable oil, canola oil, melted coconut oil, or finely chopped cocoa butter (affiliate link). I prefer the cocoa butter because of the flavor and because it's what Claire Saffitz used when she made Girl Scout cookies here.
Assembling the Cookies
Although there are three parts to these cookies, you won't believe how easy they are to make and they come together fairly quickly:
Beat the butter until smooth and then add in the powdered sugar. Beat in the egg white and vanilla until fluffy. Add the dry ingredients and mix on low until combined. Form the dough into a disk and chill at least 30 minutes.
Roll dough out to 1/4-inch thick. Cut with 2 inch round cookie cutter and using a melon baller or something similar, gently press a "crater" into the middle of each cookie.
Bake at 350 degrees F for 10-12 minutes, or until lightly browned around the bottom. Reduce the heat to 170 degrees F and continue to dry out the cookies for 45 minutes. This is an easy way of using an oven as a dehydrator to make the cookies very crisp. Allow the cookies to cool completely.
Combine all the peanut butter filling ingredients together in a large bowl and blend until smooth.
Spread about 1 tbsp of the filling on top of each of the cookies. Take each cookie and put it upside down onto a parchment-lined baking sheet, pressing lightly. Place the baking sheet in the fridge so the filling will firm up.
Melt the chocolate and add the oil or fat you're using. Combine completely. Dip cookies in the chocolate and place on waxed or parchment-paper lined baking sheet. Let set or chill to set.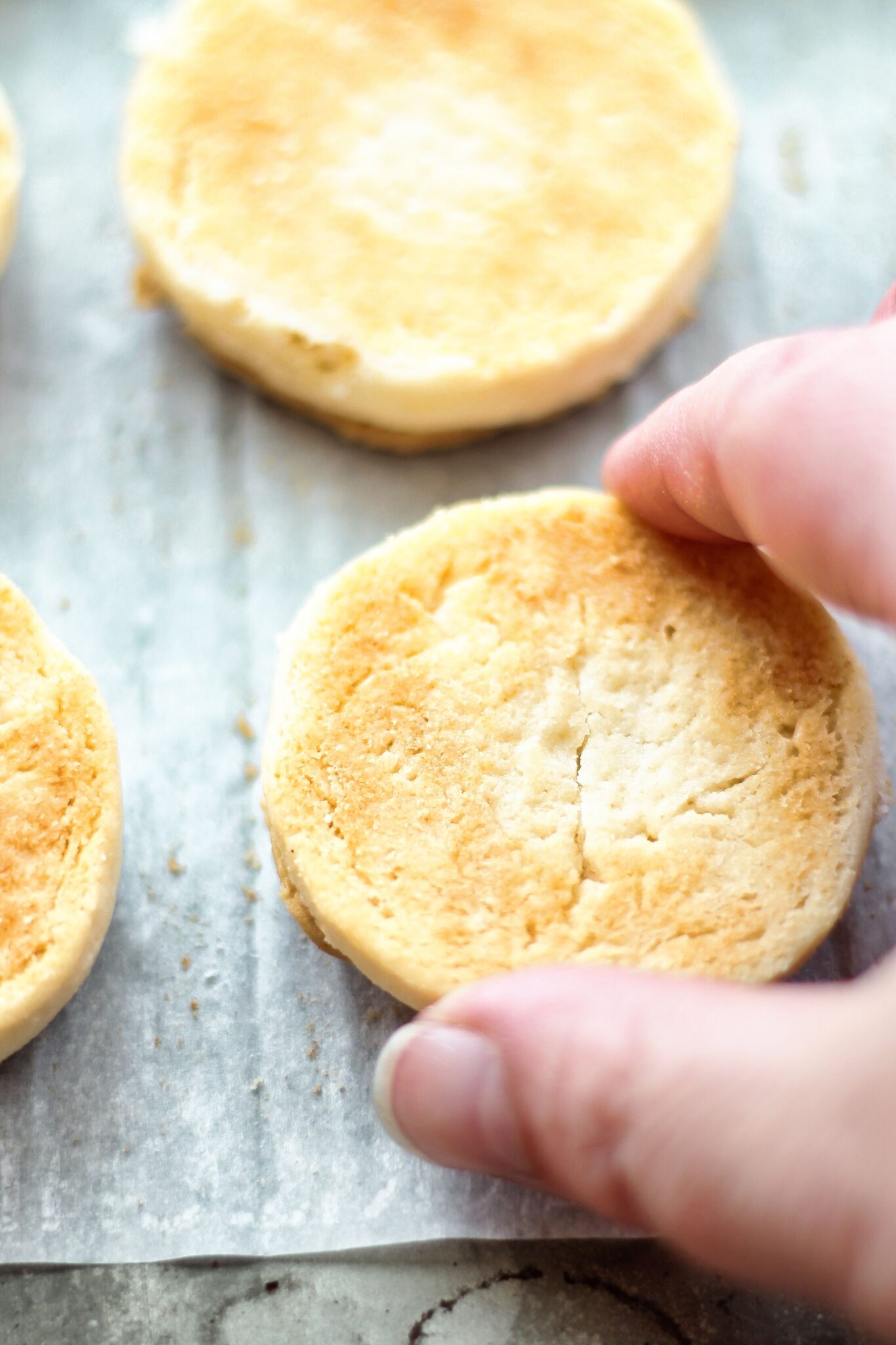 Gluten Free Tagalongs FAQs
Do I Have to Dry the Cookies in a Low Oven?
It's not absolutely necessary to dry (dehydrate) them, but it does give them that extra "snap" and crispness that you won't get if you don't.
Can I Use Natural Peanut Butter?
Yes, you can! The filling won't be as thick, but it will still be delicious.
What Type of Chocolate is Best?
I like to use Callebaut milk chocolate, but you can use dark or semi-sweet chocolate if you'd prefer. A good quality chocolate tastes better than chocolate chips, but since you're adding fat to the melted chocolate, chips will work fine for coating. You could also use a chocolate flavored coating.
More Peanut Butter Confections
Gluten Free Tagalongs
Never thought you'd have these peanut butter and chocolate cookies again? My Gluten Free Tagalongs are just like what you remember!
Ingredients
Cookies
1

cup (226 g)

butter, at room temperature

½

cup (63 g)

powdered sugar

1

large

egg white, at room temperature

2

tsp

vanilla extract

1½

cups (210 g)

Kim's gluten free flour blend (a store bought blend may be used, but hasn't been tested)

2

tbsp (15 g)

cornstarch

1

tsp

kosher salt

1

tsp

baking powder
Peanut Butter Filling
1

cup (240 g)

smooth peanut butter

¼

cup (57 g)

butter, softened

1

cup (125 g)

powdered sugar

1

tsp

vanilla extract

¼

tsp

kosher salt
Chocolate Coating
12

ounces (340 g)

chopped milk chocolate

1

ounce (28 g)

finely grated cocoa butter (grated on a micro plane grater)

(the same amount of canola, vegetable, or melted coconut oil may be substituted)
Instructions
Make the Cookies:
Beat butter until smooth. Add powdered sugar and continue beating until incorporated. Add egg white and vanilla extract and mix well to combine.

In another bowl, combine all dry ingredients. Add dry ingredients to butter and egg mixture and mix on low until combined. Form the dough into a disk, wrap it in plastic wrap, and chill until cold, about one hour.

Preheat oven to 350° F. Line a baking sheet with parchment paper and set aside.

Roll chilled dough to ¼-inch thick and cut with a small round cookie cutter or biscuit cutter (I used a 1¾-inch, but a 2-inch will also work). Place on parchment-lined baking sheet. Using a melon baller (or something similar, such as a teaspoon measure) make an indentation into the middle of each cookie.

Bake cookies for 10-12 minutes, or until the bottom edges are just brown. This next step is optional, but replaces a dehydrator if you want to make the cookies extra crisp. Reduce the oven temperature to 170° F and bake for an additional 45 minutes. Cool completely on wire racks.
Make Peanut Butter Filling
In a large bowl, combine all filling ingredients and beat until smooth.

Spread about 1 tablespoon of filling over the entire surface of each cookie. Place cookie filling side down on parchment-lined baking sheet, pressing very gently. Refrigerate cookies until filling is firm. This will set the filling and when the cookies are peeled off the parchment, the tops will be flat and smooth.
Prepare Chocolate
In a large microwavable bowl, microwave the chocolate on half power in 30 second intervals, stirring between each, until melted. Add fat of choice and stir until completely smooth and melted.
Dip Cookies in Chocolate
Set up dipping station by placing chilled cookies on the left, melted chocolate in the middle, and a waxed or parchment-paper lined baking sheet on the right. Using a dipping fork (or regular fork), dip cookies in chocolate and tap on side of bowl to remove excess chocolate. Place edge of fork on empty sheet tray and gently slide cookie off fork and onto sheet tray.

Allow chocolate to set at room temperature, or chill them until chocolate is set. Cookies will keep in a covered container at room temperature for about 3-4 days, refrigerated for about a week, or frozen for up to 3 months.