Popping with strawberry flavor, this gluten free strawberry angel food cake is so light and fresh. It's perfect for Easter or any spring day!
Some of the items linked in this post are affiliate links, meaning, at no additional cost to you, if you click through and make a purchase, I will earn a small commission.
When I was young, I used to ask my mom to get angel food cake mix from the store all the time, and I would make an angel food cake constantly. It was the easiest thing to make, too. Just add water, beat for a number of minutes, and that's it! Pour or scoop it into a tube pan and bake. Then find an empty bottle and tip the pan over onto the neck of the bottle to cool.
Over the past several months I've been using a LOT of egg yolks, for everything from my gf brioche to custards and anything in between. With that, I've amassed a TON of egg whites that I put in lidded containers and pop in the freezer. There are lots of things that can be done with egg whites, but the one that always comes to my mind is angel food cake. And since gluten free angel food cake mixes are hard to come by, we'll just make our own. Then we'll frost it with an insanely fresh and fruity strawberry whipped cream because…why not?!?!
Making Gluten Free Strawberry Angel Food Cake
Let's go over what's you'll need:
The Cake:
Kim's gluten free flour blend–a store bought blend should work fine, but hasn't been tested
Cornstarch–just a little bit is needed to make what's similar to a cake flour
Freeze dried strawberries (affiliate link)–these will be processed into a fine powder
Salt–a fine salt is better for this so it blends in better, such as table salt or fine sea salt
Egg whites–you'll need about 15 egg whites for this recipe. I say "about" because not all egg whites weigh the same and it's really best to get into the practice of weighing everything when gluten free baking.
Cream of tartar–just a pinch
Granulated sugar–we'll turn this into superfine sugar with the use of a food processor
Vanilla–extract or vanilla bean paste (or the scraped seeds from a vanilla bean pod)
The Frosting:
Tips for Making Gluten Free Angel Food Cake
Sift, sift, and sift some more. The only leavening in an angel food cake is egg whites, so those egg whites need to remain voluptuous and full. Therefore, to increase the lightness in everything going into the cake, we need to sift the flour, cornstarch, and strawberry powder together several times. My setup is simple. Begin with a sheet of waxed or parchment paper and a small bowl. Sift the 3 together into the small bowl over a sieve. Then pour from the bowl into the sieve set over the parchment or waxed paper and sift again. Do this at least 4 times.
Use superfine sugar. I don't know about you, but if you live in the US, chances are you don't have superfine sugar in your kitchen, or you don't buy it because it's hard to find. Just take regular granulated sugar and whirl it in your food processor until superfine.
Don't over whip the egg whites! This is something I learned the hard way, by making this angel food cake over a dozen times!! Every time I'd make it and beat the egg whites to very stiff peaks, the cake would fall out of the pan when I'd turn it upside down. That's because the egg whites didn't have anymore growing to do in the oven so they couldn't cling properly to the sides of the tube pan. If you whip them to just under holding a stiff peak, they'll grow further in the oven and, therefore, the cake won't fall out when turned over.
Add the flour mixture in increments. This is so the egg whites won't deflate. Add it in thirds and fold each addition in gently before adding the next.
How to Make Strawberry Powder
Keep that food processor out cuz you'll need it for making the strawberry powder. Dump two whole bags (2 oz/56 g total) of freeze dried strawberries into the same bowl of your food processor (no need to clean it from the sugar) and give it a good whirl until the strawberries are pulverized into a powder. Divide the powder equally into two bowls. You'll use half for the cake and the other half for the frosting.
Strawberry Angel Food Cake FAQs
Can I Use Other Freeze Dried Fruits?
YES!!!!!!!!! It's so exciting and I plan on making a different flavor every time I have leftover egg whites! Don't like strawberries or can't find them? Use freeze dried blueberries. Or peaches. Or mango. Whatever freeze dried fruits you can find can be made into an angel food cake flavor!
Don't I Need to Grease the Pan?
NO, please don't grease your tube pan. If you do, the egg whites won't be able to climb up the sides and you'll have a pancake for a cake!
How Do I Cool the Cake?
The best way to cool an angel food cake is upside down so it won't deflate. I personally don't care for the removable bottom tube pans because they can sometimes slide out and take the whole cake with it. Instead, I have a regular tube pan and flip it over onto the neck of a bottle and let it cool that way (it's old fashioned and there's nothing wrong with old fashioned!).
Make this gluten free strawberry angel food cake for the perfect Easter or spring dessert!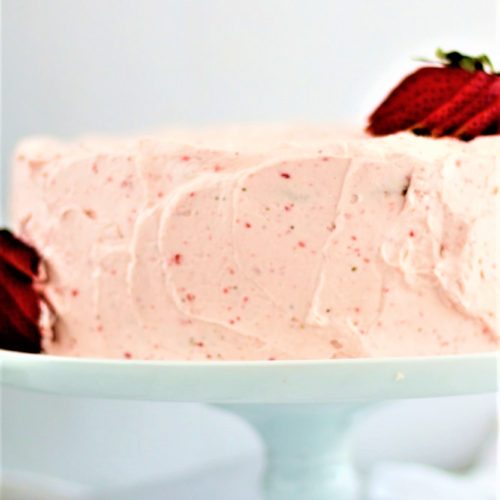 Gluten Free Strawberry Angel Food Cake
Popping with strawberry flavor, this gluten free strawberry angel food cake is so light and fresh. It's perfect for Easter or any spring day!
Ingredients
1¾

cups (350 g)

superfine sugar*

2

1 oz/28 g bags

freeze dried strawberries

¾

cup (105 g)

Kim's all purpose gluten free flour blend

(a store bought blend may work, but hasn't been tested)

2

tbsp (15 g)

cornstarch

¼

tsp

fine sea salt or table salt

(make sure not to use kosher salt–the salt needs to be finer)

475 ml

egg whites, about 15 large, at room temperature

pinch of cream of tartar

2

tsp

vanilla bean paste or vanilla extract

2

cups (480 ml)

cold heavy cream

¼

cup (31 g)

powdered sugar

1

tsp

vanilla extract

fresh strawberries for garnish, if desired
Instructions
Preheat the oven to 350° F. Prepare a tube pan by doing absolutely NOTHING to it! That especially means NO GREASE!! We need the tube grease free so the cake will climb up the sides.

Pour granulated sugar into the bowl of a food processor and process until a finer texture is achieved. This only takes a minute or so on high. Dump into another bowl and set aside.

Pour the 2 bags of freeze dried strawberries into the same bowl of a food processor (if you have to do this in 2 batches, that's fine). Process into a fine powder. Divide the strawberry powder equally. Put half into a small bowl and set aside. Place the other half into a medium bowl and measure the flour, cornstarch, and salt into that same bowl.

Dump the contents of the bowl into a sieve set over a large piece of waxed or parchment paper and sift onto the paper. If there are any seeds left in the sieve, throw them away.

Now gather the sides of the paper into a funnel of sorts and place the sieve over the bowl. Pour the flour mixture over the sieve and sift it back into the bowl. Do this 2 more times for a total of 4 times. Set aside.

Squeeze some lemon juice or white vinegar onto a paper towel and rub it in the bowl and on the whisk attachment of a stand mixer. This will remove any grease that would interfere with the egg whites whipping.

Begin whipping the egg whites on medium speed until foamy and white. Add the pinch of cream of tartar. Once the tines of the whisk start to leave trails, begin SLOWLY adding the superfine sugar, about a tablespoon at a time, allowing each addition a good 10 seconds to incorporate before adding the next. When all the sugar has been added, increase the speed to medium high and whip into soft peaks. They will be glossy and when you pull up on the whisk, the peaks won't completely hold their shape to a stiff peak. Don't overmix!

Begin adding the flour mixture into the whites in 3 additions, folding gently each time. Add the vanilla bean paste or vanilla extract in with the final flour addition. Scoop the batter into the tube pan and then take a dull knife (such as a butter knife) and run through the batter to release any large air bubbles.

Bake for 40-45 minutes, or until the entire top is golden brown, the cake springs back when you lightly touch it, and a tester inserted into the middle comes out clean. The cake should be very tall and even an inch or two over the top of the cake pan.

Immediately upon removing from the oven, tip the cake over onto its built-in feet on a wire rack, or the neck of a bottle (if your pan doesn't have feet). Allow to cool completely.

In the bowl of a stand mixer fitted with the whisk attachment, begin whipping the heavy cream until thickened. Add the powdered sugar and vanilla and continue beating until stiff peaks form. Fold in the other half of the strawberry powder. Frost the cake on the top and down all sides. Add fresh strawberries for garnish, if desired.