These gluten free rice krispies treats are so yummy with pockets of half-melted marshmallow tucked into crispy, crunchy rice cereal. I dare you to stop at just one!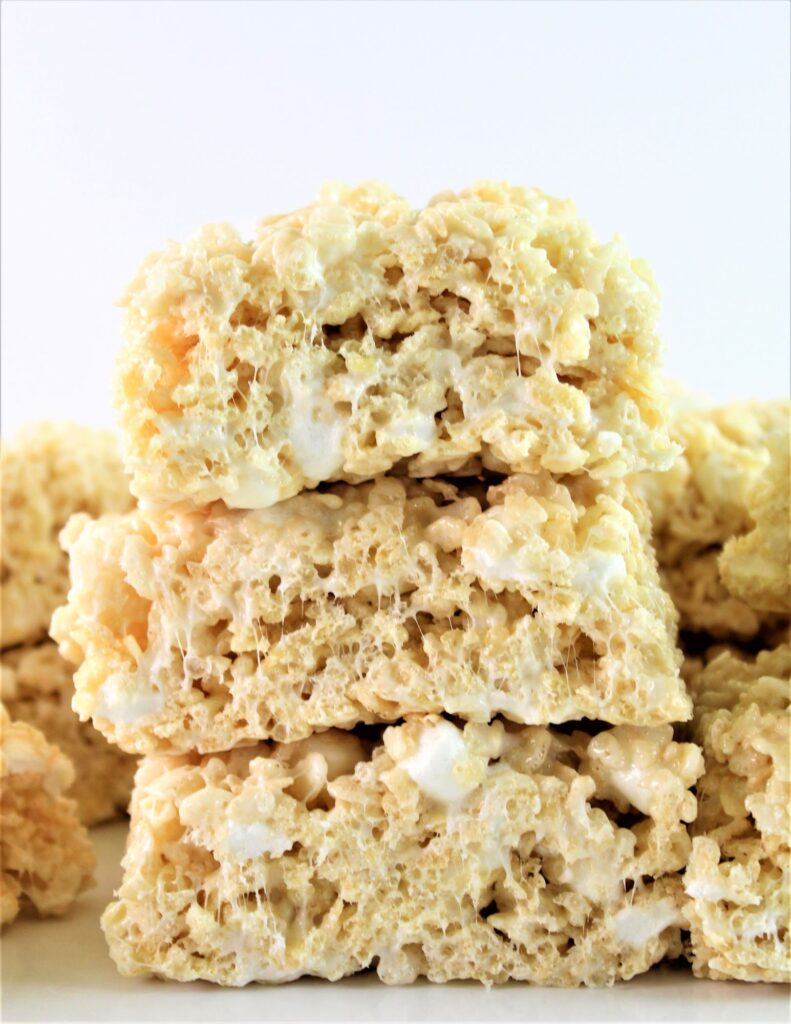 Some of the items linked in this post are affiliate links, meaning, at no additional cost to you, if you click through and make a purchase, I will earn a small commission.
Bring me back to my childhood!  I grew up in the 70's and 80's when my mom used to make everything from scratch, basically because there were no boxed little treats like this.  If you wanted krispy treats, you HAD to make them yourself.  Of course back then there were also no gluten free krispy treats, but today that's all changed.  Now we can make our OWN and they will be bigger and better than any you've ever had, gluten free or otherwise.
I love recipes where there are only a few simple ingredients mixed together to create such a nostalgic treat from my childhood. Don't get me wrong. I absolutely love to bake my heart out, roll out dough, make all kinds of complicated things and such, but sometimes simplicity is just what we need in our crazy lives, right?
Aren't Rice Krispies Treats Already Gluten Free?
You'd think so, but WRONG!! When I was first diagnosed with celiac I didn't realize, like most of you probably didn't either, that gluten is in nearly Evvvvverything! Especially things you wouldn't think it'd be in (soy sauce, Twizzlers, and most cereals for example). Most cereals are made with malt, or barley malt, which is made from--you guessed it--barley. And we can't have barley.
After that initial shock of not being able to eat things like RICE cereal, I began to find alternatives. Like tamari for soy sauce. And Aldi's store brand rice krispies for Kellogg's Rice Krispies, which are naturally gluten free (AND cheap as hell, ya'll!).
Making Gluten Free Rice Krispies Treats
The procedure is pretty much the same as for regular rice krispy treats. Melt some butter and add marshmallows, stir until all the marshmallows are melted and smooth. Dump in the rice cereal and combine it all together.
I'm not a fan of krispy treats that are so hard and compact, they hurt--literally!  They can actually cut your mouth. These ones are far from that.  They're light and airy with large bits of half-melted marshmallows throughout. 
Instead of melting all the marshmallows with the butter, we keep some aside and mix them in at the end. This creates those wonderful pockets of gooey unmelted marshmallow-y goodness! They're the best!!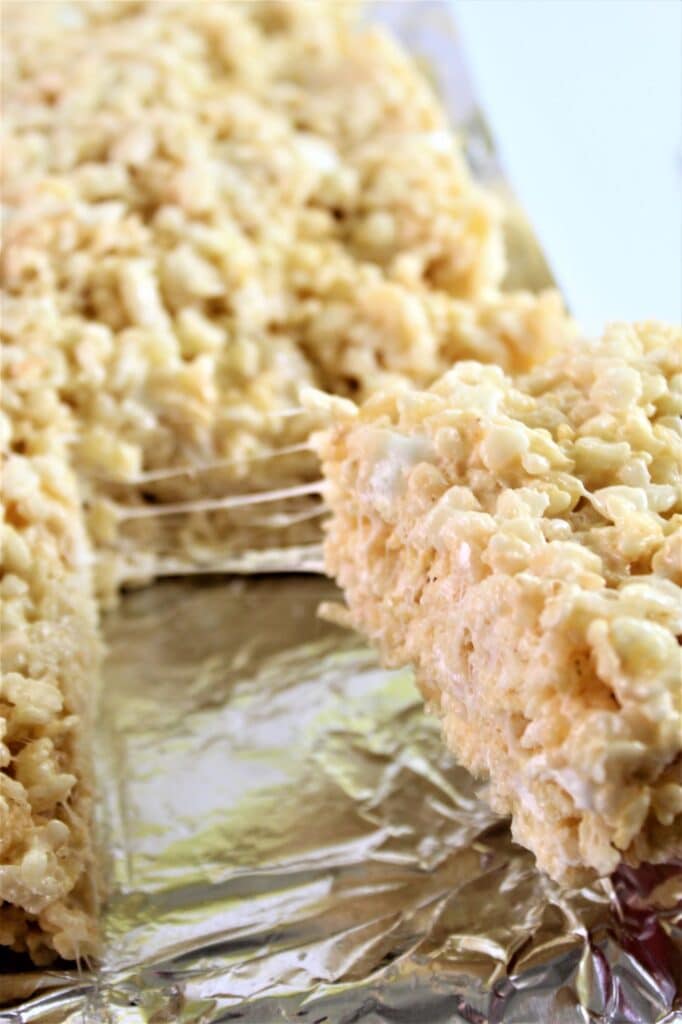 Mix In Ideas
If you're the type who can't leave well enough alone, here are some mix-in ideas, such as:
Crushed gluten free Oreos
Sprinkles (any kind)
M&M's
Cut up peanut butter cups
Mini chocolate chips
Caramel bits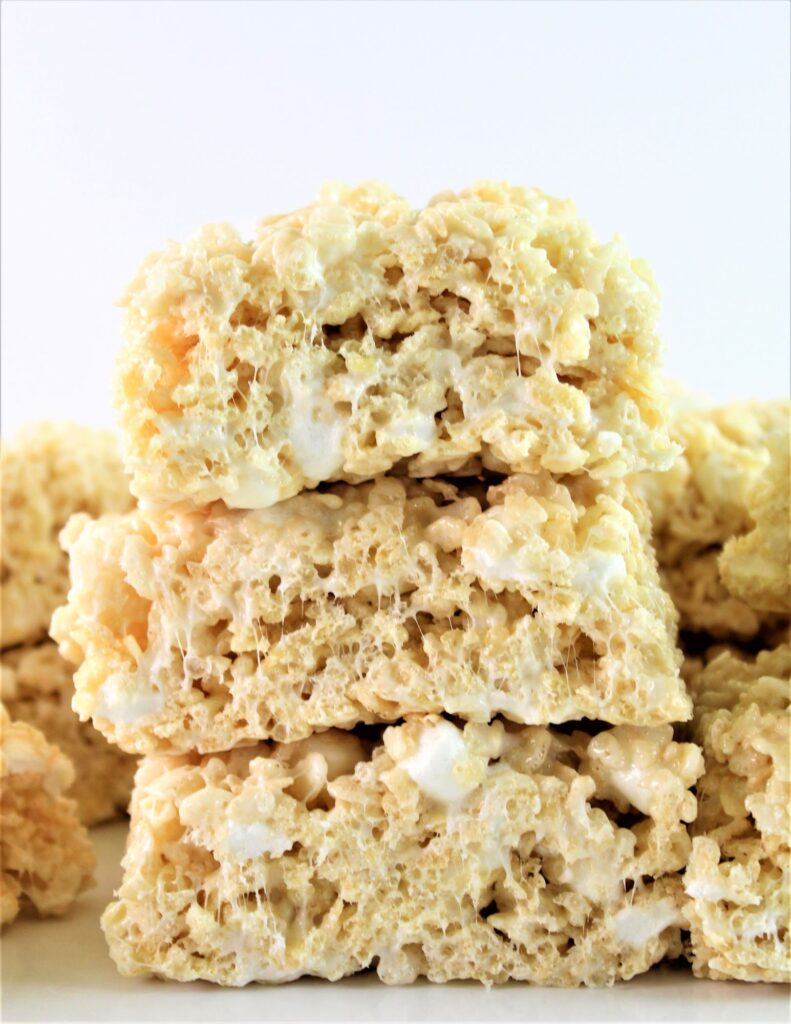 These ooey, gooey gluten free rice crispy treats will magically transport you to your childhood, so go make them now! You will love them. Your family will love them. Everyone will love them 🙂
Gluten Free Rice Crispy Treats
Gluten free rice crispy treats are so yummy with pockets of half-melted marshmallow tucked into crispy, crunchy rice cereal. I dare you to stop at just one!
Ingredients
1

12 ounce (340 g)

box of gluten free rice crispy cereal

(I used Aldi's store brand, which are gluten free)

3

10-ounce (283 g)

bags of mini marshmallows, divided

10

tbsp (141 g)

butter

1

teaspoon

vanilla extract

pinch of salt
Instructions
Melt the butter and 2½ packages of the marshmallows over low heat in a Dutch oven.  Add the pinch of salt and vanilla extract.

Add the cereal and the rest of the marshmallows and stir to coat.

Turn it out into a 9 x 13 pan lined with greased foil.  DON'T PRESS FIRMLY. Press very gently just to spread cereal treats into the corners of the pan. Let cool.  Slice into large squares.  
Inspired by BrownEyedBaker's The BEST Rice Krispie Treats