Nothing says Fourth of July like these gluten free red white & blueberry cupcakes! They're filled with a blueberry compote and topped with strawberry swirled buttercream and fresh blueberries 🙂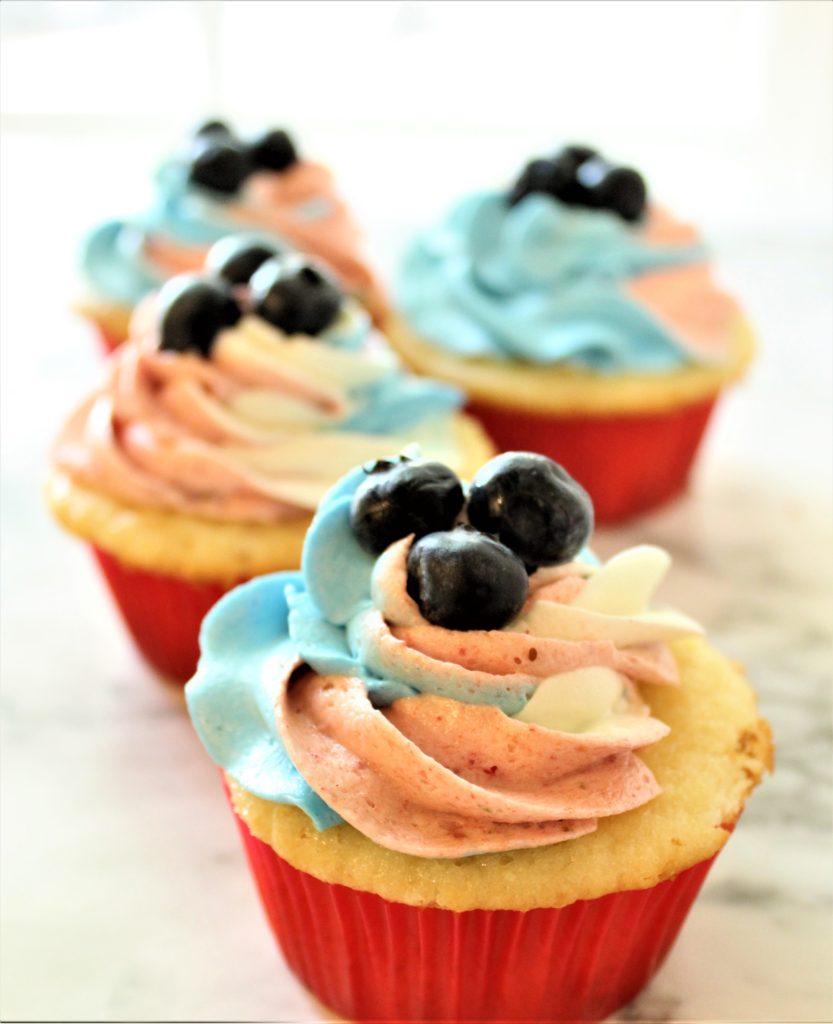 I've really been on a cupcake kick lately, but no one around here seems to be complaining about it. Scott loves my cupcakes so he's in heaven. Haha!
When I think about the Fourth of July and sweets, I think about fresh berries. And because nature already took care of the American flag colors, (at least the red and blue), they're perfect!
When I came up with these cupcakes, I took inspiration from one of the many Bluprint classes I've taken. I sure do mention Bluprint all the time, but it's only because I've gained SO much knowledge from all the classes I've taken and there's just so much to share!
HOW TO MAKE THE BLUEBERRY COMPOTE
If you've made my gluten free blueberry pie, you already basically know about this blueberry compote. It's really just another name for blueberry pie filling.
Combine fresh blueberries, lemon zest (I use this lemon zester), sugar, and a little bit of butter in a saucepan and cook down until the berries release their natural juices. Then add a small amount of cornstarch mixed with fresh lemon juice (I use this lemon squeezer) to the mixture to thicken everything up.
Then chill the compote until ready to fill the cupcakes. I use this cupcake corer to "core" the cupcakes, but you can easily use an apple corer, melon baller, or even just a spoon. Just don't go all the way down or your filling will ooze out of the bottom of the cupcake.
WHAT'S THE SECRET TO THE BEST STRAWBERRY BUTTERCREAM?
To get a strong fruit flavor in buttercream, there's a fine line between not adding enough fruit puree and adding too much, causing the buttercream to separate. This is due to the extra liquid.
I happened to have a bag of freeze dried strawberries in my pantry and decided to whirl them up in my Ninja smoothie cup to create a strawberry powder.
I added the powder and about a tablespoon of strawberry preserves to the vanilla buttercream and OMG, ya'll! This AMAZING strawberry buttercream was born!! It's like I just went strawberry pickin' and pureed them into this frosting. A strawberry EXPLOSION with such a concentrated strawberry flavor!!!
CREATING THE SWIRL ON GLUTEN FREE RED WHITE & BLUEBERRY CUPCAKES
Another thing I learned from the brilliant Jennifer Shea in her Bluprint class is how to create the swirl of colors when frosting cupcakes.
There are a couple different methods, but what worked for me is to fill three smaller bags (I use these disposable decorating bags) with the different colors. Then load them in a larger decorating bag fitted with an open star tip (tip 1M) and squeeze away! I use rubber bands to secure the frosting in each bag before putting them into the larger bag.
Happy Independence Day, America!!
Gluten Free Red White & Blueberry Cupcakes
Nothing says Fourth of July like these gluten free red white & blueberry cupcakes! They're filled with a blueberry compote and topped with strawberry swirled buttercream and fresh blueberries 🙂
Ingredients
CUPCAKES
2¼

cups plus 2 tablespoon (331 g)

Kim's gluten free flour blend

(or another blend of your choice with xanthan gum)

2½

teaspoon

baking powder

1

tsp

salt

1

tablespoon

vanilla extract

2⅓

cups (466 g)

granulated sugar

1

cup (240 ml)

canola oil or vegetable oil

1

cup (240 ml)

milk

4

large

eggs

¾

cup (170 g)

sour cream
BUTTERCREAM
3

cups (6 sticks or 680 g)

butter, at cool room temperature

6

cups (681 g)

powdered sugar, sifted

1

tablespoon

vanilla extract
STRAWBERRY BUTTERCREAM
1

cup (about 12 g)

freeze-dried strawberries

1

tablespoon

strawberry preserves
BLUEBERRY COMPOTE
2½

cups (375 g)

fresh or frozen blueberries

(no need to thaw frozen berries)

4½

tbsp (56 g)

granulated sugar

1

tablespoon

lemon zest

1

tablespoon

butter

1

tablespoon

lemon juice

2

teaspoon

cornstarch

(or arrowroot)
FOR DECORATION
about ½

cup

fresh blueberries
Instructions
FOR THE CUPCAKES
Preheat oven to 350°. Line 2 12-cup muffin pans with cupcake liners.

In bowl of stand mixer (or hand held mixer), combine sugar, oil, and eggs and mix on medium speed until well combined and thickened slightly. Add sour cream and vanilla extract and mix just until combined. Scrape down sides and bottom of bowl.

Whisk together flour, baking powder, and salt in large bowl.

Add half the dry ingredients until almost combined, then add half the milk. Repeat this with other half of dry followed by other half of wet. Don't overmix.

Fill cupcake liners about ¾ full about 20-25 minutes, or until top springs back when lightly touched, or a toothpick inserted into the center comes out almost clean.

Cool the cupcakes in the pan for about 10 minutes and then transfer to a wire rack to cool completely before filling and frosting.
FOR THE BLUEBERRY COMPOTE
In medium saucepan, combine blueberries, sugar, lemon zest, and butter over medium heat, stirring constantly at first so sugar doesn't burn. Crush the berries while stirring to release juices.

Cook for about 5 minutes until blueberries begin to break down and sugar has dissolved.

Combine lemon juice with cornstarch in small bowl and add to blueberry mixture. Stir for a few minutes until mixture thickens considerably.

Remove from heat and pour into a bowl. Cover and refrigerate until mixture is completely cooled before using.
FOR THE BUTTERCREAM
Cream butter in bowl of stand mixer fitted with paddle attachment. This should only take about 30 seconds to a minute, depending on the temperature of the butter.

Scrape down the sides of the bowl and slowly add the powdered sugar in about 1-2 cup increments, pulsing on low until combined. When all the sugar has been added, scrape down the sides and bottom of the bowl again.

Add the vanilla extract. Then increase the speed to high and whip the buttercream until smooth, creamy, and lighter in color, about 5 minutes. Stop the mixer once or twice to scrape the bowl and paddle.

Use right away, or store in an airtight container in the refrigerate for about one week, or freeze for up to three months. When ready to use, bring to room temperature before re-whipping it briefly.
FOR THE STRAWBERRY BUTTERCREAM
In bowl of a food processor or small blender (I used my Ninja smoothie cup), pulverize freeze-dried strawberries to a fine powder.

Add powder to about ⅓ of vanilla buttercream, along with strawberry preserves, and combine well.
DECORATING THE CUPCAKES
To fill pastry bag for swirls, divide buttercream into three parts. Make the strawberry buttercream as above and add it to one smaller pastry bag, cutting off about ½-1 inch of the point and sealing the bag with a rubber band. With another third, add blue food coloring (I prefer paste colors) and stir to combine well. Fill this in another smaller pastry bag just like the strawberry. Fill the third pastry bag with the plain vanilla (white) buttercream. Don't overfill any of the bags or they won't fit in the larger bag.

Place each bag side by side into a larger decorating bag fitted with a 1M star tip. Twist bag to seal and slowly squeeze bag to perform a test swirl on a plate or piece of parchment. Once all three colors are coming out, proceed to decorate cupcakes with the swirled frosting.

Top each cupcake with 3-4 fresh blueberries.
Recipe adapted from Jennifer Shea's classes on Bluprint