UPDATE: This post was originally published on July 1, 2020 and has been updated with new pics, plenty of new tips and frequently asked questions, and a new video.
Gluten Free Patriotic Trifle Recipe has layers of berries, angel food cake, and a light cheesecake filling and is perfect for your Fourth of July celebration!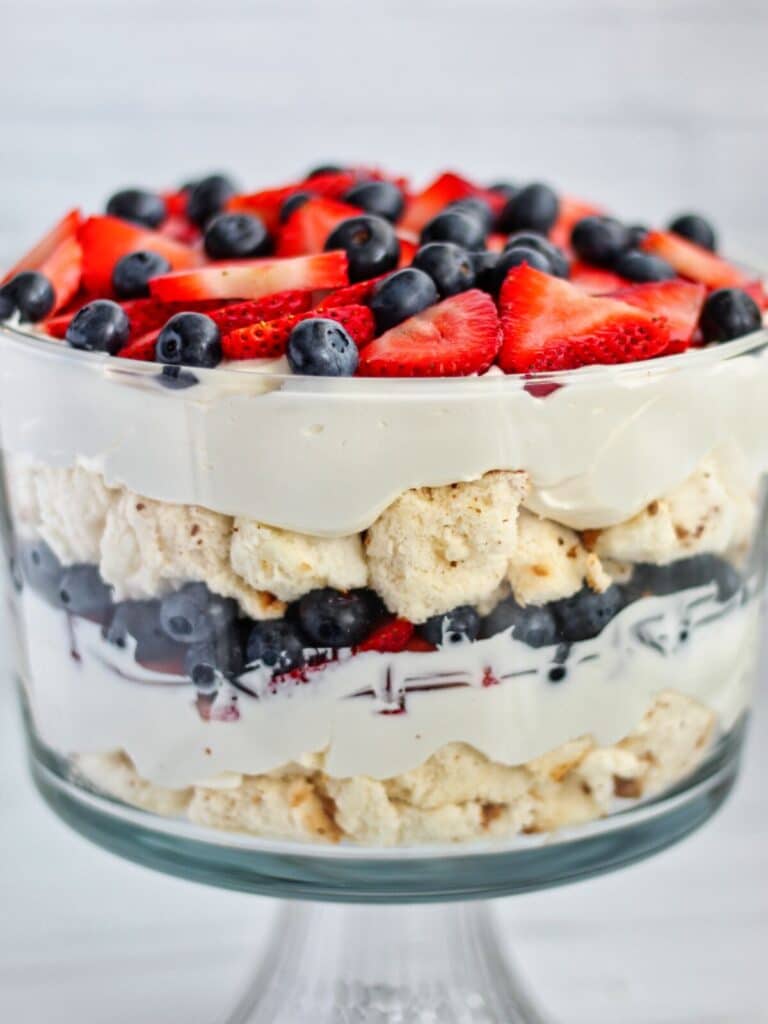 Some of the items linked in this post are affiliate links, meaning, at no additional cost to you, if you click through and make a purchase, I will earn a small commission.
This is one of my favorite desserts ever, and it's so easy to put together. It just requires a little pre-baking for us gluten free peeps. Unless, that is, you've found a bakery in your area that makes gluten free angel food cake. I've never seen it in my city, but then again we don't have much in the way of gluten free anything.
But now that I've found a new EASY way to make angel food cake, it'll be no problem whipping up our own gluten free angel food cake to add to this trifle. Of course, if you happen to have an Aldi near you, they sometimes sell a gluten free angel food cake mix, especially during the month of May (celiac awareness month). I've never tried it, but I'm sure it's pretty decent and would work well in this trifle.
ingredients needed for a patriotic trifle
Gluten free angel food cake — my recipe for easy gluten free angel food cake is just that–EASY! No babysitting, no finicky preparations, and no worries.
Cream cheese — adding cream cheese to cream and whipping creates a fluffy but stable cream filling that's perfect for this trifle. It's also not overly sweet.
Sugar — for a little bit of sweetness to the cream mixture.
Fresh berries — in keeping with the red, white, and blue theme, I use strawberries and blueberries, and sometimes add raspberries as well. Feel free to use any fruit you'd like.
how to make a berry trifle
Make the cake and cut or tear it into roughly one-inch cubes. Set aside.
Add softened cream cheese to a large mixing bowl and whisk while slowly adding the sugar.
Pour the heavy cream into the bowl and continue whipping on medium high until light and fluffy.
Arrange one third of the cake cubes into the bottom of a trifle bowl (affiliate link) or large glass bowl.
Top with a layer of berries, followed by half of the cream mixture.
Repeat layering with cake, berries, and cream mixture, ending with a layer of berries.
Refrigerate for at least one hour before serving.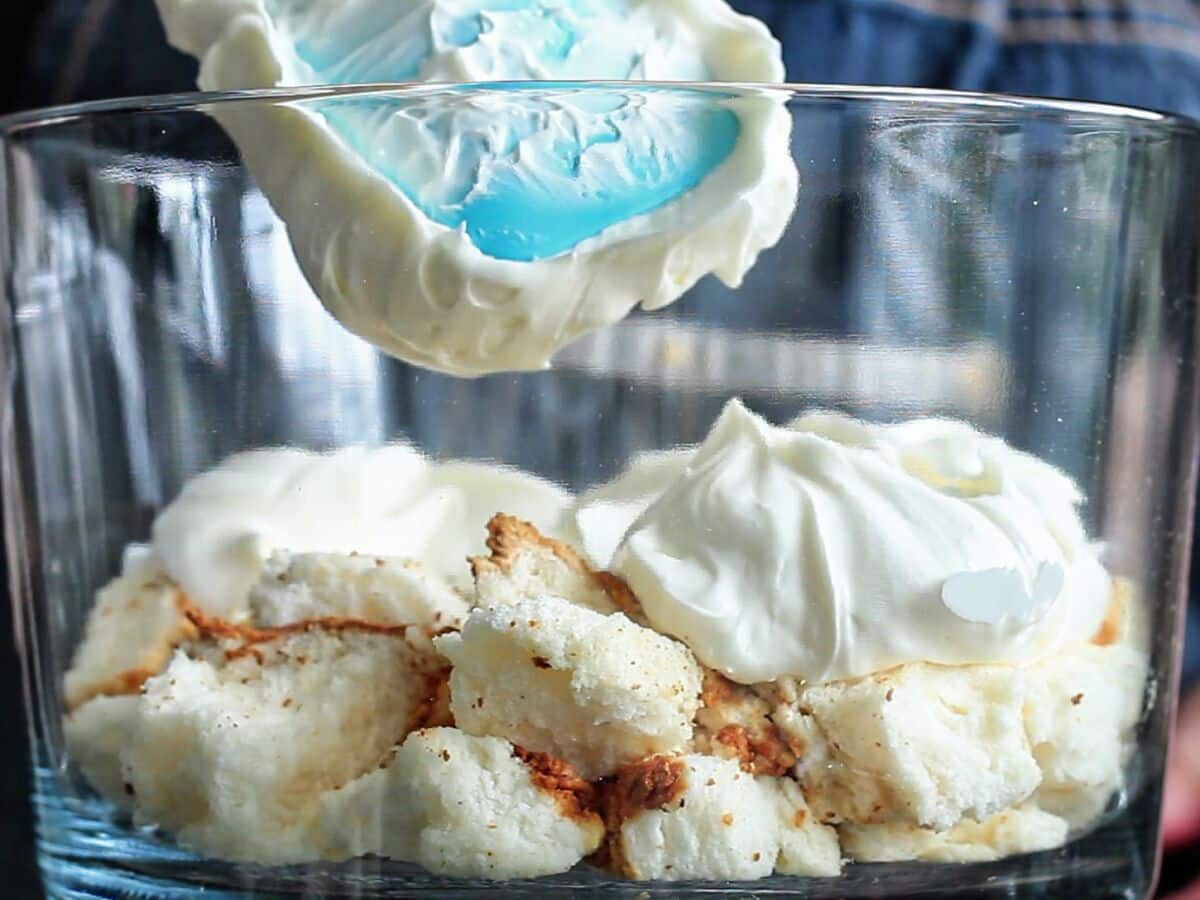 substitutions and alternatives
For dairy free/vegan — use a dairy-free cream cheese, such as Kite Hill (affiliate link), and a dairy-free cream alternative, such as Califia Farms (affiliate link) or even canned coconut milk or coconut cream (affiliate link).
Don't want to make your own gluten free angel food cake? Use pound cake, such as my Perfect Gluten Free Pound Cake. You could even use gluten-free brownies, like the ones from this recipe.
If you'd rather make a custard instead of the cream cheese/cream mixture, here's an easy recipe for vanilla pastry cream, which can also be lightened with whipped cream to create a diplomat cream.
Not a fan of berries? Substitute the fresh berries with other fruits. Think sauteed apple filling (like the filling in my Amazing Gluten Free Apple Pie), or the filling from my Perfect Gluten Free Peach Pie.
Berry Trifle FAQs
Can I substitute the heavy cream with Cool Whip?
Yes, you can use Cool Whip instead of the heavy cream. A large (16-oz) tub, thawed, would be ideal. You can also use Coco Whip, which is a dairy-free, vegan alternative (and tastes great, too!).
Can trifles be made in advance?
Absolutely! In fact, it's preferred to make it a day in advance and allow it to refrigerate overnight. This will help the flavors merry and the cake soften with the cream cheese mixture.
I'd rather use pastry cream instead of cream cheese. Is that possible?
Yes, pastry cream is a traditional ingredient used in English trifles and can be lightened with whipped cream to make it even lighter and extend it further.
more gluten free patriotic recipes to try
Celebrate the birth of our nation with a gluten free patriotic trifle that's as festive as it is delicious!
Gluten Free Patriotic Trifle
Celebrate the 4th of July with this gluten free patriotic trifle. It has layers of berries, gluten free angel food cake, and a light cheesecake filling!!
Ingredients
1

gluten free angel food cake (homemade or made from a mix)

1

lb (452g)

cream cheese, softened

⅔

cup (135g)

granulated sugar

2

cups (480ml)

heavy whipping cream, cold

2

qts (1.89kg)

strawberries, hulled and sliced

2

pints (946g)

blueberries
Instructions
Make gluten free angel food cake according to recipe or box instructions. Allow to cool completely before cutting or tearing into one-inch cubes. Set aside.

In a large bowl or the bowl of a stand mixer, whip cream cheese and sugar until smooth. Add whipping cream and increase speed to medium high. Continue to whip into soft peaks.

Layer cubes of angel food cake followed by cream cheese mixture and berries, then another layer of cake and cream cheese mixture, ending with berries on top. Refrigerate for at least one hour, preferably overnight.

Serve cold. Trifle will keep in the refrigerator for 3-4 days.
Adapted from Food Network's Patriotic Berry Trifle