Just in time for the holidays, my gluten free panettone will make you feel like you've gone to Italy for the real deal! Buttery, feathery, light, and citrusy, you will be blown away by how wonderful it is!!
I posted this recipe last December and am updating now with new pics and a few new tips and tricks! The greatest thing about this recipe, other than the end result is UH-MAZING, is that you can make it minutes. Seriously! After the initial mixing of the dough, on baking day the total hands-on time is approximately 5 minutes!!
WHAT IS PANETTONE?
Panettone is a type of sweet bread that's originally from Milan, Italy. It's studded with raisins and candied citrus and it is DIVINE!! It can be eaten for breakfast, which is what I usually do, or as a dessert. You can also use it in bread pudding or to make french toast! It is SO GOOD for french toast!!
I knew about panettone way back when I was a lot younger (in my 20's), but never had an interest in it. I'm not sure why, but maybe I thought it sounded too much like fruitcake.
Have you ever had fruitcake? Maybe fruitcake is good and I should quit being too judgmental about it. Because once I finally tried panettone (less than 10 years ago), I instantly fell in love with it! Of course, that was shortly before I found out I had celiac so…you know how it goes. No more panettone, or so I thought😉
HOW TO MAKE THE BEST GLUTEN FREE PANETTONE EVER!
My gluten free sweet dough is kind of like a jack of all trades. I've shared it already on the blog in SO many ways, ultimate cinnamon rolls, Mickey Mouse beignets, Hawaiian rolls, cinnamon raisin bread, chocolate babka, kolaches, hot cross buns, Hawaiian round bread, yeast donuts, air fried yeast donuts, king cake, and apple fritters. Phew! That's a lotta recipes all starting with just ONE dough!!
Work horses like this are the perfect recipes to have in our gluten free baking arsenal. They can be made into an endless variety of goodies. AND, the dough can be ready for whenever the gluten free baking bug strikes! I felt it only natural to test out this dough to make panettone, and I'm so, so glad I did.
It's pretty simple to make this wonderful gluten free panettone. Click over to my cinnamon rolls recipe for the nitty gritty on how to make the basic sweet dough. Make the dough through step two. Leave it right in the bowl it was mixed in, if you can.
The next day, remove the dough from the refrigerator. Add soaked raisins, candied orange peel, candied lemon peel (if desired), vanilla, and orange zest. Attach the bowl to your stand mixer and knead it briefly using the dough hook, just to distribute the add-ins. Remove the dough to a well-floured surface to smooth into a round ball, adding enough extra flour to do so.
Next, because it couldn't be easier than this, plop the dough into a panettone paper mold. If you don't want to buy a special panettone mold, you can always use a greased 8-inch round baking pan. Just know that the panettone will be wider than higher. Let the dough rise a second time, which will take about 2-3 hours. Bake as directed.
Don't I Need to Hang it Upside Down?
After panettone is baked, it's usually skewered and hung upside down. The reason for this is to prevent it from collapsing onto itself.
However, because this is a gluten free panettone, I've found that for whatever reason it doesn't need it. Simply remove the panettone from the oven and place it on a wire rack to cool completely. Sometimes you'll find there are little things that are actually easier when baking gluten free!
If you really want to experience the yum that is panettone, try this recipe. It's showstopping, but surprisingly easy to make. And it's so delicious, you'll want to make it again and again!!
Happy baking 🙂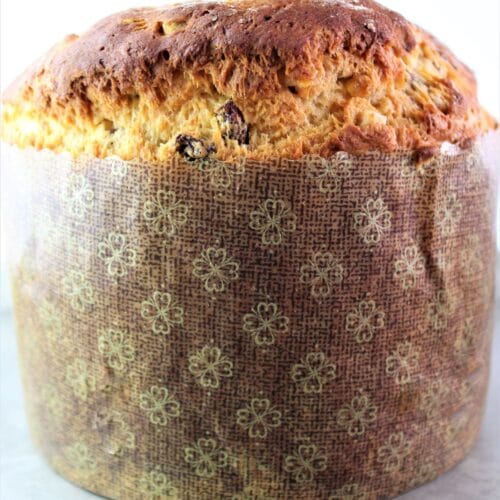 Gluten Free Panettone
My gluten free panettone will make you feel like you've gone to Italy for the real deal!  Buttery, feathery, light, and citrusy, you will be blown away by how wonderful it is!!
Print Recipe
Ingredients
DOUGH:
MIX-INS:
1

cup

raisins, regular, golden, or a mixture of both

¾

cup

candied orange peel, chopped

½

cup

candied lemon peel, if desired

zest of one orange

1

tsp

vanilla extract
Instructions
Make the dough through step two (chilling in the refrigerator overnight).  After making the dough, put raisins in a small bowl and pour ½ cup hot water mixed with 2 tbsp rum or amaretto over the raisins.  Soak raisins overnight on the counter.  Most of the liquid should be absorbed, but drain off any remaining liquid before using.

Remove the dough from the refrigerator and attach directly to your stand mixer. Add raisins, candied orange peel, orange zest, candied lemon peel (if using), and vanilla extract. Using the dough hook, knead briefly just to distribute add-ins into dough. The dough will be sticky.

Dump the dough from the bowl to a well-floured surface and smooth into a round ball, adding as much extra flour as needed to smooth out dough. Place dough in panettone mold or cake pan* (see notes).

Place mold or cake pan on a baking sheet and cover with plastic wrap. Place in a warm, draft-free area until the dough is slightly above panettone mold or cake pan, about 2-3 hours.  

Preheat the oven to 400° F.  

When the dough has fully risen, bake on baking sheet for 15 minutes.  Turn the heat down to 350° F and tent bread with foil. Continue to bake for about 55-60 minutes more, or until a skewer inserted into the center of the bread comes out slightly wet.   The temperature should read between 190-195° F in the center.

Remove the bread from the oven and place on wire rack to cool completely before slicing. Store well wrapped at room temperature for 2-3 days, or slice and freeze in individual slices for up to two months.
Notes
*If you don't have panettone molds, you can use an 8-inch cake pan or a 9 by 5-inch loaf pan, or possibly even a souffle dish.  Baking times will change and you'll have to monitor it in the oven.  Start checking for doneness at about 30 minutes. 
**Panettone will keep well wrapped on the counter for a few days, but will begin to get stale after that.  Stale panettone is great for french toast or bread pudding!  
***Panettone can be frozen for 2-3 months.  Slice into individual slices and wrap in plastic wrap before putting in a large ziptop freezer bag and freezing.  
***DISCLAIMER:  The reason I created my own flour blends is because I could not obtain the results I wanted with flour blends that were available in stores, online, or from other gluten free bloggers.  My recipes have been developed to be used with my own bread flour blend that I created after painstakingly testing for, in some cases, YEARS to develop what I believe to be a superior gluten free bread like no other.  If you do not use my gluten free bread flour blend for this recipe, I cannot speak for the results you will obtain.    While store bought blends may give you a satisfactory result, they may NOT give you the results intended in my recipe. 
This panettone was originally posted on December 9, 2018 and has been updated with new pictures and new tips for baking.