Light and airy, these Fluffy Gluten Free Buttermilk Pancakes will have everyone wanting more, and no one will ever know they're gluten free!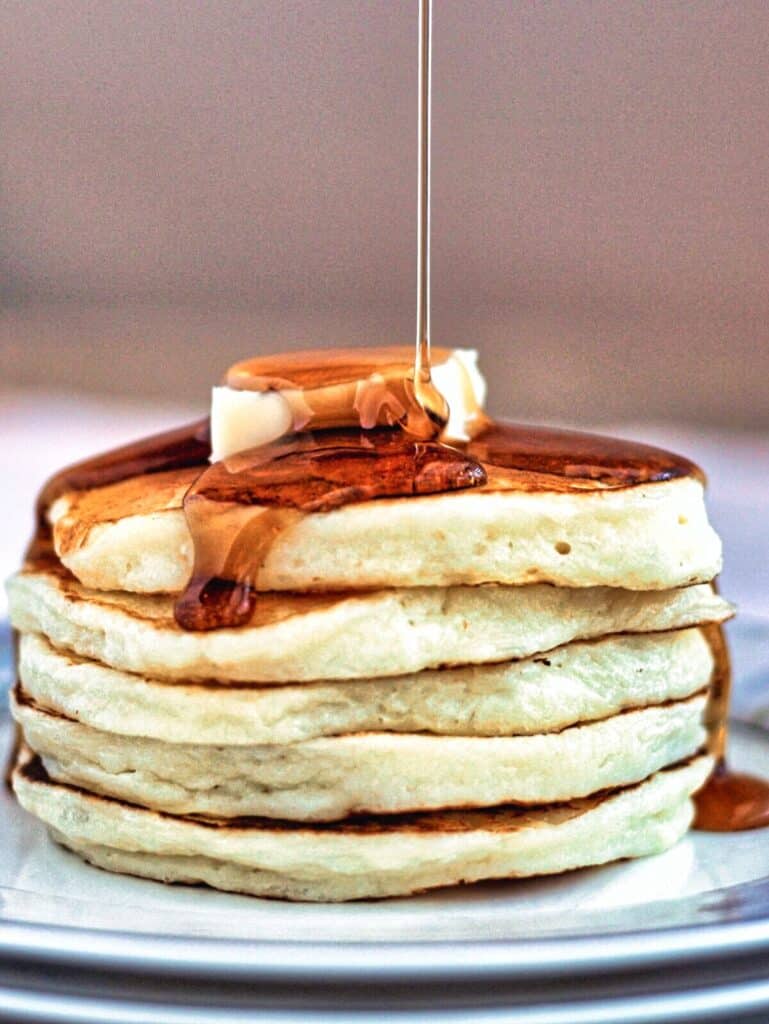 Fluffy Gluten Free Buttermilk Pancakes were updated on February 18, 2022 with new pictures and a video, and they have now been updated even more with a whole new video, a slight change in the technique to make them easier, and more information.
Some of the items linked in this post are affiliate links, meaning, at no additional cost to you, if you click through and make a purchase, I will earn a small commission.
These pancakes are based on my Grandma's original recipe, which were legendary in her day. She used to work at a hospital and would have all her nursing friends over for a pancake breakfast. Everyone would go absolutely CRAZY for them, and for good reason.
Without actually changing her recipe, I decided to alter how the batter is mixed together, just to make it easier on us. The ingredients are the exact same that they've always been. How they're manipulated is the only thing that's changed.
The Ingredients You'll Need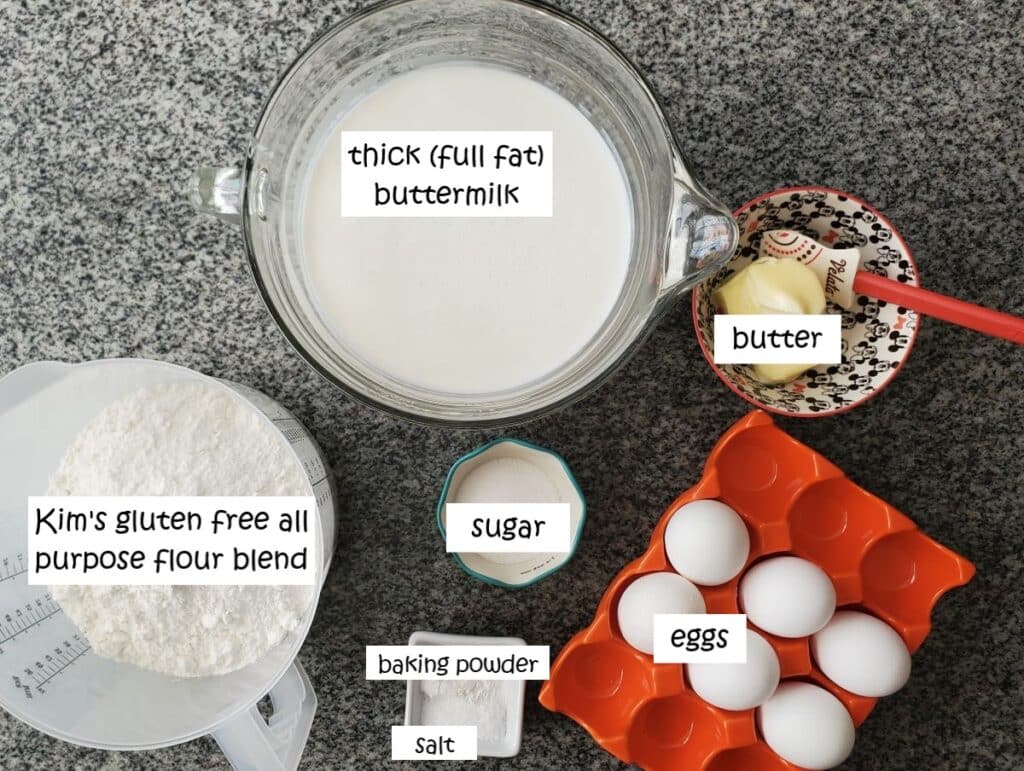 Kim's all purpose gluten free flour blend -- A store bought blend may be substituted, but hasn't been tested.
Eggs -- eggs are used for binding, as well as leavening.
Buttermilk -- My grandma called it "thick buttermilk." If you don't use whole fat buttermilk, your batter and pancakes will be much thinner. Still delicious, but different than my pictures and video.
Butter -- butter adds flavor, but also when it melts it helps create the outer crust. My grandma specifically called for soft butter, not melted.
how to make the best gluten-free pancakes ever!
Whisk eggs and sugar in a large bowl and slowly pour in buttermilk.
Sift gluten-free flour blend, baking powder, and salt over the wet ingredients in the bowl. Whisk to combine well.
Add really soft butter and whisk to combine. Not all of the butter will combine thoroughly with the rest of the batter, which is normal.
Heat a griddle or nonstick skillet over medium low heat.
Using a large spoon or scoop, ladle pancake batter onto griddle. Cook pancakes until you see tiny bubbles start to form around the edges. If you lift one corner with a spatula, you should see the bottom is golden brown. Flip them over to finish cooking on the other side.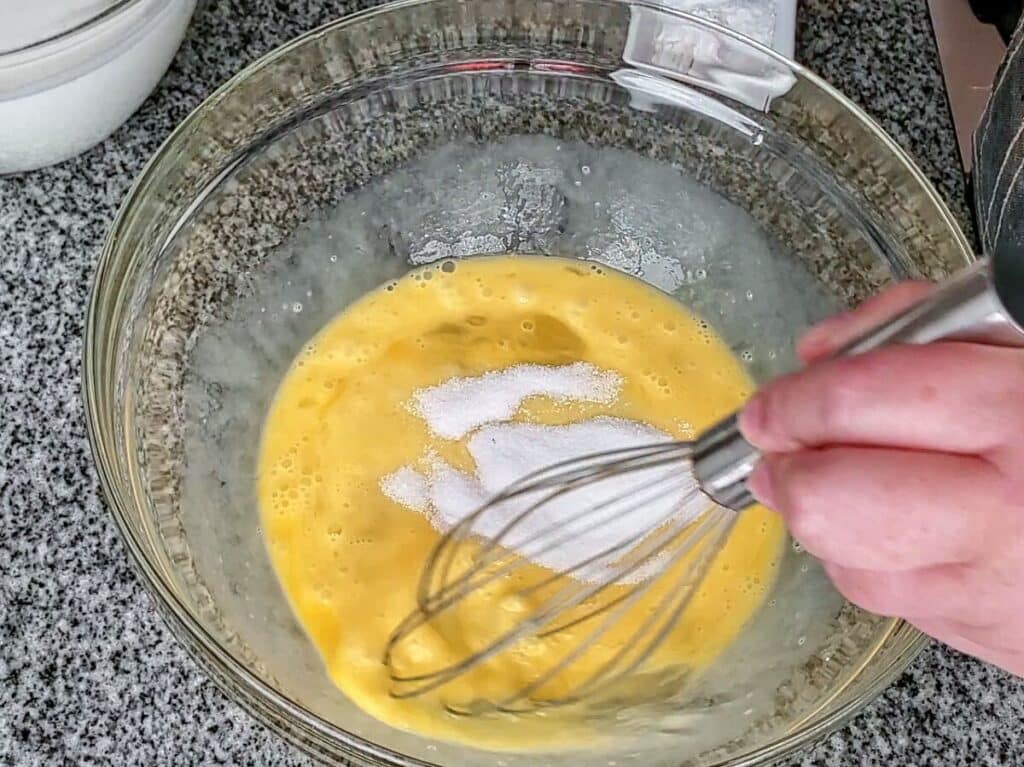 Tips for Pancake Success
Before beginning, make sure all your ingredients are at room temperature. If you put the very soft butter into cold buttermilk, you won't be able to mix it in well.
I use a large cookie scoop to scoop the batter into the pan. It's a thick batter and I find the scoop to be perfect for getting even-sized pancakes.
Because these pancakes are pretty fluffy and tall, they do well with lower heat and more time. Cook them on medium low to medium for as long as 3-5 minutes per side.
My grandma's original recipe said to whip the egg whites until stiff and fold them into the batter. I don't know about you, but when I see recipes that call for egg whites to be whipped separately (especially breakfast recipes), I usually skip over them because I don't have much time. A couple of years ago I read an article on NOT whipping egg whites separately and obtaining the exact same results. While the article suggests still separating the egg yolks and whites, I chose to do neither of those and they still resulted in the best pancakes I've ever had. I wish my Grandma were alive so I could tell her of this discovery, because I'm sure she whipped her egg whites by hand.
Grandma's Famous Pancakes FAQs
I like my pancakes thinner.
You can certainly make these pancakes thinner if you'd like. They get a little lacy and delicate and still taste amazing! Either use a lower fat buttermilk or increase the amount of buttermilk by ½ cup (120 ml) or more until a thinner batter is obtained.
Can I Double the Recipe?
Yes! I always double the recipe because I like to keep extra in the freezer.
How Do I Freeze These Pancakes?
Place them on a parchment-lined baking sheet in a single layer and flash freeze them for about an hour. Then store them in a gallon-sized ziptop bag and pull out as many as you need at a time. They'll keep in the freezer for 1-2 months. To reheat, pop them in a toaster for a few minutes, or microwave for about 30 seconds at a time, until they reach the desired temperature.
I can't find buttermilk/whole fat buttermilk in my area. What can I do?
You can use less low-fat buttermilk, which will make the batter thinner. You can also try to make your own buttermilk using whole milk and lemon juice or vinegar. Add 1 tablespoon per cup of whole milk and stir. Let it sit until the milk u0022curdlesu0022 and thickens, about 5-10 minutes.
variations
For blueberry pancakes, add a handful of fresh blueberries to the top of the pancakes after they've been ladled onto the griddle, before flipping.
For chocolate chip pancakes, add a tablespoon or so of semi-sweet chocolate chips (regular sized or mini) to the pancakes before they're flipped over.
Top with butter and warm real maple syrup for the most traditional of pancakes.
My favorite way to eat pancakes is smeared with soft butter and peanut butter. Sounds unusual, but don't knock it till you try it! The peanut butter gets melty and almost sauce-like.
Top with butter and sprinkle with granulated sugar. Another family favorite.
More Gluten Free Quick Breakfast Ideas
I'm telling ya, these Fluffy Gluten free Buttermilk Pancakes are the only ones you'll want to eat once you try them.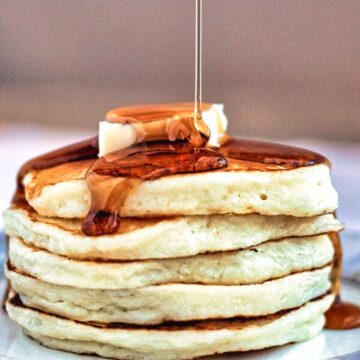 Fluffy Gluten Free Buttermilk Pancakes
Light and airy, my Fluffy Gluten Free Buttermilk Pancakes will have everyone wanting more, and no one will know they're gluten free!
Ingredients
2¼

cups (562ml)

buttermilk, whole fat, at room temperature

(Real whole-fat buttermilk is very thick. If you use homemade buttermilk or low-fat buttermilk, reduce the amount to 1¾ cup to compensate for this).

3

large

eggs, at room temperature

1½

cups (210g)

Kim's all purpose gluten free flour blend (a store bought blend containing xanthan gum should also work, but hasn't been tested)

1

tablespoon

granulated sugar

1

teaspoon

baking powder

½

teaspoon

salt

3

tablespoon

very soft butter

(not melted)
Instructions
In a large bowl, whisk eggs and sugar well. Slowly add buttermilk, whisking until fully incorporated.

In a sieve over the bowl, sift the flour blend, baking powder, and salt over the wet ingredients. Whisk to combine (small lumps left in the batter are fine). Add in the very soft butter and whisk.

Heat a griddle or large nonstick skillet over medium low to medium heat. Greasing is not necessary.

When skillet is heated, using a ladle or large cookie scoop or spoon, scoop batter onto skillet, 3-4 pancakes at a time. Allow to cook for about 3 minutes on the first side before flipping over. Cook about 3 minutes on the second side.

Serve hot with softened butter and syrup or toppings of choice. Butter and peanut butter are my favorite!
Notes
If you don't have buttermilk in your area, you can make a homemade version.  Measure out 2 cups or 480ml of whole milk and add 2 tablespoon of white vinegar or lemon juice.  Stir to combine and let sit until thickened, about 5-10 minutes.  It will look curdled.  This substitute won't be exactly the same as using whole fat buttermilk (which is really thick), but it's the closest thing.  
Freeze leftover pancakes by placing in a single layer on a baking sheet and flash freeze (allow to freeze until hard).  Remove pancakes from sheet tray and place in large ziptop bag and remove as much air as possible.  Store in freezer for 1-2 months, removing individual pancakes as desired.  To reheat, pull out as many pancakes as desired and place in toaster, toaster oven, or oven preheated at 350 degrees and reheat for about 5-10 minutes.  Or microwave in 30-second intervals until heated through.