One of the most beloved desserts in all of Disney World, we can now make moist and luscious Gluten Free 'Ohana Bread Pudding to satisfy ALL our cravings!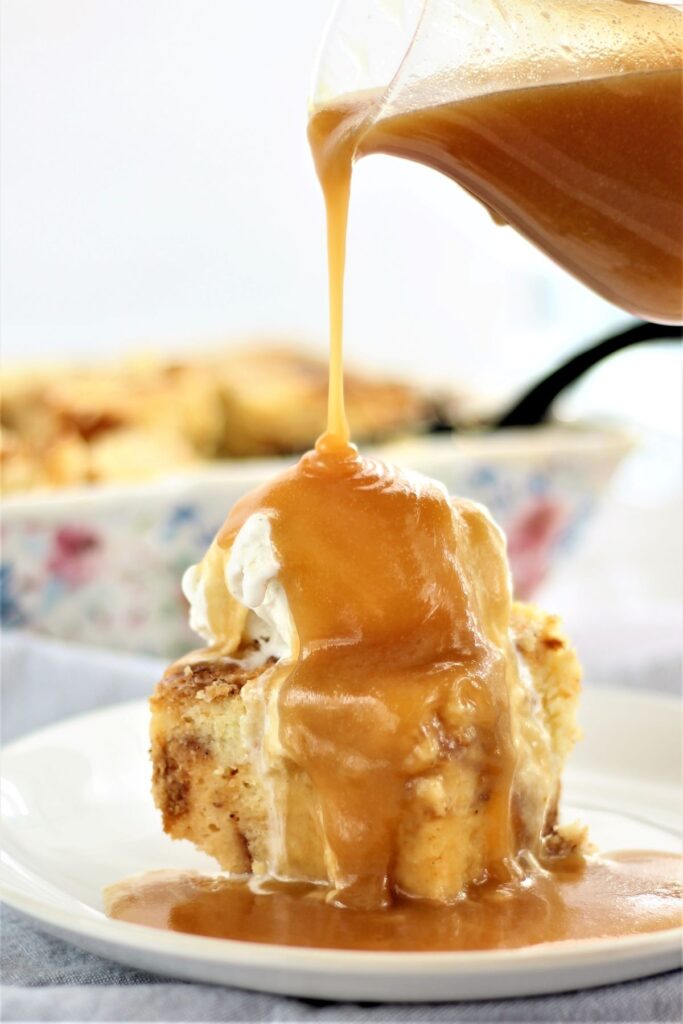 If you know me at all, you know that I am a HUGE Disney fan! One of my favorite restaurants on Disney property is 'Ohana, which is in the Polynesian Village Resort, where we almost always stay. Before the pandemic, they had the most fantastic dinner service where they would bring meats and shrimp out on skewers and keep 'em coming until everyone is absolutely stuffed! Since reopening, they aren't doing the skewers anymore, but they still have some of the usual favorites.
Dessert on the menu at 'Ohana is usually bread pudding with bananas foster sauce. Or at least it used to be. I think they've switched it up a little bit (no more bananas), but otherwise I've heard it's still really good. I think I tried it once a long time ago, before I was diagnosed with Celiac (it's not gluten free). Disney often gives their recipes to those who ask and I recreated this one to be gluten free!! And let me tell you, it's DIVINE!
The Ingredients
There are two components to this recipe. Well, three if you include the ice cream (but I don't because I don't make the ice cream myself):
The Bread Pudding
Gluten Free Bread--I like to use any stale homemade gluten free bread I have on hand. The best bread choices are the enriched breads, such as Brioche, Challah, White Sandwich Bread, Hamburger or Hot Dog Buns, Hawaiian Rolls, or anything with added fat and eggs. In Disney's recipe, they actually use 'Ohana Pineapple Bread, which I have made gluten free and the recipe is on my blog here.
Eggs
Whole milk--I've only ever used whole milk because that's what the recipe calls for, but if you are dairy free, I'm sure a dairy-free substitute would work well.
Sugar
Salt
Nutmeg
The Sauce
Sugar
Brown sugar
Corn syrup
Butter
Heavy cream
Vanilla extract
Spiced rum--it really makes a difference in the sauce, but if you don't want to use alcohol just leave it out.
Banana slices--the banana slices in the sauce have not returned to 'Ohana as of yet, but hopefully they will soon (for all the gluten eating people in my family).
How to make 'Ohana Bread Pudding
Cut up the bread into large cubes (about 2 by 2 inch) and spread out on a baking sheet. Bake at 350 degrees F for about 15 minutes, or until lightly toasted.
Whisk together the eggs with the sugar, milk, nutmeg, and salt.
Pour the bread cubes into the egg mixture. Toss to coat as much as possible.
Dump the entire mixture into a 9 by 13-inch baking pan (or similar) and cover with plastic wrap. Press down so that all of the bread is in the custard mixture. Position heavy weights, such as canned goods, on top of plastic wrap to weigh down. Refrigerate overnight. This is not in the directions from Disney, but I found this to work best with gluten free bread as it takes longer for gluten free bread to soak up the custard mixture.
Bake the next day at 325 degrees F for one hour.
Make the Sauce
Combine sugar, brown sugar, corn syrup, and half of the cream in a large saucepan.
Bring the mixture to a boil and then add the remaining heavy cream at a very slow rate to keep the mixture boiling.
Add the spiced rum and flambe if you're comfortable with doing so. If you're not comfortable with it, you can just add the rum and allow the alcohol to boil off on its own.
Boil for another 3 minutes and then remove from the heat and add the vanilla extract.
Pour sauce over a slice of bread pudding topped with vanilla ice cream. Enjoy!
Bread Pudding FAQs
Can Store Bought Gluten Free Bread be Substituted?

Yes, if you don't have any stale, frozen, or freshly made gluten free homemade bread made, by all means use a store bought bread. You may need two loaves, depending on the size of the loaves (most store bought loaves are pretty small).
Does the Bread Need to Soak Overnight?

Yes, it really is best to allow the bread to soak overnight in the custard mixture. If you don't, most likely the bread won't soak up enough of the custard and will be dry. No one likes a dry bread pudding.
Is Bread Pudding Served Hot or Cold?

I've only ever had bread pudding served hot, but I think it's personal preference if you want to serve it hot, cold, or at room temperature. I like mine hot with a scoop of vanilla ice cream on top, followed by a liberal pouring of the tasty sauce!
How is Bread Pudding Stored?

Bread pudding, because it is custard based, needs to be stored in the refrigerator. When ready to serve any leftovers, you can reheat the entire pan in the oven at 350, covered with foil, for 15-20 minutes, or individual slices in the microwave at 15-20 second intervals. The sauce can also be reheated in the microwave or on the stove top.
If you think you don't like bread pudding, give this one a try!! I bet you may even lick the plate clean 😉
Gluten Free 'Ohana Bread Pudding
Now we can have our very own gluten free 'Ohana bread pudding! It's moist and rich, just like the original at Disney World!!
Ingredients
BREAD PUDDING:
8

cups

cubed gluten free enriched bread

(such as homemade brioche, Hawaiian rolls, white sandwich bread, etc, or store bought bread)

5

large

eggs

4

cups (960 ml)

whole milk

(a dairy free milk may be substituted)

1½

cups (300 g)

granulated sugar

½

teaspoon

salt

½

teaspoon

nutmeg
SAUCE:
½

cup (100 g)

granulated sugar

½

cup (100 g)

light brown sugar

½

cup (156 ml)

light corn syrup

(honey or agave nectar may be substituted)

½

cup (113 g)

butter

1

cup (240 ml)

heavy cream

1

teaspoon

vanilla extract

1

cup (240 ml)

spiced rum, optional
Instructions
Bread Pudding
Preheat oven to 350° F. Place bread cubes on baking sheet and bake for 15 minutes, or until lightly toasted.  Set aside.

In a large bowl, whisk eggs, milk, salt, sugar, and nutmeg until well combined.  Add the bread cubes and toss to coat.

Pour into a 9 x 13-inch baking pan (or a smaller pan, such as an 11 by 8 inch, for taller slices) and cover with plastic wrap. Place in the refrigerator overnight. You can help the bread soak up more of the custard by putting something heavy on top of the plastic wrap, such as cans or jars so that the bread is fully submerged into the custardy liquid.   

The next day, remove the plastic wrap and bake at 325° F for one hour, until there are no signs of any liquid remaining in the pan.  

Allow to cool for about 5 minutes.  Serve hot with vanilla ice cream and the sauce.  Store in the refrigerator for up to 3 days.  
Sauce
In large saute or sauce pan, combine the sugars, butter, corn syrup, and half of the cream over medium heat.  Bring it to a boil and add the rest of the cream very slowly, not letting the sauce stop boiling.

Add the spiced rum, if using.  If you know how to flambe and are comfortable doing so, light it on fire, keeping your face well away from the stove top.  If you're not comfortable doing this, you can just let the alcohol boil off. Allow the mixture to boil for about 3 more minutes, stirring constantly.  

Remove from the heat and add vanilla extract.  Serve warm over bread pudding with vanilla ice cream.  Store in the refrigerator.
Adapted from AllEars.Net