With fudge frosting, ganache, and real chocolate flecks, this Ultimate Gluten Free Chocolate Cake will satisfy ALL your chocolate cravings!
Some of the items linked in this post are affiliate links, meaning, at no additional cost to you, if you click through and make a purchase, I will earn a small commission.
I never used to be a chocolate cake lover. Strange, isn't it? All my life, if I went to a party that they were serving cake at, if it was chocolate, I'd pass it up in a heartbeat. It was always so freakin' dry! My go-to cake of choice was yellow, white, almond, or anything in that nature. I just never could find a really good chocolate cake that I wanted to waste the calories on. That's how I always think of food. If it's a lot of calories, it better be worth those calories!!
It was only until I found out I had celiac and eventually made this gluten free chocolate cake that all that changed. I made it as cupcakes first (Mexican chocolate cupcakes) and it was such a huge hit, I began thinking of so many ways I could incorporate it into my life and this blog. And this cake was one of those creations that came from my brainstorming sessions.
This quadruple chocolate masterpiece begins with that go-to gluten free chocolate cake, which is then filled and frosted with the best chocolate fudge frosting you'll ever eat. But it doesn't stop there. The whole thing is then drenched in chocolate ganache AND the sides are rolled in REAL chocolate sprinkles! If you're in the mood for a chocolate explosion, look no further!!
here's what you'll need
There are a few components to this cake, but they're all easy and the end result is so worth it. I'll walk you through each step and in no time, you'll be in chocolate heaven!
The Chocolate Cake
This is my go-to chocolate cake and it's super easy to pull together. You may already have these ingredients in your pantry:
Kim's all purpose gluten free flour blend — a store bought blend may be substituted, but hasn't been tested.
Unsweetened cocoa powder
Canola oil or vegetable oil — while I am usually a "butter makes everything better" advocate, using oil in this recipe ensures a very soft and fluffy cake that won't dry out as the days go on.
Coffee — coffee helps intensify the chocolate flavor. You can substitute with hot water if desired, but try the coffee for an extra chocolatey experience.
The Chocolate Fudge Frosting
Oh my word, this chocolate fudge frosting is INSANE!! It's made with the usual suspects for any buttercream, but in different ratios and with hot water that changes it from what would normally be a fluffy buttercream to a fudgy, thick frosting.
Unsweetened cocoa powder
Melted semi-sweet chocolate — this fudge frosting gets a 1-2 punch from both cocoa powder AND melted chocolate, which makes extra fudgy.
Boiling hot water — again with boiling hot liquid. I just used boiling water this time, but you can use boiling coffee for a more coffee forward (mocha) chocolate cake.
The Ganache and Sprinkles
All you need for this ganache is three ingredients — chocolate, cream, and a little bit of corn syrup. There are different ratios that will make a thicker or thinner ganache. For this cake, we want something on the thinner side so it will glide smoothly over the top of the cake and down the sides.
If you can get them, real chocolate sprinkles in tiny little squares like these (affiliate link) are so good! They might seem expensive, but the bag is large and will last you through many, many applications. If you can't get your hands on these sprinkles, it's perfectly fine to use regular store bought sprinkles, or no sprinkles at all.
Making the Ultimate Chocolate Cake
make the cake batter and bake
It is SO easy to make this cake, you really won't believe it.
Blend eggs, milk, sugar, oil and vanilla in the bowl of a mixer and blend briefly. Add the dry ingredients and blend on low until smooth. Slowly add the very hot coffee (or water) and pulse to combine, being careful not to let the hot liquid splash back on you. The batter will be very thin.
Pour into prepared pans and bake at 350 degrees F for about 30-35 minutes, or until the cake springs back when lightly touched, or a toothpick inserted into the center comes out clean.
Cool cakes in pan for 10 minutes and then remove and cool completely on a wire rack.
prepare the fudge frosting
I found this fudge frosting recipe on YouTube on Emma's Goodies' channel. She calls it 1 Minute Chocolate Fudge Frosting and it's a game changer! When I first made it, I didn't get the same results she did so I tweaked some amounts and added a few enhancements and it's now one of my favorite frostings ever. It's thick and rich and silky smooth, kinda reminds me of canned fudge frosting that's made with real ingredients. In other words, ten times better!!
Whisk powdered sugar, cocoa, and salt in a large bowl or bowl of a stand mixer. Add softened butter, followed by the boiling coffee (or water). Pulse mixer on and off so there isn't a cloud of cocoa, and blend until smooth.
Add melted chocolate and vanilla and mix well. Frosting will be somewhat runny. Chill the frosting for at least one hour, stirring or whisking every 30 minutes. It should firm up nicely to spread.
mix up the ganache
The ganache comes together in just minutes:
Place the chopped chocolate (or chocolate callets) in a medium bowl. Heat the cream in a small saucepan over medium heat until bubbling around the edges.
Pour the hot cream over the chocolate and let it sit for 5 minutes to allow the chocolate to melt from the residual heat of the cream.
Stir until all of the chocolate is melted and the mixture is smooth. If some pieces aren't fully melted, place the bowl in the microwave for 15 seconds at a time, or over a saucepan of simmering water.
Putting the cake together
This cake can be made all in one day or in stages throughout a couple of days:
Fill and frost the cake layers and then apply a crumb coat of the fudge frosting around the sides and top of the cake. Chill completely (at least 30 minutes).
Apply the final coat of frosting around the sides and top of the cake and chill again until solid (at least an hour).
Pour the lukewarm ganache over the chilled cake, letting it drip down the sides. If desired, take an angled spatula and spread the ganache around the sides of the cake. It doesn't need to be pretty.
Cover the ganache on the sides of the cake with the chocolate sprinkles, if desired.
chocolate fudge cake faq's
Can I Make Cupcakes Instead?
Yes, you can! For cupcakes, fill lined muffin tins 3/4 full with cake batter and bake for 22 minutes, or until a toothpick inserted into center comes out clean. Top with the fudge frosting and roll in sprinkles, skipping the ganache.
What Makes This Chocolate Cake so Moist?
Using canola or vegetable oil makes this chocolate cake super moist and allows it to stay moist for days.
Why Use Hot Coffee or Water?
Using a very hot liquid in something made with cocoa u0022bloomsu0022 the cocoa, which just means that it dissolves the cocoa so there aren't any lumps of cocoa within the mixture, which also strengthens the chocolatey flavor.
making a mickey mouse chocolate fudge cake
When I first posted this recipe in 2020 on my birthday, we had just come back from a Disney vacation and I bought a Mickey Mouse silicone cake pan. I decided to make myself a Mickey Mouse chocolate birthday cake, especially because that was when the world shut down and we couldn't go anywhere or spend any time with our family due to the pandemic. If you're interested in making a Mickey Mouse chocolate fudge cake, see the pictures below for just how to do it! The Mickey face is made with melted white chocolate coating and gel food colors thinned with a little bit of water. So cute and so easy!
more gluten free chocolate desserts
This gluten free chocolate fudge cake is the ultimate in chocolate heaven. Layers of chocolate cake, fudge frosting, ganache, and real chocolate sprinkles is just what you need for all your chocolate cravings!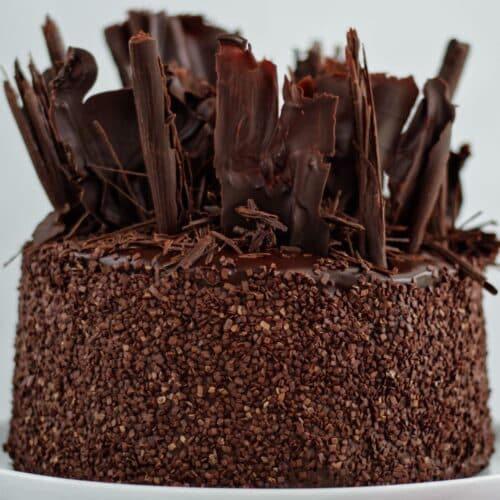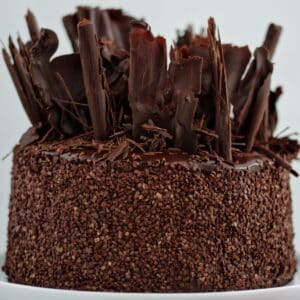 Ultimate Gluten Free Chocolate Fudge Cake
With fudge frosting, ganache, and real chocolate flecks, this Ultimate Gluten Free Chocolate Cake will satisfy ALL your chocolate cravings!
Ingredients
Instructions
FOR THE CAKE:
Preheat the oven to 350° F. Spray 3 8-inch round cake pans with nonstick cooking spray and line with parchment paper. (If you don't have 3 8-inch pans, you can use 2 9-inch cake pans).

In a large bowl, add the eggs, milk, oil, vanilla, and granulated sugar and blend until smooth. In a separate bowl, whisk together the dry ingredients. Pulsing on and off, add the dry ingredients and mix until smooth. Slowly add the boiling coffee or water on low speed, being careful not to let the hot liquid splash back. After all coffee or water has been added, beat an additional 30 seconds. Batter will be thin.

Pour into prepared pans and bake for about 30-35 minutes, or until cake springs back when lightly touched or a toothpick inserted into center comes out clean. Allow to cool on wire racks for 15 minutes before removing cakes from pans to cool completely.
FOR THE FUDGE FROSTING:
In a large bowl, whisk together the powdered sugar and cocoa powder. Add the softened butter and boiling water and blend until smooth. Pour in the melted chocolate and blend to combine. The mixture will be very thin. Refrigerate it for at least 30 minutes, or until thickened up enough to spread on cake.
FOR THE GANACHE:
Place chocolate in a medium bowl. Heat heavy cream in small saucepan until hot and bubbles begin to form around edges of pan. Remove from heat and pour over chocolate. Stir mixture until chocolate melts completely. If there are still bits of chocolate not fully melted, place the bowl in the microwave for about 15 seconds at a time, stirring between, until chocolate is fully melted. Allow the ganache to cool to lukewarm before pouring over cake.
TO PUT IT ALL TOGETHER:
Place one cake layer on a cake plate or board, level it with a serrated knife if need be, and spread with about one cup of the fudge frosting. Add the second cake layer and spread with another cup of fudge frosting. Top with final layer of cake and give the whole cake a light crumb coat (coating the top and sides with a light coating of fudge frosting). Place the cake in the refrigerator to firm up and set, at least 30 minutes.

Remove the cake from the refrigerator and pour the lukewarm ganache over the cake, not all at once, but carefully adding more to the edges to allow it to run down the sides. As it pools on the cake board, use an angled spatula to pull it up and spread it onto the sides of the cake. Keep adding more around the cake at the edges and pulling it up and onto the sides until the entire cake is fully covered in ganache. You should not use all of the ganache (you may end up with half of it leftover, which can be used for other applications, poured over ice cream, or made into chocolate truffles).

Before the ganache sets, take a large amount of sprinkles and dump them onto a baking pan set underneath the cake to catch excess. Fill your hand with sprinkles and, resting your pinky and side of your hand on the cake board, slowly tip your hand towards the cake, applying gentle pressure to stick the sprinkles to the sides of the cake. Go around the whole cake, adding more sprinkles as necessary.

Refrigerate the cake until everything is completely set, about 30 minutes, before wiping away any excess sprinkles left on the board (don't throw them away–place them in a separate container to be used for another application or sprinkled over ice cream).
Chocolate Fudge Frosting recipe adapted from Emma's Goodies