These gluten free lemon drop cupcakes are PACKED with real lemon flavor and topped with crushed lemon drop candies. Perfect for summertime!!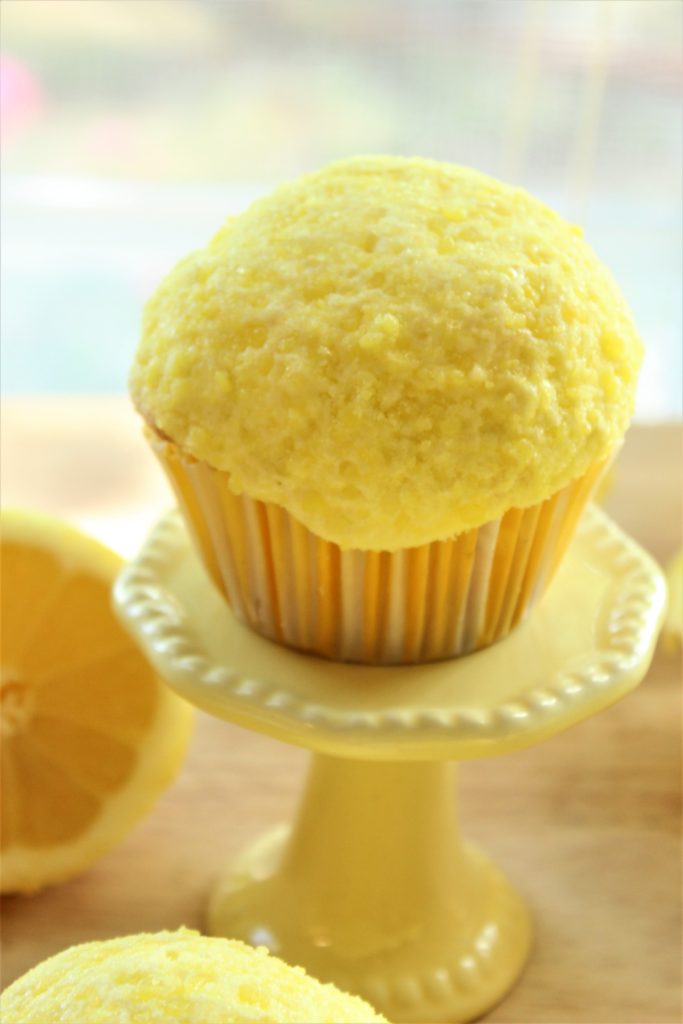 I first made these cupcakes a few years ago. When I brought them to my doctor, the next time he saw me he said they were the best cupcakes he'd ever had! Then he said he never had frosting that silky smooth and there was a business in those cupcakes. Haha 😉
Seriously, though, these gluten free lemon drop cupcakes are for the lemon lovers!! First, the buttery and light cupcake has a tart, fresh flavor from lemon juice AND lemon zest. Then it's topped with a bright lemon French buttercream, which is incredibly silky and smooth. Lastly, each cupcake takes a dive in a bowl of crushed lemon drop candies for the ultimate lemony lemon zing!!
THE CUPCAKE INGREDIENTS
Gluten Free Flour Blend — of course I use my own blend (Kim's gluten free flour blend), but feel free to use whatever blend you like, as long as it has xanthan gum in it (or add 1/4 tsp XG).
Lemons — you can't make lemon cupcakes without 'em! I use this lemon zester and lemon squeezer to get the most juice and zest out of the lemons as possible.
Cornstarch — when blended with the gf flour blend, it acts like cake flour.
Baking powder and baking soda — the usual leaveners.
Buttermilk — keeps cupcakes moist and tender.
Butter — essential fat for flavor and texture.
Sugar — for sweetness.
Eggs — for richness and leavening.
Sour Cream — for tenderizing.
WHAT'S IN THE FROSTING?
This French buttercream is OUT OF THIS WORLD!!!! I posted my recipe for French buttercream a while back. It's unlike any frosting you've ever had. Even Swiss meringue buttercream. That's a great one, too, but I personally think French buttercream is the ruler of all frostings. So what makes it so good? It's just four simple ingredients:
Egg yolks — you've seen recipes for Swiss or Italian meringue that use egg whites, but French buttercream uses the yolks for a richer frosting.
Granulated sugar — there is only one cup of sugar in the entire recipe, not like the usual 4-6 cups in an American buttercream. It's not overly sweet and that's what I love about it the most.
Water — combined with the sugar and cooked to soft ball stage, it creates a syrup that's whipped with the yolks.
Butter — any true buttercream has to have lots of butter, not shortening. I strongly disagree with using shortening in frostings.
HOW TO DIP THE CUPCAKES IN CRUSHED LEMON DROPS
I've taken so many classes on Bluprint I can't even count anymore. A few of the classes were taught by Jennifer Shea of Trophy Cupcakes, a West Coast favorite cupcakery. In addition to giving us her recipes for many different flavors of cupcakes, she also teaches her techniques in decorating cupcakes.
One of those is rolling the frosting in a topping, such as sprinkles, crumbs, or in this case crushed lemon drops. To do this and get a nice domed cupcake, use a large cookie scoop (click here to find the one I use) and scoop a dollop of frosting on top of each cupcake. Put the crushed lemon drops in a small bowl and turn the cupcake over so the frosting sits on top of the lemon drops.
Begin gently rocking the cupcake back and forth to push the frosting into each part of the top of the cupcake and coat it with the lemon drops at the same time. Then roll it on its side to kind of flatten the frosting into the sides of the cupcake on top.
It's a very gentle process and very simple, but the look is unique and I just love it! Not that I don't like the look of piped swirls, but sometimes I just don't feel like filling a pastry bag, ya know? I love how the crushed candy creates almost a "shell" on the top of the frosting!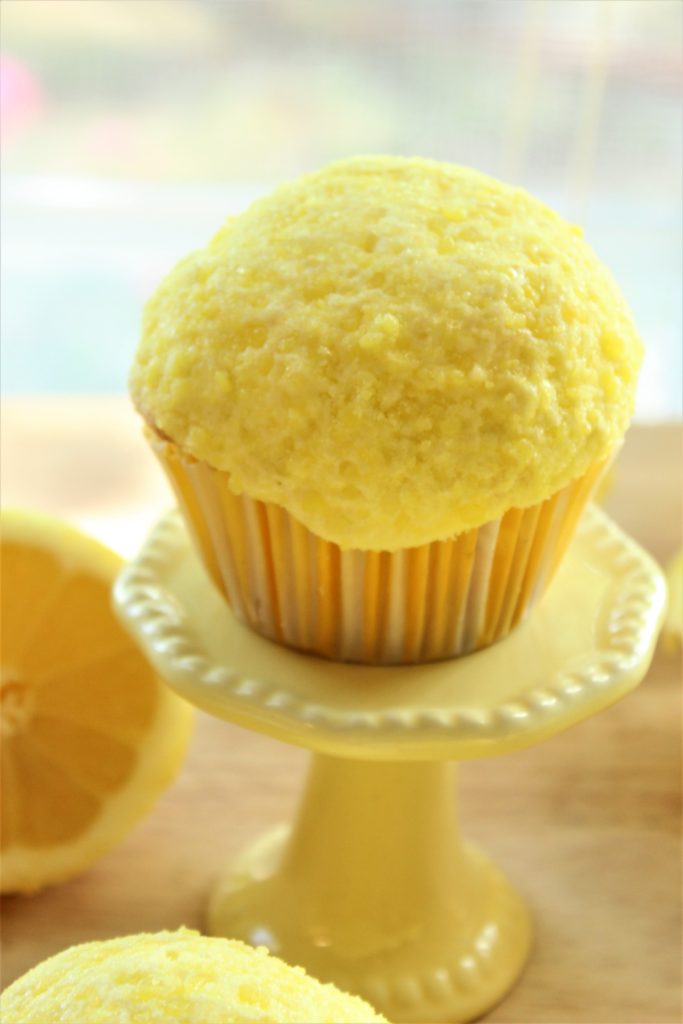 My mom claims these to be her most favorite cupcakes I make. If you love lemon, they might become your favorite, too!
Gluten Free Lemon Drop Cupcakes
These gluten free lemon drop cupcakes are PACKED with real lemon flavor and topped with crushed lemon drop candies. Perfect for summertime!!
Ingredients
3

cups (420 g)

Kim's gluten free flour blend

(or any flour blend with xanthan gum)

½

cup (55 g)

cornstarch

2

medium

lemons

1

tbsp plus 1 tsp

baking powder

1 ¼

tsp

salt

½

tsp

baking soda

1 ½

cups (360 ml)

buttermilk

1

cup (225 g)

unsalted butter, at room temperature

2 ¼

cups (450 g)

granulated sugar

3

large

eggs

½

cup (120 g)

sour cream

1

recipe

French buttercream

(with recommendations for citrus fruit with 1 tbsp lemon zest)

1

small bag

lemon drops candies (gluten free)

(Walmart's Great Value brand are gluten free)
Instructions
Preheat oven to 350°. Line two muffin pans with cupcake liners and set aside.

Zest the two lemons. Measure 1 tbsp plus 1 tsp and set aside. Juice lemons to extract ¼ cup (60 ml) and set aside.

In a large bowl, whisk together flour, cornstarch, baking powder, baking soda, and salt. Set aside.

Combine buttermilk and lemon juice and set aside.

In bowl of stand mixer (or handheld mixer) beat butter with lemon zest and sugar on low until combined, about one minute. Increase speed to medium low and continue to beat for another minute. Add eggs, one at a time, mixing well after each. Scrape sides and bottom of bowl. Add sour cream.

With mixer on low speed, add the dry ingredients in three parts, alternating with the wet ingredients in two parts. Keep the mixer at the lowest speed and mix just until each addition is combined. When everything has been added, scrape the sides of the bowl and mix on low for about 10-20 seconds until batter is smooth. Let the batter rest for 15 minutes and stir gently before using.

Fill the cupcake liners ¾ full and bake until the cupcakes bounce back when pressed lightly, or when a toothpick inserted into center comes out with just a few crumbs or fairly clean, about 27-30 minutes. Let the cupcakes cool for 5 minutes before removing to a rack to cool completely.

While cupcakes are baking, add lemon drops to bowl of food processor and pulse until crushed into somewhat of a powder. Pour into small bowl and set aside.

Make buttercream as per recipe instructions and frost each cupcake as described above.
Notes
*Once the crushed lemon drops are on the cupcakes, they will begin to weep after a few days.  If you want to make the cupcakes ahead of time, refrigerate the cupcakes and buttercream separately without the crushed candy.  When you're ready to serve them, let the buttercream come to room temperature and re-whip.  Dip them in the crushed lemon drops right before serving.  
Adapted from Jennifer Shea's The Perfect Cupcake class on Bluprint.