Super creamy and cold with bits of crushed candy bar, this Gluten Free Frozen Candy Bar Pie is the perfect summer treat!
A long time ago, there was a little hole-in-the-wall restaurant down the street from my mom and dad's house. They served the usual American fare, such as sandwiches and fried foods. But what I remember most, being the person that I am, is this pie they had called Frozen Heath Bar Pie. It was one of those no bake deals with a graham cracker crust and probably so stinking easy to throw together, but it was one of the best pieces of pie I'd ever had. And I haven't been able to get that pie out of my mind since they closed years later.
I'm fairly certain I tried to make the pie myself around that time, back before my celiac diagnosis, and I bombed terribly. I couldn't understand why something so simple was so hard for me to figure out. And back then, the internet wasn't really a thing (I'm showing my age) so I couldn't just Google it.
Fast forward to a few weeks ago when I was watching The Kitchen on Food Network and saw Alex Guarnaschelli make this frozen strawberry pie. Aside from the strawberries, it was the exact type of filling I felt the heath bar pie was all about. So I made the filling and subbed the strawberries and raspberries with crushed heath bars. And that was it! That was exactly the flavor and texture I had been missing all these years!! It was so easy, it was ridiculous. But if you don't like Heath Bars, this pie could be made with ANY candy bar of your choosing. I'll be trying all of them!
the ingredients required to make frozen candy bar pie
Cream cheese
Sweetened condensed milk
Heavy whipping cream
Candy bars — use your favorite
Gluten free graham cracker pie crust, pre baked
Caramel sauce or chocolate sauce, optional — store bought or homemade
how to make the pie
Make the crust. Stir together graham cracker crumbs with sugar and melted butter and press into pie dish. Bake until golden brown. Cool completely.
Make the filling. Beat cream cheese until smooth. Add sweetened condensed milk and beat until well combined. Whip cream and fold into cream cheese mixture, along with chopped candy bars. Freeze until solid.
Serve. Cut pie into slices. Serve slices frozen, drizzled with caramel or chocolate sauce if desired.
frozen candy bar pie FAQs
I Don't Like Heath Bars. Can I Use a Different Candy?
Don't like Heath bars? Use chopped peanut butter cups. Or Butterfingers. Or M&M's. BYOC (be your own chef) and add your favorite candy to the pie.
Can This Pie be Made Dairy Free?
With the proper dairy free substitutes, you can successfully make this pie dairy free! For the crust, swap the butter with a plant-based butter alternative. For the filling, use dairy free cream cheese, dairy free sweetened condensed milk, and either coconut milk whipped to stiff peaks or dairy free cream alternative, such as Silk heavy whipping cream alternative. Substitute a dairy free candy bar for the filling.
Can I Make a Chocolate Crust?
For a chocolate crust, use the same amount of crushed gluten free Oreo's in place of the graham cracker crumbs and eliminate the extra sugar. Stir in the melted butter until a wet sand texture and press into pie plate. Bake as instructed.
customizations
I can imagine there are endless varieties of this pie that can be made. Here are just a few off the top of my head (and ones I'd love to try):
Reese's — Reese's cups and maybe a chocolate cookie crust (gf Oreo's). Drizzle with chocolate sauce or peanut butter that's been melted in the microwave.
Snickers — Snickers drizzled with caramel and chopped peanuts.
M&M's — chopped M&M's with chocolate pie crust, drizzled with chocolate sauce
Butterfinger — Butterfinger with peanut butter drizzle
Cookies and Cream — this isn't a candy bar, but you could chop gf Oreo cookies and fold them into the filling, use a gf Oreo crust, and drizzle with chocolate sauce.
Sink your teeth into this Gluten Free Frozen Candy Bar Pie this summer for the ultimate cool treat on a hot day!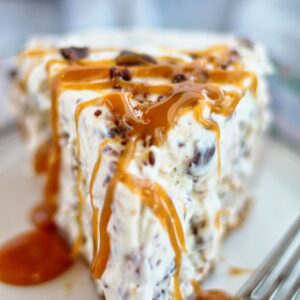 Gluten Free Frozen Candy Bar Pie
Super creamy and cold with crunchy bits of toffee, this Gluten Free Frozen Candy Bar Pie is the perfect easy summer treat!
Instructions
Make crumb crust as recipe instructs and cool completely.

In a large bowl, beat cream cheese until smooth. Add sweetened condensed milk and mix until fully combined.

In another bowl, beat whipped cream to stiff peaks.

Fold cream into cream cheese mixture and then fold all but about 1 tbsp of chopped candy bars into cream mixture.

Pour filling into cooled crust and sprinkle top with the rest of the chopped candy. Cover and freeze for at least 6 hours or overnight. Serve with caramel or chocolate sauce, if desired. Pie can be made ahead and kept in the freezer for up to one month, well wrapped.