This Gluten Free French Silk Pie is an oldie but goodie. It gets its name from the luscious silky smooth texture of the chocolate filling!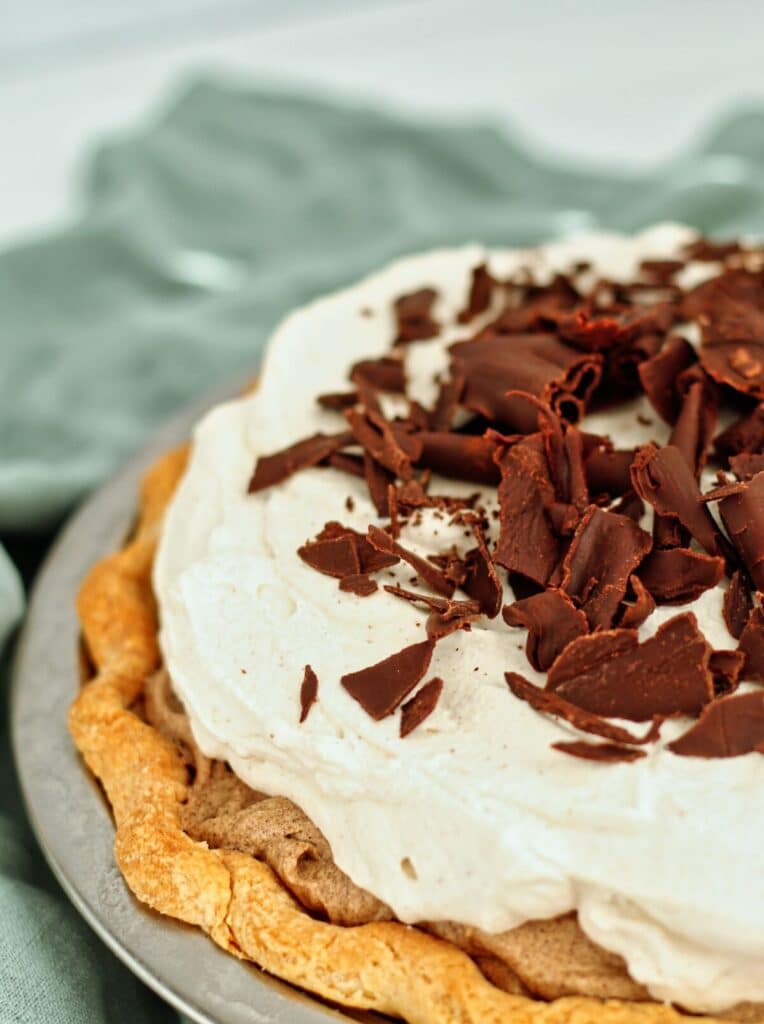 I remember making French silk pie when I was a teenager or a pre-teen. My sister found the recipe in one of those little Pillsbury Bake-off cookbooks my mom had. We both fell in love with this pie, but eventually health experts said that raw eggs were too dangerous to eat. After that, I don't remember ever making the pie again 😥
What is French Silk Pie?
The original French silk pie recipe was created by Betty Cooper in 1951 for the Pillsbury Bake-Off Contest. It was a chocolate pie that began with butter and sugar whipped into a light and fluffy filling. Then chocolate and eggs are added and the entire mixture is whipped to oblivion! Beating the eggs for 5 minutes each produced a filling that was super fluffy, soft, and silky.
The problem with the original recipe is the use of raw eggs in the filling. Back then (1951) no one even knew about salmonella and the risks involved with eating raw eggs, so it wasn't an issue. But now, with all the danger of that pesky bacterial infection, none of us want to make anything with raw eggs, at least here in the US. So this pie kind of died off for a while.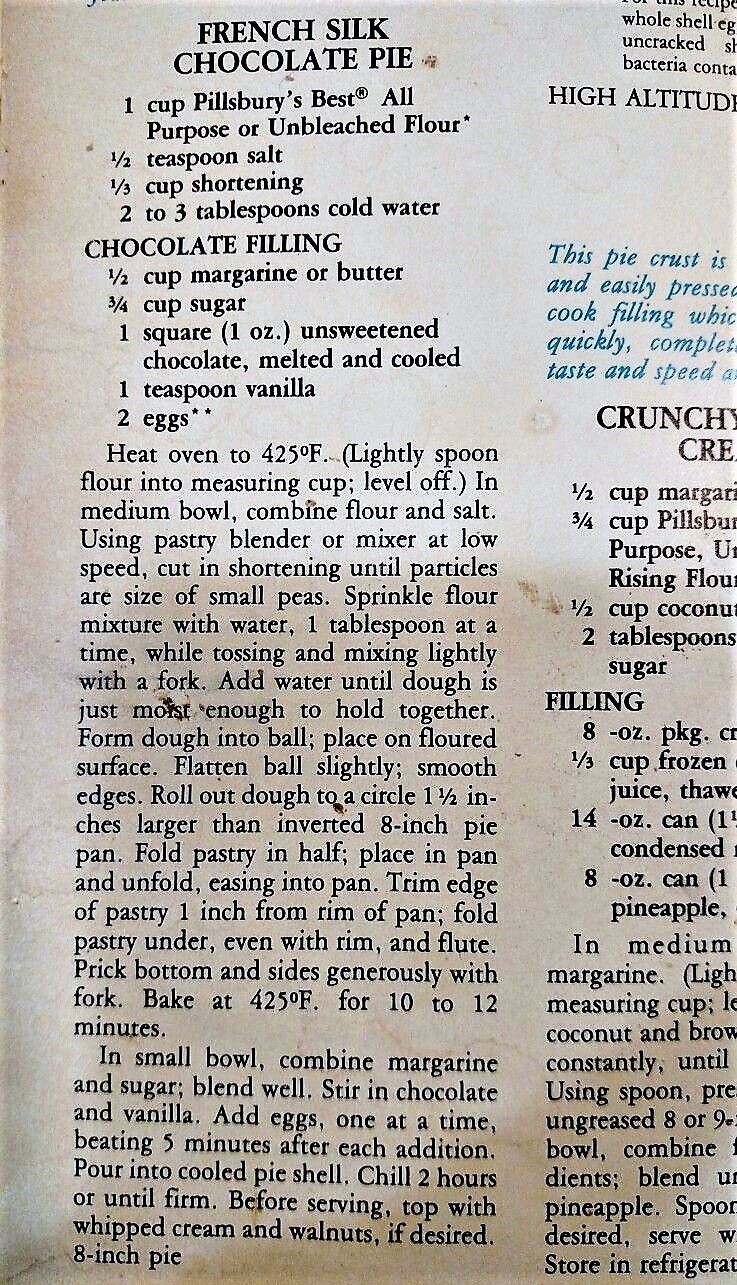 Fast forward several years to now, when I was watching Joanna Gaines' cooking show on Discovery Plus and bam! There was our French silk pie!! Only she cooked the eggs and the sugar together first before mixing it with the butter. GENIUS!!! Leave it to Joanna to get it right and re-imagine one of my favorite old pies.
here's what you'll need to make this chocolate pie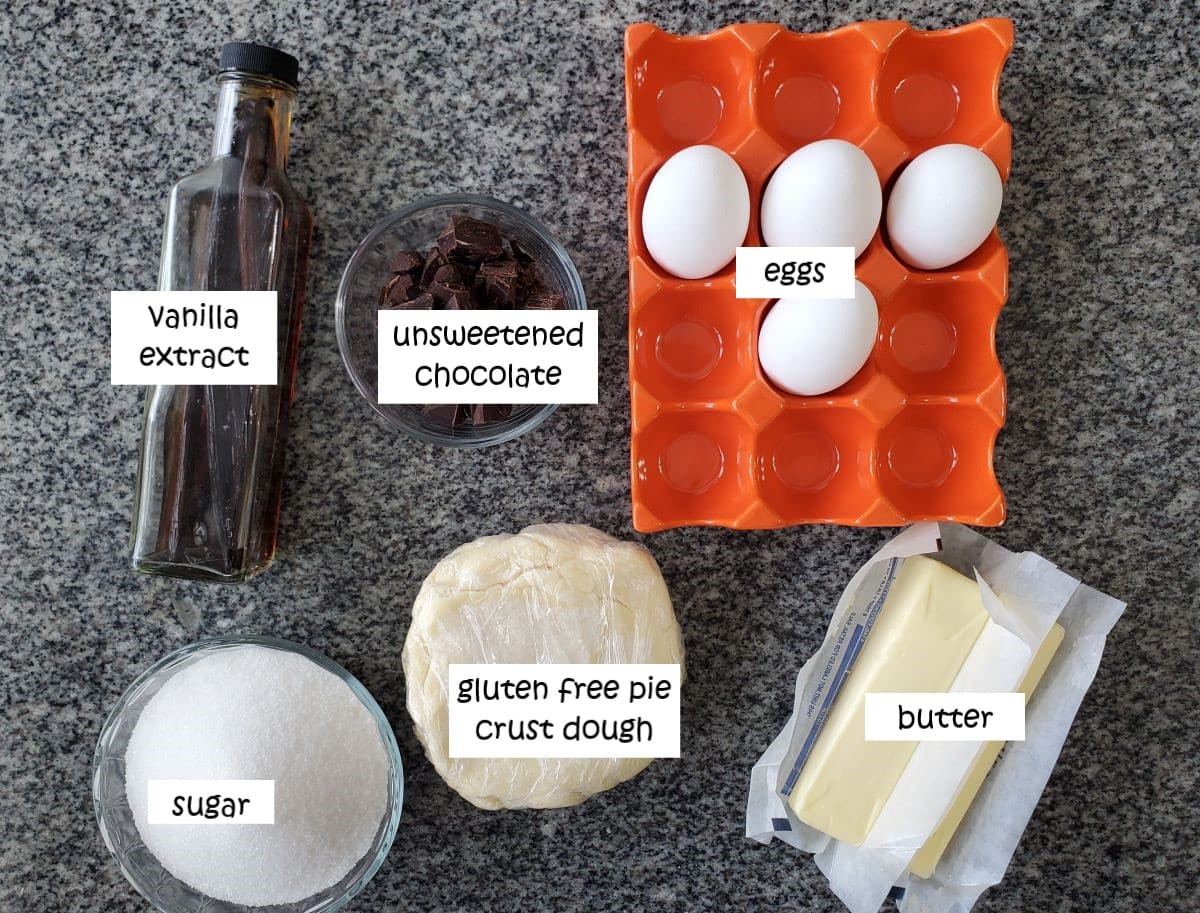 Pie crust–if you haven't made my flaky all butter gluten free pie crust yet, you don't know what you're missing. It's a DREAM to roll out and is flaky as ever and, honestly, better than any gluten-filled pie crust I've ever had. You will need to blind bake the pie crust.
Unsweetened chocolate–we'll sweeten the pie with sugar so no need for sweetened chocolate.
Whole eggs–this recipe relies on eggs for volume and that silky smooth texture.
how to blind bake a pie crust
Just like my triple layer gluten free coconut cream pie, gluten free lemon meringue pie, or my fresh strawberry pie, this pie uses a blind baked pie crust. What does it mean to blind bake a pie crust? Simply baking the crust without any filling. Cream pies are traditionally made with blind baked pie crusts, and this French silk pie is like a chocolate cream pie. Here's how to do it:
Make the dough as per the recipe. You'll need to chill the dough for 30 minutes before rolling out.
Roll the dough out. Remove one disc of pie dough from the refrigerator and roll it out to fit a 9-inch pie plate (with an inch or two of overhang). Transfer the dough to the pie plate and crimp the edges as desired.
Freeze. I prefer to freeze my pie crust for 15 minutes, but if you don't have room in your freezer, you can always refrigerate it for 30 minutes.
Line with pie weights. You can use parchment paper or foil to line the chilled pie crust before filling it with pie weights. Pie weights can be anything from uncooked rice to beans to even sugar (which gives the sugar a lightly toasted flavor).
Bake. Bake at 425 F for 12-15 minutes, or until the edges just begin to brown. Carefully remove the pie weights (using the parchment or foil as a sling) and return the crust to the oven to finish baking for an additional 5-10 minutes, or until uniformly golden brown throughout and no longer shiny.
Cool completely before adding the filling.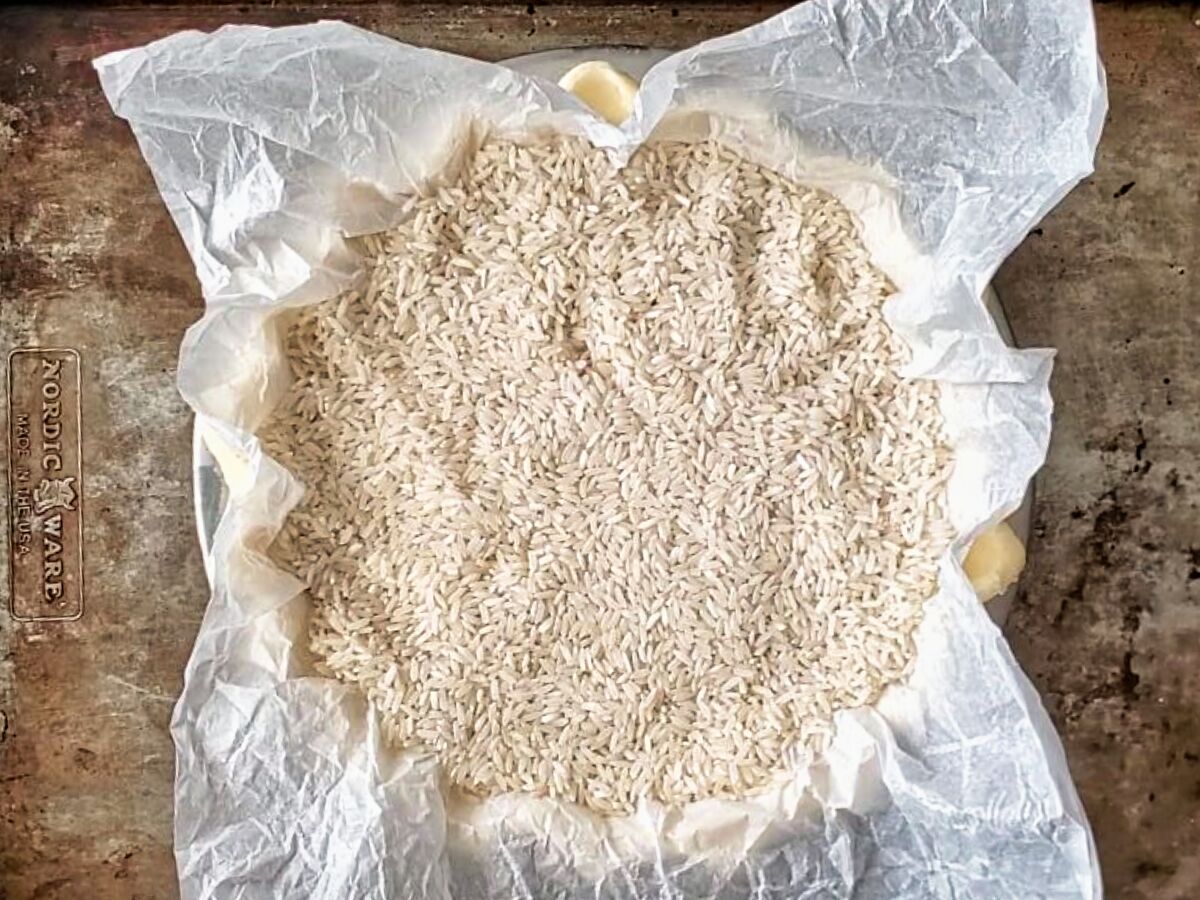 Making the Filling (A New Way)
Whisk the eggs and sugar over a double boiler (a small pot with about one inch of water in it), not allowing the bottom of the bowl to come in contact with the water. You need to cook this mixture until it reaches 160 degrees F, which will kill any bacteria.
Remove from the heat and add the chopped chocolate, stirring well until melted.
Cover and refrigerate until cool.
Begin whipping the chocolate mixture and add the butter, about 1-2 tablespoons at a time, until all of it has been added. Pour in the vanilla.
Increase the speed and continue whipping until mixture is light and fluffy (and lighter in color), about 5-7 minutes.
Spoon into blind-baked (cooled) pie crust and smooth top. Chill for 2 hours.
Before serving, whip heavy cream with powdered sugar and vanilla into stiff peaks. Dollop over pie and sprinkle with chocolate curls.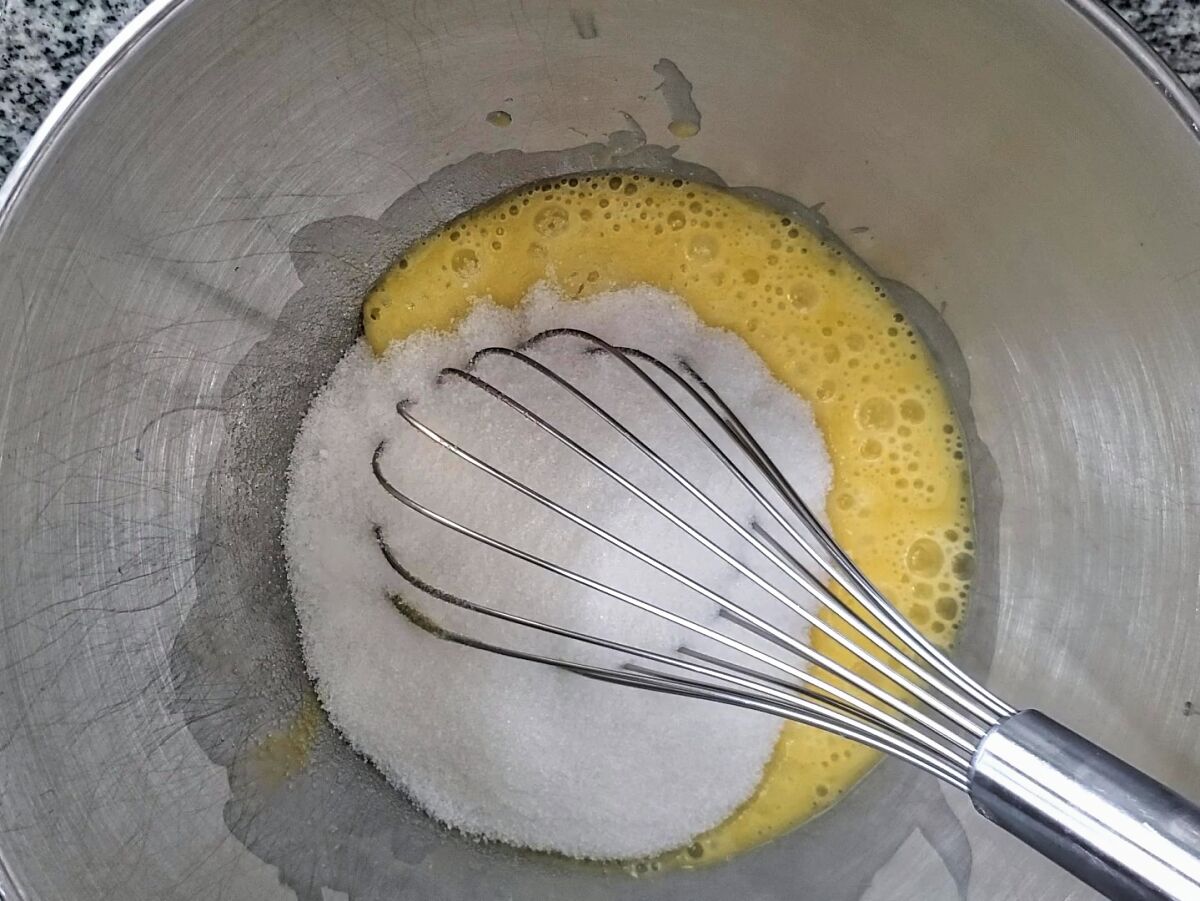 Prefer to watch?
French Silk Pie FAQs
Why is this recipe so much different from all the other French silk pie recipes?
This recipe is based completely on the original recipe, in which the chocolate filling is very light. It is not a darker chocolate filling and there is no whipped cream folded into the filling.
Does French silk pie contain raw eggs?
The original recipe did contain raw eggs, but I've added an extra step in this recipe to cook the eggs to a temperature that will kill any bacteria.
more gluten free chocolate desserts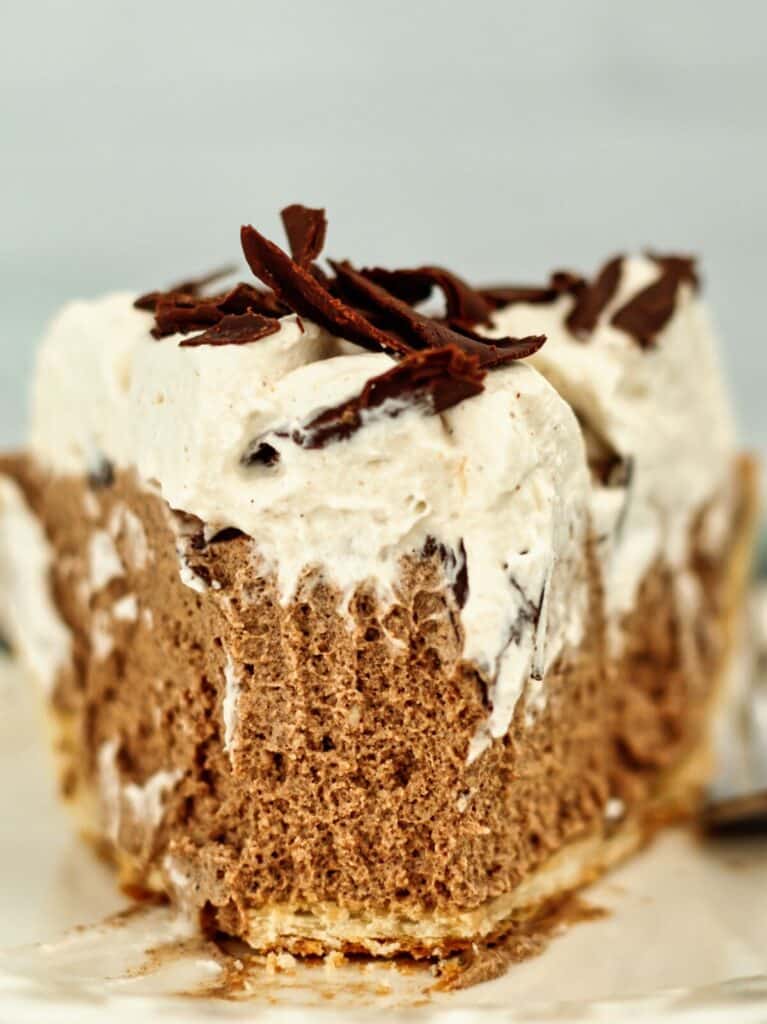 Gluten free French silk pie is sure to become one of your new favorite pies of all time!!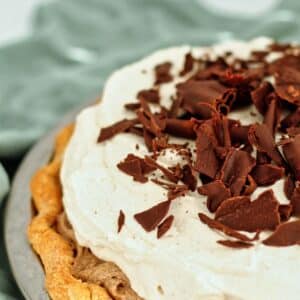 Gluten Free French Silk Pie
This gluten free French silk pie is an oldie but goodie! It gets its name from the luscious silky smooth texture of the chocolate filling.
Ingredients
1

blind baked

flaky all butter gluten free pie crust

1½

cups (300g)

granulated sugar

4

large

eggs

2

oz (57g)

unsweetened chocolate, roughly chopped

1

cup (226g)

butter, softened

2

tsp

vanilla extract
Sweetened Whipped Cream
1

cup (240ml)

heavy whipping cream, cold

2

tbsp

powdered sugar

1

tsp

vanilla extract, vanilla bean paste, or one vanilla bean, seeds removed

chocolate shavings or curls for garnish, if desired
Instructions
Blind Bake Pie Crust
Preheat oven to 425°F. Remove one disc of pie dough from refrigerator and roll out as per recipe instructions. Transfer to pie plate and crimp edges as desired.

Freeze for 10-15 minutes or refrigerate for 30 minutes.

Line crust with crumpled parchment paper or foil and fill with pie weights (rice, beans, store bought ceramic pie weights, or even granulated sugar). Bake crust for 12-15 minutes, or until edges of crust begin to brown. Remove paper or foil and pie weights and return crust to oven to finish baking, another 10-12 minutes (or until uniformly browned and no longer shining). Allow to cool completely before filling.
Make the Filling
In a large heat-proof bowl (or stainless steel bowl of stand mixer) set over a small pot of simmering water (double boiler), whisk the sugar and eggs until the mixture reaches 160° F on an instant-read or candy thermometer. Remove from the heat and immediately add the chocolate and whisk until the chocolate has fully melted. Cover and chill until cool (about one hour).

When cool, whip chocolate mixture and slowly add butter, a few tablespoons at a time. When all butter has been added, increase speed to medium high and whip for 5 minutes, until mixture is silky smooth, light in color, and light in texture.

Spoon the filling into the cooled crust and level off the top with an angled spatula. Cover with plastic wrap and refrigerate for at least 2 hours.
Make Whipped Cream
To make the whipped cream, pour the heavy cream into the bowl of a stand mixer fitted with the whisk attachment. Add the powdered sugar and vanilla. Whip on high until stiff peaks form. Spoon the whipped cream over the top of the chocolate filling OR fill a pastry bag fitted with an open star tip and pipe stars or rosettes on top of the pie. Garnish with chocolate shavings or curls, if desired.
Notes
Pie will keep covered in the refrigerator for 3-4 days.  It also can be frozen without the whipped cream topping for up to 3 months.    
Inspired by the original Pillsbury recipe from Betty Cooper and Joanna Gaines' recipe in her cookbook, Magnolia Table, Volume 2.