Move over, Thomas' English Muffins! We got tired of waiting for you to come up with a gluten free muffin, so we made one ourselves! These gluten free English muffins rival yours with all the nooks and crannies we've been missing 🙂
My husband grew up in Pennsylvania, which is a huge area for English muffins, specifically Thomas' English muffins. He couldn't stop oohing and ahhing when I made my own gluten free version and served them for breakfast one morning. He said they were "amazing!!"
Then he went on to state "you should contact Thomas' and tell them you have a gluten free version of their English muffins they should sell." Haha! I love how much he supports me in everything I do! (On a side note, he does not need to eat gluten free, just loves what I make gf so he eats it willingly)!
What Are English Muffins?
If you've been living under a rock or aren't in America, you don't know what an English muffin is. But where in the world did they come from? Samuel Thomas, an Englishman who emigrated to the US many years ago, opened a bakery. He invented "toaster crumpets," which were like regular English crumpets but pre-cut (fork split) so that they could pull apart easily.
The toaster crumpets were a huge hit and Thomas' English Muffins were born! Many people have made homemade versions of these, but the Thomas' recipe is closely guarded.
Big name commercial bakeries rarely devote time to making gluten free versions of their products (maybe one day they will-fingers crossed), so we've got to come up with our own plan. And these gluten free English muffins are just perfect, and technically could also be called Thomas' English Muffins (my last name is Thomas)!
My Favorite Tools for Making English Muffins
Neither of these are absolutely necessary in making gluten free English muffins. However, I do feel they make things a lot easier in creating the best muffins possible.
An electric skillet. I've used an electric skillet for many years, just like my mom, mainly for braising meats. For the sake of English muffins, it works so well because it almost acts like an oven and skillet all in one. It's absolutely perfect for making English muffins. However, if you don't have an electric skillet, you can always use a skillet that has a tight-fitting lid. I personally like the fact that you can know the exact temperature of what you're cooking with an electric skillet.
English muffin rings. These rings help make your homemade gluten free English muffins neat and tidy and perfectly round. Of course, it doesn't really matter as long as they taste great. If you want nice and round muffins, I'd suggest getting these, though. They're cheap, and they're great for other uses as well, such as perfect pancakes or as an egg mold.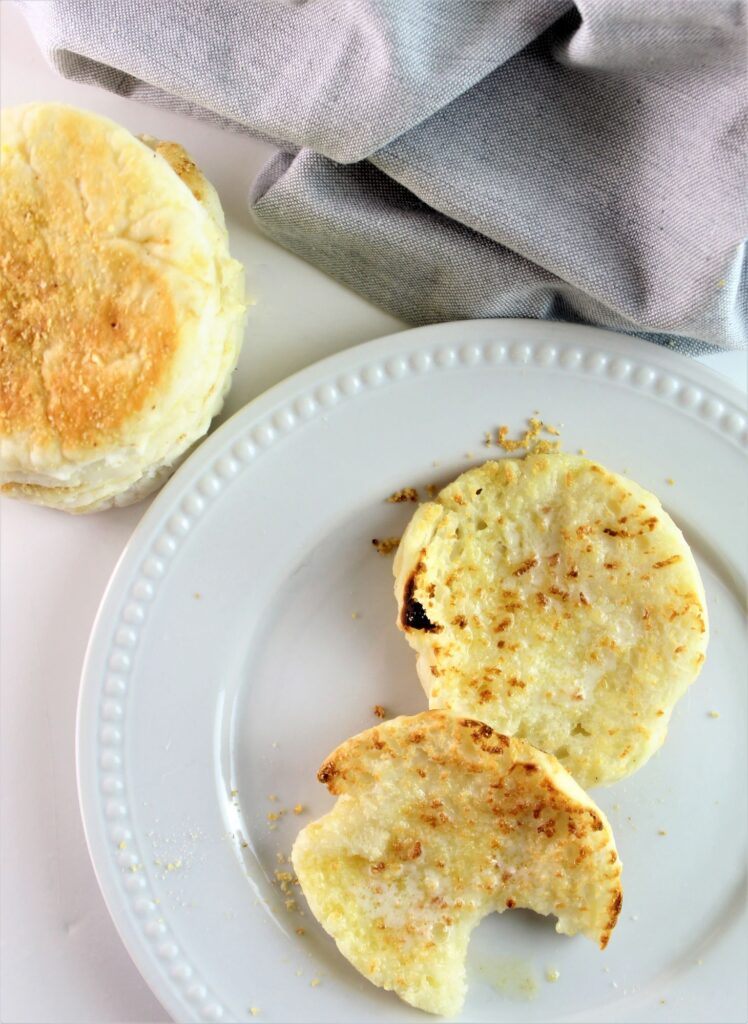 How To Make Gluten Free English Muffins
You really won't believe how incredibly easy it is to make these English muffins! There's no kneading of the dough after initial mixing, and there's no second rise. Take the dough straight from the fridge and scoop it into your skillet (electric or otherwise). In less than 20 minutes you'll have freshly "baked" English muffins!
Mix the dough in a stand mixer OR with a handheld mixer. This is such a loose high-hydration dough that it can even be mixed with a spoon by hand (you'll get a workout for sure). Let the dough rise in a warm-draft free area for two hours or until doubled in size. It will be very puffy and filled with holes. Refrigerate the dough for at least 4 hours.
Heat an electric skillet to 250 degrees F (or a skillet on your stove top over medium low heat). Melt a couple tablespoons of butter in skillet and place pre-greased muffin rings in skillet. Sprinkle bottoms with gluten free cornmeal and spoon dough into molds. Sprinkle tops with cornmeal. Cover with lid of electric skillet or tight-fitting lid and "bake" for about 7-8 minutes.
Remove cover, carefully flip rings and muffins over and "bake" for another 7-8 minutes. You can divide and add the other 1 tablespoon of butter over the tops of the muffins before you flip them if you'd like, but it's not necessary.
Remove the cover and carefully remove the rings from the muffins using tongs. They should slide right out if you sprayed them with cooking spray before baking. Replace lid and continue to "bake" for another couple of minutes.
Make sure to fork split your gluten free English muffins so you'll get all those great nooks and crannies. That's the best part of an English muffin wouldn't you say? They're like little pockets for holding melted butter or anything else you wanna put on 'em 🙂
Gluten Free English Muffins
These gluten free English muffins rival Thomas' with all the nooks and crannies we've been missing 🙂
Ingredients
3¼

cups (455 g)

Kim's gluten free bread flour blend

1

tbsp plus 1 tsp (16 g)

granulated sugar

2

tsp

kosher salt

2

tsp

rapid rise (instant or bread machine) yeast

2½

cups (600 ml)

whole milk

4

tbsp

butter, melted

about ½

cup

gluten free cornmeal for sprinkling

2

tbsp

butter, for frying/baking
Instructions
In a large bowl, weigh bread flour, sugar, salt, and yeast.  Whisk to combine.  Using a stand mixer with the beater blade or a handheld mixer, turn on low and slowly pour in milk and butter.  Increase speed to medium and beat for 5 minutes.  

Cover the bowl with plastic wrap and place in a warm, draft-free area until doubled in volume, about 2 hours. Refrigerate for at least 4 hours or up to 7 days.

Spray insides of muffin rings(if using) with nonstick spray. Heat an electric skillet (or a skillet with a lid) to medium low (about 200-250) and add 1 tbsp butter.  Place muffin rings on top of melted butter and sprinkle each with cornmeal. Spoon dough into muffin rings (don't fill completely to the top as the muffins will expand to fill the rings). Sprinkle more cornmeal on top of dough in each ring. Cover the skillet and cook for about 7-8 minutes.  When bottoms are browned, divide 1 tablespoon of butter over tops of muffins, if desired, and carefully flip over and, using tongs. Place lid back on skillet and continue to cook for another 7-8 minutes. 

Remove the lid and, using tongs, carefully remove the rings from each muffin. They should slide out easily if you greased the rings. Replace the lid and continue to cook for another 1-2 minutes, just to get the sides fully "baked."

Remove the muffins from the skillet and allow to cool fully before fork splitting and toasting.
Notes
If you're not opting to use muffin rings, simply sprinkle cornmeal into melted butter and spoon dough in small rounds in skillet.  They won't be as uniform and pretty, but they'll still taste great!
***DISCLAIMER:  The reason I created my own flour blends is because I could not obtain the results I wanted with flour blends that were available in stores, online, or from other gluten free bloggers.  My recipes have been developed to be used with my own bread flour blend that I created after painstakingly testing for, in some cases, YEARS to develop what I believe to be a superior gluten free bread like no other.  If you do not use my gluten free bread flour blend for this recipe, I cannot speak for the results you will obtain.    While store bought blends may give you a satisfactory result, they may NOT give you the results intended in my recipe.