Gluten free classic tiramisu, made with homemade gluten free ladyfingers, is the ultimate Italian coffee dessert that's creamy and dreamy!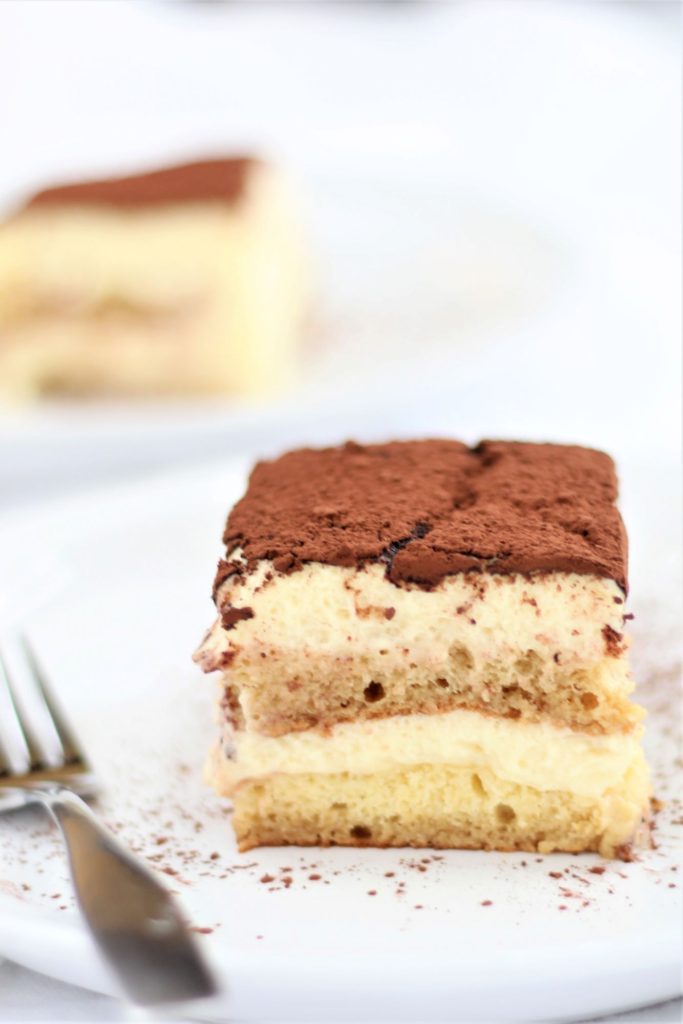 How long has it been since you've had tiramisu? Months? Years? Decades maybe? I can remember having tiramisu at a local Italian restaurant not long before I was diagnosed with Celiac. The creaminess of it and the coffee/chocolate flavor was unforgettable.
My biggest goal with this little blog of mine has always been to offer gluten free versions of the foods we loved eating before we had to go gluten free. And I've been steadily making my way through the LONG list of those foods, adding more to that list nearly daily so it's never ending. Tiramisu was one of the first things on my list because the taste still lingered on my tongue from that Italian restaurant.
The first hurdle we had to jump over was making our own gluten free ladyfingers. However, if you're just not into taking the little amount of time necessary to do that, you can always buy the Schar ladyfingers (affiliate link). They are about as good as homemade, when you can find them. Short from ordering them online, they can be very difficult to find, though.
Is There Cream in Tiramisu?
I'll be honest and state that I had never made tiramisu pre Celiac so I didn't know exactly what went into it. All I knew is that there must be cream in it because it's so creamy and smooth. I knew it was made with mascarpone, but there had to be something more to it.
So I started researching and what I found was that true (authentic) Italian tiramisu is not made with cream at all! That was shocking to me. What makes it creamy, aside from the mascarpone, is eggs. Classic tiramisu uses uncooked eggs to make it light and creamy. In fact, what I've found is that most Italian restaurants use raw eggs and have a disclaimer on the menu about consuming raw eggs.
I really wanted to make authentic tiramisu so I found a recipe and adapted it to be gluten free, just by subbing my gf homemade ladyfingers. Made the traditional way, it's incredibly easy and takes no time at all. If you're not down with using raw eggs in your tiramisu, don't worry. I have some suggestions below.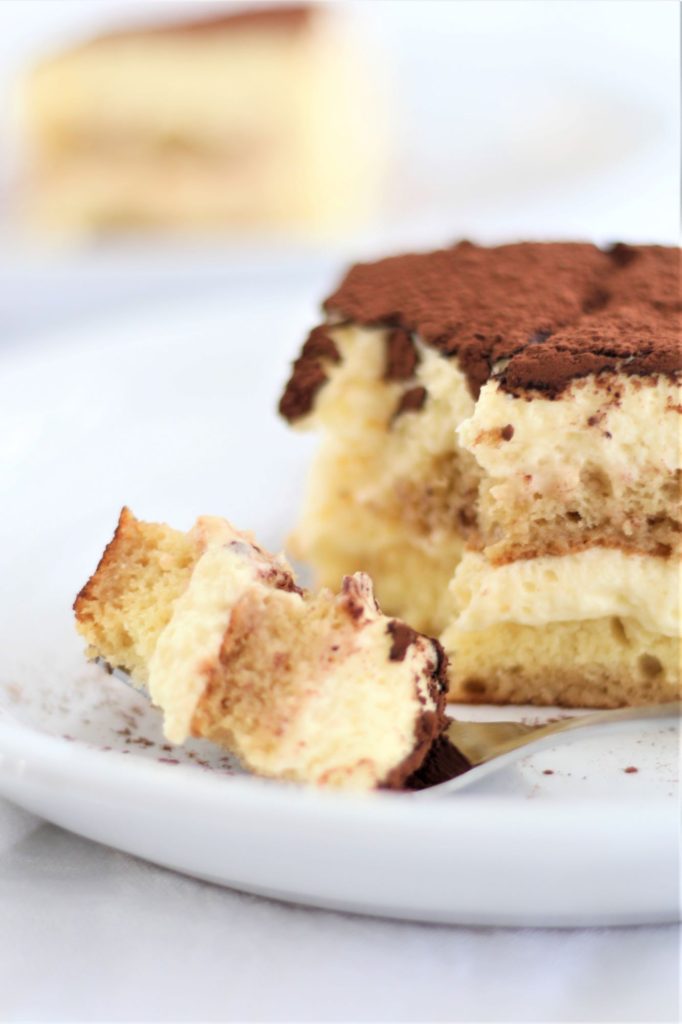 The Ingredients in Gluten Free Classic Tiramisu
For such a sophisticated dessert, there is surprisingly just a handful of ingredients. Here's the lineup:
Eggs–I found pasteurized eggs at my local Walmart, which are gently heated in the shell to kill bacteria, but not to actually cook the eggs. You don't have to use pasteurized eggs if you have no health concerns for eating raw eggs.
Sugar
Mascarpone cheese–you CAN substitute cream cheese if you have to, but, honestly, I wouldn't. There is such a HUGE difference between cream cheese and mascarpone in taste and texture (in my opinion).
Espresso or very strong coffee
Amaretto–if you don't have amaretto or are adverse to it, try Grand Marnier, rum, Kahlua, or another liqueur. Amaretto is one of my favorite liqueurs and combined with coffee and chocolate, it's divine!
Gluten free ladyfingers–store bought or homemade (you'll find my recipe here).
Unsweetened cocoa powder, for dusting the top–I used Dutch processed cocoa, Hershey's Special Dark (affiliate link) to be exact.
Alternative to Using Raw Eggs
If you're not inclined to use raw eggs for health reasons or just personal preference, or you can't find pasteurized eggs, no worries. Place the raw egg yolks with the 1/2-cup of sugar in a large heat-proof bowl set over a small pot filled with about one inch of simmering water. Make sure the bottom of the bowl isn't touching the water.
Whisking constantly, gently heat the egg/sugar mixture for about five minutes, or until the sugar is dissolved. If you have an instant read thermometer, it should read 165 degrees F. Remove from the heat and whip the mixture until it's doubled in volume and light in color. Proceed with the recipe as instructed, but use pasteurized egg whites from a carton.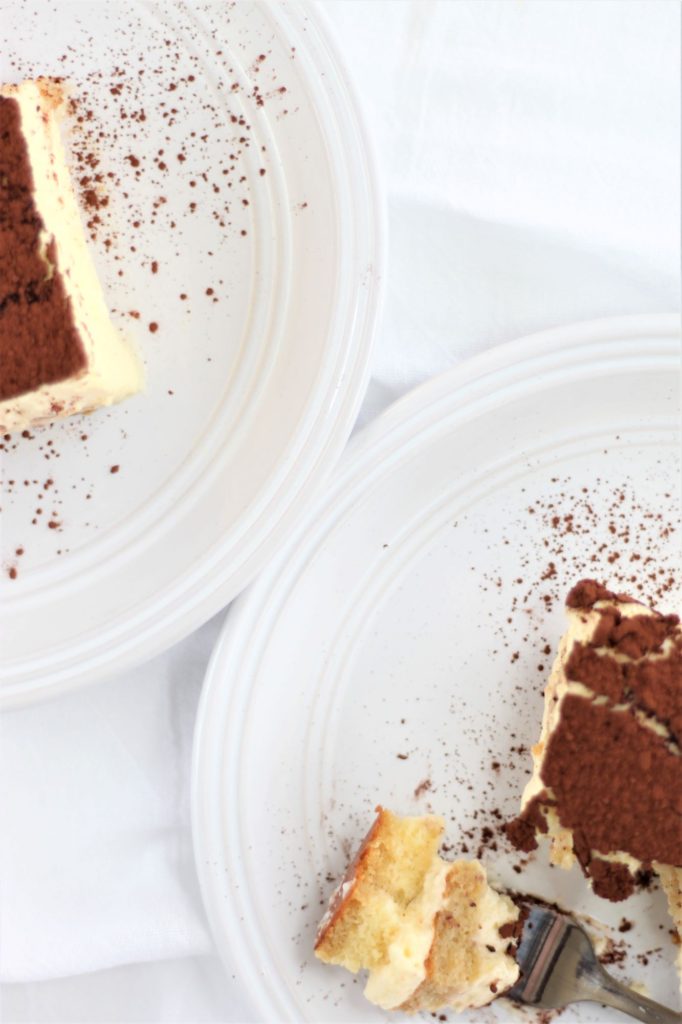 Once you taste this gluten free classic tiramisu, you will fall head over heels in love with it!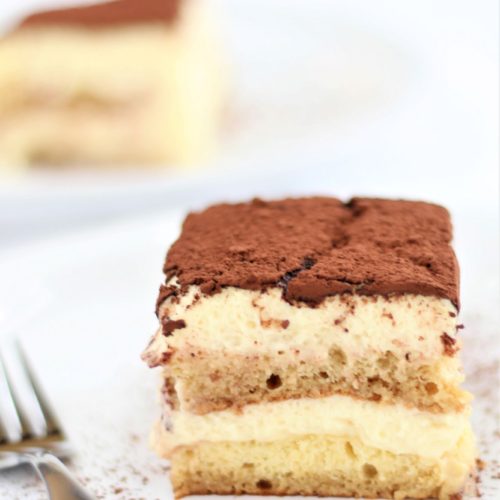 Gluten Free Classic Tiramisu
Gluten free classic tiramisu, made with homemade gluten free ladyfingers, is the ultimate Italian coffee dessert that's creamy and dreamy!
Ingredients
6

large

eggs, separated and at room temperature

1½

cups (300 g)

granulated sugar, divided

2

8-ounce containers (452 g)

mascarpone cheese, at room temperature

1½

cups (360 ml)

espresso or strong coffee, divided

¼

cup plus 2 tbsp (90 ml)

amaretto, or another liqueur of choice, divided

24-28

gluten free ladyfingers

(homemade or store bought)

unsweetened cocoa powder, for dusting

(Dutch processed preferred, such as Hershey's Special Dark)
Instructions
In the bowl of a stand mixer, whip the egg whites into soft peaks (white and foamy but not yet holding a peak). Slowly add ½ cup of sugar and continue to whip until stiff peaks form (a peak will stand straight up in a point when the whisk attachment is held up). Transfer the egg whites to another bowl.

In the same bowl, using the same whisk attachment, beat the egg yolks and ½ cup of sugar until thick and lighter in color, approximately 2-3 minutes. When the whisk is lifted from the bowl, the yolks should leave a ribbon-like trail. Add the mascarpone cheese, 1 tablespoon of the coffee, and 2 tablespoons of the amaretto (or liqueur of choice) and continue to beat until completely smooth and thick, 1-2 more minutes.

Fold ⅓ of the egg whites into the egg yolk mixture to lighten, then add the rest of the egg whites and continue to fold until smooth and light. Set aside.

In a wide, shallow bowl, mix together the espresso or coffee, the rest of the amaretto (¼ cup), and the rest of the sugar (½ cup).

Dip half the ladyfingers, top and bottom, quickly into the coffee mixture and arrange onto the bottom of an 11 by 7-inch baking dish. If you don't have this size baking dish, you can use a 9 by 13-inch dish, but the finished tiramisu won't be as tall.

Scoop half of the cream mixture onto the ladyfingers and spread into an even layer. Top with the other half of the ladyfingers that have been quickly dipped in the coffee syrup.

Top the final layer of ladyfingers with the rest of the cream mixture and use an offset spatula to smooth the top evenly. Cover with plastic wrap and refrigerate overnight.

When ready to serve, scoop a small amount (1-2 tbsp) of cocoa powder into a small sieve and sift over the entire surface of the tiramisu. Cut into large squares and use a spatula to remove from pan. Serve cold. Tiramisu will keep in the refrigerator, well covered, for 2-3 days.
Adapted from Disney Parks Blog