Oh, to be able to stop at Hardee's and get a cinnamon raisin biscuit. We know it'll probably never happen, so we'll just have to make gluten free cinnamon raisin biscuits at home (at least we can stay in our pajamas)!!
Does anyone miss convenience as much as I do? I LOVE to bake, but I'm not as fond of cooking meals and would rather someone else do that for a change. Don't get me wrong. I can cook pretty much anything (for the most part), but to me cooking is more of a chore. Baking, on the other hand, is my passion and "fun" to me.
But when it comes to needing to eat a meal, it'd be really nice if someone else cooked it for me every once in a while. Ya know what I mean? That's one of the many reasons I love going to Disneyworld. There I can enjoy myself and not worry about cooking ANY of my meals, and also not worry about getting "glutened."
So when a weekday morning comes about and I'm busy, I don't want to stop and cook breakfast. But if I make something like these gluten free cinnamon raisin biscuits, I can have them already on hand so that all I have to do is pop 'em in the microwave for a few seconds and I've got a quick, but tasty breakfast!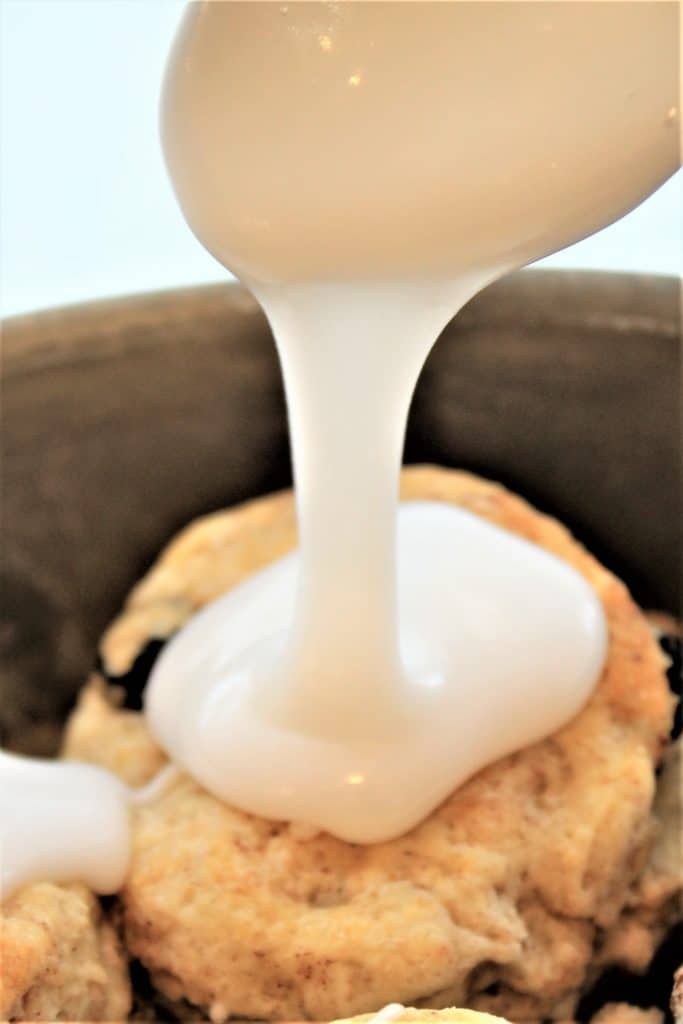 THE HARDEE'S COPYCAT BISCUIT
I loved stopping at Hardee's to get a breakfast biscuit sandwich or a cinnamon raisin biscuit years ago. Before Chick-Fil-A, Hardee's was the place to go for a decent fast food breakfast stop, especially after a late night out. But I doubt they'll ever offer a gluten free cinnamon raisin biscuit, so we'll just have to make it ourselves!
This recipe starts with my regular gluten free biscuit recipe, which is an adaptation of Joanna Gaines' biscuit recipe from her cookbook, Magnolia Table. Adding just a few more ingredients and a glaze takes these from savory biscuits to sweet raisin-filled goodies! Here's the cast of characters:
Butter -- any good biscuit recipe begins with butter (or shortening, but I prefer the taste of real butter).
Gluten free flour blend -- I use my own (Kim's Gluten Free Flour Blend) to make these biscuits.
Baking powder -- helps the biscuits rise.
Eggs -- not a typical ingredient in biscuits, but I like eggs in gluten free biscuits because they help make the biscuits tender and moist and not fall apart.
Salt -- for flavor and to help the biscuits rise.
Buttermilk -- for flavor and moistness, to bring the dough together.
Sugar -- to make these sweet biscuits, I added a few tablespoons of granulated sugar.
Raisins -- I love how raisins in baked goods burst open when you bite into them!
Cinnamon -- cinnamon and raisins are a great combo!
Glaze -- gotta have that glaze to make them extra special. This one is made with two ingredients (powdered sugar and water).
CAN THE DOUGH BE MADE AHEAD OF TIME?
Yes!! You can make the dough ahead of time, and even cut out the biscuits and freeze them. Just roll out the dough, cut the biscuits, place them on a parchment-lined baking sheet, and freeze until solid. Remove the biscuits from the baking sheet and place in a gallon-sized freezer bag, removing as much air as possible.
Here's a little trick my mom, who is the freezer queen, uses all the time: close the ziptop bag to all but about one inch of the zipper. Put a straw in the bag at that opening and suck the air out of the bag, as much as possible. Quickly seal the rest of the bag. This works so well for freezing just about anything (without needing one of those machines that does it for you)!
Bake as little or as many as you'd like at a time from frozen (you'll need to add a few minutes to the baking time), and ice with the simple icing ingredients (that will keep on the counter in a sealed container for days).
Make these gluten free cinnamon raisin biscuits and stock your freezer with them. So when the urge strikes and you can't hit the drive-thru at Hardee's, you'll have something better!
Gluten Free Cinnamon Raisin Biscuits (Hardee's Copycat)
Oh, to be able to stop at Hardee's and get a cinnamon raisin biscuit. We know it'll probably never happen, so we'll just have to make gluten free cinnamon raisin biscuits at home (at least we can stay in our pajamas!!
Ingredients
4

cups (560 g)

Kim's gluten free flour blend

(or any blend with xanthan gum)

4

tbsp (45 g)

baking powder

3

tablespoon

sugar

1

tablespoon

cinnamon

1

teaspoon

salt

1

teaspoon

baking soda

3

sticks (¾lb or 339 g)

butter, cold and cut into ¼-inch slices

2

large

eggs, cold

1¾-2

cups

buttermilk, cold

1

cup

raisins
GLAZE
2

cups (250 g)

powdered sugar

2-4

tablespoon

water
Instructions
In a large bowl, whisk together flour, baking powder, baking soda, cinnamon, sugar, and salt.

Add the butter pieces and either using a pastry blender or your hands (I use my hands) flatten each piece of butter and mix with the flour mixture until butter is about the size of a large flattened bean (not a small pea-sized shape). Toss raisins into butter/flour mixture.

Mix together buttermilk and eggs and slowly pour into flour/butter mixture, using a fork to combine. You may or may not need all of the liquid. You're looking for a fairly wet and sticky dough. If you've added all the liquid and the dough hasn't come together yet or isn't wet enough, add about a tablespoon at a time more buttermilk to reach this consistency.

Cover the bowl with plastic wrap and place in the refrigerator to chill for at least 30 minutes, or up to overnight.

When ready to make biscuits, preheat oven to 400°. Remove bowl from the refrigerator and dump out onto well-floured surface. Knead slightly to bring it all together.

Roll dough out to about ¾ of an inch thick. Cut with round biscuit cutter and place in a round baking dish (a ceramic dish works great) or a parchment-lined baking sheet with sides of biscuits touching.

Bake for about 30-35 minutes, or until lightly browned and well risen. Cool on wire rack.

In a small bowl, whisk together glaze ingredients (only adding enough water to create a thick pourable glaze). Drizzle on warm rolls and serve.
Notes
*To freeze unbaked biscuits, cut out biscuits and place on parchment-lined baking sheet.  Freeze until solid.  Place in plastic gallon-sized ziptop bag, removing as much air as possible (see post).  When ready to bake, remove as many biscuits as you'd like and bake at 400 degrees for 35-40 minutes from frozen.  
**To freeze baked biscuits, freeze biscuits in ziptop bag, removing as much air as possible.  Reheat wrapped in a paper towel in microwave for 30 seconds at a time until warmed.