Deep, dark, and decadent, this Gluten Free Chocolate Fudge Bundt Cake is easy to make, but ticks all the boxes for chocolate cravings!
So I might have mentioned in the past that I love Bundt pans. I seem to have a bit of a collection going now. Of course with the love of the pan itself comes the love of the actual cakes that are made in them! For the life of me, I don't know why I didn't really think anything of Bundt cakes until a few years ago. I think it could have been because I had a pretty dry slice of one once. But this cake more than makes up for that.
THE BEAUTY OF THE BUNDT
What I've really fallen in love with about a Bundt cake is, for one, how easy it is to make. Mix it all together in one bowl, pour into the Bundt pan and bake. When it's unmolded, it has it's very own decoration built in. Some of the Bundt pans are so elaborate now with their swirls (like this one), geometric shapes, crowns, rose shapes, mountains, you name it. They don't really need additional adornment, although a little glaze never hurt anyone.
I also love that it has a hole in the middle. I suppose the hole is there for easy slicing, but I always think of that hole as an extra spot to catch any extra glaze, haha! Of course, you could always put the cake on a wire rack to let the glaze drip below, but WHY WOULD YOU DO THAT? Doesn't everyone want more glaze pouring out from the middle?
ingredients needed to make gluten free bundt cake
cake ingredients
Unsweetened cocoa — a good portion of unsweetened cocoa helps flavor this cake with that really chocolatey flavor that's unmistakable.
Chocolate chips — you could leave these out, but I like them not only for the chocolate flavor, but also for that little bit of crunchy texture when biting into this cake.
Chocolate fudge dry pudding mix — the dry pudding mix is what makes this an ultra fudgey chocolatey cake.
fudge icing ingredients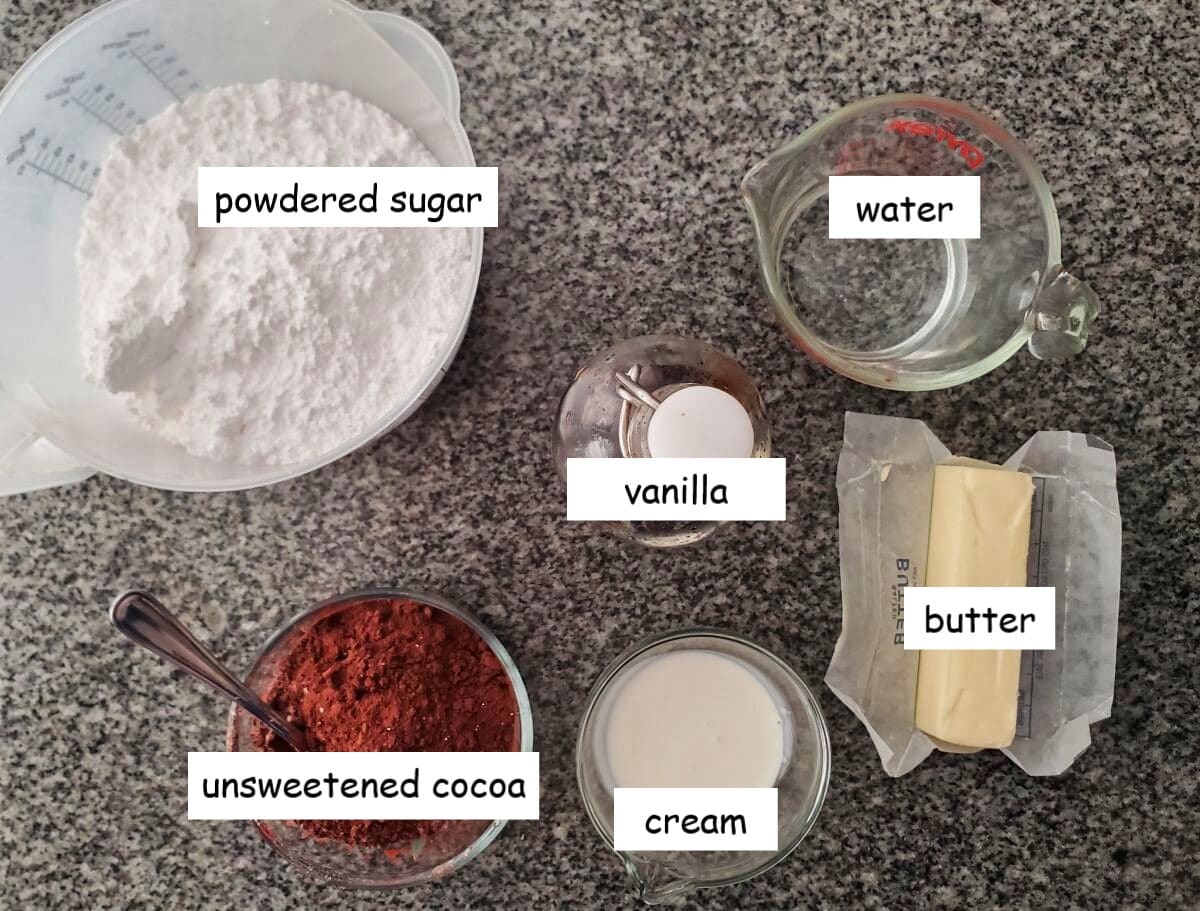 Unsweetened cocoa powder — for the ultimate in chocolatey goodness, I used Dutch processed cocoa powder. You can use regular (natural) unsweetened cocoa if you'd prefer.
Powdered sugar — for best results, sift your powdered sugar before adding it in.
how to make gf chocolate fudge bundt cake
Beat sugar, butter, and vanilla in bowl of electric mixer until light and fluffy.
Add eggs, one at a time, beating well after each.
Sift together all dry ingredients in a large bowl. Turn the mixer to low and add the dry ingredients, alternating with the buttermilk, beginning and ending with the dry.
Stir in the chocolate chips. Batter will be very thick.
Scoop batter into greased and floured Bundt pan. Smooth the top and bake at 350 F for 30 minutes. Turn the temperature down to 325 F and continue to bake for another 30-50 minutes, checking at the second 30-minute mark. If toothpick inserted into center comes out with a few fudgy crumbs attached, remove the cake from the oven.
Allow cake to cool in pan for 30 minutes before turning out onto cooling rack to finish cooling completely.
Make glaze and pour glaze over top of cooled cake.
tips for making the best chocolate fudge Bundt cake
This cake is a really large cake. If you don't have a large Bundt pan (10-12 cup), you may need to bake some of the cake batter in another small pan, such as an 8-inch round. If you do this, baking time would be most likely about 25-30 minutes for the small cake. Begin checking at about the 20-minute mark.
Grease AND flour the Bundt pan. Because of the intricacies of Bundt pans, greasing alone doesn't always work. You can either take a little extra gf AP flour to flour the pan after greasing, or you could also dust the pan with unsweetened cocoa.
Allow the cake the proper time to cool in the pan before flipping it out onto the rack to cool. By not doing so, you risk the cake completely falling apart and no one wants that. It'll still be delicious, but it won't look pretty!
For the ultimate in fudginess, make the fudge glaze right before serving, pour it over the cooled cake, and serve any extra with a slice. Or over ice cream. Or both (on the same plate even!)
more gluten free chocolate cake goodness
This chocolate fudge Bundt cake is so dense and chocolatey, it's almost like a cross between fudge and cake. There's an explosion of chocolate with every bite and a big 'ole glass of milk would be welcome to wash all that chocolatey goodness down!
Gluten Free Chocolate Fudge Bundt Cake
There is always a place for chocolate in my world and this gluten free chocolate fudge bundt cake is so easy and so decadent.
Ingredients
FOR THE CAKE:
2

cups (400g)

granulated sugar

1

cup (226g)

butter, softened

1½

tsp

pure vanilla extract

3

large

eggs, at room temperature

2¼

cups (315g)

Kim's all purpose gluten free flour blend a store bought blend may be substituted, but hasn't been tested

¼

cup (30g)

cornstarch

1

cup (118g)

unsweetened cocoa powder

2

tsp

baking soda

½

tsp

salt

1

small box (3.4 oz or 96g)

instant chocolate pudding mix

2½

cups (600ml)

whole fat buttermilk, at room temperature

1

cup (175g)

semi-sweet chocolate chips, optional
FOR THE CHOCOLATE ICING:
½

cup (120ml)

water

½

cup (113g)

butter

1

tsp

vanilla

1

cup (118g)

unsweetened cocoa powder

3½

cups (420g)

powdered sugar

3

tbsp

heavy cream
Instructions
FOR THE CAKE:
Sift flour, cornstarch, cocoa powder, baking soda, salt, and chocolate pudding mix in a medium bowl and set aside.  

Preheat oven to 350° F.  Grease and flour 10-12 cup Bundt pan and set aside.

Beat sugar, butter, and vanilla in bowl of electric mixer until light and fluffy, 3-4 minutes.

Beat in eggs, one at a time.  Scrape down sides of bowl.  

Alternate adding dry ingredients with buttermilk, beginning and ending with dry ingredients.

Stir in chocolate chips.  Batter will be very thick. 

Scoop into prepared Bundt pan and smooth the top. If you don't have a Bundt pan big enough, pour the rest of the batter into a 6-8-inch round cake pan or lined cupcake tins.

Bake Bundt cake for 30 minutes.  Turn oven down to 325° F and continue to bake for another 30-50 minutes, or until a toothpick inserted into center comes out with a few cake crumbs attached to it.  (Check at about the one-hour mark so it doesn't overbake). If baking a separate 8-inch cake, check at about 20-25 minutes, but it may take as long as 30-35.

Cool cake in Bundt pan for at least 30 minutes.  Turn out onto a cooling rack and allow to cool completely.
FOR THE ICING:
Heat water, butter, and vanilla in a medium saucepan over medium low heat until melted.  

Remove from heat and slowly stir in cocoa and powdered sugar.

Stir in heavy cream, up to 3 tbsp (or more) until you get the desired pourable consistency.

Pour icing over cake. Icing will harden as it cools.
This post was originally published on November 15, 2018. It has been updated with new photos, new tips and tricks, and a new video.