This Gluten Free Cheese Ravioli is better than any store bought ravioli you'll find and is easier to make than you'd think.
Some of the items linked in this post are affiliate links, meaning, at no additional cost to you, if you click through and make a purchase, I will earn a small commission.
Do you miss cheese ravioli? Or any ravioli for that matter? Or even any stuffed pasta in general? It doesn't have to be ravioli per se. I used to love buying cheese tortellini and making a simple garlic olive oil sauce to serve it with. Kinda like aglio e olio, but with tortellini.
Well, fear not my gluten free friends because we can have any stuffed pasta we want now! Whatever we can dream up, we can make and cheese ravioli is a great place to start, wouldn't you say? They're easier than you would think to make. But more importantly, they're oh so good that even your gluten-eating family members will think they're better than any store bought (or restaurant) ravioli!
here's what you'll need to make cheese ravioli filling
Ricotta cheese–I NEVER buy ricotta cheese because I've been spoiled by making my own and it BLOWS store bought (grainy) ricotta out of the water! See just how to make it here.
Gluten free pasta dough–it's not pictured above, but my pasta dough is unbelievable and so easy to make. You don't need a pasta roller (affiliate link), although they are nice to have if you're planning on making lots of pasta.
Roasted garlic–if you can, try roasting your own garlic for these ravioli because it delivers a different flavor punch that you wouldn't expect from any old cheese ravioli.
how to make gluten free ravioli
Make the pasta sheets (see my homemade gluten free pasta dough post).
Combine the filling ingredients in a food processor (or large bowl). Process until filling is smooth. For best results, place filling in pastry bag.
Pipe filling in tablespoon portions onto pasta sheets, leaving room in between to seal.
Taking your finger or a pastry brush dipped in water, swipe water completely around the filling for each ravioli.
Place another sheet of pasta carefully over the filled sheet and press in between each filling portion to seal, pressing out as much air as possible.
Cut using a ravioli cutter (affiliate link) or a pastry wheel (affiliate link). Excess pasta scraps may be rerolled.
Place ravioli on lightly floured baking sheets and cover loosely with plastic wrap. Set aside or refrigerate until ready to boil and serve.
gluten free ravioli frequently asked questions
Can you make gluten free ravioli without a pasta roller attachment?
Yes, you can make gluten free ravioli with just a rolling pin. Divide the pasta dough into fourths and roll out onto a well-floured surface until it's to your desired thickness.
Do you need a special pasta cutter for gluten free ravioli?
No, you don't need a special pasta cutter to make gluten free ravioli. A pizza wheel, pastry wheel, or even a sharp knife will do the trick!
How do you store fresh gluten free ravioli?
It's best to serve pre-made gluten free ravioli in the freezer. Place individual ravioli on a parchment-lined baking sheet and freeze until solid. Store frozen ravioli in a ziptop bag or well-sealed container. Freeze for up to six months.
more gluten free pasta recipes
No need to hunt everywhere for gluten free cheese ravioli because now you can make it. And it will be WAY better than any store bought variety you'll find!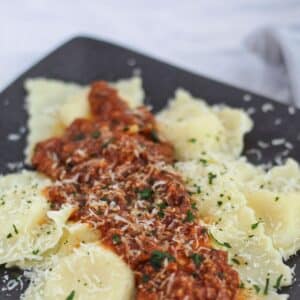 Gluten Free Cheese Ravioli
This Gluten Free Cheese Ravioli is better than any store bought ravioli you'll find and is easier to make than you'd think.
Ingredients
Cheese Filling
16

ounces (454g)

fresh ricotta cheese

(store bought may be substituted)

4

ounces (113g)

shredded mozzarella

2

ounces (56g)

freshly grated Parmigiano Reggiano

1

large

egg

pinch of nutmeg, optional

1

tsp

salt

½

tsp

black pepper

1

head

roasted garlic, recipe follows
Roasted Garlic
1

head

garlic, top sliced off horizontally

1

tbsp

olive oil

salt and pepper
Instructions
Roast Garlic
Preheat oven to 375° F. Place garlic head on a small sheet of foil and drizzle olive oil over cut top. Sprinkle with salt and pepper. Wrap well and place in oven for 45 minutes, or until garlic is soft and browned. Cool.
Make Pasta
Pulse flour blend, tapioca starch, and salt in food processor to combine. Add eggs, egg yolks, and olive oil and pulse until mixture is crumbly and like wet sand. With processor running on low speed, stream in water, one tablespoon at a time, until the dough begins to ride the blade and form a ball on top of the blade. You may or may not use all of the water. Dough should be tacky.

Knead on lightly floured surface into a smooth, round ball and wrap in plastic wrap. Let rest on counter to hydrate the flours for 30 minutes.

Divide dough in half and, using a rolling pin or your hands, roll or flatten to about ¼ inch thickness. Cut this in half and roll each half through pasta roller until desired thickness is achieved (changing the settings on your pasta roller machine as necessary–see video for further details). If you don't have a pasta roller machine, you may roll the pasta dough out on a lightly-floured surface using a rolling pin.

Keep sheets of pasta dough covered with plastic wrap while you make the filling.
Make Cheese Filling
In a food processor or a large bowl, combine all filling ingredients and mix well. Spoon into pastry bag or large ziptop bag with one corner cut.
Fill and Form Ravioli
Lay one sheet of pasta down on your counter. Pipe or dollop one tablespoon-sized portions of the filling approximately one inch from the sides and one inch apart onto pasta sheet. Take a pastry brush or your finger dipped in water and lightly brush all areas of pasta dough with water (in between each tablespoon of filling). Cover with another sheet of pasta dough that's the same size. Press out as much air in between each ravioli.

Using a pastry wheel or ravioli wheel, cut in between each ravioli to form a square. If there's excess dough, you may trim this off and reroll the scraps. Keep individual ravioli covered on a lightly-floured baking sheet in one layer until all ravioli have been filled. If making ahead, well wrap the baking sheet with plastic wrap and freeze until ready to boil.
Boil Ravioli
Drop ravioli into heavily salted boiling water and boil for about 3 minutes, or until desired doneness (ravioli will take less or more time depending on the thickness of your pasta). Serve immediately. For fully frozen ravioli, add a few minutes to boiling time.

Freeze leftover ravioli on a parchment-lined baking sheet in a single layer until solid. Store in a well-sealed container for up to six months.
Did you make this recipe? Snap a pic and tag @letthemeatglutenfreecake on Instagram so I can see your creation!