Crispy on the outside, filled with creamy and sweet ricotta. Finally we can enjoy a gluten free cannoli and not feel left out!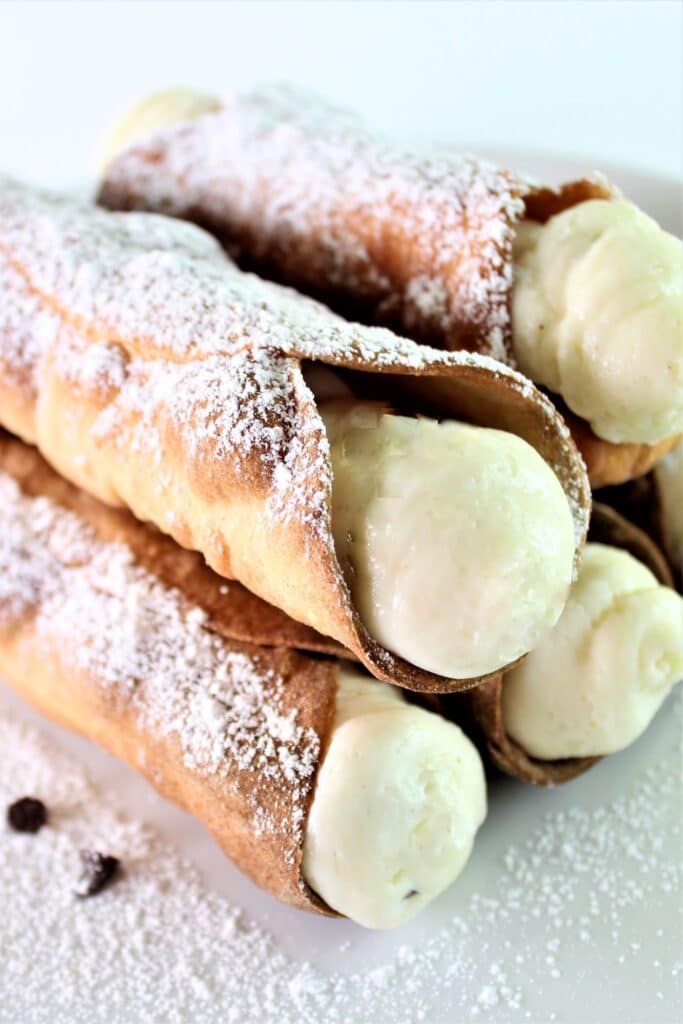 "Leave the gun, take the cannoli." The famous line from The Godfather. They've just whacked someone who betrayed the family, and the only thing they seem to be worried about is leaving the cannoli behind. Nothing personal. Just business in the life of the Corleone family.
Movies aside, the cannoli is probably one of the most beloved Italian desserts for good reason. Those shatteringly crispy outer shells are filled with a creamy, smooth and slightly sweet ricotta filling. Sometimes they're stuffed with mini chocolate chips or shaved chocolate, other times with candied orange peel. Sometimes they're rolled in chopped pistachios or maraschino cherries.
Those of us in America love them, and it's one of the many foods I personally mourned the loss of when I found out I had Celiac. Well, now I'm no longer in mourning as I can have a cannoli whenever I want!
The Dough for Gluten Free Cannoli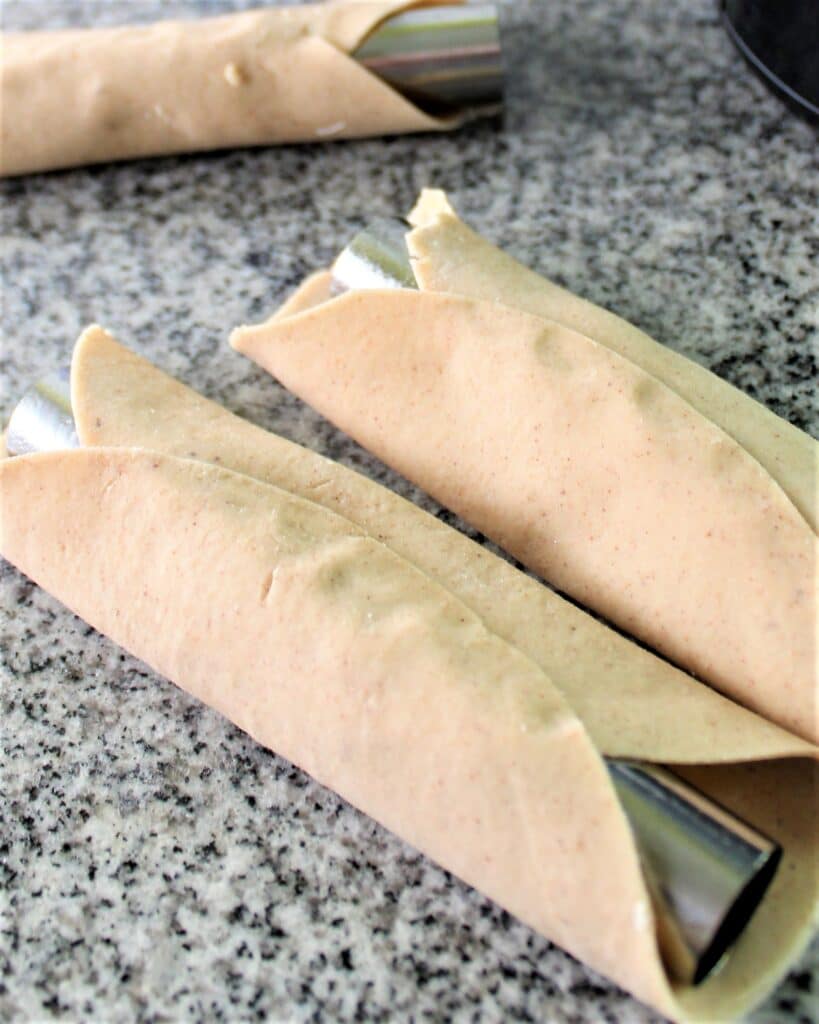 The dough for these homemade gluten free cannoli is very easy to make and can be pulled together by hand or with an electric mixer. Let's start with the ingredients:
Whisk together the dry ingredients and then add the butter and egg yolks and blend until well combined. Slowly add the Marsala (or grape juice) just until dough comes together. You may not need all of the Marsala.
Wrap the dough in plastic wrap and let it sit at room temperature for about 30 minutes, just to hydrate the flours.
Rolling and Cutting
When rolling out the dough, you want to make sure you get it as thin as possible, almost see through. It's a nice, stiff dough and can be rolled very thin with little extra flour required.
This (affiliate link) is the cutter I use to cut out my cannoli, which makes a nice large cannoli. But a 4-inch cutter like this one (affiliate link) would work great as well with smaller results, but still delicious! I like to bend my round cutter slightly so it creates an oval (saw Buddy Valastro do this).
Reroll scraps and cut out as many circles (ovals) as you want. The dough makes enough for a TON of cannoli, so you can either halve it or put the rest of the dough in the freezer (well wrapped).
Wrap the dough loosely around the cannoli tube (affiliate link). If you don't wrap it loosely, it's likely to burst open. Seal the middle with a finger dipped in a lightly beaten egg white and press lightly to adhere.
Deep Fry OR Air Fry Gluten Free Cannoli Shells
If you really want to deep fry your cannoli shells, or if you don't have an air fryer, the option is still there for deep frying. Heat the oil to about 350 degrees F and carefully slide 3-4 cannoli at a time into the oil. Fry until golden and puffed, about 2-4 minutes. Remove with tongs or a spider and place on paper towels to drain. Carefully slide the cannoli forms from the middle and repeat.
But I was so excited when I first made these in the air fryer and they came out almost better than the deep fried ones!! I love some good 'ole deep fried foods, but if it can be done in an air fryer with less mess, less oil, and less hassle, I am ALL IN!!!!
Depending what air fryer you have, you'll have to play around with the temperature and time. This (affiliate link) is the air fryer I have if you're in the market for one. It has a huge (6 quart) frying basket with a removable divider in the middle (for frying different things at once). I love it and use it for all kinds of things! I've even put a whole chicken in it and it came out juicy with perfectly crispy skin!!
Before wrapping the dough around the tube, spray the tube lightly with cooking spray so it won't stick. Then spray the outside of each cannoli and the bottom of the fryer basket. After the air fryer has been preheated, place them in the basket and close it. Air fry for about 4-5 minutes, or until golden brown and puffed. Remove with tongs.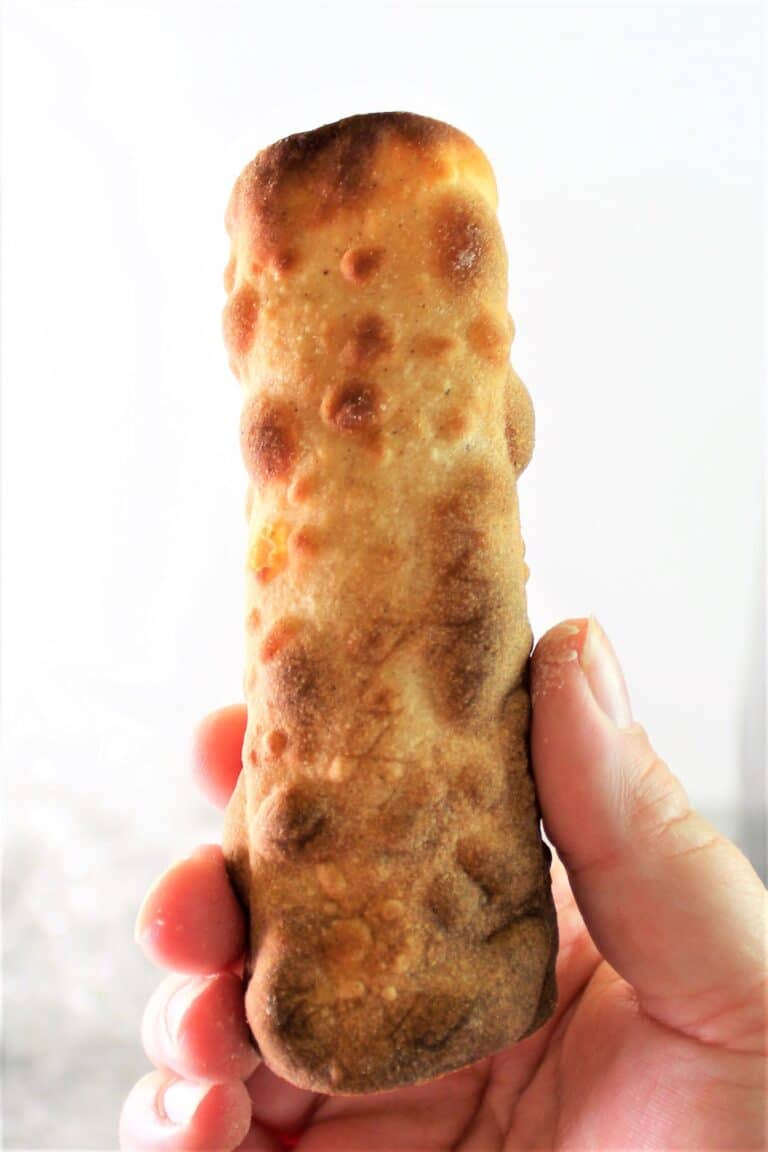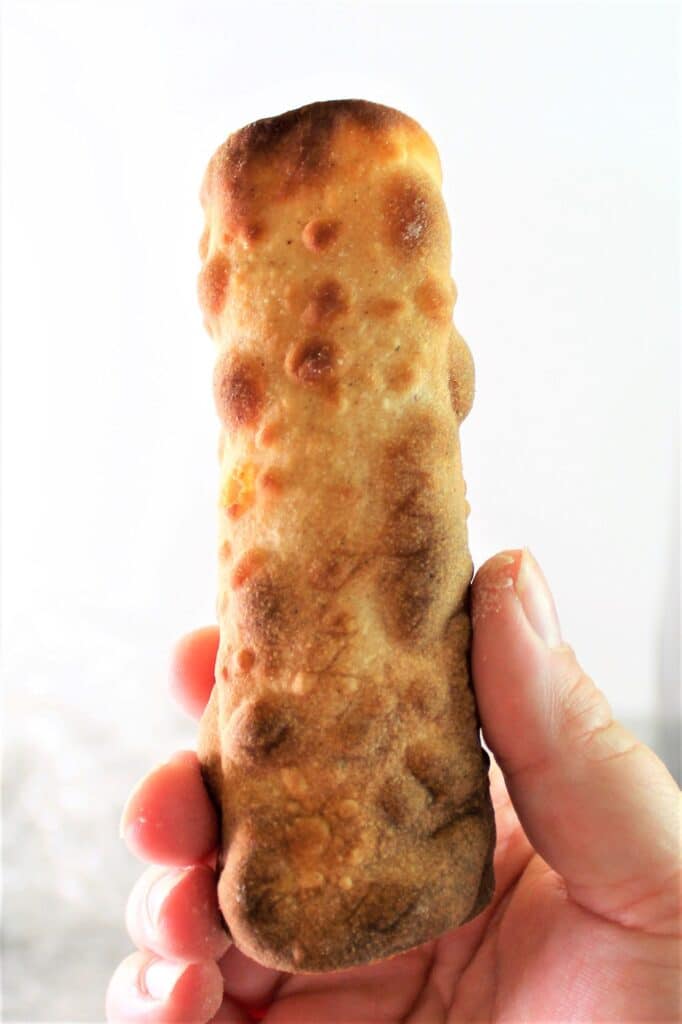 Make the Ricotta Cream Filling
There is nothing like FRESH ricotta and to me, it's the key to making a nice, stiff ricotta filling for cannoli. If you can't find it in your area (local Italian bakery or deli perhaps) you can make it yourself (here) or you can use store-bought ricotta that's been drained really well overnight. This ensures that the filling won't be too runny.
Using the same bowl used for the shells (wiped clean) and the whip attachment, add the ricotta and whip to loosen up. Gradually add the granulated sugar with the mixer on low, along with the vanilla, and then increase the speed to medium high and allow the sugar to completely dissolve into the ricotta with the whipping action. You may add a touch of cinnamon if desired.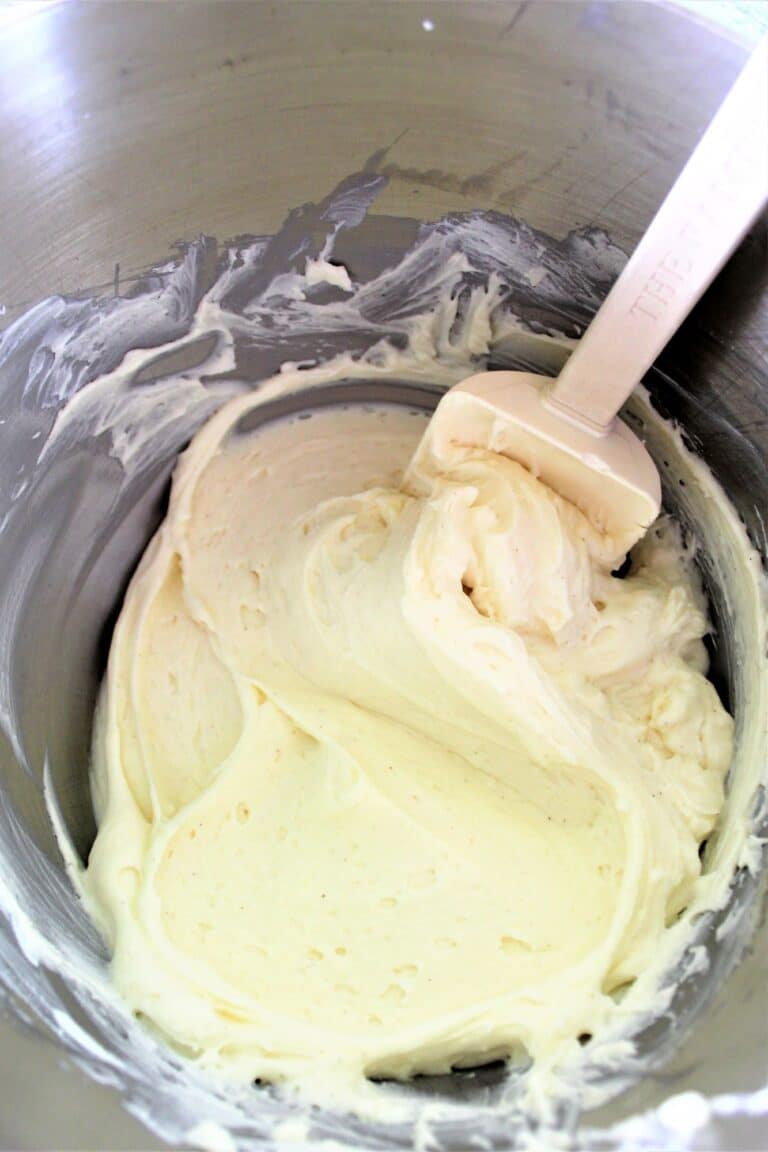 Fold in whatever add-ins you'd like (mini chocolate chips, chopped maraschino cherries, candied orange or lemon peel, etc). My favorite is mini chocolate chips.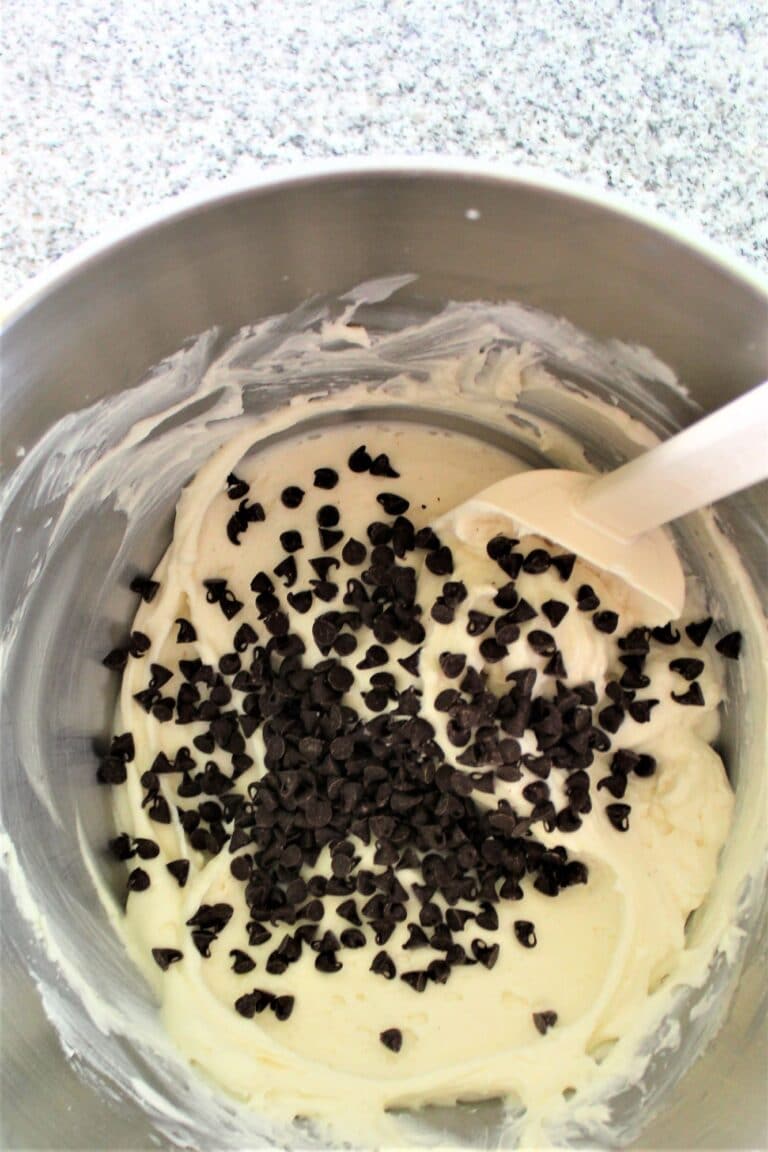 Fill a pastry bag fitted with a large round tip (alternatively, use a gallon-size baggie) and fill cannoli right before you plan on serving them. If you fill them too early, the filling will cause the shells to become soft. The ends can be dipped in melted chocolate and rolled in mini chocolate chips, maraschino cherries, chopped pistachios, etc. if you'd like. Dust them with powdered sugar and serve 😋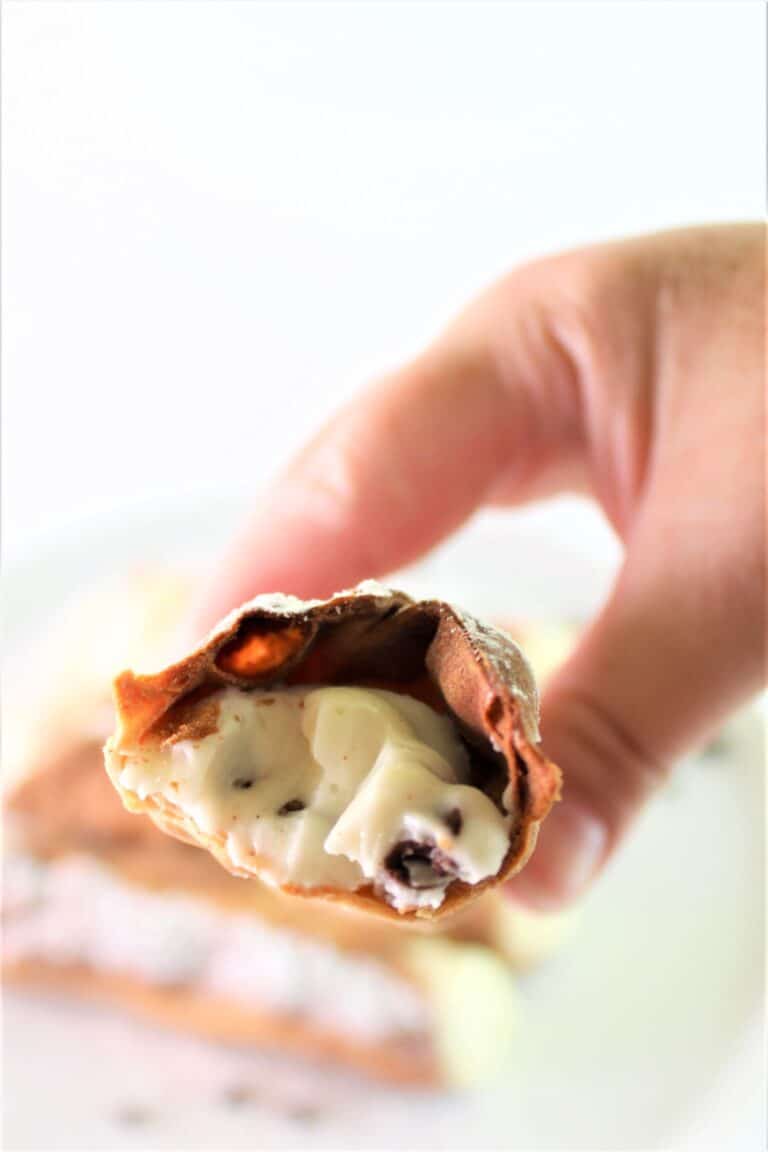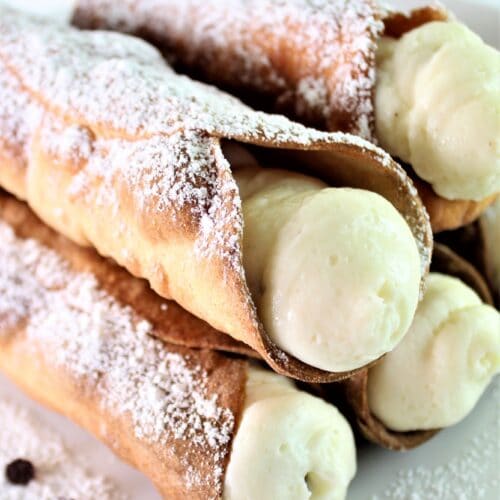 Gluten Free Cannoli
Crispy on the outside, filled with creamy and slightly sweet ricotta. Finally we can enjoy a gluten free cannoli and not feel left out!
Ingredients
FOR THE SHELLS:
4

cups (560g)

Kim's gluten free flour blend

(or another high-quality gf flour blend)

2

tbsp

brown sugar

¼

tsp

kosher salt

3

tbsp

softened butter

2

large

egg yolks

½

tsp

nutmeg

2

tsp

cinnamon

1¼

cups (300ml)

sweet Marsala wine

(or 1 tbsp white vinegar and enough grape juice to make 1¼ cups)

gluten free canola oil spray (if air frying)

canola oil, vegetable oil, shortening, or lard (if deep frying)
FOR THE FILLING:
3

cups

homemade ricotta cheese

(or well drained store bought)

1

cup (200g)

granulated sugar

1

tbsp

vanilla extract

½

tsp

cinnamon

mini chocolate chips, chopped maraschino cherries, and/or chopped pistachios, if desired
FOR GARNISH:
powdered sugar for dusting

additional cherries, chocolate chips, and/or pistachios for ends
Instructions
SHELLS:
Mix flour, sugar, salt, cinnamon, and nutmeg in bowl of stand mixer using the paddle attachment.  Add softened butter and egg yolks and combine until crumbly.  Slowly add Marsala wine while mixing on low, until dough comes together and cleans the sides of the bowl. You may need more or less Marsala wine, depending on the humidity in your area.  Dough is supposed to be very stiff.

Form mixture into a ball and wrap in plastic wrap. Let sit for about 30 minutes.

Divide dough in half and roll out one half at a time to almost paper thin, or use a pasta roller to roll very thin.  Using a large (6 inch) round cutter (or 4 inch for smaller cannoli shells), cut circles from dough.  Put cannoli tube on one circle and spray with cooking spray. Wrap circles around cannoli forms loosely and seal with leftover egg whites using a brush or fingertip.  Press firmly at seal.    

For air frying, preheat air fryer to 400° F. Spray air fryer basket with cooking spray and then add cannoli shells to basket. Spray tops of cannoli shells. Fry for about 6 minutes (everyone's air fryer is different, so you may need to play around with this time to get the right time for your air fryer. I would suggest frying one at a time until you know what works best).

For deep frying, heat oil in large heavy-duty pot over medium heat to 350° F.  Carefully lower about 3-4 cannoli forms into oil using tongs and fry until golden, about 2-4 minutes.  Remove and place on paper towels to drain.  Carefully slide cannoli shell off form.  Allow forms to cool enough to use again and fry the rest in batches.  
FOR THE RICOTTA CREAM:
Using homemade or store-bought ricotta, make sure either is well drained by placing in cheesecloth-lined sieve over a bowl and refrigerating overnight.   

Add drained ricotta to the bowl of a stand mixer fitted with the whisk attachment. Whip until loosened up and creamy. Add sugar gradually, followed by cinnamon and vanilla.  Increase speed to medium high and whip until creamy and smooth. It should look a lot like a thick buttercream frosting.

Fill a pastry bag fitted with a large plain tip, or a gallon ziploc bag with ricotta cream and pipe into cannoli shells.  Dip ends in desired toppings.  Dust with powdered sugar and serve.
Notes
Only fill cannoli when you're ready to serve them.  For best results and to avoid soggy shells, store cannoli cream in fridge (in pastry bag or ziptop baggie) until ready to serve.  Cannoli shells can be stored at room temperature for up to one week.  
You don't have to use all of the dough at once.  You can wrap it back in the plastic wrap and store it in the fridge for up to 4 days, or freeze it (well wrapped) for up to 3 months.  Thaw in refrigerator overnight before using.