No need to be jealous of gluten eaters. We can make our own Gluten Free Olive Garden Style Breadsticks and, ya'll, they are TO DIE FOR!!!!! Soft, garlicky, and buttery, we'll never have to do without them again.
I can't even remember the last time I stepped foot into an Olive Garden. I do know they have a gluten free menu, but it doesn't really impress me much. And it's missing the breadsticks, so there's that.
But we don't have to worry about that anymore because, guys, these are the REAL DEAL!!!! My daughter, who goes to Olive Garden frequently, says she can't tell the difference between ours and theirs. I'd say that's a stamp of approval, wouldn't you?
WHERE TO START
I'm forever trying to make the absolute BEST gluten free bread and goodies I can, so when I thought to try out these breadsticks, I had a couple of recipes in mind already. My Fabulous Gluten Free Italian Bread and Best Ever Gluten Free White Sandwich Bread were the main ones in the running.
I'm torn between these two breads for good reason. They're the best of the best. Of course, my cinnamon roll dough from the Ultimate Gluten Free Cinnamon Rolls is great, too, but that's a sweet dough so it's not even in the competition. And my Gluten Free Artisan Bread is fabulous, but we needed a little bit more enrichment to make these breadsticks. Using the tangzhong from the sandwich bread in the Italian bread was EXACTLY what was needed to make these the most incredible, soft and light breadsticks!!
THE LIST OF INGREDIENTS
Kim's gluten free bread flour blend -- as with all my breads, I strongly suggest you use my bread flour blend. If you don't, I can't tell you what kind of results you'll get.
Whole milk
Yeast
Sugar
Salt
Butter
HOW TO MAKE GLUTEN FREE BREADSTICKS
Make the tangzhong. Combine a very small amount of the gluten free bread flour with a small amount of the milk from the recipe in a saucepan. Whisk over medium heat until a very thick paste develops. Set aside to cool slightly.
In bowl of stand mixer, combine the rest of the bread flour, yeast, salt, and sugar and whisk. Add tangzhong and slowly pour in the rest of the milk and butter. Increase speed to medium high and blend for 5 minutes.
Remove bowl from mixer and cover with plastic wrap. Place in warm, draft-free location to rise for 1-2 hours, or until dough has at least doubled in size. Place in refrigerator for at least 3 hours or overnight.
Knead dough on well-floured surface (using extra bread flour). Pull off 2-ounce pieces (about the size of a large golf ball) and roll into a log about 6-7 inches long.
Place on parchment-lined baking sheet about 2-inches apart (you may need to use two baking sheets). Cover with plastic wrap and allow to rise for an hour, or until doubled in size.
Bake for 10 minutes.
Brush with garlic butter and serve warm.
Olive Garden Style Breadstick FAQs
Can These be Made Dairy Free?

Yes, they can, but you may need to play around with the liquid amounts. Those who have tried to modify other bread recipes to be dairy free have found success by reducing the dairy-free milk amounts by ¼ cup (60ml) or more. Dairy-free butter can be substituted for the butter in both the dough and topping.
Do I Have to Refrigerate the Dough Overnight?

It really is best to let the dough chill out in the fridge overnight. The reason is this gluten free dough shapes so much better when it's cold. Without it, the dough will be quite sticky and you'll feel the need to add a lot more extra flour that is unnecessary.
How Long Will These Breadsticks Keep?

Because of the tangzhong method in the dough, these breadsticks will stay soft much longer than the typical 1-2 days for gluten free breads. However, for longer storage I would suggest flash freezing them individually on a sheet tray and then storing them in a freezer ziptop bag with as much air as possible removed.
What to Serve with Gluten Free Breadsticks?
Alfredo sauce -- my Copycat Olive Garden Alfredo sauce is sooooooo good for dipping these breadsticks into. When I used to eat at Olive Garden years ago, we would always order an appetizer of alfredo sauce to go with the breadsticks.
Pasta -- we all know the traditional fettuccine alfredo, but I like a short noodle, such as penne or rigatoni myself. Add blackened chicken to make it blackened chicken alfredo and serve it alongside the breadsticks.
Spaghetti and Meatballs -- these breadsticks also go great with any pasta and sauce, and spaghetti and meatballs are one of our favorites.
Salad -- it's not necessary to serve any pasta with the breadsticks. Have you ever ordered just the Olive Garden salad with breadsticks and nothing else? They used to offer it (not sure if they still do) and it was a great light lunch.
We don't have to miss out on these wonderful breadsticks anymore!! It takes almost no hands-on time to make these beauties and they are SO GOOD!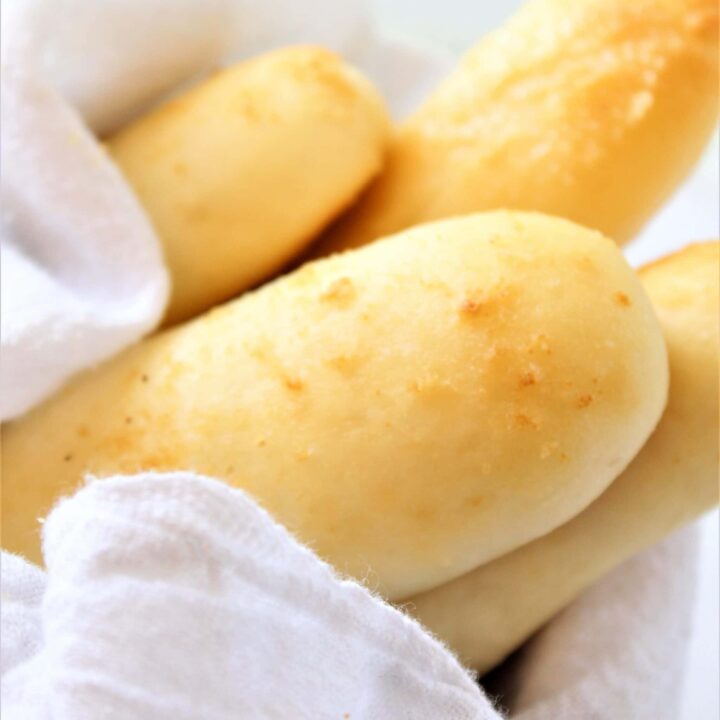 Gluten Free Olive Garden Style Breadsticks
No need to head out to eat and sit there staring at those around you eating those wonderful breadsticks. Gluten Free Olive Garden Style Breadsticks can be made in our own home and, ya'll, they are TO DIE FOR!!!!! Soft, garlicky, and buttery, we'll never have to do without them again.
Ingredients
Tangzhong
3

tbsp (26 g)

Kim's gluten free bread flour blend

½

cup (120 ml)

milk
Dough
3

cups (420 g)

Kim's gluten free bread flour blend

2

tbsp plus 1 teaspoon (29 g)

granulated sugar

2

teaspoon

kosher salt

2

teaspoon

instant yeast

1

tbsp (5 g)

whole psyllium husks (or 1 ½ teaspoon psyllium husk powder)

1½

cups (360 ml)

milk

4

tbsp (half stick or 56 g)

butter, melted

tangzhong, cooled to lukewarm
Topping
3

tbsp (42 g)

butter, melted

½

teaspoon

garlic powder
Instructions
Make the Tangzhong
Add the flour and milk to a small saucepan and place it over medium heat. Whisk until the mixture thickens into a heavy paste, about 2-3 minutes. Remove from the heat and set aside to cool to lukewarm.
Make the Dough and Bake the Breadsticks
Add flour, sugar, salt, psyllium husks, and yeast to the bowl of a stand mixer and whisk. Using the dough hook, turn mixer on low and add the slightly cooled tangzhong followed by the the milk and melted butter. Continue to combine on low until dough comes together.

Increase speed to medium high and knead dough for 5 minutes.

Cover the bowl and place in a warm, draft-free area to proof (rise) for 1-2 hours, or until doubled or even tripled in volume. A great place for rising is in an oven that's been turned on to the warm function and then turned off quickly.

Refrigerate the dough for at least six hours, preferably overnight (the colder the dough, the easier it is to work with).

Remove dough from fridge and knead on well-floured surface (using extra bread flour blend). Pinch off large golf ball-sized portions (about 2-ounces each) and roll into a log that is about 6-7 inches in length.

Place on parchment-lined baking sheet about 2 inches apart (you may need to use two baking sheets). Cover loosely with plastic wrap and allow to rise until doubled in size.

At the end of the rising time, preheat the oven to 425°. Throw a few ice cubes onto the bottom of the oven and bake the breadsticks for 10 minutes.

While breadsticks are baking, combine topping ingredients in small bowl.

Remove breadsticks from the oven and immediately brush with butter/garlic mixture. Allow to cool slightly before serving warm or at room temperature.
Notes
*To store leftover breadsticks, place in large gallon-sized ziploc bag and store at room temperature for 2 days.  Heat slightly to warm, if desired.  
**To freeze, place breadsticks on flat sheet tray and flash freeze until solid.  Remove from tray and place in large ziploc bag, removing as much air as possible, and freeze.  This way you can remove as many breadsticks as you'd like at a time.  
***To make half the breadsticks, only use half the dough and store the rest of the dough in the refrigerator well wrapped in plastic wrap until ready to use, up to 7 days.  The other half of the dough may be used to make a number of breads, such as English Muffins, Italian Bread, Focaccia Bread, or Mock Rye Bread.  
***DISCLAIMER:  The reason I created my own flour blends is because I could not obtain the results I wanted with flour blends that were available in stores, online, or from other gluten free bloggers.  My recipes have been developed to be used with my own bread flour blend that I created after painstakingly testing for, in some cases, YEARS to develop what I believe to be a superior gluten free bread like no other.  If you do not use my gluten free bread flour blend for this recipe, I cannot speak for the results you will obtain.    While store bought blends may give you a satisfactory result, they may NOT give you the results intended in my recipe.