This Gluten Free Blueberry Muffins recipe will be the only one you'll ever need. The muffins are so tender and have a wonderfully crunchy streusel topping.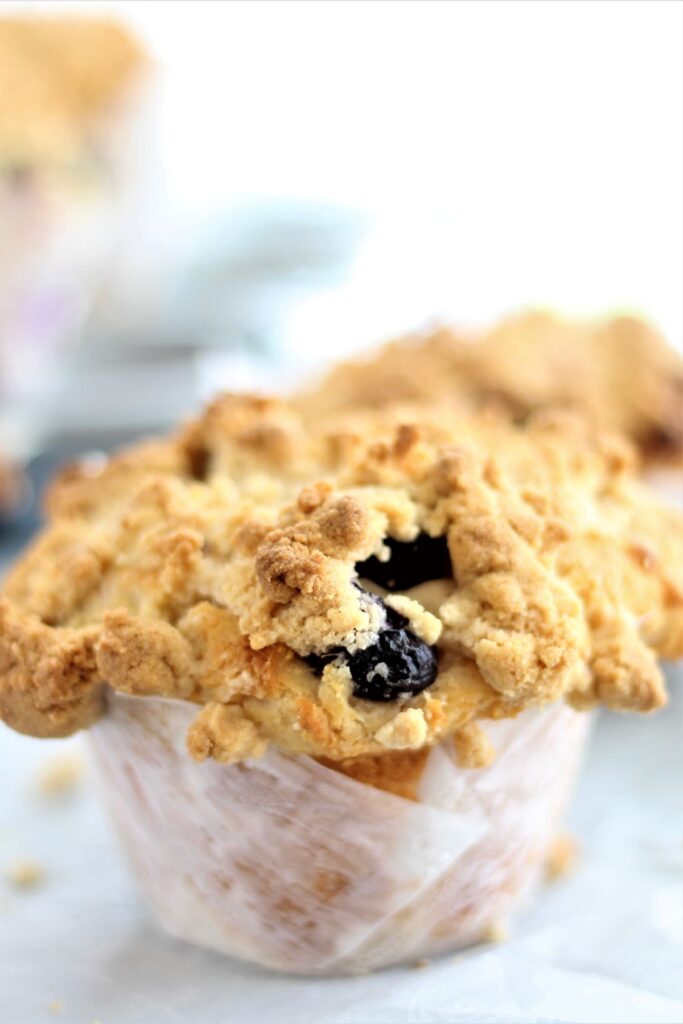 Some of the items linked in this post are affiliate links, meaning, at no additional cost to you, if you click through and make a purchase, I will earn a small commission.
Look at these muffins!! Aren't they just gorgeous??? I haven't had a jumbo bakery-style muffin in like, forever. I bet you haven't either. We miss out on so much in our gluten free lives. But we don't HAVE to anymore!! I will continue making all those things we used to love, so don't worry😜
What you'll need to make these blueberry muffins
These muffins are whipped together in no time with some simple ingredients. The streusel topping consists of: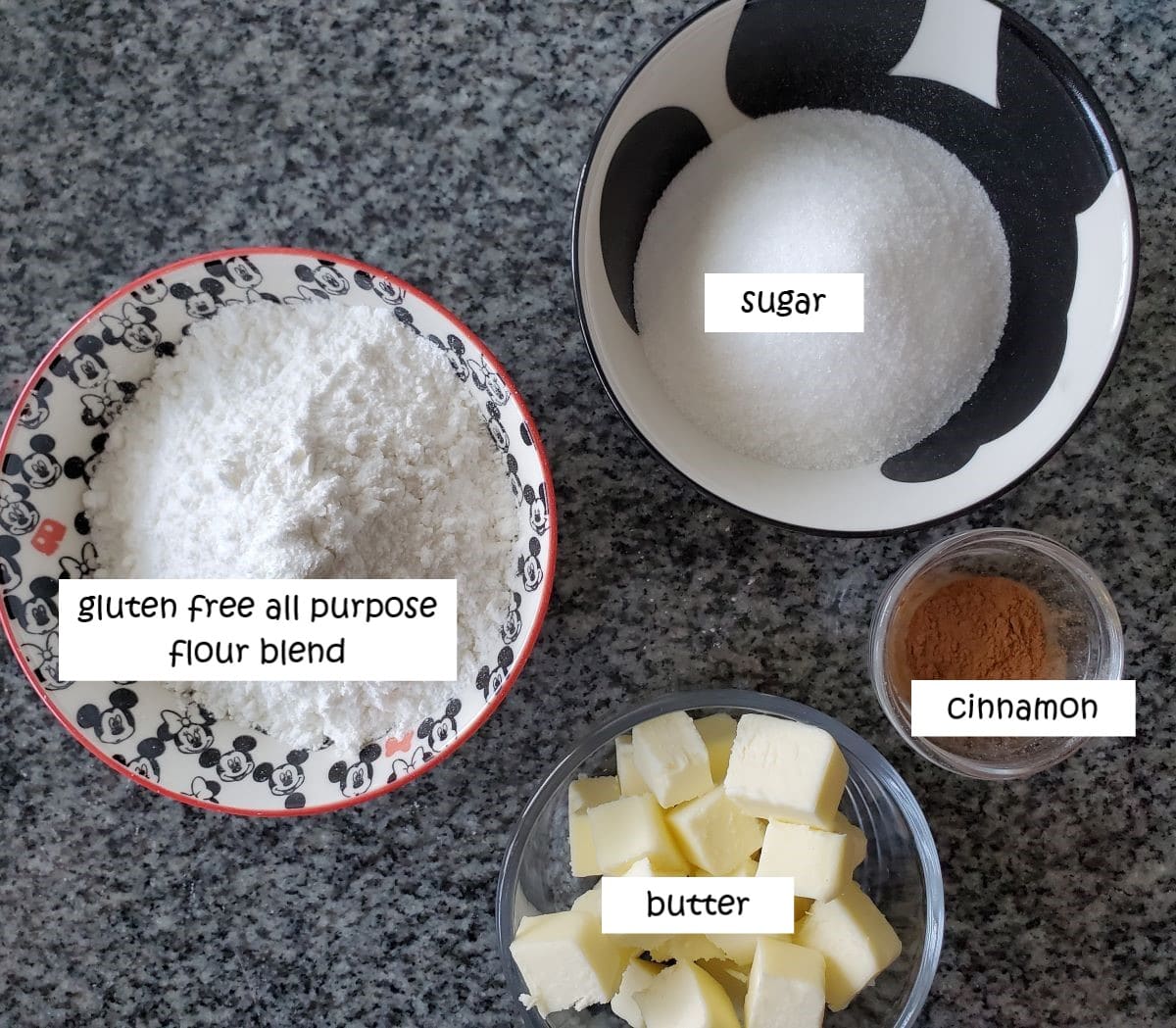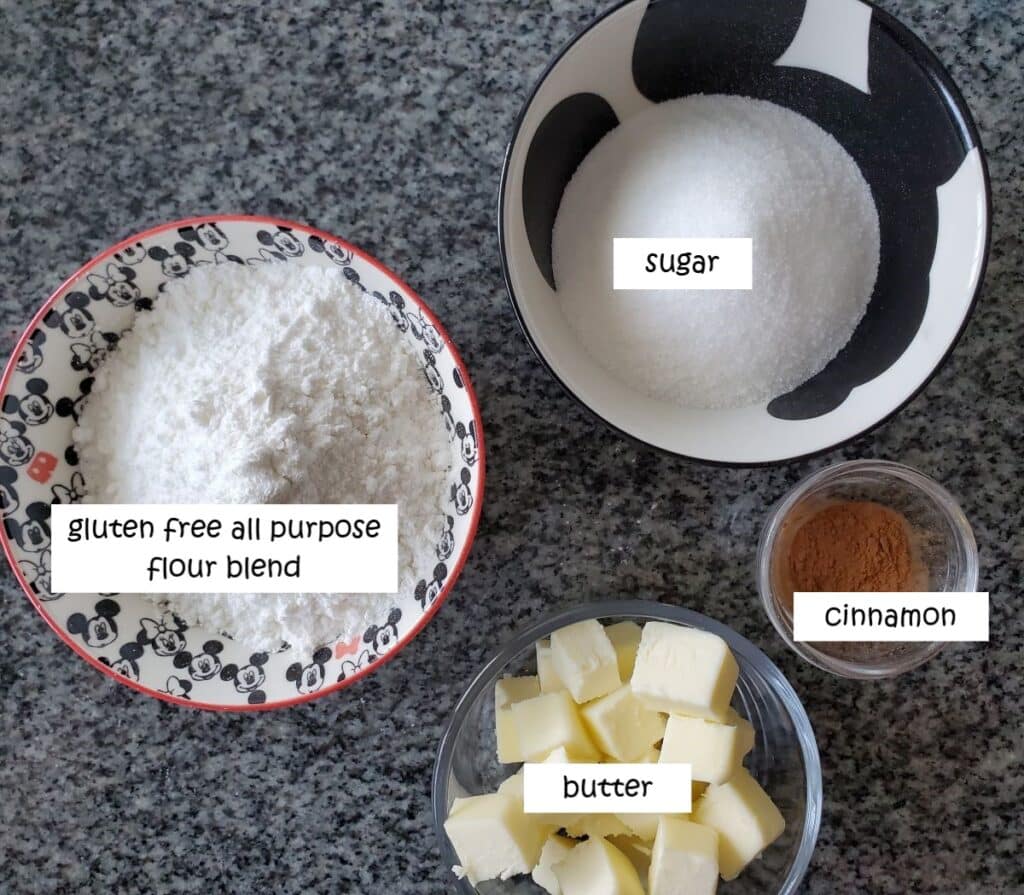 The muffin batter consists of: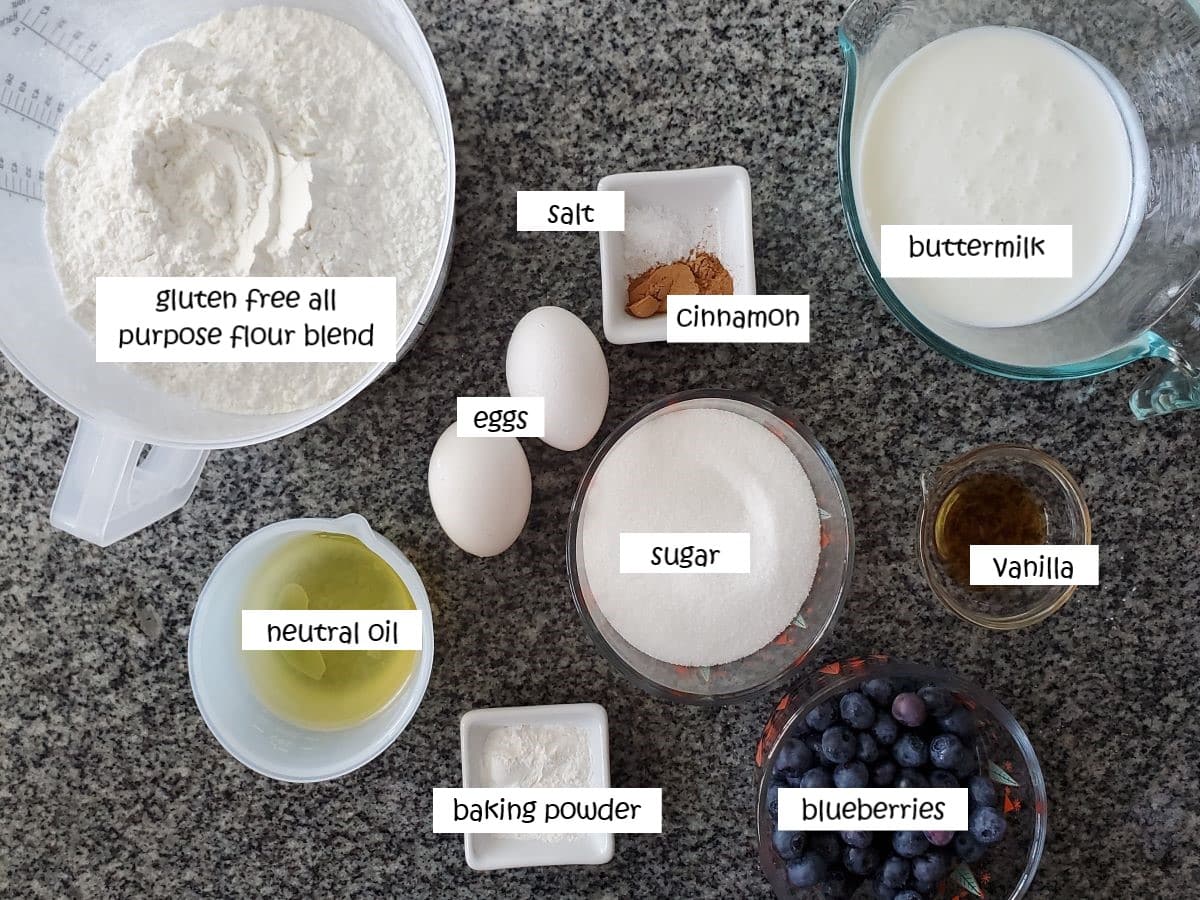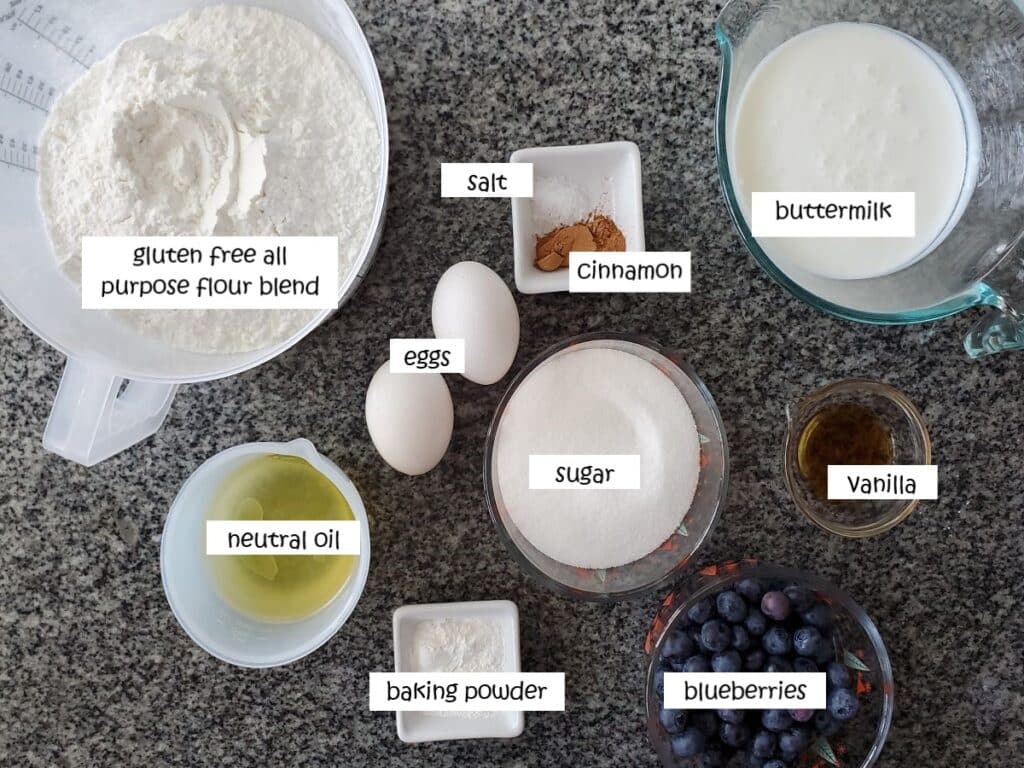 Kim's gluten free flour blend

(a store bought blend may be substituted, but hasn't been tested)
Baking powder
Salt
Ground cinnamon
Sugar
Eggs
Buttermilk
Canola oil, vegetable oil, or melted coconut oil
Vanilla extract
Fresh blueberries — you can substitute with frozen blueberries if you'd like, but do NOT thaw them.
how to make gluten free blueberry muffins
make the streusel topping
Whisk together the flour blend, sugar, and cinnamon in a medium bowl
Cut in the cold butter until large irregular crumbs form
Refrigerate until ready to use
make the muffin batter
Whisk together all wet ingredients, including sugar
Combine flour, baking, salt, and cinnamon in a large bowl
Make a well in dry ingredients and pour wet ingredients into well. Stir gently to combine.
Fold berries into batter
Scoop batter into muffin cups
Sprinkle streusel onto batter
Bake until golden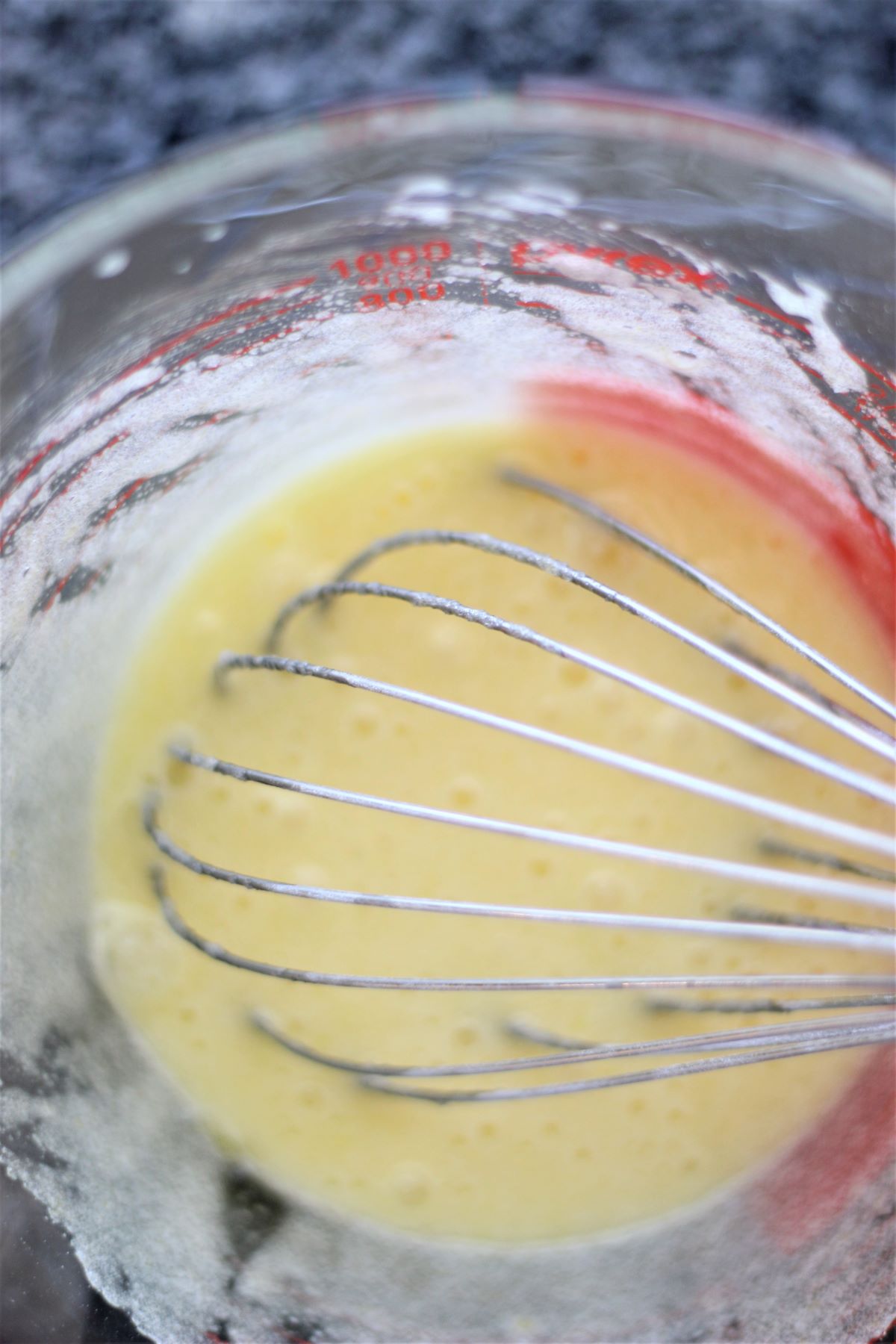 Using the Right Muffin Pan
To make these jumbo gluten-free muffins, you'll need a jumbo muffin pan, which I found on Amazon here (affiliate link). They usually have them at local craft stores as well. You'll also need jumbo muffin cup liners(affiliate link) OR you can make them out of parchment paper. Simply take a square of parchment about 6 inches by 6 inches and set it in each muffin tin and push down to mold it. It will fold in places, but that's okay because that's what you want. I like these because they're unique and remind me of a tulip.
IF you don't have a jumbo muffin pan, feel free to make them in a standard one. The modifications for these are in the notes below. Obviously, you'll end up with way more muffins than if you use the jumbo muffin pan.
The Tricks To Getting High Muffin Tops
This recipe is based on a recipe for Sparkling Jumbo Blueberry Muffins by Sally at Sally's Baking Addiction. She has a TON of muffin recipes on her site and I just love all her flavor combinations! I can't wait to try more!!
In the recipe, she states two things she does that make her muffins SKY HIGH! One is to start with a pretty hot oven (425 degrees F). She explains that this gets the batter rising quickly and creates a tall muffin top. The other thing she does is fills each muffin all the way to the top. Yep, it's about one cup of batter in each muffin tin for these jumbo muffins!
You'll also want to carry that over-the-top method right into the streusel topping by LOADING the tops of each full. I take a handful, which is about 1/4 cup or so, and press it into the batter. When the muffin bakes and rises, the streusel will spread out and create craters of crunchy crumbs!
substitutions
Need to be dairy free? No problem. Make a dairy-free "buttermilk" by mixing 1 1/2 cups of almond milk (or any other dairy-free milk) with 1 tbsp of white vinegar or lemon juice. Stir and let sit for a few minutes to sour and thicken slightly.
No eggs? Try chia or flax eggs. Whisk together one tablespoon of chia seeds or flax meal with 2.5 tablespoons of water per each "egg."
gluten-free blueberry muffins FAQs
Can I Bake These in a Regular Sized Muffin Pan?
Yes, but you'll need to adjust the baking time. Bake them initially at 425 degrees F for 5 minutes and then drop the temp down to 375 degrees F and bake for an additional 20-22 minutes.
Do I Have to Add the Streusel Topping?
Certainly not. These blueberry muffins will still be delicious without it.
Why Use Oil Instead of Butter?
Because the oil actually makes the muffins more moist and tender. Butter, while it tastes great, will cause gluten free muffins to be a little more dense and not as fluffy. If you want that buttery taste, spread them with butter once they come out of the oven.
Can the muffins be frozen?
Yes! To freeze the muffins, simply wrap each completely cool muffin in plastic wrap and store in a ziptop freezer bag or airtight container for up to three months. You can thaw them in the fridge (overnight) or on the counter for about an hour. To reheat, microwave for 10-20 seconds or heat in a 350-degree oven for 10 minutes (which will re-crisp the streusel topping).
Have an hour or less and craving a muffin? Break out this Gluten Free Blueberry Muffins recipe and you'll satisfy that craving and then some😋
Gluten Free Bakery Style Blueberry Muffins
These impressive Gluten Free Blueberry Muffins are so easy to make, chock full of blueberries, and have a wonderfully crunchy streusel topping.
Ingredients
FOR THE STREUSEL TOPPING:
½

cup (100g)

granulated sugar

¾

cup (105g)

Kim's gluten free flour blend (a store bought gluten-free flour blend containing xanthan gum may be substituted, but has not been tested)

½

tsp

ground cinnamon

6

tbsp (85g)

butter, cut into small pieces and chilled
FOR THE MUFFIN BATTER:
3

cups (420g)

Kim's gluten free flour blend (a store bought gluten-free flour blend containing xanthan gum may be substituted, but has not been tested)

4

tsp

baking powder

½

tsp

salt

1

tsp

cinnamon

2

large

eggs, at room temperature

1

cup (200g)

granulated sugar

½

cup (120ml)

canola or vegetable oil

1½

cups (360ml)

buttermilk

(dairy free milk mixed with one tbsp of lemon juice or vinegar may be substituted)

1

tsp

vanilla extract

1½

cups (150g)

fresh or frozen blueberries

(if frozen, don't thaw ahead of time)
Instructions
STREUSEL TOPPING:
Mix the sugar, flour, and cinnamon together in medium bowl. Add butter and cut into dry ingredients using pastry blender or fingers, until coarse crumbs of irregular sizes.

Place in the fridge while making the muffin batter.
MUFFIN BATTER:
Preheat oven to 425° F. Spray jumbo muffin pan with nonstick spray (or use jumbo muffin paper liners OR parchment paper). Set aside.

In a large bowl, whisk together flour, baking powder, salt, and cinnamon.

In a medium bowl or large measuring cup, whisk together eggs and sugar. Add the buttermilk, oil, and vanilla. Whisk until completely combined.

Make a well in the center of the dry ingredients and pour all of the wet ingredients into the well. Gently fold and turn to incorporate. When the batter is halfway mixed and flour still remains, add the blueberries and continue to fold, scraping the bottom of the bowl and turning the bowl to get all the dry ingredients combined.

Using a large scoop or spoon, scoop the batter into each muffin cup. Fill completely to the top.

Remove the streusel mixture from the refrigerator and sprinkle or set about ¼ cup over the batter in each muffin cup, pressing down slightly to adhere to the batter.

Bake at 425° for 5 minutes. Turn the temperature down to 375° and continue to bake for another 30 minutes, or until a wooden skewer placed into the center of a muffin comes out clean.

Cool in the pan on a wire rack for about 5 minutes. Remove from muffin pan and cool at least another 5-10 minutes before serving.

Muffins will last for a few days in a covered container, or may be frozen for up to 3 months by wrapping individually in plastic wrap and then putting in a large ziptop bag or airtight container.
Notes
If you don't have a jumbo muffin pan, these can be baked in a standard-sized muffin pan.  Bake at 425 for the initial 5 minutes and then turn the temperature down to 375 and bake for an additional 20-22 minutes, or until wooden toothpick inserted in center comes out clean.  
This recipe was adapted from Sally's Baking Addiction's Sparkling Jumbo Blueberry Muffins.