Bringing back old school with these gluten free apple dumplings. Perfectly presentable little packages of flaky pastry wrapped around a tender apple, all bathed in a gooey bright red cinnamon-y syrup.
Growing up, my mom made apple pies from scratch and they were darn tasty (check out my mom's amazing gluten free apple pie ). She has always mentioned how when she was little, her mom (my grandma) would make apple dumplings.
I never got to experience my grandma's wonderful baked goods. Apparently I did inherit her baking genes, though. I wish I could have had the opportunity to bake with her, but I'm baking with her in spirit now 🥰
What are Gluten Free Apple Dumplings?
Apple dumplings are apples that have been peeled and cored. They're stuffed with butter, brown sugar, and cinnamon and a pastry (my gluten free pie crust) is folded over each to create a little package. They're usually baked in a sauce, which gets spooned over the top. It can be served with ice cream or whipped cream, or nothing at all. They make a gorgeous presentation and are really festive, but the best part about them is how wonderful they taste!
My Grandma's Unique Recipe
When I first decided I was going to make my grandma's recipe, I perused the internet to see what other recipes looked like. Deciphering my grandma's old handwritten recipe for apple dumplings was a bit of a challenge. Whole apples are usually used in making apple dumplings, but my grandma's recipe says to halve the apples. My mom seemed to remember them being whole apples, so that's what we're gonna use.
But my grandma's apple dumplings recipe isn't unique for the apples or the pastry. It's unique because the apples are bathed in a sauce made with RED HOTS! Yep, those red cinnamon candies that have been around forever, as well as butter and water, are what make up the sauce for my grandma's apple dumplings!
Pour red hots into a small saucepan and add water and butter. Stir over medium-high heat until simmering and all the candies have been melted. The sauce will be bright red and it will thicken slightly upon cooling.
Making the Pastry Squares and Leaves
If you've made my gluten free pie crust, you'll have no problem making the pastry squares for this recipe. Instead of rolling each half into a round to fit a pie plate, roll it into a long rectangle that's about 8 inches by 16 inches. That way you'll be able to trim the edges and cut it in half to make two squares. Any additional pastry can be re-rolled and cut with a leaf cookie cutter, if desired.
The best way to time this is to first make the pastry squares, and then prep the apples. Place the pastry squares on a baking sheet and put them in the refrigerator until ready to assemble.
The Best Apples for Baking
My grandma swore by Rome apples as the best apples for baking and I totally agree with her! This seems to be very controversial because everything I read and everyone I listen to says Rome apples are NOT good for baking. And that Granny Smith apples are best.
I've tried and tried to use Granny Smith apples, mainly because they're so readily available, in all my apple baking endeavors. But, at least to me, the apples never soften completely when baked. Scott and I love apple pie and we don't like our apple pie to be crunchy in the middle. And Granny Smith apples, no matter how long you cook them, still have a residual bite to them.
You can certainly do you and if you really love baking with Granny Smith apples, that's perfectly fine. But I'll do me and that means I'll always use Rome apples, as my grandma always did, because to me they produce the perfect texture of baked apples. Sadly, though, Rome apples have a very short season and where I live (Virginia) they're not available everywhere.
If I need to substitute, I'll choose Jonathan, Jonagold, or Ginger Gold. If I still can't find any of these varieties, Golden Delicious apples will also work. These are all the next best thing to Rome apples for a soft baked apple.
Assembling Gluten Free Apple Dumplings
Get your mise en place (set up) ready so you can wrap and go with your dumplings. Peel and core your apples and cut your butter into 4 pieces. Mix together the brown sugar and cinnamon in a small bowl.
Place an apple in the middle of a pastry square. Sprinkle ¼ of the brown sugar mixture into the cavity and then stuff it with one piece of butter. Pull up opposite sides around the apple and press to adhere. You can dip your finger in water if you're having trouble getting the pastry to stick to the sides of the apple.
If you made leaves, now's the time to put them on top of the apples. If needed, dip your finger in water to stick the leaves to the top. Brush the apples with an egg wash consisting of one egg mixed with a tablespoon of water and a pinch of salt.
Preheat the oven to 400 degrees F. Place the apples in a 9 by 13-inch baking pan and carefully pour the sauce around the apples. Bake the apples for 15 minutes and then turn down the temperature to 350 degrees F and bake for an additional 30 minutes, or until golden brown and a butter knife inserted into the apple gives no resistance.
If you're a lover of all things apple like I am, I urge you to try this recipe. Perfectly presentable little packages of flaky pastry wrapped around a tender apple, all bathed in a gooey bright red cinnamon-y syrup. What's not to love?
What's your favorite recipes handed down from your Grandma?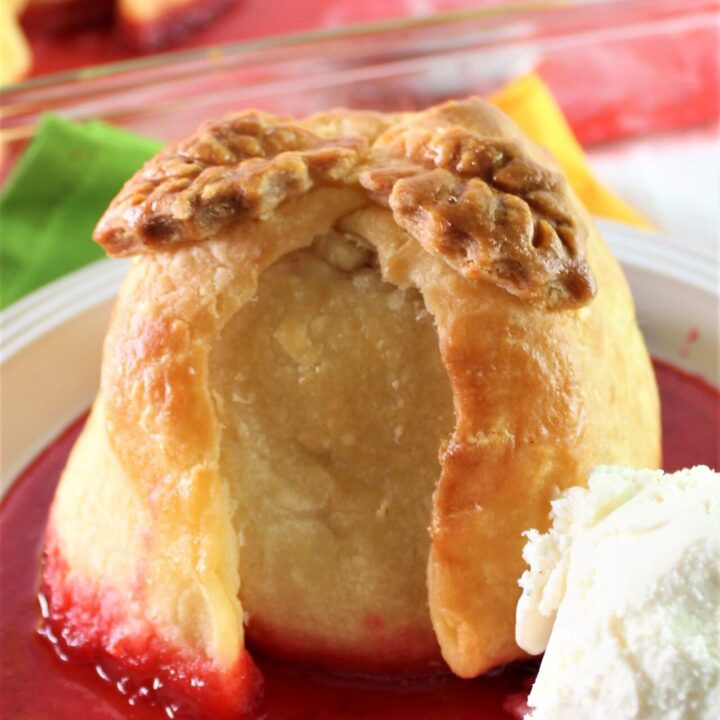 Gluten Free Apple Dumplings
Perfectly presentable little packages of flaky pastry wrapped around a tender apple, all bathed in a gooey bright red cinnamon-y syrup.  
Ingredients
SAUCE:
⅔

cup (160 g)

cinnamon candies (Red Hots)

(make sure they are gluten free--Red Hots are gluten free, as are Brach's brand)

1

cup (240 ml)

water

2

tablespoon

butter
APPLES:
4

medium to large

apples, peeled and cored

(Rome apples are preferred, but Jonathan, Jonagold, Ginger Gold, or Golden Delicious will also work)

4

tbsp (50 g)

brown sugar

½

teaspoon

cinnamon

2

tablespoon

butter, cold and cut into 4 pieces

egg wash (one egg whisked with one tablespoon water and a pinch of salt)
Instructions
FOR THE SAUCE:
In a small saucepan over medium-high, add the cinnamon candies, water, and butter.  

Bring to a boil, then reduce to a simmer, stirring frequently.  Allow candies to melt and syrup to thicken slightly.  It will be bright red.  Remove from the heat and let cool while making the pastry and preparing the apples.
FOR THE PASTRY:
Roll out half the pie crust at a time into a large rectangle, 8 by 16 inches.  Cut in half into 8-inch squares. Place the first 2 squares on a baking sheet and chill while rolling out the other 2 squares. You can also re-roll the scraps and cut out leaves for the top.
FOR THE APPLES:
Mix the cinnamon and sugar together in a small bowl. Place an apple in the middle of a pastry square.  Stuff the core with roughly one tablespoon of the brown sugar cinnamon mixture and top with a piece of butter. Fold the pastry corners up and over the apple, opposite sides first, and then press and fold the edges of dough around the apple (if desired).

Place the apples in a 9 by 13-inch baking dish. Brush them with the egg wash. Pour the sauce in the pan around the apples. 

Bake at 400° F for 15 minutes.  Turn down the temp to 350° F and continue to bake for 30 minutes more, or until golden brown and a dull knife inserted into the center gives without resistance.

Allow to cool slightly before serving.  Serve with vanilla ice cream or freshly whipped cream and the sauce.
Notes
The recipe can be doubled.
The baked apples will keep, covered, at room temperature for a few days.    
This recipe was originally posted on December 3, 2018 and has been updated with new pictures, new information, and a video.