This recipe was originally posted on October 10, 2019 and has been updated with an entirely different method and a few changes to the original recipe, new pictures, and a video.
Think angel food cake is too scary to make from scratch? This lighter-than-air Easy Gluten Free Angel Food Cake will prove you wrong as it breaks all the rules.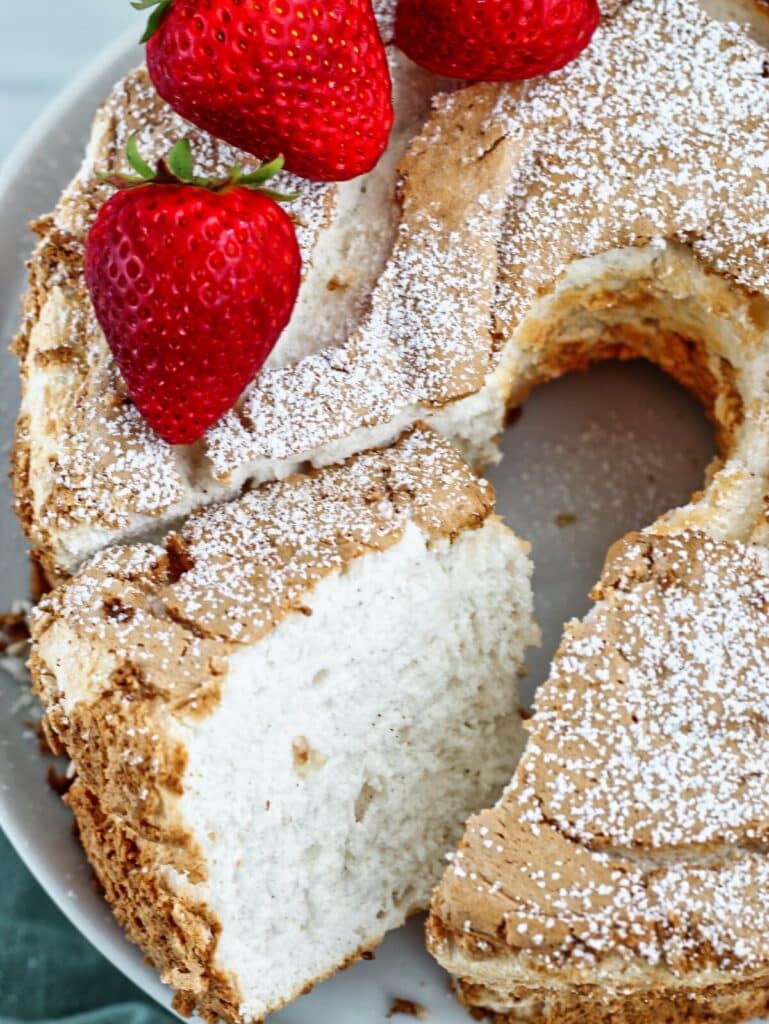 Some of the items linked in this post are affiliate links, meaning, at no additional cost to you, if you click through and make a purchase, I will earn a small commission.
I've always loved angel food cake. I remember when I was a teenager my mom used to buy the Betty Crocker Angel Food Cake mix. When it was done baking, we'd tip it upside down and prop it on an empty bottle. That way it wouldn't sink and would stay light and fluffy.
But making an angel food cake without a mix is difficult. Isn't it? You have to have everything just so and all the stars have to align for it to come out perfect, right? Slowly stream extra fine sugar into room temperature egg whites and beat them to the sturdiest of peaks? Then sift, sift, sift the dry ingredients and sift some more for extra measure?
What if I were to tell you that all that is hogwash? You DON'T need to slowly stream in the sugar, and your egg whites DON'T need to be at room temperature. They can actually be cold, straight from the fridge. Oh, and you only need to sift the dry ingredients once. That's right, folks. Forget all that crazy talk and throw caution to the wind. With the guidance and expertise of Stella Parks, we CAN and we WILL make gluten free angel food cake with ease!
why you should make this recipe
It's just as easy to make, if not easier, than any other cake.
It requires minimal ingredients and is completely fat free (if you care about that).
By using cold egg whites, there's no need to prepare ingredients hours in advance.
The cake is so light and soft and fluffy, no wonder it's the food of angels.
It can be used as a base for trifles and layered desserts.
here's what you'll need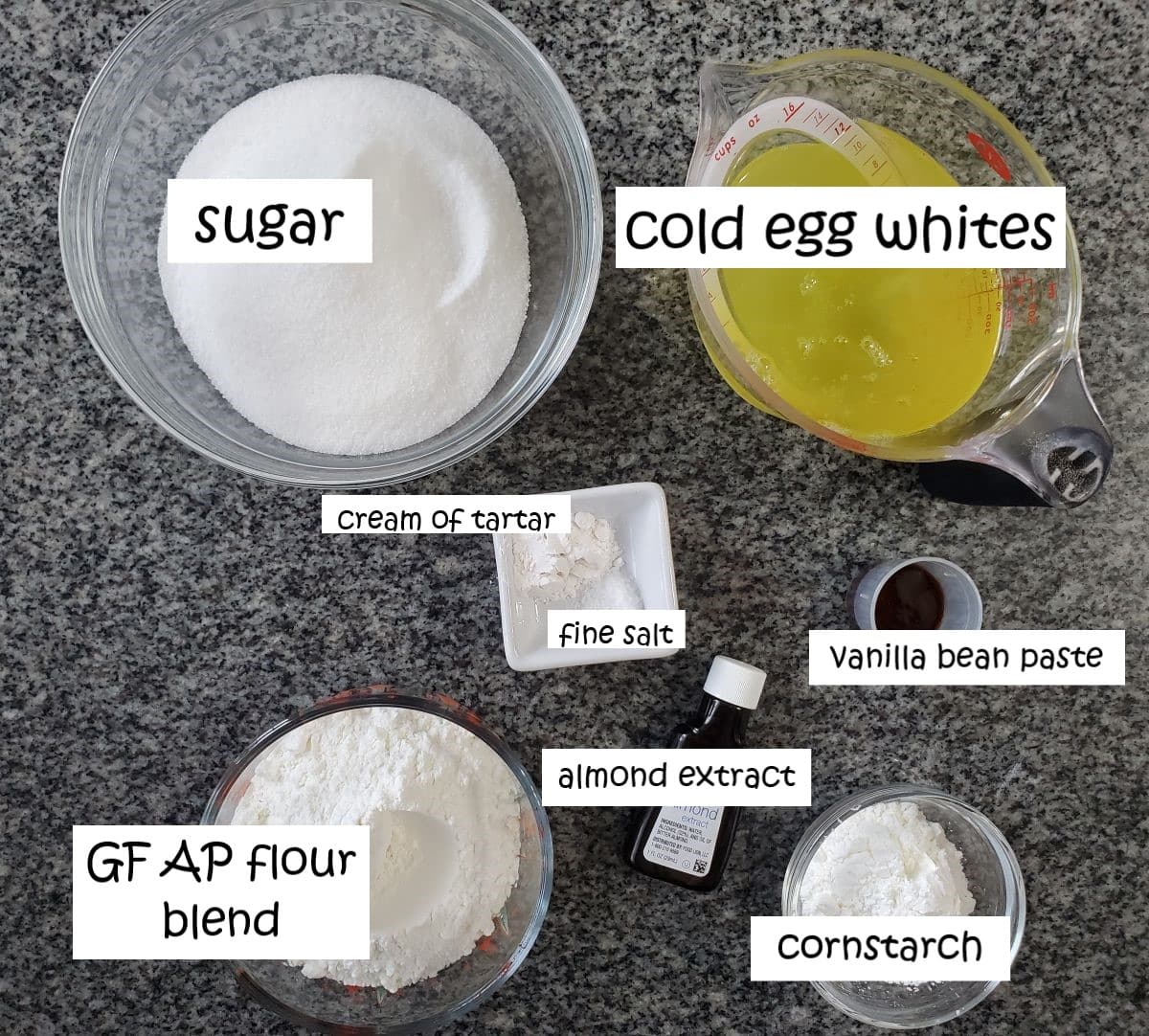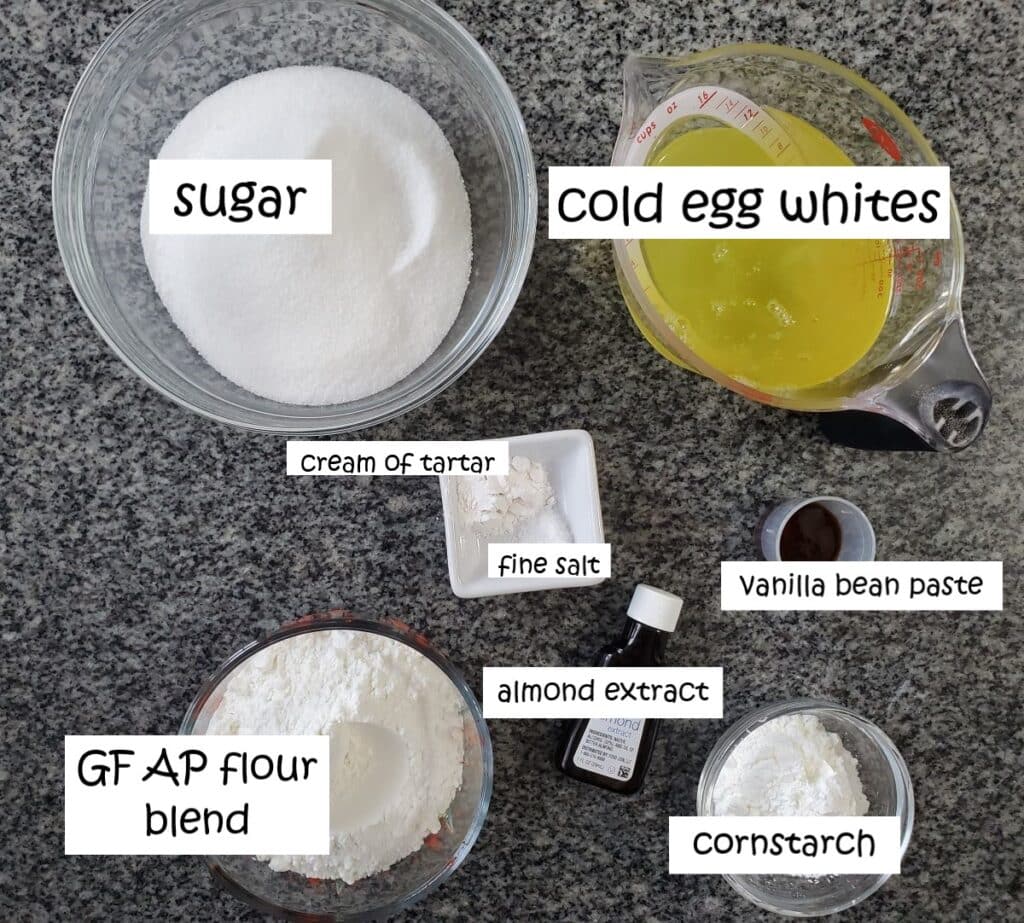 Egg Whites — the most important part of an angel food cake for sure. They need to be clean, meaning free of any grease, including any little bits of yolk. It's always best to separate whites over a separate bowl and then add them to the rest of the whites. Otherwise, you could risk ruining the whole lot of 'em if one of the yolks breaks.
Gluten Free Flour Blend — I use my own blend (Kim's all purpose gluten free flour blend), but in this instance I think any blend will work, as long as it contains xanthan gum.
Cornstarch — a small amount combined with the gf flour blend essentially acts like cake flour.
Cream of Tartar — cream of tartar is a byproduct of wine fermentation and is used to stabilize the egg whites and keep them from falling.
how to break all the angel food cake rules
With Stella Parks' method, you won't believe how easy it is to make angel food cake:
Sift the dry ingredients once. That's right. No need to sift several times like other recipes. Once is all you need.
Dump ALL the sugar (yep, all of it) in the stand mixer with the COLD egg whites. I know this goes against all that we've been taught, but it truly works. Stella explains that because our mixers are so much more powerful these days, with proper whipping and enough time, you can use egg whites straight from the fridge and add all the sugar in at the same time to create a very stable meringue. Contrary to popular belief, beating the egg whites to stiff peaks isn't necessary. Soft peaks will allow the egg whites to finish reaching their full potential in the oven, making the most delicate and light cake possible.
Fold. Add the dry ingredients (every bit of them) on top of the meringue at once and fold them in with a silicone spatula. No need to add a little at a time.
Spoon the batter into a 10-inch ungreased tube pan. It is essential that the pan is free of any grease or the cake batter won't be able to climb up the sides.
Bake the cake at 350 degrees F for about 45-50 minutes, or until a long skewer inserted into the center comes out clean (or an instant read thermometer registers 206 F).
Tip the pan upside down to cool the cake. Tube pans now come with "feet" on the top (which becomes the bottom when the cake is cooling). These "feet" allow you to simply tip the pan upside down instead of resting it on a bottleneck, like we used to do back in the day. If your tube pan doesn't have feet, use a sturdy bottle or perch the pan on top of three equal-sized cans.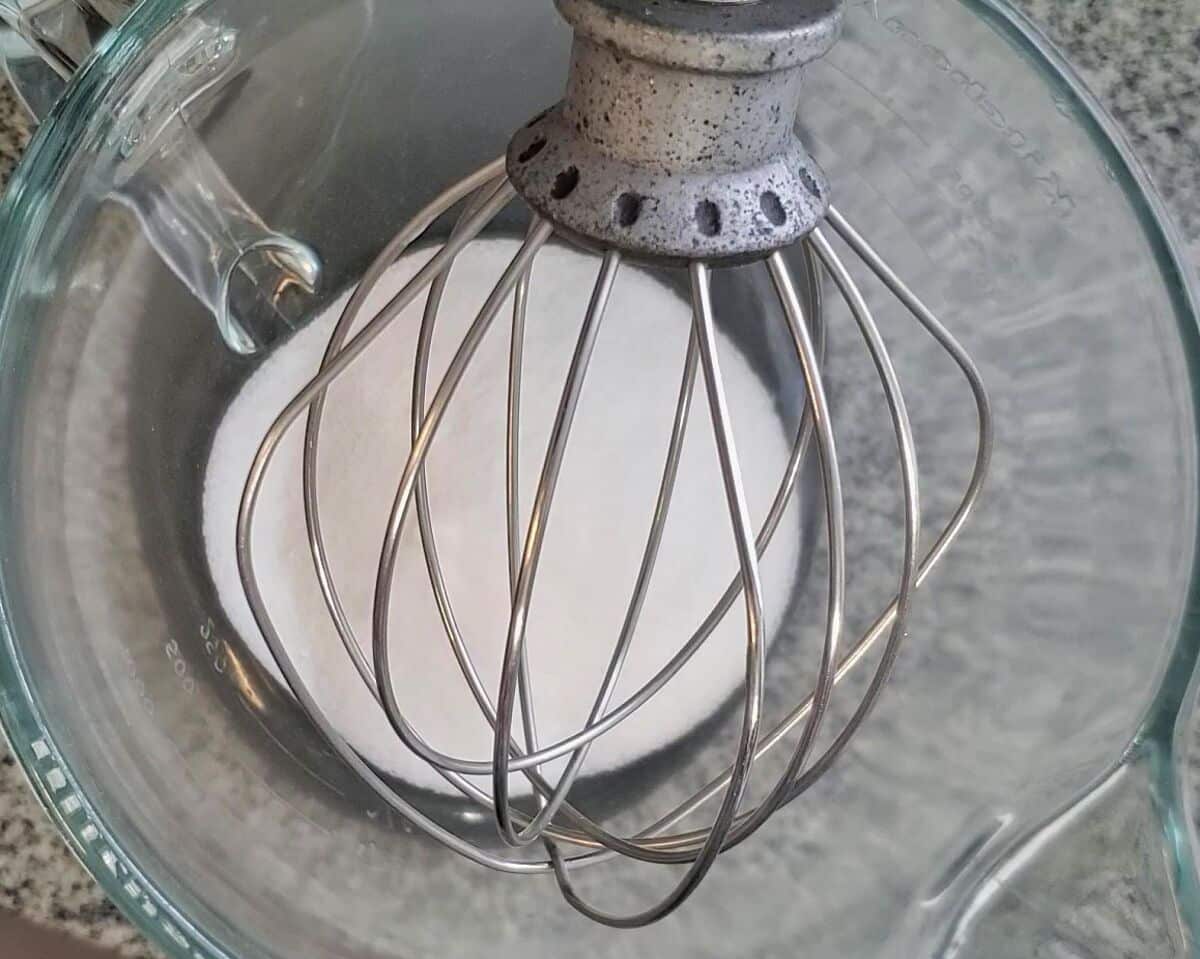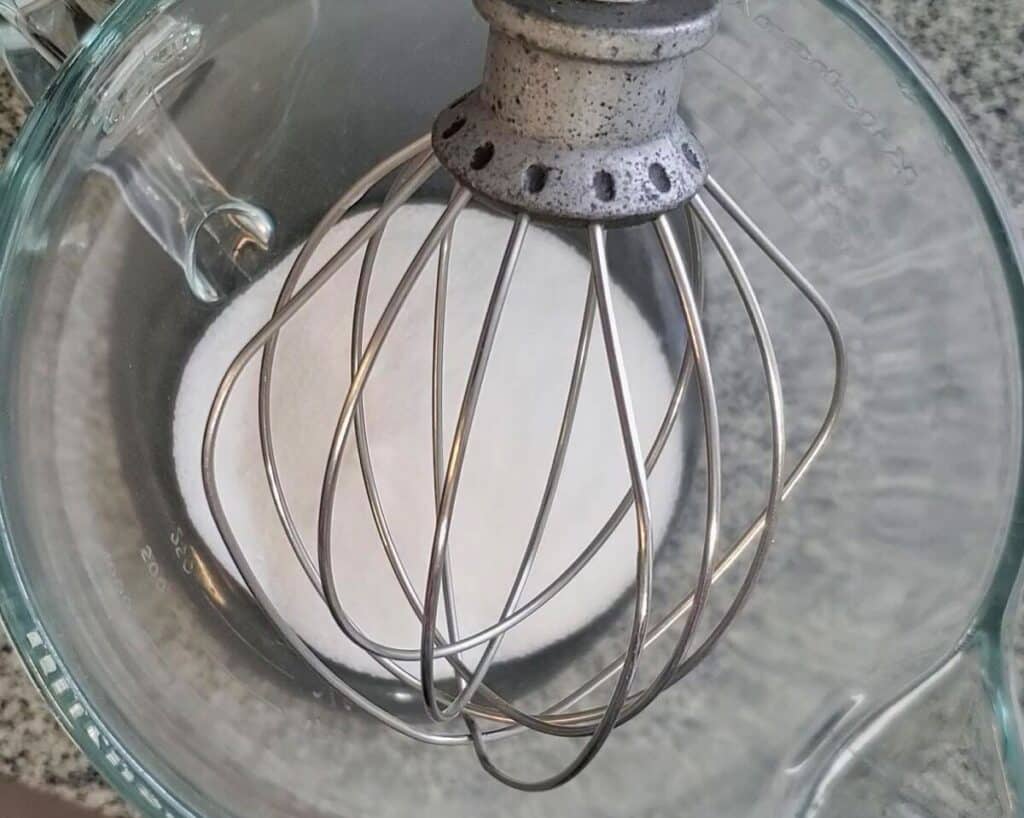 ways to serve gF angel food cake
Plain — plain jane is still one of my favorite ways to eat angel food cake. It's like eating a cloud.
With whipped cream and berries — serve big slices of cake with a dollop of softly whipped cream and fresh berries.
Strawberry Sparkle Cake — I've always wanted to try this with my gf angel food cake. It looks divine.
In the spring and summer, mix whipped cream with a little powdered sugar and freeze dried strawberries that have been pulverized into a fine powder. Spread all over the cake and serve. It makes a beautiful pink presentation.
In the fall and winter, add a tablespoon of pumpkin pie spice blend with the flour and cornstarch. Serve the finished cake with whipped cream that's been sweetened with a few tablespoons of real maple syrup. Heaven!
Make my Gluten Free Patriotic Trifle. It's layers of angel food cake, berries, and a cream cheese/whipped cream mixture and it's perfect for any of those summer holidays (or any day for that matter).
what should i do with all those egg yolks?
Believe it or not, I usually have this the other way around. I use so many egg yolks in much of my baking that I find I always have tons of egg whites to use up. But if you're not like me, here's plenty of ideas for just what to do with those yolks:
Angel Food cake FAQs
Why flip over the pan immediately after baking the cake?
Because angel food cake is so delicate, flipping it over ensures that the cake doesn't fall when cooling.
Do you need to grease the tube pan when making angel food cake?
No, absolute do not grease the pan. The egg whites need that ungreased pan to be able to climb up the sides and center while baking.
Why use cream of tartar in angel food cake? Is there an alternative?
Cream of tartar, a byproduct of wine making, is used to stabilize the egg whites. You can also use lemon juice or vinegar in equal amounts if you don't have cream of tartar.
If you've never made an angel food cake from scratch, now's your chance to give it a try. And since we can't have store-bought angel food cake, making our own is really the only option. You can do it!!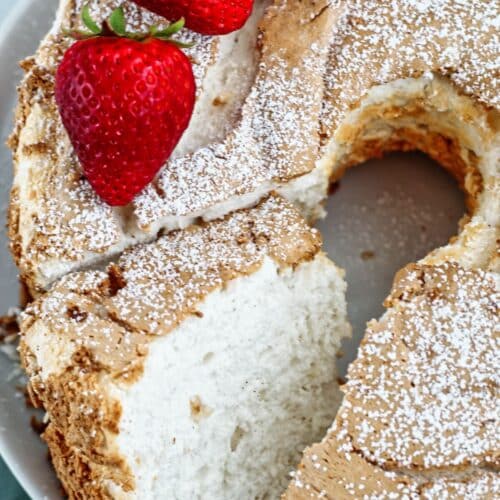 Easy Gluten Free Angel Food Cake
Think angel food cake is too scary to make from scratch?  This lighter-than-air Easy Gluten Free Angel Food Cake recipe breaks all the rules.  
Ingredients
1

cup (140g)

Kim's all purpose gluten free flour blend (a store bought blend may be substituted, but has not been tested)

¼

cup (30g)

cornstarch

1½

cups (300g)

granulated sugar

1½

cups (360ml, about 10-12)

cold egg whites

(straight from the fridge)

1½

tsp

cream of tartar

¼

tsp

fine salt

1

tbsp

vanilla bean paste or pure vanilla extract

½

tsp

almond extract
Instructions
Preheat the oven to 350°. Have your tube pan ready (UNgreased).

Sift the flour blend and the cornstarch together and set aside.

Pour sugar into the bowl of a stand mixer. Add egg whites and whisk on low until the egg whites are broken up and combined with the sugar, one minute. Increase speed to medium (4 on the Kitchenaid stand mixer) and whip for 3 minutes.

Add cream of tartar, pure vanilla extract (or vanilla bean paste) and almond extract. Increase speed to high (8 on a Kitchenaid) and whip egg whites until soft peaks form, 2-4 minutes. When ready, the egg whites will pile up on top, but the peaks will droop over and not stand straight up.

Dump the flour mixture on top of the egg whites and gently fold in using a silicone spatula until no streaks of flour remain.

Pour batter into ungreased tube pan. Run butter knife through batter to release any large air bubbles.

Bake at 350° F for 45-50 minutes, or until a long skewer inserted into center comes out clean OR the cake registers 206° F on an instant read thermometer.

Remove the cake from the oven and immediately tip the pan over onto its "feet" or rest it upside down on the neck of a bottle. Keep the cake upside down until completely cool.

Remove the cake from the pan by running a butter knife around the outside and along the inside tube and lifting up on the inside tube to release the cake from the sides. Run the knife along the bottom to release the cake from the bottom. To serve, use a serrated knife to gently saw through each piece (so the cake won't compress).

Cake will keep at room temperature for 4-5 days, well covered.
Adapted from Brown Eyed Baker's Angel Food Cake recipe.
Recipe method adapted from Stella Parks Effortless Angel Food Cake recipe.