No need to break the bank with store bought gluten free puff pastry. Make this new & improved gluten free rough puff pastry and see how buttery & flaky it is!
No more doing without our favorite old recipes using puff pastry because, ya'll, this gluten free quick "rough" puff pastry is absolutely perfect and will stand in for anything your old cookbooks can dish out!
I posted my recipe for gluten free quick puff back in May of 2019, but I've since tweaked it to be BETTER THAN EVER and you're gonna love it. The first recipe was great and I didn't think it could get better. BUT, it was very temperamental and all the planets had to align to get the proper puff. The layers were there, but the puff wasn't always on point.
What is Rough Puff Pastry?
There are so many recipes out there for puff pastry and just as many techniques. How to turn it into gluten free rough puff pastry is not quite as easy, but I've done all the hard work for you so all you have to do is follow the recipe!!
Instead of making the traditional method of classic puff pastry, where a butter block is folded into the dough (similar to my croissants), I decided to make it a whole lot easier by making a "rough puff.' This is when the butter is in smaller pieces within the dough, and the dough is folded and turned several times (laminated). All this means for us gluten free peeps is that we don't have to slave in the kitchen.
Traditional puff pastry, while I'm sure would work beautifully, would take a lot more time. And often, in order to bake, we have to first make a component of it, like a flour blend. We have to literally MAKE flour!! One day I hope you don't have to make the flour yourself and you can buy it at any grocery store, but for now that's what we have to do. It's a tedious task on its own so anything we can do to shorten our time is great! You'll still get great puff and layers with this quick or "rough puff" version.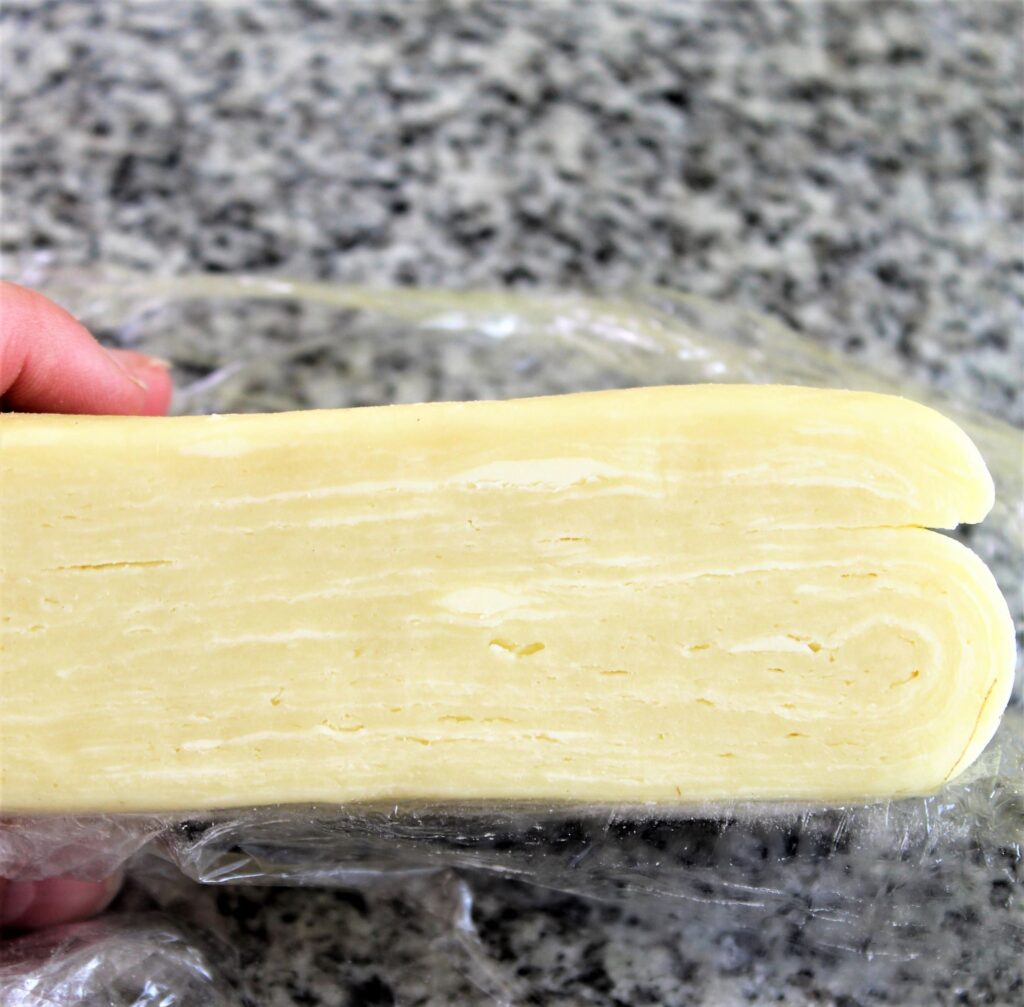 The Ingredients Needed
Kim's Gluten Free Bread Flour Blend -- there really is no substitute for my bread flour blend. Believe me. If there was, I would have found it years ago. The extra protein in the bread flour blend helps give structure to the pastry.
Butter -- don't skimp on the butter this time around. Go for the good stuff--European style unsalted butter. It's made of more butterfat, which means it won't chill too hard and shatter inside your dough. Plus, it tastes amazing!
Egg -- I know it's not traditional, but when is anything in gluten free baking traditional? Sometimes we have to modify things to get the same effects of wheat flour without that ever important little pesky protein called gluten. Eggs have not only protein, but fat and both of those offer stability, flavor, and texture to gf puff pastry.
Salt -- we control the amount of salt added to our pastry since we've used unsalted butter.
Sugar -- this isn't added for sweetness, but for browning purposes. Claire Saffitz adds just a little to hers and she's a boss pastry chef so I trust her methods.
Lemon juice -- just a teaspoon keeps the dough from oxidizing in the fridge (turning gray).
Heavy cream -- game changer here. I used ice water for so long and as soon as I replaced it with cold heavy cream, I got the best results in both puff/texture AND flavor!
Tips for Making Rough Puff Pastry
Surprisingly, gluten free rough puff pastry is very easy to make. It's a lot like making a flaky pie crust.
Start with Kim's gluten free bread flour blend. The extra protein in the flour blend aids in getting the puff AND keeping the puff without collapsing.
Just like pie dough and traditional puff pastry, the butter and liquid (in this case, heavy cream) need to be super cold! You don't want the butter to melt into the dough because you won't get all those layers.
Use cold heavy cream instead of ice water. The extra protein and fat in the cream aids in the puff.
Add an egg to the dough. This is an essential part of the dough that holds it together and also aids in rising. Without gluten, we need that extra boost.
Roll out and fold the dough 7 times!! These folds are called turns because every time the pastry is folded, it's turned ¼ turn. Six of the seven folds are done as double book folds, so you're essentially folding the dough twice but since it's within one turn, it takes less time. If your kitchen is cold enough, you can get away with doing all 7 folds and turns one after the other.
Bake it at the right temperature. I tested the same dough under three different temp options. At 400 and 425 degrees, the baked pastry didn't rise as high. I found 375 degrees F to be the best temp for getting the lift and proper browning without burning.
Rough Puff Pastry FAQs
Can I Use American Butter?
I would not recommend it. The higher water content in American butter means that the butter will become solid when very cold and not have that same u0022plasticityu0022 that is crucial in making laminated pastry. Solid butter can tear through dough, especially gluten free dough, much more easily. European butter is more expensive, but homemade puff pastry deserves the finest ingredients and you can find deals and freeze large quantities. I find a cheaper version of Kerrygold butter at my local Lidl and freeze several pounds, where they're conveniently stored until I'm ready.
Will Bob's Red Mill/King Arthur Flour/(any store bought gf flour blend) Work as a Substitute for Your Flour Blend?
I have not tried this particular recipe with any of the store bought gf flour blends, but if I were a betting woman I would bet that you won't get the same results, just as you won't with any of my gf breads. People state they've had success with using a store bought blend instead of mine in some of my bread recipes, but I can guess that the results aren't quite as good as they could be. u0022Good for gluten freeu0022 is not my goal.
Help! Butter Leaked Out While Baking!!
A little butter leaking out around the corners of your baked pastry is perfectly normal. However, a big pool of butter is not. Your butter could have been too warm when laminating. If your dough feels warm while laminating, stop and put the dough in the fridge for 30 minutes before proceeding. Or your pastry wasn't cold enough before going into the oven. Always make sure to refrigerate it for at least 30 minutes or freeze it for 15 before putting it into the hot oven.
What To Make With This Rough Puff
There are an endless amount of things we can make with this glorious gluten free rough puff pastry! Any recipe calling for traditional puff pastry OR traditional crescent rolls will work with this gf puff pastry. That's right! You can use this recipe as a substitute for the canned crescent rolls!! Here are just a few ideas:
Cheese Straws -- addictive as all get out.
Sausage rolls
Tarts (both sweet and savory)
Palmier -- these ones are sweet, but you can also make savory palmier by filling with pesto, for instance.
Magic Marshmallow Crescent Puffs (one of my favorite recipes when I was growing up)
Veggie pizza -- this is one of those recipes from days gone by that was served at every party I ever went to. It would be one of the first things to go because it was so good.
Pizza Hot Pockets -- irresistible is all I have to say. For once, these are NOTHING like what you remember (and that's a good thing)!
Baked Brie (Brie en Croute) -- talk about cheesy goodness wrapped in flaky pastry. You're missing out if you've never had this wonderful appetizer, but it's okay because now you can make it easily and revel in the glorious oozing cheese!
You'll be amazed at how glorious this gluten free rough puff pastry is, as well as how easy it is to make. The possibilities are endless for what you can do with it!
Glorious Gluten Free Puff Pastry
No need to break the bank with those gluten free puff pastry sheets! We can make our own quick gluten free puff pastry and it's glorious!!
Ingredients
3

cups (420 g)

Kim's gluten free bread flour blend

2

tbsp

granulated sugar

1½

teaspoon

kosher salt

1½

cups (3 sticks or 339 g)

unsalted European butter, divided in half

(Kerrygold for example)

1

large

egg

½-¾

cups (120-180 ml)

very cold heavy cream

1

teaspoon

lemon juice or white vinegar
Instructions
Divide the butter in half (1½ sticks or 169g each) and place half in the freezer for at least 2 hours or up to several days. Cut the other half into ¼-inch thick slices and refrigerate. Measure out the heavy cream and crack your egg into a small bowl. Add about ⅓ of the heavy cream to the egg and keep both the egg mixture and the rest of the cream in the fridge, well chilled, until needed.

Combine flour blend, sugar, and salt in a large bowl.  Using a box grater on the large holes, grate the frozen butter directly into the flour mixture. Toss the butter to coat with the flour, breaking up any pieces that have clumped together.

Add the sliced butter and toss just to coat the butter with the flour. Squeeze the lemon juice into the bowl and toss. Make a well in the center and add the egg/cream mixture. Toss with a fork and check the consistency. If it's still dry, add more cream. You want it to be slightly tacky, not dry, but not sticky and it should hold together well when pressed in fingers.

Mound the dough onto a piece of plastic wrap or parchment paper and fold the plastic or paper over the dough to make a larger rectangle with the wrap (see the video). Turn it over and roll the dough as best you can into the corners of the plastic or parchment to create a larger rectangle that's roughly ½-¾ inch thick. Refrigerate the dough for at least one hour or overnight.

Unwrap the dough and roll it out onto a well floured surface into a long rectangle that's about ¼-inch thick. The thickness is more important than the size. NOTE: If your counter isn't deep enough to roll into a long rectangle, you can divide the dough in half and work on one half at a time. Refrigerate the other half until you're done with the first half.

Fold the top of the dough ⅔ of the way towards you, as if you were folding a letter. Brush off any excess flour. Fold the bottom third (the side closest to you) up and over the first fold. This is a single/letter style and is your first fold. Turn the dough 90 degrees.

Roll it out again into a long rectangle. Optionally, brush the top of the dough with ice water. Fold the top and the bottom to meet in the middle and then fold over once more, as if you were closing a book. This is called a double or book fold. If the dough seems to be getting warm at any time, you can stop at this point, wrap it up, and refrigerate it for 15-20 minutes.

Roll the dough out again into a long rectangle. Repeat the book fold two more times (brushing with ice water if desired) for a total of 3 double/book folds (which equate to 6 total folds) and 1 single/letter fold (your first fold). This makes a total of 7 folds all together.

Wrap the dough tightly in plastic wrap and refrigerate for at least one hour or up to 3 days. The dough can now be used in any recipe requiring puff pastry OR crescent roll dough. Bring it to a cool room temperature before rolling out.

Puff pastry can be frozen for up to 3 months, tightly wrapped. Thaw in fridge overnight before using as indicated.
Notes
*After rolling out puff pastry to use in recipes, place on parchment-lined baking sheet and into the freezer for a few minutes while you allow the oven to preheat before baking.
***Gluten free puff pastry freezes beautifully!  You can leave it in the block and freeze it well wrapped, or portion it out into 8-ounce portions and freeze those individually.  
***DISCLAIMER:  The reason I created my own flour blends is because I could not obtain the results I wanted with flour blends that were available in stores, online, or from other gluten free bloggers.  My recipes have been developed to be used with my own bread flour blend that I created after painstakingly testing for, in some cases, YEARS to develop what I believe to be a superior gluten free bread like no other.  If you do not use my gluten free bread flour blend for this recipe, I cannot speak for the results you will obtain.    While store bought blends may give you a satisfactory result, they may NOT give you the results intended in my recipe.