No need to break the bank with those gluten free puff pastry sheets! We can make our own quick gluten free puff pastry and it's glorious!!
No more doing without our favorite old recipes using puff pastry OR canned crescent rolls because, ya'll, this gluten free quick puff pastry is absolutely perfect and will stand in for both!!
I posted my recipe for gluten free quick puff back in May of last year, but I've since tweaked it to be better than ever and you're gonna love it. The first recipe was great and I didn't think it could get better. BUT, it was very temperamental and all planets had to align to get the proper puff. The layers were there, but the puff wasn't always on point.
What is Rough Puff Pastry?
There are so many recipes out there for puff pastry and just as many techniques. How to turn it into gluten free rough puff pastry is not quite as easy, but I've done all the hard work for you so all you have to do is follow the recipe!!
Instead of making the traditional method of classic puff pastry, where a butter block is folded into dough, I decided to make it a whole lot easier by making a "rough puff.' This is when the butter is in small pieces within the dough, and the dough is folded and turned several times (laminated). All this means for us gluten free peeps is that we don't have to slave in the kitchen.
Traditional puff pastry, while I'm sure would work, would take a lot of time. And often, in order to bake, we have to first make a component of it, like a flour blend. We have to literally MAKE flour!! It's a tedious task on its own so anything we can do to shorten our time is great! You'll still get great puff and layers with this quick or "rough puff" version.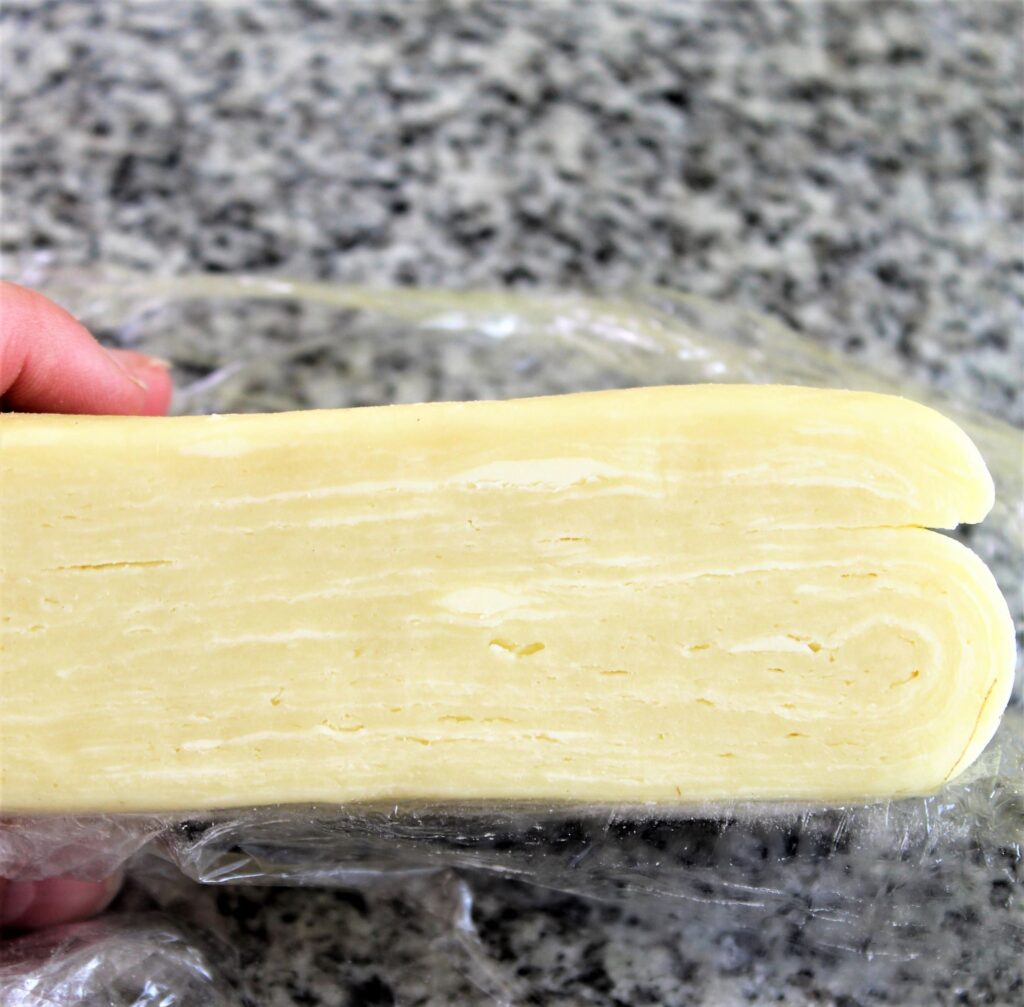 How To Make Gluten Free Puff Pastry
Surprisingly, gluten free puff pastry is easy to make. It's a lot like making a flaky pie crust. It's not typical for eggs OR milk to be in regular puff pastry, but again this is gluten free so things aren't always like they should be when it comes to gluten free baking.
Start with Kim's gluten free bread flour blend.
Use milk instead of water. The extra protein in the milk aids in the puff.
Add eggs to the dough. This is THE essential part of the dough that holds it together and also aids in rising. Without gluten, we need that extra boost.
Just like pie dough and traditional puff pastry, the butter and liquid (in this case, milk) need to be super cold! You don't want the butter to melt into the dough because you won't get all those layers.
Roll out and fold the dough 6 times!! This is called turns.
Bake it at a higher temperature than gluten-filled dough is normally baked. I always bake mine at 50 degrees higher for the first 5 minutes.
What To Make With This Rough Puff
There are an endless amount of things we can make with this glorious gluten free puff pastry! Any recipe calling for traditional puff pastry in a cookbook or online will work with this gf puff pastry. Here are just a few ideas:
Cheese straws (try my recipe here or ANY recipe for puff pastry cheese straws)
Sausage rolls
Napoleon (mille feuille)
Tarts (both sweet and savory)
Palmiers
But WAIT! There's more! I don't know about you, but I have a TON of recipes that call for canned crescent roll dough (think Pillsbury) from my former life (before Celiac). I thought I'd never be able to make them again, but nope. That's not true. I CAN make them again!!! And they're just as good, or even better, than what I remember them to be!
So if you're like me and you, too, have old recipes, you'll need to play around with the amounts. One tube of Pillsbury Crescent Rolls is equal to 8 ounces, so all you need to do is weigh out 8 ounces (or however many tubes are required for your recipe). Roll the dough into a rectangle and cut triangles (if your recipe uses triangles).
If your recipe calls for one large sheet of dough, no cutting will be necessary. Just roll it out and use it in your recipe as normal! You may need to adjust the temperature to a slightly higher temperature. If your recipe calls for a 350-degree oven, bake it at 400 degrees for the first 5 minutes, then drop it down to 350. That will give the pastry a chance to puff first before setting.
Get in the kitchen and make this right away! You're gonna be amazed at how glorious it truly is!! ALL.THE.FLAKY.LAYERS 🙂 🙂 🙂
Glorious Gluten Free Puff Pastry
No need to break the bank with those gluten free puff pastry sheets! We can make our own quick gluten free puff pastry and it's glorious!!
Print Recipe
Ingredients
3¾

cups (525 g)

Kim's gluten free bread flour blend

¼

cup (50 g)

granulated sugar

1

tbsp

baking powder

1¼

tsp

fine sea salt

1

cup (226 g)

butter, cut into 1/2-inch pieces and kept very cold

2

large

eggs

1 to 1½

cups (240 to 360 ml)

cold milk
Instructions
Combine flour blend, sugar, baking powder, and salt in a large bowl.  

Add butter pieces and flatten with your fingers until they are all flattened and well combined throughout the dry ingredients.

In a measuring cup, mix the eggs and milk.  Add half the egg and milk mixture to the flour mixture and toss with a fork. Continue adding and tossing until mixture is wet enough to stick together, but not overly wet. You may not need the entire egg/milk mixture.

Dump dough out onto lightly floured surface and press with your hands into somewhat of a cohesive mass.  Using a rolling pin, press down at different places in the mass into a rectangle about 7 by 10 or 11 inches long.  It will be messy and may look like it's not going to come together at all.  Use a bench scraper or ruler to "shore up" the sides into a rectangle as best you can.

Using the bench scraper or your hands, do your best to fold the top third of the dough down to the middle, just like you'd fold a letter, and then the bottom third up over the top third.  Large chunks may fall off.  Just put them back on and continue.  Turn the dough clockwise.  This is your first turn.

Press and roll dough out again into 7 by 10-inch rectangle, adding a little flour as necessary to keep dough from sticking. Fold again into a letter style. Each time you do this, it will start to look more and more like a dough. Turn clockwise. This is your second turn.

Repeat all of this again 4 more times for a total of 6 times.  If the dough begins to get too soft, stop rolling and folding and put in the refrigerator for about 10 minutes, noting which turn you were on.

When completed, your dough should be totally cohesive and look similar to pie dough.  Wrap in plastic wrap and allow to chill for at least 1-2 hours before using as desired in any recipes calling for puff pastry or crescent rolls.

For puff pastry or crescent dough recipes, increase the temperature by 50 degrees F for the first 5 minutes of baking and then drop it back to what your recipe normally calls for. This will give the gluten free puff pastry a chance to puff well before baking the rest of the way.
Notes
*After rolling out puff pastry to use in recipes, place on parchment-lined baking sheet and into the freezer for a few minutes while you allow the oven to preheat before baking.
**I find that gluten free puff pastry does better at higher temperatures.  Whatever recipe you're using, bump up the temperature by 50 degrees for the first 5 minutes.  A hot oven is needed for those first few minutes.   
***Gluten free puff pastry freezes beautifully!  You can leave it in the block and freeze it well wrapped, or portion it out into 8-ounce portions and freeze those individually.  
***DISCLAIMER:  The reason I created my own flour blends is because I could not obtain the results I wanted with flour blends that were available in stores, online, or from other gluten free bloggers.  My recipes have been developed to be used with my own bread flour blend that I created after painstakingly testing for, in some cases, YEARS to develop what I believe to be a superior gluten free bread like no other.  If you do not use my gluten free bread flour blend for this recipe, I cannot speak for the results you will obtain.    While store bought blends may give you a satisfactory result, they may NOT give you the results intended in my recipe. 
Recipe adapted from Gesine Bullock-Prado's Perfect Puff Pastry class on Bluprint.