This easy gluten free fresh strawberry pie recipe is packed with strawberries for a bright, fresh, and flavorful treat that will please everyone!
Some of the items linked in this post are affiliate links, meaning, at no additional cost to you, if you click through and make a purchase, I will earn a small commission.
I live in Virginia Beach, Virginia, home of the Pungo Strawberry Festival, which was actually featured on the Cooking Channel a few years back. Pungo is a community within the city of Virginia Beach that was one of the orginal burroughs of the area. It's got a laid back vibe and it's like the "country" part of our city. I love Pungo and only live a few minutes from it.
We often find ourselves in the spring and summer picking fresh produce, including blueberries, corn, green beans, blackberries, and strawberries! Picking your own produce is so cheap and so fresh. You know how tomatoes from a garden are like nothing you've ever tasted from a supermarket? Same goes for strawberries. They're extra sweet and seem to be juicier than any strawberries I've ever had.
My favorite way to eat freshly picked strawberries is to just pop 'em in my mouth. HOWEVER, this pie is a close second to that and may even be a rival for first place. I don't think I've ever had a more fresh-tasting, strawberry forward dessert in my life!! It really showcases the sweet strawberries in a way like no other. All the older Pungo ladies that you'll find in the strawberry fields picking buckets and buckets of strawberries always make a pie just like this, among other things.
What's In This Fresh Strawberry Pie?
The ingredients are few, but the rewards are many 😉
Strawberry Jello mix--it doesn't make this a strawberry Jello pie. It just holds everything together. The strawberries are the real stars. Seriously. It's actually a strawberry pie with a little bit of Jello to hold it together, not a strawberry Jello pie.
Fresh strawberries--you cannot make a strawberry pie without 'em! If you can get fresh picked in your area, they will make this pie even better, but supermarket strawberries will work just fine as well.
Sugar--for added sweetness.
Cornstarch--helps thicken the mixture that encases the strawberries into their heavenly home 🙂
Vanilla Bean Pod--this is optional, but I think it plays well with the strawberries. You can use a whole vanilla bean pod and scrape the seeds into the glaze mixture, but if you happen to have a spent vanilla bean pod (you've already used the actual seeds for another recipe) then use that.
Rose water--this is another optional ingredient and you only need a few drops, but if you happen to have it, add some to the filling. It makes such an incredible flavor addition to this pie.
Crust--there are a few options for a crust here, which I talk about below.
The Crust
I've made this pie with both regular pie crust and a crumb crust and both are equally wonderful! One is flaky and tender, while the other is crunchy and sweet. Whichever option you choose, you'll be satisfied with it being the vessel that delivers the strawberries to your mouth, haha!
If you haven't yet tried my gluten free pie crust, now is the time! There's a video showing just how easy it is to roll out the dough and blind bake it.
But if you ain't got no time for that, (lol!) making a crumb crust is another easy option. You can choose vanilla OR chocolate cookies for your crumb crust, OR store bought or homemade gluten free graham crackers, depending on your vibe at the time. All you'll need is the cookies or crackers to crush in a food processor, a little bit of sugar and some melted butter to bind it all together.
Putting The Pie Together
After boiling the strawberry syrup and allowing it to cool, you can mix it into the strawberries in a bowl or you can pour it over artfully placed strawberries in the crust. I like the rustic look of all the strawberries and syrup mixture combined first, but if you'd prefer a more strategically placed and decorated pie, go for the pour-over!
Making Homemade Whipped Cream
You can certainly leave off the sweetened whipped cream from this strawberry pie if you want. But whipped cream and strawberries are such good friends and the billowy cream pairs beautifully with the Jello-set strawberries and crust.
Pour cold heavy whipping cream into the bowl of a stand mixer or large bowl with a handheld mixer fitted with the whisk attachment. Begin mixing on low just until frothy. Add powdered sugar and vanilla and turn up the speed to high, whisking until soft peaks form.
Gluten Free Fresh Strawberry Pie FAQs
Why Do I Have to Boil the Glaze Mixture so Long?
Although 3 minutes isn't long at all, it does seem to take FOREVER when you're whisking and whisking over a hot stove. But you must persevere because that's how long it takes for cornstarch to reach its proper thickening powers and for the glaze to go from cloudy and opaque to transparent.
Where Do I Store the Pie?
Because of the small amount of Jello in the pie, you'll need to store it in the refrigerator. The coldness of the pie on a hot summer day is heaven anyway.
How Long will it Last?
Properly stored (in the fridge covered with plastic wrap or foil), this pie will last about 4-5 days. I would not suggest topping it with the whipped cream until you're ready to serve. You can, however, whip the cream and place it in a covered container until it's pie time!
more gluten free strawberry recipes
The best way to serve this pie is with a large spoonful of whipped cream freshly dolloped on top of each piece that cascades down the sides and envelopes the pie in billowy sweet goodness! Don'tcha want a piece of this pie right now?!?!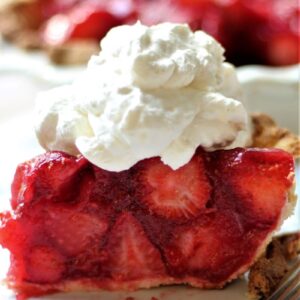 Easy Gluten Free Fresh Strawberry Pie
This gluten free fresh strawberry pie is so easy, but it's so bright and flavorful you'll have people thinking it took you forever to make!!
Ingredients
OR CRUMB CRUST
2

cups (170 g)

gluten free graham crackers

(or any other gluten free cookie--vanilla or chocolate)

2

tablespoon

granulated sugar

3

tablespoon

butter, melted
STRAWBERRY FILLING
3

pounds (1.362 kg)

strawberries, rinsed, stemmed, and cut in half if large

¾

cup (150 g)

granulated sugar

½

cup (120 ml)

water

3

tbsp (23 g)

cornstarch

1

3 ounce package (85 g)

strawberry jello mix

1

vanilla bean, empty or with the seeds scraped into the filling, if desired

⅛-¼

teaspoon

rose water, if desired
SWEETENED WHIPPED CREAM
2

cups (480 ml)

heavy whipping cream, cold

¼

cup (32 g)

powdered sugar

2

teaspoon

vanilla extract
Instructions
For the Crust:
If using regular pie crust, follow recipe instructions for blind baking a pie crust and allow it to cool.

If making a crumb crust, In the bowl of food processor, grind cookies until fine crumbs. Add sugar and melted butter and process until sandy texture.

Press into the bottom and up sides of 9-inch pie plate. Bake in a 350° F oven for about 12-14 minutes, until lightly browned. Cool on wire rack while you make the filling.
For the Filling:
Puree one cup of the strawberries and set aside.

In a medium saucepan, whisk together the sugar and cornstarch. Add the pureed strawberries and water and bring to a boil over medium heat, stirring constantly. Cook for 3 more minutes or until the mixture turns thick and clear.

Remove from the heat and add strawberry jello mix and vanilla pod (if using). Also add the rose water at this time, if using. Mix well and allow to cool.

While jello mixture is cooling, rinse strawberries and remove stems. Slice larger strawberries in half.

Once jello mixture is cool, remove and discard the empty vanilla pod. Arrange the strawberries in the crust and pour the jello mixture over the strawberries OR pour the mixture over the strawberries in a large bowl and stir to combine (for a more rustic look). Fill prepared pie crust with the filling.

Refrigerate until set, at least two hours, or overnight.
Whipping the Cream:
Pour the heavy cream in the bowl of a stand mixer or handheld mixer, both fitted with the whisk attachment. Begin whisking on low until foamy. Add sugar and vanilla and turn speed up to high, whisking until soft peaks form.

Serve each piece of pie with freshly whipped cream, or pipe cream onto the pie with a pastry bag fitted with a large open star tip.

Pie will keep in the refrigerator for 3-4 days.
This pie was originally posted on June 4, 2019 and has been updated with new pics and a slight alteration to the original recipe.