Crunchy, succulent, and served with a sweet and spicy sauce, this Gluten Free Coconut Shrimp will beat any restaurant version hands down!
Some of the items linked in this post are affiliate links, meaning, at no additional cost to you, if you click through and make a purchase, I will earn a small commission.
When was the last time you had coconut shrimp? Me? It would have to be at least 12 years ago or more. They used to have what they called the Shrimp Trio on the menu at a local seafood joint, Hot Tuna. The dish included coconut shrimp, beer-battered shrimp, and buffalo shrimp. If I remember right, the buffalo shrimp was the same as the beer-battered shrimp, but drizzled with buffalo sauce and blue cheese crumbles.
The coconut version was one of my favorites, and when I found out I had celiac, I knew I wouldn't be able to have them ever again. Unless by some strange turn of luck, all the restaurants I frequented decided to go gluten free, especially in their fryers. Ha! That'll be the day. Am I right?!?! Maybe one day it'll happen I guess, but I'm not waiting for that to eat the stuff I miss. And that includes coconut shrimp. These Gluten Free Coconut Shrimp might just be better than anything I ever got from a restaurant. According to my son and husband, they are. And remember, they're the gluten eaters so they can get it whenever they want.
the ingredients required for coconut shrimp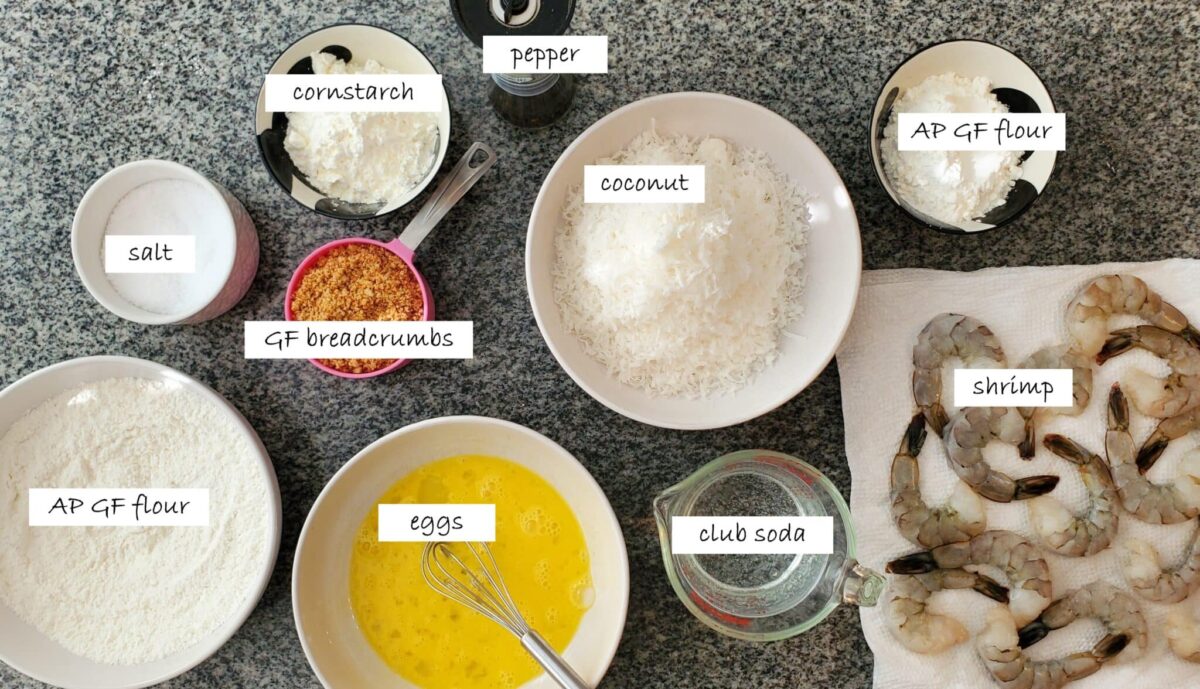 Sweetened shredded coconut — I know you might think sweetened isn't something you want for shrimp, but trust me–it works.
Gluten free bread crumbs — you can purchase these at most supermarkets or make your own here.
Club soda — this is used in the tempura-style batter for dipping the shrimp before coating in the coconut and bread crumbs.
Cornstarch — mixed with some gf all purpose flour, cornstarch helps create that light coating similar to a tempura batter.
Set Up Your Three Breading Stations
Using shallow bowls or even cake pans, set up a breading station in this order:
Kim's all purpose gluten free flour blend with salt and pepper.
Tempura-like batter — Kim's all purpose gluten free flour blend, salt, pepper, cornstarch, eggs, and club soda whisked together to form a very thin batter.
Shredded coconut and bread crumbs tossed together.
Dip each shrimp first in the flour, followed by the batter, and finally into the coconut mixture. Place them in a single layer on a parchment-lined baking sheet. Once breaded, you can cover and refrigerate the shrimp for a few hours, freeze them for up to six months, or fry them immediately!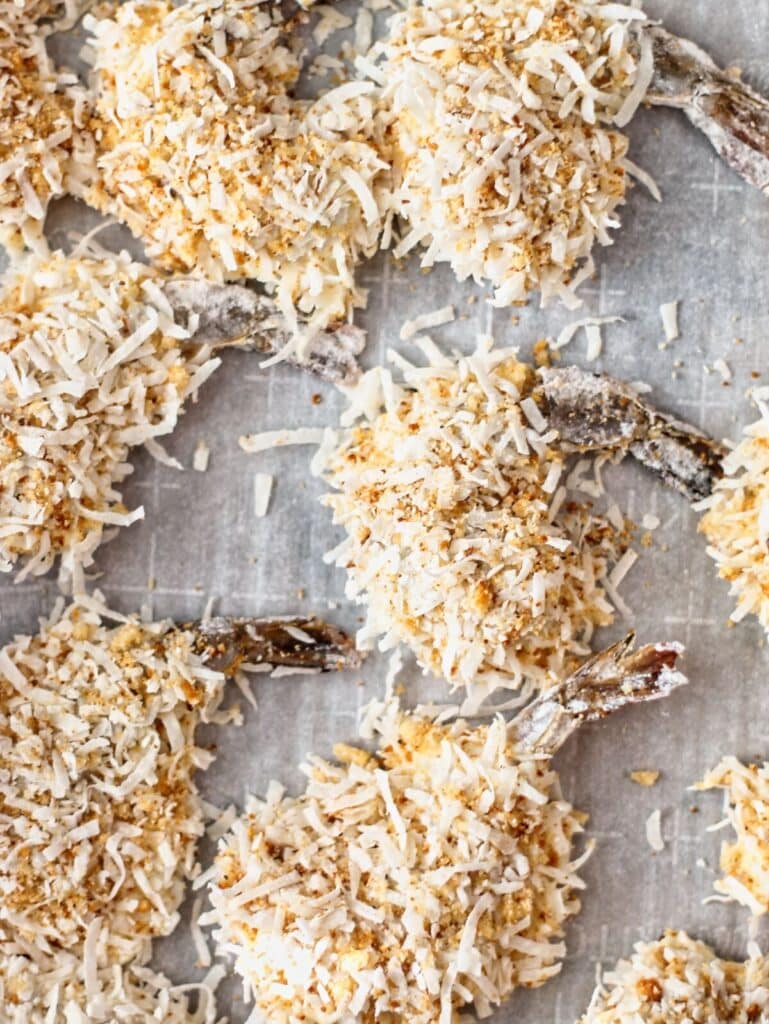 Let's Fry!
Now that all the shrimp are breaded and they've taken a little siesta in the fridge, it's time to fry. Deep frying offers the best results because it immediately seals the shrimp in the crunchy coating and provides the crispiest breading. However, I understand if you don't want to deep fry. So an alternative is shallow frying, which is done in a higher-sided saute or frying pan. The only downside to this method is that you'll need to flip the shrimp over halfway through.
Whichever method you choose, heat your oil over medium heat to 350 degrees F. I use canola oil, but vegetable oil or any neutral-flavored oil will work just as well. Holding one shrimp by its tail, carefully lower it into the hot oil. Gently wave it back and forth before setting it carefully into the oil. This will seal the breading and help it to not stick to the bottom or to other shrimp. Add about one third of the shrimp at a time, allowing them to cook for approximately 2-4 minutes, or until deep golden brown. Repeat with the remaining shrimp and serve with a dipping sauce.
Sweet and Spicy Orange Dipping Sauce
This sauce is so good, I'll most likely be serving it with many other things and not just coconut shrimp. Here's what you'll need:
Orange Marmalade
Chili Sauce — this (affiliate link) is the brand I use, but any sweet chili sauce will work
Dijon mustard
Honey
Hot sauce — Frank's Red Hot (affiliate link) is my preferred choice for hot sauces, but use whatever your favorite is.
Coconut Shrimp Frequently Asked Questions
Can I Use Unsweetened Coconut?
You could try it, but you won't get the same coconut flavor that you get from those restaurant style coconut shrimp.
Are Coconut Shrimp Make Ahead Friendly?
Yes! Once breaded, they can be covered and placed in the fridge for a couple of hours or freeze them for up to six months (and fry from frozen).
Can Coconut Shrimp be Air Fried?
I haven't tried it, but I'm sure coconut shrimp would do great in an air fryer! Refrigerate the shrimp for at least an hour before frying so the coating sticks well and make sure to spray them liberally with nonstick spray. Set your air fryer for 350 degrees F and check it after a few minutes. You may need to flip them over and re-spray them.
Will Store Bought Gluten Free Flour Work?
Yes, it should work just fine in this recipe.
If you've been missing them as much as I have, make these Gluten Free Coconut Shrimp and you'll be amazed at how much better they are than anything you ever ordered at a restaurant!
Gluten Free Coconut Shrimp
Crunchy, succulent, and served with a sweet and spicy sauce, this Gluten Free Coconut Shrimp will beat any restaurant version hands down!
Ingredients
1¾

cups (245g)

Kim's all purpose gluten free flour blend divided

2

large

eggs

1¼

cups (300ml)

club soda

¾

cup (90g)

cornstarch

3

cups (285g)

sweetened shredded coconut

1

cup (128g)

gluten free breadcrumbs (store bought may be used)

1

lb (454g)

peeled and deveined shrimp

I iuse 13-15 count, which are labeled "super colossal" but any size will work

oil for frying

salt and pepper to taste
For the Sauce
1

cup (320g)

orange marmalade

⅓

cup (93g)

sweet chili sauce

⅓

cup (113g)

honey

2

tbsp

Dijon mustard

1

tsp

hot sauce

I used Frank's Red Hot
Instructions
Make the Sauce
In a small bowl, whisk together all the sauce ingredients. Refrigerate until ready to serve.
Prepare the Dredging Station
Prepare three shallow bowls for dredging. In the first bowl, add 1 cup (140g) of all purpose gf flour, 1/2 tsp salt, and 1/4 tsp pepper, and whisk to combine.

In the second bowl, whisk together the eggs, club soda, remaining ¾ cup (105g) all purpose gf flour, cornstarch, and club soda until a very thin, smooth batter forms. Add salt and pepper and whisk to combine.

In the third bowl, add the sweetened shredded coconut and breadcrumbs and toss together, breaking up any larger clumps of coconut with your fingers.

Holding one shrimp by the tail, dredge it into the flour bowl and shake off any excess. Then dunk it into the thin egg batter and let any excess drip. Follow this by dredging it into the coconut mixture, pressing to adhere as much coconut mixture onto the outside of the shrimp as possible.

Place fully breaded shrimp onto parchment-lined baking sheet and finish dredging all of the shrimp. Cover the baking sheet loosely with plastic wrap and refrigerate for 30 minutes or up to 2 hours.

Pour oil to a depth of 2 inches in a large Dutch oven or heavy bottomed saucepan and heat over medium heat to 350° F.

When ready to fry, carefully lower shrimp into hot oil, only adding about half the shrimp at a time. Fry until golden brown on both sides, about 3-4 minutes. Drain on paper towels and serve immediately with sweet and spicy sauce.
Notes
I haven't tried these in the air fryer yet, but they should work beautifully.  Spray both sides well with nonstick spray and air fry at 350 degrees F for 2-4 minutes, or until golden brown and crispy.  You may have to experiment with the temperature and time, depending on the type of air fryer you have.  
Adapted from Chef Billy Parisi's Homemade Coconut Shrimp Recipe and Dipping Sauce
Did you make this recipe? Snap a pic and tag @letthemeatglutenfreecake on Instagram so I can see your creation!