No time to make buckeyes this Christmas? In under 30 minutes, these buckeye bars are just as tasty without all the work.
You'll love the combination of peanut butter and chocolate in these easy no bake, no roll, no dip buckeye bars! So easy, you can make them in under 30 minutes. My mom has been making these for as long as I can remember and they are a family favorite.
What are Buckeye Bars?
Peanut butter and chocolate. They go together like bread and butter. Bacon and eggs. Spaghetti and meatballs. So it's safe to say you'll love the combination of creamy peanut butter and rich chocolate in these peanut butter bars.
My mom used to do a lot of baking in my childhood. There was never a time without something freshly baked in our home. It seems to be a dying "art" because people either A) buy things pre-made because they don't have time or B) don't eat that stuff because it's "bad" for them.
These buckeye bars (or as we called them when we were little, peanut butter cups) were ALWAYS in our house! Even my childhood friends remember how much they loved them. They're just so easy and so addictive that no one could forget!!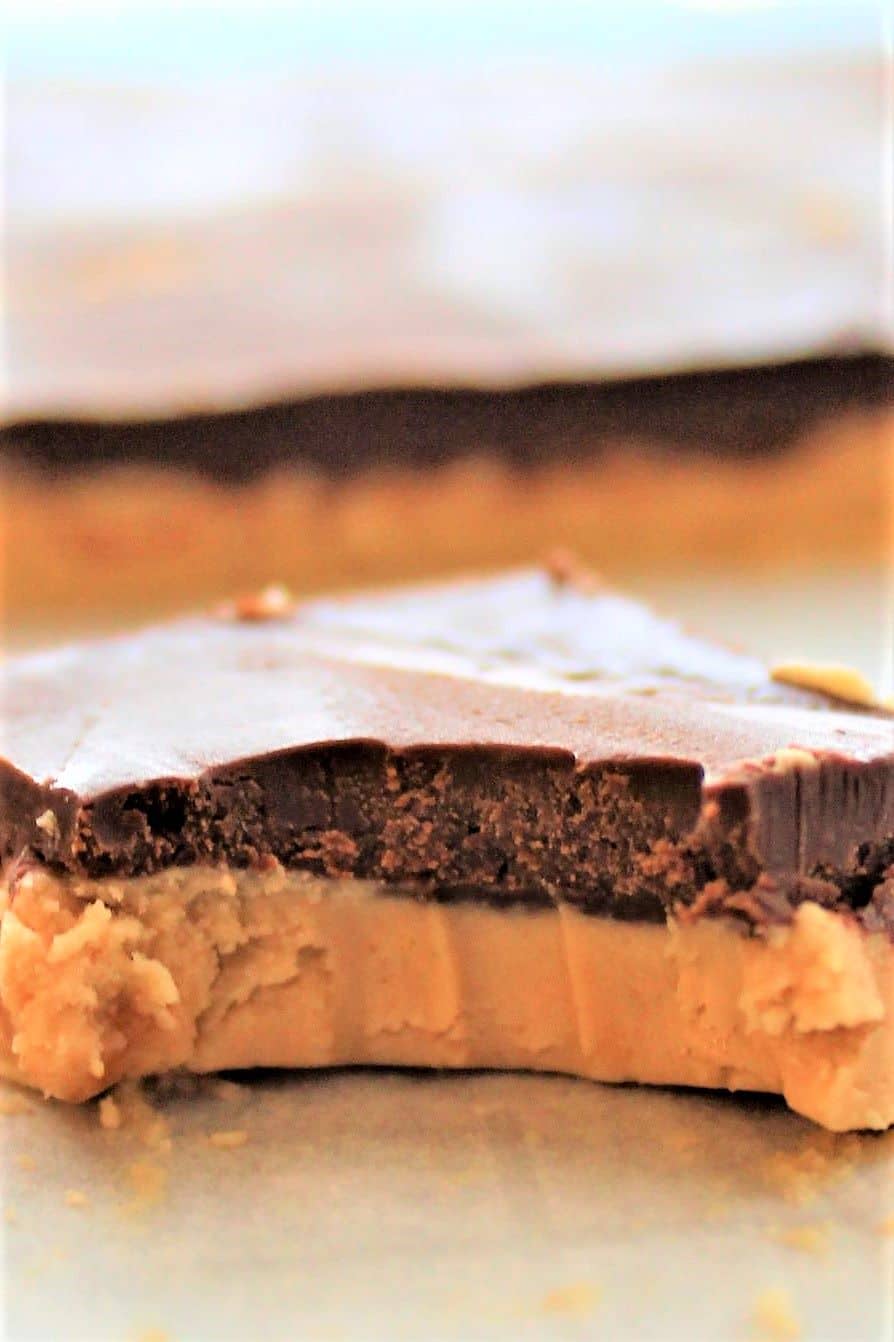 The Four Ingredients
You most likely have most, if not all, of these ingredients in your kitchen right now so you could make these TODAY!!
Peanut Butter — Don't use natural peanut butter. It won't set up properly. I always use Skippy, but any other brand will work as long as it's not natural. You can even use chunky (I like mine smooth).
Butter — most of my mom's old recipes called for butter or margarine, or even Oleo (which was apparently a brand of margarine back then). I stick with real butter in all my baking. If you're vegan, however, you should be able to make these using a butter substitute.
Powdered Sugar — mixed with the butter and peanut butter, it gives the right amount of sweetness and the proper consistency to the base mixture.
Semi-sweet Chocolate Chips — you can use milk chocolate chips, but the original recipe called for semi-sweet and I think it balances nicely with the sweet peanut butter mixture. For vegans, use either Enjoy Life or the new Nestle Toll House allergen free chocolate chips.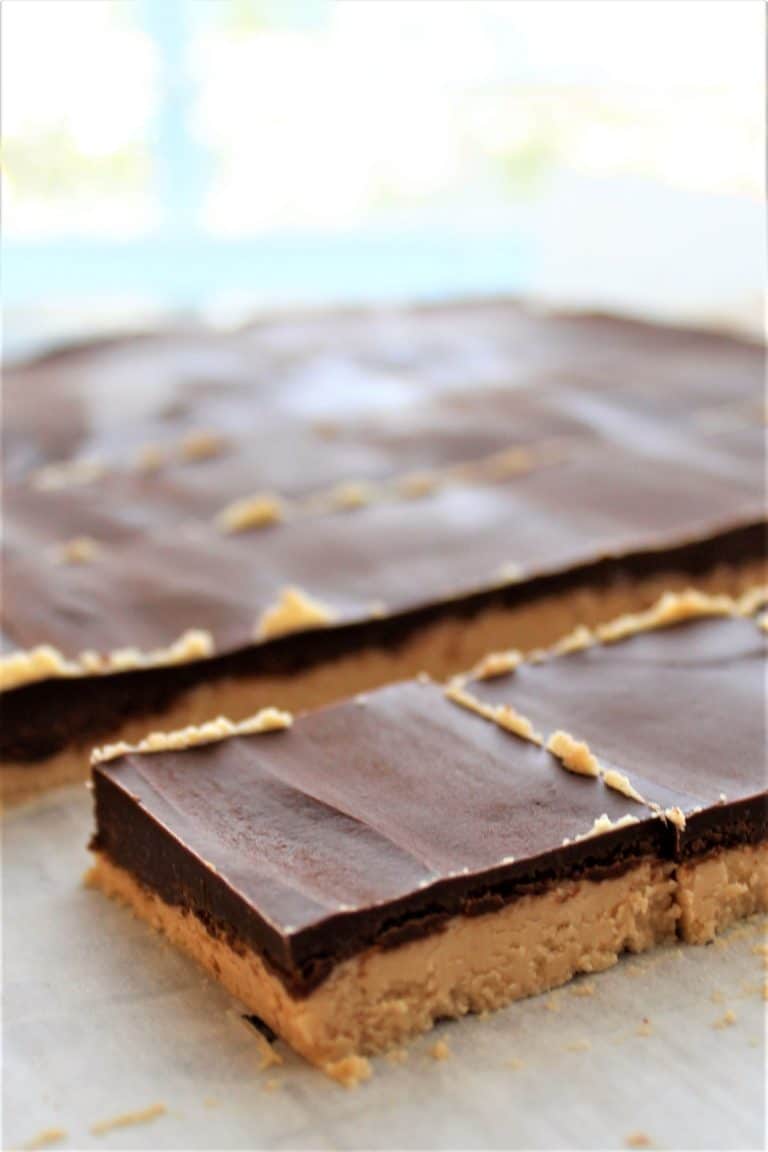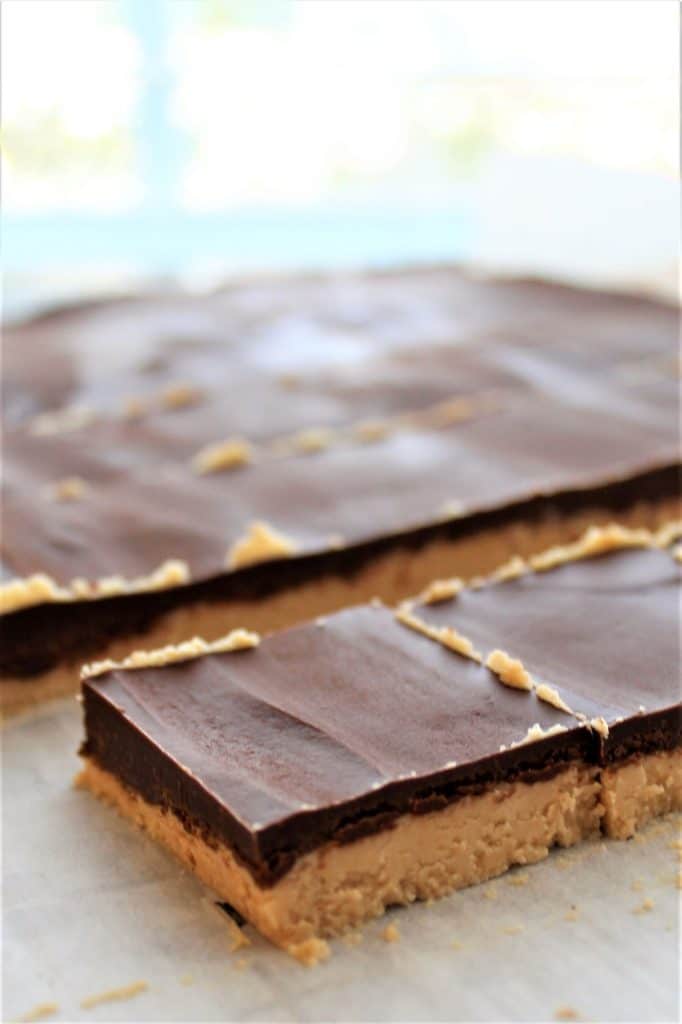 Can These be Made into Peanut Butter Cups?
I would say yes, but you would need to change the chocolate mixture or use a different type of chocolate. Chocolate chips don't melt the same way a chocolate bar would, so you would need to either temper bar chocolate or use a chocolate coating, such as Mercken's, to make the cups.
If you're dead set on making these into cups, check out my recipe for Chocolate Dipped Easter Eggs, which can be converted into cups with this mold.
How do I Store Buckeye Bars?
The buckeye bars can be stored at room temperature, especially if they're being added to a cookie tray or box. If making them in warmer climates, they do best in the fridge because the chocolate mixture will soften at warmer temps.
Can I Use Coconut Oil to Replace the Butter?
I haven't tried it, but I'm sure you could use equal amounts of coconut oil in lieu of the butter in this recipe. I would use refined coconut oil, unless you want a slight coconut taste (which I'm not sure would be all bad actually).
If you love the taste of buckeyes but just don't have the time for all that goes into making them, you should definitely make these buckeye bars. They taste exactly the same but are so much easier to make!
Buckeye Bars (Naturally Gluten Free)
No time to make buckeyes this Christmas? In under 30 minutes, these buckeye bars are just as tasty without all the work.
Print Recipe
Ingredients
1

stick (113 g) plus 3 tbsp (42 g)

softened butter, separated

1½

cups (375 g)

creamy or chunky peanut butter (not natural)

3

cups (375 g)

powdered sugar

1

12-ounce bag (340 g)

semi-sweet chocolate chips
Instructions
Place the one stick of butter and the peanut butter in a large bowl and beat on medium high until well combined and creamy.

Slowly add the powdered sugar on low speed until combined. Mix on medium high until well combined. It will look like large crumbs.

Remove the "dough" from the bowl and press it into a parchment or waxed paper lined 9 x 13-inch dish, pushing to the corners until the bottom is completely covered.

Melt the chocolate chips with the remaining 3 tbsp of butter in a small saucepan (or in the microwave) until all the chips have been melted and the mixture is thick and smooth. Dollop spoonfuls of the chocolate mixture all over the peanut butter mixture and spread it to the corners using an offset spatula.

Chill until set, about 30 minutes. Remove from refrigerator, cut into squares, and serve. Store at cool room temperature( or in the refrigerator) for up to one week (if they last that long)!
Notes
*Peanut butter bars can be frozen.  Cut into 2-inch squares, flash freeze (place in one layer on parchment-lined baking sheet and freeze until firm), then wrap with plastic wrap or foil before putting in a large gallon-size bag.  Remove as many bars as desired and let thaw in one layer, unwrapped, at room temperature, about 30 minutes to an hour, depending on ambient temperature.