Homemade Gluten Free Flour Tortillas was originally posted on April 30, 2021 and has been updated with new pictures, new copy, and more tips.
These homemade gluten free flour tortillas are SO easy to make, you don't need any special equipment, they're soft and pliable, and they won't rip apart. Winner, winner, burrito dinner!!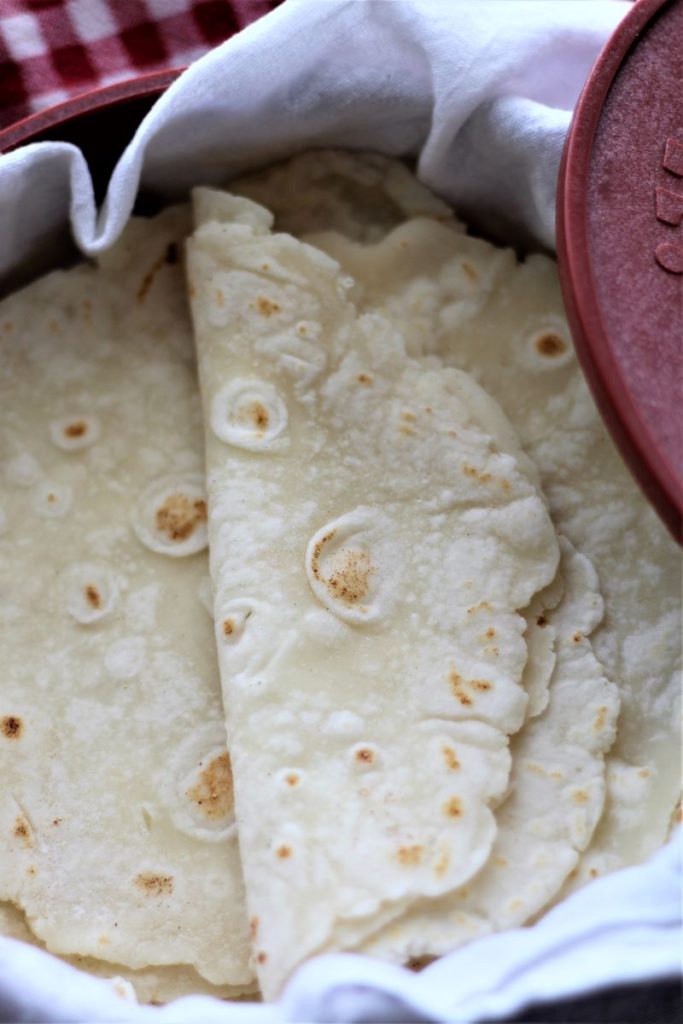 Some of the items linked in this post are affiliate links, meaning, at no additional cost to you, if you click through and make a purchase, I will earn a small commission.
I'm one of those people who, if I can find something in stores that is just as good as homemade, I'll buy it because I'd rather not make it if I don't have to. For instance, sometimes I can find really great gluten free pasta so I'll buy it instead of making it myself. Especially when all I want to do is dump the box in boiling water. But all the gluten free flour tortillas I've ever tried have just been "okay," not great. They're usually likely to tear if they're overstuffed (I'm looking at you, Mission Tortillas!) and I tend to overstuff all the time.
These gluten free flour tortillas, though. They're different. They're super soft and can be as thick or thin as you want to roll them. AND can be as big or small as you want. They won't fall apart either. I'd say that's enough convincing NOT to buy the $5.00 package of so-so gluten free flour tortillas, wouldn't you? To boot, this dough can be made ahead of time, stored in the fridge, and when the craving for fresh tortillas hits (1, 2 or 8) they can be rolled out in no time!
Ingredients in Gluten Free Flour Tortillas
I've seen recipes all over the 'net calling for baking powder or Expandex modified tapioca starch in homemade gf flour tortillas. This recipe is adapted from one of the many classes I took on Craftsy. It calls for only three ingredients--flour, salt, and a fat, such as lard, shortening, or butter. Water is considered a "freebie." I modified it to be gluten free and it works beautifully!!
I rarely, if ever, have shortening on hand. But I ALWAYS have butter in my fridge so that's what I use for these flour tortillas. If you have lard or shortening, feel free to use either of those as I know lard is the traditional fat in authentic flour tortillas.
how to make gf flour tortillas
Whisk together gf flour blend and salt. Add softened fat of choice and mix thoroughly until the mixture resembles wet sand.
Add warm water, a little at a time, until the dough comes together and is slightly tacky, but not sticky. You may not need all of the water.
Wrap the dough in plastic and refrigerate for at least one hour.
Tear off golf ball-sized pieces of dough and roll into a flat round (either on a well-floured surface or on a piece of parchment paper).
Cook over high heat in a cast iron skillet (or medium-high in a nonstick skillet) until bubbles begin to form. Flip over and continue to cook for roughly 30 seconds.
Remove and wrap in a tea towel to keep warm while cooking the remaining tortillas. Serve warm.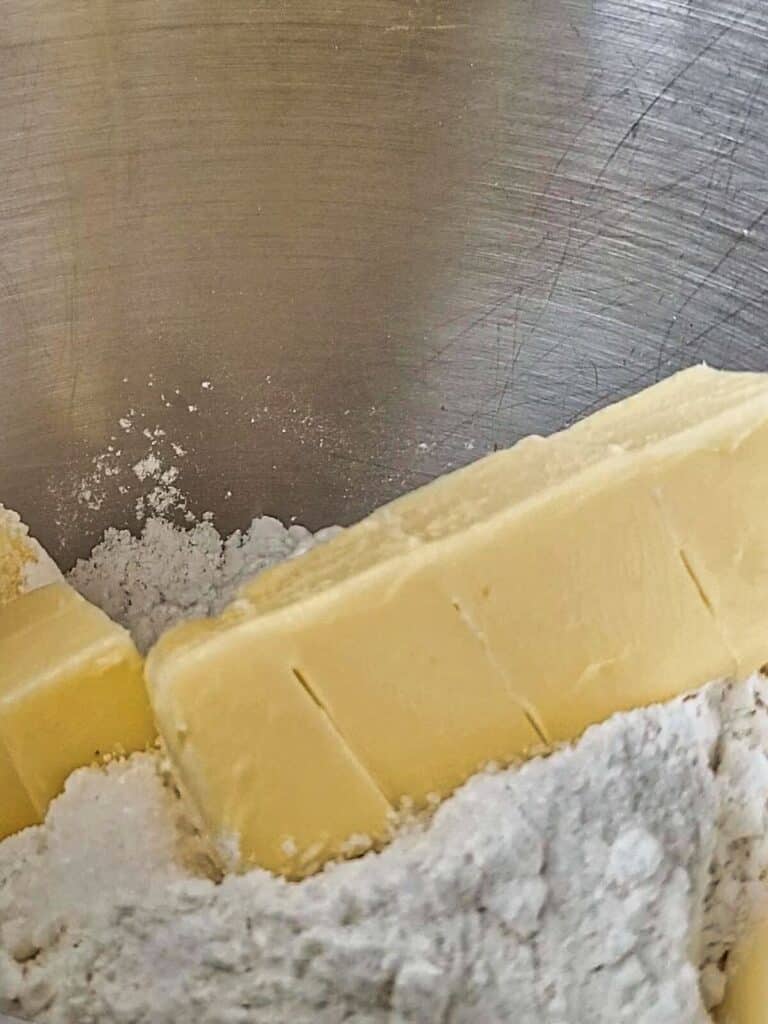 Soft Gluten Free Flour Tortillas FAQ's
Don't I need a tortilla press to make tortillas?
No, you can actually roll these tortillas using a rolling pin! I find it easier to use and you can roll them as small or large as you'd like. You can roll them directly on your floured counter or use a piece of parchment or a parchment circle to roll them on (my favorite way). Using parchment allows you to move the parchment and not the tortilla, making it easy to get nice and thin tortillas.
Can I freeze these tortillas?
Yes, they are great for freezing! Freeze them flat in a large ziptop baggie, separated if desired by a layer of parchment or waxed paper. It's not necessary to separate them if you plan on thawing all of them to use at once, however. Just leave them in the bag when you thaw them!! Reheat them, well wrapped in foil, in the oven at 300 degrees F for about 10 minutes.
What kind of skillet do I need to cook the tortillas?
Any kind of skillet or griddle works great for making tortillas. You can use a cast iron skillet, a nonstick skillet, a griddle, whatever you have! The trick is to not put anything in the pan or griddle and heat it over medium high heat (high heat for a cast iron skillet).
What size tortillas can I make?
What's so fantastic about these gf tortillas is that you can make whatever size you want. You can make mini "street taco" size, 6-inch, soft tacos size, or even burrito size! You are only limited by the size of your biggest skillet or griddle.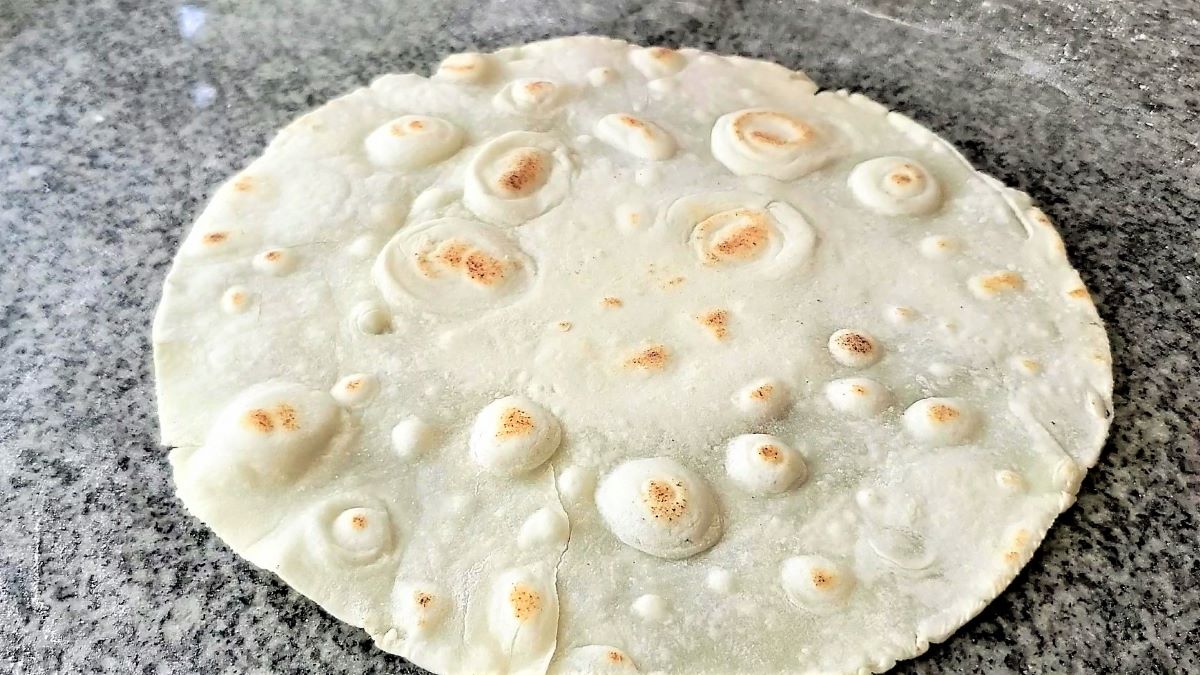 more Gluten free mexican recipes
Get rollin' and make these pliable and soft gluten free flour tortillas. They're so easy, fast, and delicious!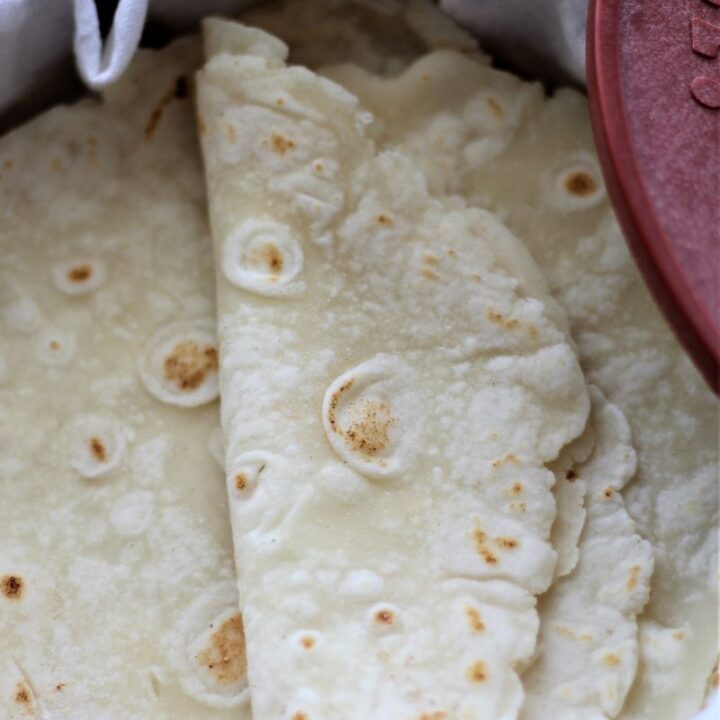 Homemade Gluten Free Flour Tortillas
Only my flour blend and two other ingredients stand between you and the BEST Gluten Free Flour Tortillas!! They're SO easy to throw together, you don't need any special equipment, they're soft and pliable, and they won't rip apart. Win!!
Ingredients
2¼

cups + 2 tablespoon (333g)

Kim's gluten free BREAD flour blend

6

tbsp (3oz or 85g)

lard, shortening, or softened butter

1

teaspoon

kosher salt

¾

cup (180ml)

warm tap water, plus additional warm water as needed

extra flour for sprinkling surface
Instructions
In a large bowl (stand or hand mixer) add the flour, salt, and fat. Blend until the texture of wet sand. Slowly add the warm water (¾ cup or 180ml at first) and continue mixing until the dough is smooth, about 3 minutes. You may need more water, depending on your climate. Add a little more at a time until the texture of the dough is tacky, but not sticky.

Remove the dough from the bowl and place it on a sheet of plastic wrap. Wrap well and refrigerate for at least 1 hour, or up to one week.

When ready to make tortillas, remove the dough from the refrigerator, pinch off a ball the size of a ping pong ball for 6-inch, large golf ball for soft taco size, or a small baseball for large burrito size. Roll on a well-floured counter or a parchment circle one way out from the center, move the dough a quarter turn and roll out from the center again. Continue doing this rolling and moving the dough until you have the desired thickness and size of tortilla.

Heat a dry skillet or griddle over medium high heat (or high heat for cast iron). Carefully add tortilla, cook on one side for about 20-30 seconds (or until you start seeing little bubbles). Flip using a spatula and cook for an additional 20-30 seconds on the other side. If large air bubbles form, you can pop them with the corner of your spatula if you'd like.

Remove the tortilla from skillet and wrap it in a tea towel to keep warm until all the tortillas have been cooked. Serve warm or at room temperature.
Notes
You can make one tortilla at a time, as the need for a fresh flour tortilla strikes!  Just pinch off a small ball of dough, replace dough in the plastic wrap, and refrigerate the rest of the dough until ready to make more.  The dough will keep in the refrigerator for at least a week, or in the freezer for up to 2 months.  
Freeze any leftover tortillas in a large ziptop baggie, separated by squares of parchment or waxed paper.