No worrying about the mess and bother of frying because these babies are AIR FRIED gluten free yeast donuts! And they're so soft and fluffy, you truly will never know they haven't been fried.
Some of the items linked in this post are affiliate links, meaning, at no additional cost to you, if you click through and make a purchase, I will earn a small commission.
Yep, you read that right! These gluten free yeast donuts are AIR FRIED!!! And they taste and feel JUST as if they were fried in oil. I bought an air fryer a few years ago after I was intrigued by the whole idea of frying without oil. I understood the concept, which is basically the same thing as a convection oven. A convection oven uses fans to circulate hot air around the food, thereby cooking it much faster. An air fryer is really just a scaled down model of a convection oven.
So when I saw Gemma Stafford from Bigger Bolder Baking's recipe for Homemade Donuts: Baked Better than Fried, I was so curious. I know how it is to not want to break out either a dedicated fryer like the one I have or pour a good amount of oil into a Dutch oven. Which you know eventually gets poured out and discarded anyway, and the pot can be a real b*tch to clean. It's a pain to say the least. But we do what we have to because we want the same things everyone else gets, like Krispy Kreme or Dunkin Donuts.
WHAT IF I DON'T HAVE AN AIR FRYER?
Fear not because Gemma Stafford didn't make hers in an air fryer either. She used a regular 'ole oven. So if you don't have an air fryer, just bake them in your oven. They'll take a little over double the time, but that's still only about 12-13 minutes to bake!
The Ingredients in Air Fryer Gluten Free Yeast Donuts
This recipe is the same recipe for my gluten free fried yeast donuts. It starts with a sweet dough consisting of:
Kim's gluten free bread flour blend — this is my own creation and I can't promise these donuts will work if you use some other flour blend. If you need substitutions within the blend, they're listed on my flour blends page.
Granulated sugar
Baking powder
Instant yeast
Salt
Milk
Butter
Eggs
Time to Make the Donuts
The steps for making these donuts are very simple. Once the dough has been made and bulk fermented (proofed), it's chilled for several hours so that it will be very easy to work with.
Knead the dough on a lightly floured surface until smooth, adding more flour as necessary.
Roll out the dough to about 1/2-inch thickness.
Cut out dough with donut cutter (like this one) or biscuit cutters in two different sizes (like these).
Place on parchment-lined baking sheet and allow to proof (rise) until doubled in size.
Preheat air fryer to 350 degrees F and set the timer for 6 minutes. Alternatively, preheat your oven to 350 degrees F.
Carefully place risen donuts in fryer basket. Depending on the size of your air fryer, you should be able to fit only 4 donuts at a time (unless you're frying donut holes or your donuts are very small). My air fryer is a large capacity air fryer (this is the one I have and I love it!).
Air fry for approximately 4 minutes, or bake in your oven for 12-13 minutes or until golden brown.
Remove donuts from air fryer, allow to cool enough to handle, and coat with toppings of choice.
What are Some Topping Ideas?
I LOVE a good plain glazed donut and the glaze in my Incredible Gluten Free Yeast Donuts works perfectly for these air fried donuts! It has melted butter in it, which makes it so much more flavorful than just a simple powdered sugar glaze. Once dipped in glaze, the donuts can then be topped with another topping, such as sprinkles, a thick chocolate glaze (see here), or chopped toasted nuts.
For dry toppings, you'll need something to help those toppings stick (without frying in oil, they won't have the tackiness). You can either spray them with a butter-flavored cooking spray, brush them with melted butter or coconut oil, or dunk them in melted butter or coconut oil. I choose to dunk them in melted butter because that's how I roll (I'm a butter lover). Some ideas for dry toppings include:
Granulated sugar
Cinnamon and sugar (1/2 cup sugar and 1 tsp cinnamon)
Chai sugar (1/2 cup sugar, 1 tsp cinnamon, and 1/2 tsp ground cardamom)
Powdered sugar
Finely chopped toasted peanuts, almonds, walnuts, or pecans
Can I Make Filled Air Fried Donuts?
For filled donuts, use a biscuit cutter and don't cut out the middle of the donut. Air fry as above, allow to cool enough to handle, and fill with the filling of your choice. Here are a couple of options:
Jelly — I like a strawberry or raspberry jelly, and I just tried Molly Yeh's raspberry rose donuts that were heaven!! I love the touch of rose water in the jelly.
Cream — the "cream" in a cream-filled donut is usually a frosting of sorts. I like filling with this special cream filling.
Bavarian cream — this is simply a pastry cream and it's so, so good!! My pastry cream in this recipe is perfect for filling donuts.
Can I Make the Donuts Ahead of Time?
After being air fried (or baked), the donuts are best eaten the same day. However, you can make the dough up to 3 days ahead of time. You can also roll out the dough, cut out the donuts, and place the donuts in the refrigerator to cold proof overnight.
When you're ready to air fry them (or bake them) the next morning (say, on Christmas morning 😉) they should have risen in the fridge overnight. If not, take them out and allow them to rise at least an hour before air frying. Preheat the air fryer and you'll have fresh "fried" donuts in less than 10 minutes (or 13 for baked)!! Who doesn't want that???
more gluten free breakfast treats
What could be better than a deep "fried" donut that's not actually fried?? All the flavor and texture of deep fried without the extra calories and mess! And gluten free to boot? Sign me up 😋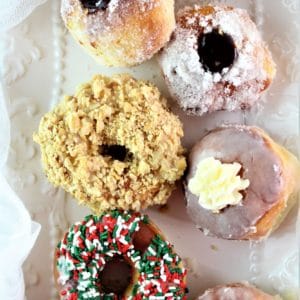 Air Fried Gluten Free Yeast Donuts
No worrying about the mess and bother of frying because these babies are AIR FRIED gluten free yeast donuts! And they're so soft and fluffy, you truly will never know they haven't been fried.
Ingredients
GLAZE:
2

cups (250 g)

powdered sugar

4

tbsp

butter, melted

4

tbsp

whole milk

1

tsp

vanilla extract

fillings, such as jelly or this American vanilla buttercream

toppings, such as sprinkles, chopped toasted salted peanuts, powdered sugar, cinnamon sugar, or plain granulated sugar

extra melted butter (about 2-4 tbsp) for dipping donuts before rolling in toppings of choice
Instructions
Remove dough from refrigerator and knead on well floured surface until smooth.  Roll dough out until it is about 1/2-inch thick.  Cut dough with donut cutter dipped in flour or biscuit cutters.  Place donuts on baking sheet lined with parchment paper.  Cover with plastic wrap and let rise in warm, draft-free area until about doubled in size.  

When donuts are completely risen, preheat air fryer to 350° F and set it to 4 minutes.  Carefully place donuts in air fryer, about 4 at a time (depending on the size of your air fryer), and fry for about 4 minutes (every air fryer is different, so you'll have to adjust this time to suit your own air fryer). Alternatively, preheat oven to 350° F. Bake donuts for 12-13 minutes, or until golden brown.

Remove donuts from the air fryer and allow to cool enough to handle before dipping in glaze or melted butter and either filling or rolling in nuts, sprinkles, sugar, etc.

Donuts are best eaten fresh from the fryer or oven.
Notes
***DISCLAIMER:  The reason I created my own flour blends is because I could not obtain the results I wanted with flour blends that were available in stores, online, or from other gluten free bloggers.  My recipes have been developed to be used with my own bread flour blend that I created after painstakingly testing for, in some cases, YEARS to develop what I believe to be a superior gluten free bread like no other.  If you do not use my gluten free bread flour blend for this recipe, I cannot speak for the results you will obtain.    While store bought blends may give you a satisfactory result, they may NOT give you the results intended in my recipe. 
Inspired by Bigger Bolder Baking's Homemade Donuts: Baked Better Than Fried.