These Pumpkin and Apple Gluten Free Recipes are all the pumpkin and apple recipes you'll need to get you through the fall season!!
I haven't always been a fan of fall, the season. It's not so much fall, but what I know comes after, my least favorite season of all--winter. But I've always been a fan of fall, the food. All the warm spices and toasty flavors, the soups, stews, and comfort foods. Yum-EEE!!
Of course we all know the top flavors of fall are pumpkin and apple anything, am I right? I've put together a compilation of all the pumpkin and apple gluten free recipes you could want so you can have them all in one spot when the fall food mood strikes!
My Gluten Free Pumpkin Cupcakes are so moist and delicious on their own, but the maple swiss meringue buttercream sends them into overdrive!
Gluten free pumpkin earthquake cake with craters of cream cheese filling and butterscotch chips will become your new fall favorite dessert!
With canned pumpkin and pumpkin pie spice, this gluten free pumpkin pound cake is moist and dense and the perfect flavors of fall.
These gluten free pumpkin donuts are soft and cakey and filled with the flavors of fall! Real pumpkin makes them super moist.
Gluten free pie crust chips and pumpkin dip? Yes please!! Cinnamon sugar pie crust "leaves" are dipped into pumpkin marshmallow dip that is OUT OF THIS WORLD!!!!
Holy moly this gluten free pumpkin pie is incredible!!! It's smooth and creamy and is the best pumpkin pie I've ever had.
Just when you think you've had enough pumpkin spice, in comes this Gluten Free Pumpkin Spice Angel Food Cake and your cravings start all over again! Sorry, not sorry.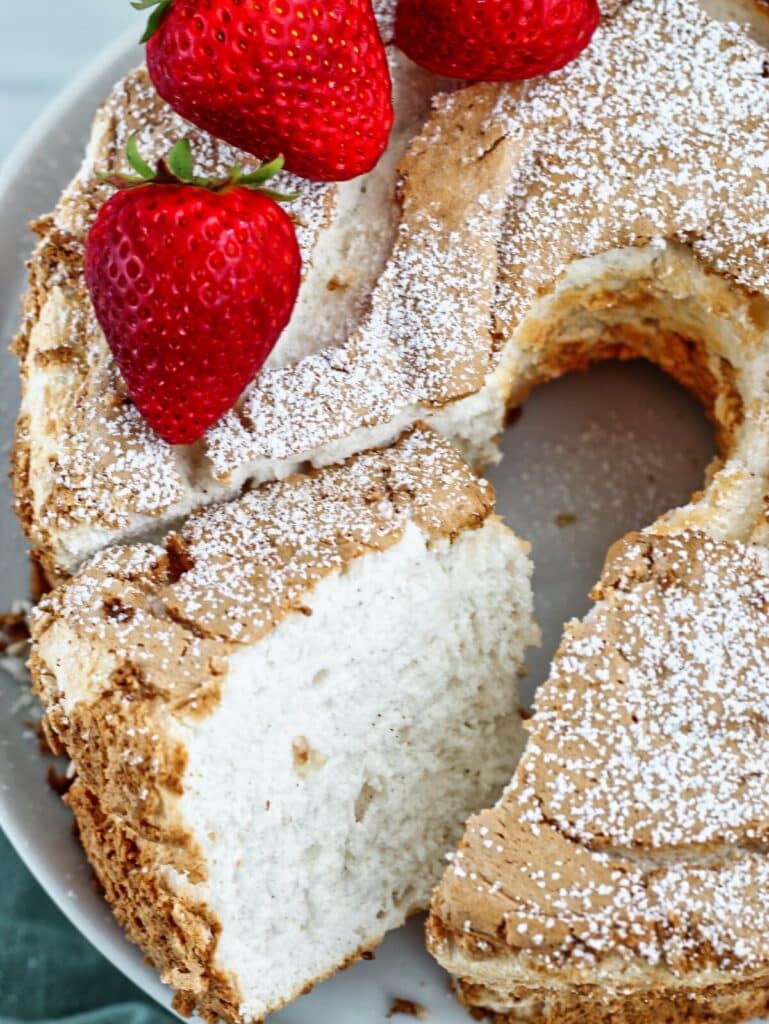 You won't believe how easy it is to pull off this Pumpkin Spice Creme Brulee! Just mix in one bowl, pour into ramekins, and bake. The final torching of the sugar brings it together for the ultimate fall dessert.
This gluten free pumpkin bread is the most tender quick bread, full of pumpkin flavor and spices. Toasted and spread with butter, I can think of nothing better on a crisp fall morning!
Gluten Free Dutch Apple Cheesecake is the ultimate fall dessert. Creamy cheesecake is studded with soft cinnamon apples and finished with a crumb topping. The best of both worlds!
Flaky layers of pie crust filled with tender juicy apples? This amazing gluten free apple pie has it all and no one will know the difference! My husband declares this the best pie he's ever had and hopefully you will, too.
Bakery style gluten free apple crumb muffins are topped with brown sugar crumbs and chock full of apples and cinnamon.
These gluten free apple turnovers are the perfect little handheld pockets of flaky pastry filled with apples and drizzled with sweet icing.
Bringing back old school with these gluten free apple dumplings. Perfectly presentable little packages of flaky pastry wrapped around a tender apple, all bathed in a gooey bright red cinnamon-y syrup.
What says fall better than caramel apples? Granny Smith apples, homemade caramel, chocolate, white chocolate, and cinnamon brown sugar make the BEST gourmet caramel apples you'll ever have!!
Oh my goodness! These gluten free apple cider donuts are UNBELIEVABLE!! They're full of apple flavor from both apple cider and butter, but they're incredibly easy to make.
Gluten free apple cake is one of those cakes that you just can't resist. It's moist and dense and truly a wonderful bundt cake. It's perfect for breakfast, brunch, or dessert!
I love apple pie and this gluten free apple crumb pie does NOT disappoint! It's everything you'd want in an apple pie–juicy apples layered in cinnamon sugary goodness with a flaky crust–but that crumb topping? Oh my gosh, ya'll! Crunch, crunch, crunch!
These delicious gluten free apple fritters are just like the ones we used to get at bakeries. Cinnamon apple chunks are intertwined with cobblestones of dough and drenched in a vanilla glaze!
Looking for something sweet without all the processed sugar? Look no further than this simple and quick instant pot no sugar added applesauce. It'll become a favorite sweet treat for your whole family!
I hope this list gives you some inspiration for all your fall gluten free baking needs!